Here's an old favourite played solely on the new Stylophone S2, recorded on the OP1.
The video shots are the actual performances.. no fake dubbing. (I had some trouble with the sync though. I'm hoping it's ok.)
Classic Kraftwerk tune, video details below:
No copyright infringement intended.
It's not quite like the original, neither is not intentend to be.
Sequenced parts sequenced on Cubase 5 (several VSTs were used) then audio mixdown passed to Roland SP-404.
Synhts used:
Korg T3ex Master Midi Keyboard
Roland JP-8000
Yamaha AN1x
Roland XP-60 with SR-JV Vintage Synth Board
Roland JV-2080 with SR-JV Vintage Synth Board
Roland V-Synth XT for vocoder sound
No copyright infrigement intented.
Used for the purpose of criticism and education.
NOTE: This is a live cover. I don't recorded the ambience sound of the public, bacause it was a small auditorium. Record was done though Mixer REC OUT.
Sequenced parts done on Cubase 5, than passed to Roland SP-404.
Hardware instruments used:
Roland SP-404 sampler
Korg T3 Master MIDI keyboard
Yamaha AN1x
Roland XP 60 fully expanded
Roland V-Synth XT
Roland JV-2080 fully expanded
Korg TR-Rack
More Dr Blankenstein: http://www.drBlankenstein.com
Twitter: https://twitter.com/Dr_Blankenstein
eBay: http://www.ebay.com/usr/dr_blankenstein
In this video we see a live demo / rehearsal for the Drew Blanke (Dr Blankenstein) for his presentation for MAKE magazine at Moogfest 2014. The jam is based loosely around the Kraftwerk classic "Pocket Calculator" off their "Computer World" album. Keep in mind this is live, and unedited…. just a raw jam on 4 circuit bent pieces.
The pieces include a Mattel Bee-Gee's "Rhythm Machine" keyboard, Casio ML-831 Musical "Pocket Calculator", a built from the ground up custom Stylophone and a prototype for the APC2600 V2.6. All pieces have the ILLUMIRINGER device modification kit installed in them, although most of the demo is featuring the pocket calculator in ILLUMIRINGER mode. Only reverb has been added to the mix via the mixer. The beat was made on an Electribe ER-1 and sampled into a Boss loop pedal.
Sorry about the slightly out of tune Stylophone in the beginning, it's needs to be left on for a bit to warm up and get into tune (kinda like an old moog). Hey, that's rock n' roll. It's worked into the jam nicely… so why not let it roll.
Stay tuned for individual demos of each piece in this video coming at you THIS MONTH (I promise, I know we have been slacking on the videos:) Thanks for watching, please remember to SUBSCRIBE and follow the twitter link up top to stay up to date on the newest Dr. Blankenstein creations.
Better Living Through Circuitry
Kraftwerk
From the Rockpalast Archive
Mixed Media Show
Soest, Germany
Winter 1970
0. Intro
1. Stratovarius
2. Ruckzuck
3. Heavy Metal Kids
4. Improvisation 1
Used: iPad Mini, Garageband, Amplitube, iRig, Ibanez Mikro, iRig Mic. Music & Lyrics by Kraftwerk Ⓟ
Cover by Alex Agrico
www.atomosynth.com
Hello World, the man machine cover using the AtomoSynth KOE modular! all sounds come from the KOE modular (except for the drums) including sound effects and the one used with the electroharmonix vocoder, recorded in cubase.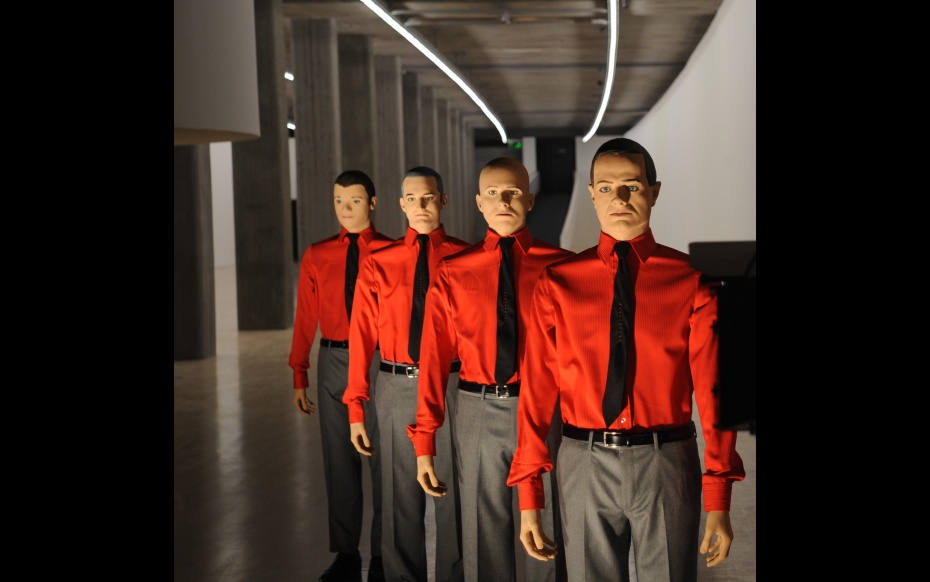 Well apart from the obvious – this is about time that Kraftwerk gets this recognition, my main question would be will all four original members be there to receive the prize
Or perhaps it would be better to send four robots…
From the Grammy.com website:
Florian gives Ralf a present
From "The Late Late Show with Craig Ferguson", aired on Dec. 10th, 2013
Featuring Josh Robert Thompson
Florian and Ralf exchange gifts
A few Kawai K5000S pads from the ASL4 library
About the synth:
The K5000 was Kawai's top of the line music workstation digital synthesizer when it was released back in 1996. It's a bold and elegantly designed synth with a large LCD display, realtime controls and incredible sounds! The look and functionality is rivals the competition from the time…the Korg Trinity and Kurzweil K2500
Programming sounds with the K5000 can be a breeze (once you learn how) although it has over 1,000 parameters per patch! That's plenty to play with. It combines additive synthesis and PCM sampled waveforms for you to layer and combine to design a whole range of sounds. Plenty of LFO modulation, filters and envelope controls allow you to shape and morph your sounds further. On-board multi-effects add the final touch of life to your sounds.
Once you've created some sounds, there's the on-board sequencer (K5000W only) for creating songs or loading Standard Midi File sequences (via disk-drive). It has a 40,000 note capacity and 40 tracks. Real-time record and step-edit modes are available and the sequencer is pretty straight forward.
The K5000S (pictured above) adds 12 dedicated knobs for hands-on control of filter, LFO and envelope parameters. There are 4 user-definable knobs and 2 assignable switches. The K5000S also has a 40-pattern arpeggiator on-board with 8 user-definable patterns too! K5000's have been used by Kraftwerk.
.