WARNING – This video contains loud audio . Even though a limiter was placed on the output, the nature of FM means that noise peaks are inevitable when experimenting. You have been warned!
If you don't know what FS1R or FM synthesis are then there's no point in watching. Really.
Part 1: A quick look at the FS1R waveforms and their basic shaping parameters .
Apologies for the background hiss – attempting to eliminate. In any case, Youtube audio cannot do justice to the output of this fabulous device.
Software used:
FS1R editor – http://synth-voice.sakura.ne.jp/fs1r_editor_english.html
Reaper – http://www.reaper.fm/
S(m)exiscope vst – http://bram.smartelectronix.com/plugins.php?id=4
Grok: "to understand intuitively or by empathy; to establish rapport with" and "to empathise or communicate sympathetically (with); also, to experience enjoyment."
Synthesis of complex stereo waveforms with CPLD programmable logic core. (Lattice ispLSI1032E).
If you are comfortable designing DIY digital circuitry with 7400 / CD4k chips, look into CPLDs, they are amazing. Inside a CPLD is a collection of primitive logic elements equivalent to hundreds of 7400/CD4k chips, and through the magic of logic synthesis, these elements are configured by software to realize your circuit. Its like a dream where the chips jump up and plug themselves into your breadboard, and wires magically appear to fulfill the schematics you draw on the screen. Plus they are erasable/reconfigurable indefinitely. It is a very futuristic feeling to use this technology.
I used Lattice's free software environment ispLEVER Classic 1.4 and the ispDOWNLOAD USB JTAG programmer (~$80) to configure these devices.
This is a nice way to familiarize oneself with the toolchain. Once a few more concepts are in place, the power of FPGAs will be accessible.
Omnichord and analog waveshape performance by Lukas Ligeti on drums & glockenspiel and Miguel Frasconi on omnichord & analog waveshapers
I'm playing omnichord and analog waveshapers (see details below) with Lukas Ligeti on drums and glockenspiel.

More specifically, I'm playing an omnichord put through a Metasonix TM-1SE, into a Moog FM-102 ring-mod, into an Electro Harmonix Micro-POG, into a Pigtronics Echolution."

Video Description:
"Ligeti & Frasconi @ The Tank.
Lukas Ligeti: drums & glockenspiel
Miguel Frasconi: omnichord & analog waveshapers.
December 8, 2010. NYC.

Transcending the boundaries of genre, Lukas Ligeti has developed a musical style that draws upon downtown New York experimentalism, contemporary classical music, jazz, electronica, and world music. Known for his non-conformity and diverse interests, Lukas creates music ranging from the through-composed to the free-improvised, often exploring polyrhythmic/polytempo structures, non-tempered tunings, and non-western elements.

While best known for his menagerie of glass musical instruments, Miguel Frasconi has long explored the sonic possibilities of electronics. Tonight he will be using a combination of devices that enable tactile control over a vast array of electronic sounds. Frasconi is the director of Ne(x)tworks, one of NYC's leading new music ensembles, and teaches at Bard College where he directs the Bard Laptop Orchestra (BLOrk).
Freehand is a wavetable synth that can produce a wide range of sounds, as you can draw your own waveforms, save and load them up again, even randomize your waveforms.
Freehand has frequency modulation sequencers added to the FM features, which gives it a unique sound. Included are over 150 waveforms and 100 presets.
Features:
3 Wavetable Oscillators
135 prefab waveforms in 10 categories
Wavedrawing
Random wave generation
Frequency Modulation
Double FM CV Sequencer
Pitch Sequencer with individual outputs
Modulator with mod envelope
BPM Synced LFO
Filter with Saturation and extra High Pass Filter
Filter Envelope
Chorus and Reason style Delay.
200 extra additive waveforms
100 Presets
8 Voices
Pitch Bend
Portamento
Freehand comes in two flavors, freeware (SL) and Full. The full version sells for $10 and gives you an additional 200 professional presets, making a total of 300 presets, and 32 voices.
Video demo via myVST.
I made a basic Max/MSP patch that allows one to use the Korg NanoKontrol MIDI controller as a periodic waveform editor. Each of the first eight faders controls a point along a periodic waveform. The ninth fader controls the frequency of the waveform.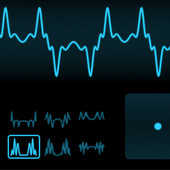 Sinevibes has announced the release of Turbo, a variable waveshape transformer that can turn simple sounds into amazing new textures.
Turbo features 6 unique waveshape transformation algorithms, all of the algorithms are very reactive to the input signal and let you get any sound from crystal clear to brutal dirty, with all of the vibrations and pulsations emphasized. The waveshape can be easily adjusted via the XY pad, which also makes realtime tweaks a bliss.

Plus, there is a gorgeous graphical preview of how each harmonic partial will be shaped. What could previously only be achieved using complex synthesis techniques, can now be done by simply mixing a few waveforms and feeding them into Turbo. All in all, it can take you into a new dimension of sound in an instant.
Turbo features
Six high-definition waveshape transformation algorithms.
Intuitive user interface with graphical feedback.
64-bit universal compatibility.
Turbo is available to purchase for Mac OS 10.5 or later (AU) for $29 USD.
More information: Sinevibes
Weldroid has released a beta of Synesthesia, an effect plug-in for Windows.
Synesthesia is a combined waveshaper / EQ / dynamics processor that is designed to be very light on the CPU, but sounds hi-fi enough to be put on the master buss without hesitation. A special combination of frequency-dependent harmonics generation and oversampling reduces aliasing way below audible levels, allowing smooth coloration of input material free of unwanted artifacts.

Synesthesia features highly flexible – per harmonic definition of distortion / waveshaping characteristics, opening up possibilities to emulate static distortion of many nonlinear devices. It is also possible to use it as a dynamics processor by setting up the dynamic waveshaper curve with respective attack and release time constants.

Synesthesia features
VST 2.4 effect plugin for Windows (32-bit).
2 channels in / 2 channels out.
All parameters subject to automation except for the distortion characteristics graphs.
Demo is fully functional but injects some white noise every 40 seconds.
Synesthesia for Windows (VST) is available to purchase at the introductory price of 30 EUR. All "beta" licenses are full licenses (available for reduced price until the product reaches revision A).
More information: Weldroid / Synesthesia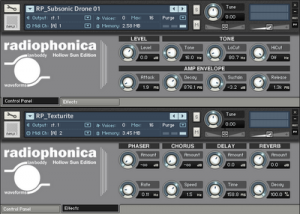 Inspired by the old-school sound design antics of the BBC Radiophonic Workshop, Ian Boddy's Radiophonica takes us back to a time when Dr Who still had some semblance of geek chic and the ring modulator ruled the sci-fi roost.
Radiophonica is the first title in Ian Boddy's 'Waveforms' series of sample libraries. All the sounds were produced and recorded directly from analogue hardware synthesisers such as the venerable EMS VCS3 and MiniMoog and also the Roland 100M, Doepfer, Analogue Solutions and Analogue Systems modular synths.
Radiophonica is $40 at the Hollow Sun site.
Adventure Kid has released a free collection of single-cycle waveforms for wavetable synths, AKWF Waveforms:
I have been making and collecting one cycle waveforms for years. They have been one of my best weapons to use when making sounds.

If you have a wavetable synthesizer that can load single cycle waveforms you might find them useful as well.
If you are familiar with basic subtractive synthesizers you probably know the saw, square, sinus and triangle shape that are the most common shapes a oscillator can produce pretty well. Single cycle waveforms are tiny audio files (.wave) that a synthesizer can read to use as oscillator shapes.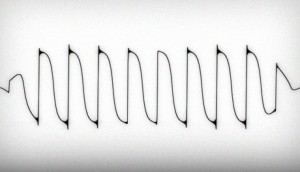 What it means is new sounds. Some kind of grey area between sampling and synthesis. A raw waveform is very rarely what makes a whole sound but you can see it as presets for oscillators. Happy sound designing!
AKWF Waveforms is a free download from the Adventure Kid site.
Sound Waves And Their Sources (1933) – Educational film that covers the basics of acoustics. How sound propagates through a medium, pitch, timbre, loudness etc. Dated but accurate.