Circuit Bent Omnichord
Omnichord Synthesizer, well circuit bent with loads of useful modifications and wicked touch points.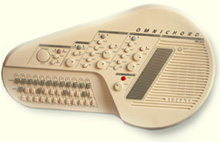 Analog Drums and Rhythms have new controls for tweeking and combining the preset rhythms. Also have touch points which allow the drums to be triggered by fingers!
LFO Circuit allows trippy vibrato & pitch modulation.
Lots of shiny metal touch points, and of course Wicked Glitch….
Flashing lights indicate drums, chord & bass.
About the Omnichord:
The Omnichord is an electronic musical instrument, introduced in 1981 and manufactured by the Suzuki Musical Instrument Corporation. It typically features a touch plate, and buttons for major, minor, and diminished chords. The most basic method of playing the instrument is to press the chord buttons and swipe the touch plate with a finger or guitar pick in imitation of strumming a stringed instrument.
The Omnichord is the technological successor to an earlier instrument, known as the Tronichord, with which it shares many technical and functional similarities. Omnichords often feature preset rhythms with a tempo control which the player may use as accompaniment. Several models of the Omnichord were produced, which added MIDI compatibility, a selection of voices for the touch plate, effects such as vibrato and sustain, and chord memory. Some Omnichord musicians will play the instrument as a keytar, by strapping the instrument on both ends and playing it as if it were an electric guitar.
Originally designed as an electronic substitute for an autoharp, the Omnichord has become popular as a unique instrument in its own right, due to its unique, chiming timbre and its value as a kitsch object.
The Omnnichord is still produced by Suzuki, but rebadged as the Q-chord. It features more modern versions of the original Omnichord's features.
Comments