This is a free Ableton Live Pack consisting of 2 instrument racks created from samples of the Casio CT-101 vintage synthesizer.
Download Link: http://bit.ly/freesynth96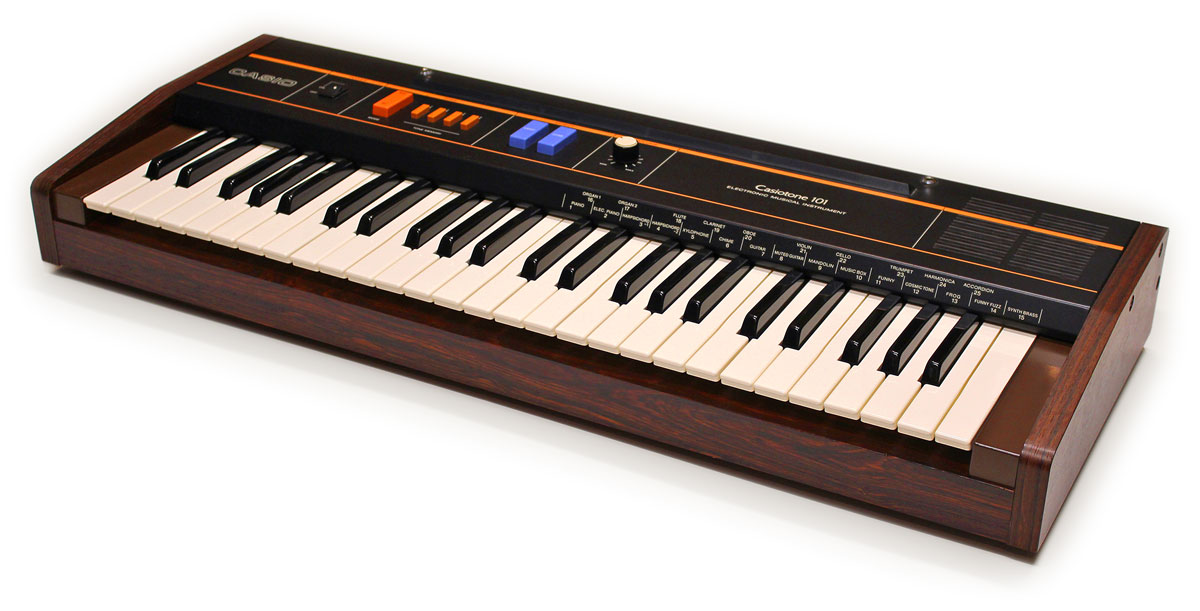 The CasioTone 101 (CT-101) is a VERY basic analog synth from Casio circa 1981. The keyboard has 49 full-size keys and is finished in satin black painted metal, has wooden end-cheeks and a wood grain finish underneath the front of the keys. It gives your studio a good analog/vintage feel. Most sounds are very basic and fairly unusable. However, its organ tones are pretty good as well as its 'Cosmic Tone' patch, which uses two oscillators tuned an octave apart, and as the keys are held down, the sound drops an octave as oscillator 1 fades up, and oscillator 2 fades down.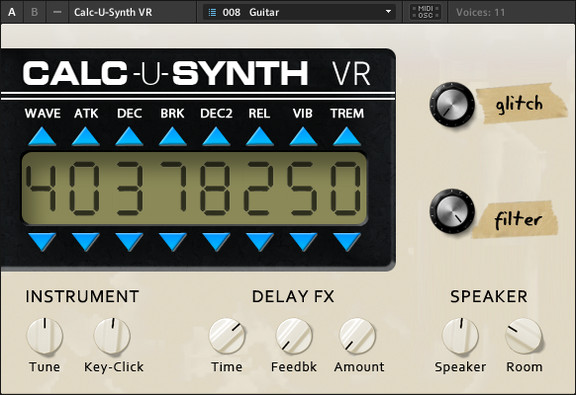 Icebreaker Audio has released Calc-U-Synth VR for Reaktor, an emulation of the classic Casio VL-Tone calculator/synthesizer combo from the '80s.
Precise measurements of the VL-Tone's volume envelope, vibrato, and tremolo were then gathered in order to faithfully emulate the whole instrument in Reaktor.

This library was designed in order to present the full capabilities of the VL-Tone's programmable features in a more convenient interface, while retaining the character of the original instrument.
Calc-U-Synth VR features
Full emulation of the Casio VL-Tone's programmable synth engine.
Built-in tempo-sync delay effect.
Speaker emulation with room simulation.
Additional "Bend" controls: Glitch and Filter.
Key-Click noise control.
The Calc-U-Synth VR for Reaktor is available to purchase for £4.50 GBP / $7 USD.
Icebreaker Audio has also announced a bundle sale, offering all its bundles at a 50% discount until November 30th, 2013.
This track was created using a Step Sister, a Casio VL-1, Ibanez DM500 delay and an Inkel MX880E Mixer, details below:
Using the DM500 and the inkel mixer i was able to create a wide delay effect by running the DM500's normal and inverted outputs into the mixer separately and hard panning and EQing them. Interestingly this technique isn't mono compatible though so if you're listening on a phone or tablet you won't hear any of the delay due to phase cancellation trickery :O Another quicky this one as i've been too busy to do my weekly upload so i'm trying to catchup!
Right, so here's the idea. Trying to write, upload and give away a fresh piece of music on a roughly weekly basis. Will i be able to keep it up? Will i run out of ideas? Can i be bothered? How shoddy will they be? Does anybody care? God knows. But that's the point.
Basically the idea is to flex my musical muscles a bit. I have collected quite a bit of gear over the years and not much of it is getting used as much as i'd like, so this is my attempt to justify all those purchases whilst practising improving and getting ideas down fast as an antidote to procrastination. "Inspiration exists, but it has to find you working." as Picasso once said.
Royalty free for you to use for whatever under the creative commons license. Just rip the audio out of the video for now, i'll get these tracks uploaded to a dropbox account when i get my act together. Let me know if you use it, i'd be stoked.
A quick information video of a new bank of sounds, inspired by the Minimoog.
It is such a classic design and sound that is still sought after today. Casio's XW-P1 and XW-G1 while being a digital synthesizers can do a pretty remarkable job of mimicking those classic Moog sounds. The Minimoog had 3 oscillators plus a noise generator and although the XW has a 4th oscillator in its Solo Synth engine – all of these sounds were crafted with the original in mind. A set of 10 Leads and basses, the specialties of the Minimoog. Separate versions above for the XW-P1 and XW-G1.
Downloadable at www.casiomusicforums.com
Background video info below:
I got a brand new Rocket today, so… here goes!
Bass: Waldorf Rocket
Drums: Vermona DRM1, Acidlab Miami, MPC
Strings: Korg Wavestation SR
Pluck: Casio CZ3000
FX: Roland Alpha Juno 2
Vocoder: MAM VF-11
Vocoder Synth: DSI Tetra
Sequencer: Cirklon
I'm switching the Rocket between chord and mono modes over MIDI. To play chords, set the oscillator wave to sawtooth (CC #31 = 0), and the osc tune&shape knobs to max (CC #70 & #79 = 127). I'm also setting the mod wheel for some chord vibrato.
CasioTron Beats re-creates the rhythm patterns found on the vintage home keyboards of the 70's and 80's. These popular keyboards were analogue and have now become collectors items because of their warm sound.
This particular version takes the drum sounds from the then popular Casiotone MT-70 which although was more modern than the earlier models, it is still analogue as you will be able to tell from the sound.
Remember those bossa-nova and samba beats? Well here they are!
Casio's Mike Martin answers questions and takes a tour of the Privia Pro PX-5S. Recorded on 6/19/2013 – Captured Live on Ustream at http://www.ustream.tv/casiomusicgear
Mike Martin from Casio demonstrates the Privia Pro PX-5S stage piano at Kraft Music.
Specification:
Keyboard
88-key, Tri-sensor Scaled Hammer Action II
Maximum Polyphony
256 Notes
Number of Tones
370 Preset / 350 User
Keyboard Instrument (including Electric Piano) – 60 Preset, 50 User
Hex Layer – 50 Preset, 150 User
Stage Settings
100 User Stage Settings / 4 zone configurations
Controllers
4 knobs, 6 sliders, Pitch & Modwheel, 2 Pedal Inputs
Arpeggiator
4 simultaneous programmable 16 step Arpeggiators
Phrase Sequencer
8 Tracks, up to 1,000 phrases
Storage
USB / File & Audio Recording
System Effects
Reverb, Chorus, Delay, String & Damper Resonance
Insert Effects
4 simultaneous / Equalizer, Compressor, Limiter, Enhancer, Early Reflection, Phaser, Chorus, Flanger, Tremolo, Auto Pan, Rotary, Drive Rotary, LFO Wah, Auto Wah, Distortion (w/ Amp Simulator), Pitch Shifter, Multi Chorus, Ring Mod, Delay, Piano effect
Master Effects
4 Band EQ & Compressor
MIDI
Independent USB & MIDI I/O
Audio Terminals
1/4″ L&R Input & Output, 1/8″ Audio Input
Dimension
52.05 x 11.26 x 5.31 (inch)
Weight
24.47 lbs (W/O Battery)
A tour of the Privia Pro PX-5S Stage Piano from Casio. All audio recorded direct on the PX-5S using factory presets and the USB Audio Recording feature. For more information on the PX-5S visit: www.casiomusicgear.com
Music from 0:30-1:30 written and performed by Tom Brislin – www.tombrislin.com
About the synth in Casio's own words:
The new Privia PX-5S redefines the stage piano category with unprecedented sound quality and performance features in a lightweight design that is supremely portable. Featuring tone editing, insert effects, MIDI controller capabilities, an 88 Key, Tri-Sensor Scaled Hammer Action II Keyboard and weighing only 24 lbs., the Privia PX-5S is ready to take stage.
At the heart of the PX-5S Stage Piano is Casio's proprietary AiR sound source which provides incredible realism, detail and expression for grand piano sounds. In the PX-5S, the power of AiR has been expanded to provide stunning fidelity and control over other instrument tones and effects with 256 notes of polyphony.
Here is a demo Jordan Passmore created with the Korg Electribe EM-1, Casio MT-40, Novation Drumstation, and Zoom SampleTrak ST-224. The EM-1 is doing the sequencing + bass/short stab sound + some percussion, the Casio is doing the square-wave lead tones, the Novation is doing the 909/808ish sounds and the SampleTrak is simply effecting the Casio with it's effects section (I will do a more exhaustive demo of the SampleTrak soon). The Casio is also being ran through a stereo analog chorus and analog delay. There is some compression done with a Roland MMP-2 on the master channel. The entire segment was mixed on a Tascam M-1600 mixing desk.