Here is a demo Jordan Passmore created with the Korg Electribe EM-1, Casio MT-40, Novation Drumstation, and Zoom SampleTrak ST-224. The EM-1 is doing the sequencing + bass/short stab sound + some percussion, the Casio is doing the square-wave lead tones, the Novation is doing the 909/808ish sounds and the SampleTrak is simply effecting the Casio with it's effects section (I will do a more exhaustive demo of the SampleTrak soon). The Casio is also being ran through a stereo analog chorus and analog delay. There is some compression done with a Roland MMP-2 on the master channel. The entire segment was mixed on a Tascam M-1600 mixing desk.
This is a preview of one of the new things in firmware version 1.10 for the PX-5S. Included in the update are a variety of additional synth waveforms that when combined can create some incredibly lush and powerful sounds. This is a single "Hex Layer" tone on the PX-5S.
About the PRIVIA:
The new Privia PX-5S redefines the stage piano category with unprecedented sound quality and performance features in a lightweight design that is supremely portable. Featuring tone editing, insert effects, MIDI controller capabilities, an 88 Key, Tri-Sensor Scaled Hammer Action II Keyboard and weighing only 24 lbs., the Privia PX-5S is ready to take stage. At the heart of the PX-5S Stage Piano is Casio's proprietary AiR sound source which provides incredible realism, detail and expression for grand piano sounds. In the PX-5S, the power of AiR has been expanded to provide stunning fidelity and control over other instrument tones and effects with 256 notes of polyphony.
A quick demo using the XW-G1's step sequencer while showing solo synth manipulation.
The XW-G1 groove synthesizer is designed for the DJ and club performer providing an interactive step sequencer and a sample looper for digitally capturing performance patterns and external instruments.
Step Sequencer
Providing everything from pulsing dance grooves to animated synth textures and arpeggios, the Step Sequencer is the first of its kind. With nine tracks for drums, basses, synths and chordal parts, four controller tracks for adding panning, filter changes and other animation to existing parts and eight patterns make up each sequence; the user can build and mix their performance on the fly. Sequences can even transpose live from the keyboard, providing a completely interactive experience.
Solo Synth
Utilizing Casio's exclusive (HPSS) Hybrid Processing Sound Source, a six oscillator monophonic solo synth is just one of the amazing sound engine in the XW-G1. The solo synth has the power to deliver classic analog sounds and sounds with an aggressive edge unlike anything else. Two virtual analog style oscillators, two PCM based oscillators, a noise oscillator and an external oscillator via mic and line inputs can be combined to make up a single solo synth tone. Each oscillator has an independent filter, envelopes, independent key tracking, portamento, two LFO's and access to master resonant filter. With impressive modulation and control capabilities at your fingertips, the solo synth is capable of a wide range of sounds and expression.
Arpeggiator and Phrase Sequencer
The XW-G1 has powerful arpeggiators. In addition to typical arpeggio patterns, this arpeggiator can create polyphonic synth gated patterns, acoustic instrument emulations and is even fully programmable allowing you to create your own unique sounds. An additional phrase sequencer allows you to quickly capture any riff that you play on the keyboard and have it available on a front panel switch or triggered and transposed live from a range of notes on the keyboard. The combination of the Step Sequencer, Arpeggiator and Phrase Sequencer provides an endless array of sound possibilities.
Control
The XW-G1 has 4 realtime controller knobs, pitch bend and modulation wheels, along with 9 sliders to provide control over internal sounds and external devices. Through standard MIDI ports and with a class-compliant USB port the keyboard can be used as a controller for other instruments, including computer software and iPad® based software applications. It also includes an audio input allowing you to monitor an MP3 player, computer or other device without the need for a mixer.
New Casio Privia PX5S Synth powerhouse, piano and controller
From the press release:
The newly developed Privia Pro PX-5S is a genuine stage piano, advanced MIDI controller and performance workstation packed with functions that set it apart from other digital pianos. Equipped with Casio's new proprietary sound source, "AiR" (Acoustic and intelligent Resonator), the PX-5S delivers acoustic piano sounds with unmatched realism and detail. The power of AiR is also applied to an all new set of authentic vintage electric piano sounds and clavinets that is paired by a powerful new effects engine giving the PX-5S an arsenal of both acoustic and electric piano sounds.
In addition the PX-5S features a large assortment of fully programmable sounds, including Hex Layer tones derived from the award winning XW-P1 synthesizer.  Hex Layers can produce evocative synth sounds as well as complex acoustic and orchestral simulations.
The PX-5S is stage piano like no other.  In a remarkable 24 pound package it is also a four-zone performance controller, complete with 4 assignable knobs, 6 assignable sliders, 2 pedal inputs, pitch and modulation wheels. Four independent and programmable arpeggiators allow the PX-5S to expand in to sonic territory by creating an array of animated textures. An 8 track phrase sequencer allows the performer to trigger sequences and riffs which can be triggered and transpose and on the fly, allowing for unheard of performances by a single musician.
"The Privia PX-5S is a new breed of stage piano," said Schmidt. "Designed with a plethora of features ideal for any performing musician, the PX-5S is sure to raise the bar and caliber of stage pianos within the industry."
Casio's PX-5S even provides the ability to record a 44.1kHz .wav file directly to a USB thumb drive so that rehearsals, performances and moments of inspiration can be easily captured and shared.
The PX-5S can be purchased for an MSRP of $1,299 at select music dealers nationwide. For additional information regarding Casio's Privia line of digital pianos, please visit www.CasioMusicGear.com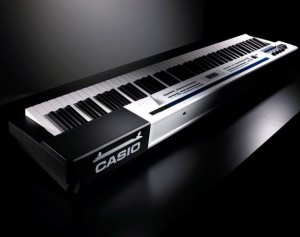 It looks like Casio has a new synth to introduce at the 2013 NAMM Show!
This image has leaked out of a new full-size Casio keyboard that looks a bit like one of their digital pianos crossed with the XW-P1 synthesizer, introduced at the 2012 NAMM Show.
The new Casio synth is also rumored to be 'the most powerful synth" that they've ever built.
Here's a new video of nice circuit bent Casio SK-1, details below:
Running through a Mackie mixer, Drawmer Compressor, Bel BD-80 delay and a Roland DEP-3 Reverb.
2 4 – M O D I F I C A T I O N S
Tone / Rhythm Glitch. 14 Toggle Matrix.All mods create the classic SK-style glitches and drones on the keyboard as well as creating rhythm fills and variations.
Tone Glitch. 5 Toggles that exclusively effect the tones and voices.
Rhythm Mods. 1. Volume 2. Boost 3. Filter 4. Punch
Plus 1. Pitch Down (Affects Rhythms and Voices) 2. Reset (For when things get too much)
The Casio HZ-600 is the "professional" version of the HT series keyboard synthesizers.
"Checking out the basic features of the Casio HZ-600 synthesizer. All keys and buttons work properly. MIDI IN and OUT also work as demonstrated along with Roland Fantom X6. A little bit of reverb added to the Casio with help of the X6."
Dr Benway has published this new video featuring Moby´s classic song on a Casio keyboard. The Casio SK-5 is a sampling keyboard introduced by Casio in 1987. Samples may be gathered from a built-in microphone or a line-level input from another source. The keyboard was rebranded as the Realistic Concertmate-650 for sale at Radio Shack stores.
EPISODE #1
Moby – Porcelain
2 samples are used: orchestral strings and drum beat.
The sequencer plays the samples in loop.
"Showing off CASIO's latest synthesizer XW-P1. This video was made right after delivery. Read my review in OKEY-magazine #107. www.robert-karasek.com"
The XW-P1 is a 61 key performance synthesizer with Casio's exclusive (HPSS) Hybrid Processing Sound Source. Providing screaming virtual analog monophonic leads and basses, drawbar organs, complex layers, stereo pianos, drums and more, the XW-P1 has the sounds and real-time control the performing musician needs.
6 Oscillator Monophonic Solo Synthesizer
HexLayer
Drawbar Organ Mode
Full spec:
6 Oscillator Monophonic Solo Synthesizer
HexLayer – A single sound made up of 6 components for gig ready splits and layers
Drawbar Organ Mode with 9 sliders, adjustable rotary speaker, key click, vibrato and percussion
400 fully editable PCM based sounds like stereo pianos, vintage electric pianos, strings, guitars, drums and more
Step Sequencer with 9 instrument tracks and 4 controller tracks
16 step programmable Arpeggiator
Phrase sequencer to record and playback your riffs
Performance mode providing 4 internal or external instrument zones with instant recall of effects, Step Sequences, Arpeggiators and Phrases
4 real-time controller knobs
Pitch and Modulation Wheels
1/4" Mic and Line puts to process your voice or other instruments
Stereo 1/8" line input to connect an MP3 player, laptop or tablet
USB and MIDI ports
1/4" Line Outputs
Included Power Supply
Can operate on 6 D batteries