"Showing off CASIO's latest synthesizer XW-P1. This video was made right after delivery. Read my review in OKEY-magazine #107. www.robert-karasek.com"
The XW-P1 is a 61 key performance synthesizer with Casio's exclusive (HPSS) Hybrid Processing Sound Source. Providing screaming virtual analog monophonic leads and basses, drawbar organs, complex layers, stereo pianos, drums and more, the XW-P1 has the sounds and real-time control the performing musician needs.
6 Oscillator Monophonic Solo Synthesizer
HexLayer
Drawbar Organ Mode
Full spec:
6 Oscillator Monophonic Solo Synthesizer
HexLayer – A single sound made up of 6 components for gig ready splits and layers
Drawbar Organ Mode with 9 sliders, adjustable rotary speaker, key click, vibrato and percussion
400 fully editable PCM based sounds like stereo pianos, vintage electric pianos, strings, guitars, drums and more
Step Sequencer with 9 instrument tracks and 4 controller tracks
16 step programmable Arpeggiator
Phrase sequencer to record and playback your riffs
Performance mode providing 4 internal or external instrument zones with instant recall of effects, Step Sequences, Arpeggiators and Phrases
4 real-time controller knobs
Pitch and Modulation Wheels
1/4" Mic and Line puts to process your voice or other instruments
Stereo 1/8" line input to connect an MP3 player, laptop or tablet
USB and MIDI ports
1/4" Line Outputs
Included Power Supply
Can operate on 6 D batteries
Icebreaker Audio has released the PortaSynth and Calc-U-Synth instruments for Native Instruments' Kontakt 5 platform.
PortaSynth is an emulation of a circuit-bent Yamaha PortaSound PSS130 from 1987. It also includes PortaDrums – a drum machine based on the percussion samples from the same instrument.
Calc-U-Synth is a full emulation of the Casio VL-Tone's programmable synth engine for Kontakt. It features faithful emulations of all of the VL-Tone's parameters.
Both PortaSynth and Calc-U-Synth are included in the ToyBreaker Bundle, which also includes HandySynth – a sample based emulation of a circuit bent Yamaha HandySound. Not only does this bundle save you around 25% of the total price of buying the three products separately, but as an added bonus, ToyBreaker Bundle owners also get an exclusive battery kit of drum samples taken from several toy keyboards from the 80s.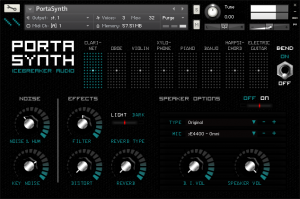 PortaSynth features:
All instrument sounds sampled chromatically at 24bit, 48kHz quality.
Bent sound counterparts for each of the sampled sounds.
Advanced speaker options.
Distortion, filter and spring reverb effects.
Key-Click and Background Noise controls.
Also includes the PortaDrum drum machine.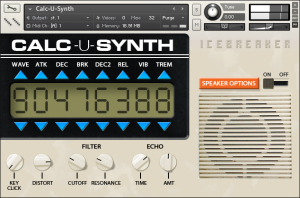 Calc-U-Synth features:
A full emulation of the Casio VL-Tone's programmable synth engine.
All waveforms sampled chromatically at 24bit, 48kHz quality.
Additional filter, distortion and echo effects.
Advanced speaker options, and key-click noise control.
Prices:
PortaSynth: £7.50 (€9 / $12 approx.).
Calc-U-Synth: £4.50 (€5.5 / $7 approx.).
The ToyBreaker Bundle: £12.50 (€15.5 / $20 approx.) – a 25% saving over buying the three products separately.
Upgrade Prices: HandySynth Owners can upgrade to the ToyBreaker Bundle for £9 (€11 / $14) before the 1st September, 2012.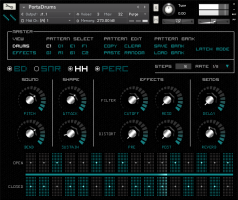 All products are available now from the Icebreaker Audio website.
SXSW Gear Alley 2012 Austin, TX was the place to be and Casio knew this was the audience to be some of the first to preview their new XW line of synthesizers. Casio's full line of keyboards and Privia digital pianos were a big hit, but the buzz was clearly the new XW synths!
Performance by Karmina. #beyondsound
In this video we take you on a quick tour of the front panel of the Casio XW-P1 Performance Synthesizer. Selecting Performances and Tones, making quick edits, using the arpeggiator and phrase sequencer. This is the first in a series of videos on the XW-P1.
Daniel Fisher plays the XW-P1 using a preset that he created. A quick tribute to Shine On by Pink Floyd
CASIO new synth presented by a cool band
Here's what Casio has to say about it:
We're working on expanding the library of sounds available for the XW-P1, here is a quick look at some of the sounds we're working on. These sounds will be available in May for free at www.casiomusicgear.com
CASIO demonstrator Ralph Maten explains the features of the CASIO Perfomance Synthesizer XW-P1
CASIO XW-P1 Musik Messe 2012 by Rock oN Report
The XW-P1 is a synthesizer particularly designed for creating sounds and playing expressively in live performances. This model features 620 preset tones, including Solo Synthesizer presets that reproduce vintage analog synthesizer sounds, Hex Layer ensemble sounds that comprise as many as six tones, and Drawbar Organ presets that can be controlled using nine sliders functioning as drawbars. A wide array of sounds can be created using the preset tones and a wide range of internal waves. Moreover, the XW-P1 is loaded with various functions to give discerning performers more power of expression, including the Performance function that allows performance setups to be independently assigned for up to four designated keyboard zones.
Mike Martin from Casio visited Sweetwater Sound to give a deep overview of the XW-P1 Performance Synthesizer. Mike shows off a lot of sounds, the ability to mix oscillators on the fly, and some awesome sequencing and arpeggiation capabilities. Enjoy the demo, then learn even more about the Casio XW-P1 Performance Synthesizer right here: http://bit.ly/sw_XWP1
The Casio XW-P1 is a powerful six oscillator monophonic solo synth that is ready to gig. You can combine all six oscillators to make a single tone. You get two virtual analog style oscillators, two PCM oscillators, one noise oscillator, and one external oscillator for use with line and mic inputs. Each oscillator has their own filter, portamento, envelopes, key tracking, a master resonant filter, and two LFOs. The XW-P1 is an extremely powerful synth that lets you really edit and tweak each setting. You also have access to the original CZ synthesizer's waveforms.
AfroDJMac Free Ableton Live Pack #45: Casio MT-68. Created with Mike Longo.
Opening song "It's What You Know" by Mike Longo
Download the Rack Here for Free: http://bit.ly/freesynth45
The MT-68 is very well equipped and makes good use of the potential found in the CPU NEC D 930 G (auto accompaniment CPU chip), which was built into many Casio keyboards. Besides 4 different bass and chord figures per rhythm pattern, 4 additional arpeggio modes are available. It even has functions comparable to a synthesizer's ADSR envelope on the melody sounds, but I'm not going into detail about it for now.
The analog drum circuits sound quite thin, though. The bass also rather plays melodious sequences than real bass figures, but uses 4 different bass sounds. The 4 different chord sounds are warm and vary from elaborate rhythms to ponding, areal chords.