Mike Martin from Casio visited Sweetwater Sound to give a deep overview of the XW-P1 Performance Synthesizer. Mike shows off a lot of sounds, the ability to mix oscillators on the fly, and some awesome sequencing and arpeggiation capabilities. Enjoy the demo, then learn even more about the Casio XW-P1 Performance Synthesizer right here: http://bit.ly/sw_XWP1
The Casio XW-P1 is a powerful six oscillator monophonic solo synth that is ready to gig. You can combine all six oscillators to make a single tone. You get two virtual analog style oscillators, two PCM oscillators, one noise oscillator, and one external oscillator for use with line and mic inputs. Each oscillator has their own filter, portamento, envelopes, key tracking, a master resonant filter, and two LFOs. The XW-P1 is an extremely powerful synth that lets you really edit and tweak each setting. You also have access to the original CZ synthesizer's waveforms.
AfroDJMac Free Ableton Live Pack #45: Casio MT-68. Created with Mike Longo.
Opening song "It's What You Know" by Mike Longo
Download the Rack Here for Free: http://bit.ly/freesynth45
The MT-68 is very well equipped and makes good use of the potential found in the CPU NEC D 930 G (auto accompaniment CPU chip), which was built into many Casio keyboards. Besides 4 different bass and chord figures per rhythm pattern, 4 additional arpeggio modes are available. It even has functions comparable to a synthesizer's ADSR envelope on the melody sounds, but I'm not going into detail about it for now.
The analog drum circuits sound quite thin, though. The bass also rather plays melodious sequences than real bass figures, but uses 4 different bass sounds. The 4 different chord sounds are warm and vary from elaborate rhythms to ponding, areal chords.
Daniel Fisher, checks out the new Casio XW-P1 Performance Synthesizer from the 2012 NAMM Show.
The Casio XW-G1 is a 'groove synthesizer' equipped with a keyboard and designed to offer the various kinds of digital equipment used by club DJs, including the ability to create and play back a variety of rhythm patterns and musical phrases.
The Akai Max 49 is unique in the way it combines traditional keyboard controller functions with MPC pads, control voltage support and LED faders.
The Nord Drum is not sample-based, but uses a virtual analog synth engine that's designed specifically from drum synthesis.
A lot of buzz around  the WX-P1 – the first Casio synth release for 20 years.
Namm 2012 Casio XW-P1 WX-G1 by Rock oN Report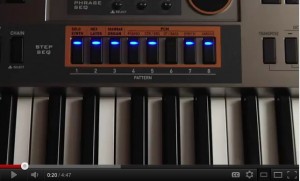 "Introduction to the new XW-P1 Performance Synthesizer from Casio by Mike Martin." Casio has unveiled two new professional Synthesizers: the XW-P1, a 61 key performance synthesizer equipped with Casio's exclusive Hybrid Processing Sound Source (HPSS) that meets the needs of the most experienced performing musician, and the XW-G1 groove synthesizer, designed for the DJ and club performer, provides an interactive step sequencer and a sample looper for digitally capturing performance patterns and external instruments. Designed with today's professional musician in mind, both the XW-P1 and XW-G1 synthesizers are the ideal tools for performing and recording artists alike. With the launch of two new products Casio has re-entered the professional synthesizer market, ultimately demonstrating its commitment to innovation in the marketplace.
XW-P1:
6 Oscillator Monophonic Solo Synthesizer
HexLayer – A single sound made up of 6 components for gig ready splits and layers
Drawbar Organ Mode with 9 sliders, adjustable rotary speaker, key click, vibrato and percussion
400 fully editable PCM based sounds like stereo pianos, vintage electric pianos, strings, guitars, drums and more
Performance mode providing 4 internal or external instrument zones with instant recall of effects, 13 Track Step Sequencer and 16 step programmable Arpeggiators and Phrases
4 real-time controller knobs
Pitch and Modulation Wheels
USB and MIDI ports and a 1/8" stereo line input to connect to an MP3 Player, laptop or tablet
The XW-P1 will be available March 2012 with an MSRP of $699.00
Quotes
Mike Martin, General Manager, Marketing, Electronic Musical Instruments Division
"The XW series are not just new keyboards, they represent a new direction for Casio in the musical instrument business."
"Casio's formula of value and quality that has been the foundation of award winning instruments like Privia has been applied to a new product category, and the XW-P1 and XW-G1 are just the beginning."
"The solo synth has an incredibly deep and powerful design. Among countless others, the oscillators even have access to waveforms from Casio's original CZ synthesizers. It can create a variety of classic analog sounds, but also has the power to deliver sounds with an aggressive edge."
'Everyone is going to be surprised by the expressiveness and range of sounds the solo synth can create, but that is just one aspect of these products.'"
Casio has introduced two new keyboard synthesizers at the Winter NAMM, the XW-G1 Groove Synthesizer and the XW-P1 Performance Synthesizer, here are the full specs for both of them: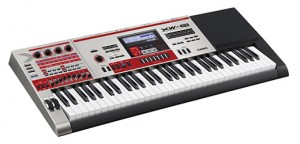 The Casio XW-G1 is a 'groove synthesizer' equipped with a keyboard and designed to offer the various kinds of digital equipment used by club DJs, including the ability to create and play back a variety of rhythm patterns and musical phrases.
Features:
Step Sequencer

100 different rhythm patterns are available for playback in the preset sequences
Up to 100 original rhythm patterns can be recorded as user sequences
Users can improvise using the set of 16 buttons while playing back rhythm patterns
Multiple rhythm patterns—as many as 99—can be connected in a sequence and played as loops using the Chains function

Phrase Sequencer

100 musical phrases can be readily played back using the preset phrases
Up to 100 musical phrases spontaneously played on the keyboard can be stored in memory as user phrases

Live performance functions

A multifunction keys enables users to assign essential functions for DJ performances to keys
420 preset tones including Solo Synthesizer and PCM tones can be quickly accessed in keyboard performances
The Arpeggio function can automatically play arpeggios just by pressing keys

Sample Looper

Sounds performed on the synthesizer as well as sounds input from external source can be sampled and played back in loops of up to 19 seconds long, allowing overdubbing
Sampled sounds that are saved as user tones can be played in keyboard performances

Other features

Wide variety of preset tones or internal PCM and Synth waves to create sounds
Various input and output terminals enable connection of audio equipment and MIDI-compatible devices, such a DJ gear and musical instruments
Portable MIDI devices or audio equipment can be placed on the designated rubber holding space
Specifications are available at the Casio site.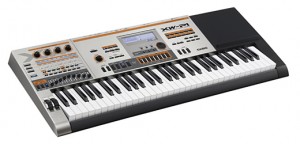 The XW-P1 is designed to be a true performance synthesizer that allows users to create a wide array of sounds from many preset tones, including Solo Synthesizer, Hex Layer, and Drawbar Organ tones, as well as numerous types of internal PCM and Synth waves.
Features:
Wide selection of preset tones ensures quick access in performances

100 Solo Synthesizer presets can reproduce vintage analog synthesizer sounds
50 Hex Layer presets layer as many as six tones for ensemble sounds
50 Drawbar Organ presets can reproduce traditional Drawbar Organ sounds
A total of 420 PCM Melody and PCM Drum presets have been produced from samples of various instrument sounds including pianos, guitars, and drums

Synth features

A total of 311 internal Synth waves reproduce vintage analog synthesizer sounds
A total of 2,158 PCM waves are built in, including wave data from the CZ series, Casio's best-selling digital synthesizers of the 1980s
Users can create integrated sounds by layering analog synthesizer waves and PCM waves
Users can produce original Hex Layer sounds by combining as many as six preset tones
Users can create their own Drawbar Organ sounds by using the nine sliders

Variety of functions useful for live performances

Users can assign performance setups for up to four designated keyboard zones by using the Performance function
The Phrase Sequencer lets users create and play back musical phrases to enhance their performances
The Step Sequencer allows users to create and play back a variety of rhythm patterns
The Arpeggio function can automatically play arpeggios just by pressing keys

Useful features for applications ranging from performance to music production

SMF data or audio data saved on an SD card can be played back while playing the keyboard
MIDI devices, microphones, audio players, and other equipment can be connected using the various input and output terminals
Portable audio equipment or MIDI devices can be placed on the designated rubber holding space
Specifications for the XW-P1 are available at the Casio site.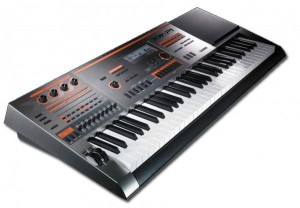 Still just a teaser, but we do know this is Casio's first synthesizer since  1988. Good to see them back. The XW-P1  is a hybrid Lead and Groove Synth with a Mono solo section with up to six oscillators: two virtual analog, two PCM, noise, and external audio. Poly section with wide variety of gig- ready sounds. Drawbar organ mode. Six-way HexTone multis. Nine-track step sequencer with dedicated drum track. We can all hope that it will also include Casio's PD Synthesis, although the inclusion of drawbars does give the impression that its gonna be more in the  preset direction.
Full details available via the dedicated http://www.casiomusicgear.com/ site. Which has a preview image of an excited crowd in front of an empty stage with a couple of Korg MS20s on it..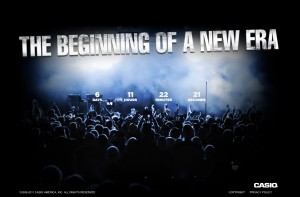 Expected cost around $700
More Information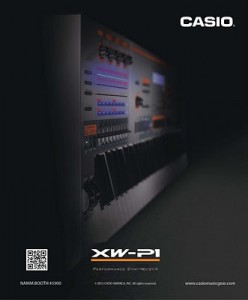 This is something we definitely need to check out at NAMM – don't miss it

Circuit bent with 24 modifications + a new wooden framework and control interface. See the build here… http://www.cocoelectrik.co.uk/2011/12/s-cat-casio-mt40-build/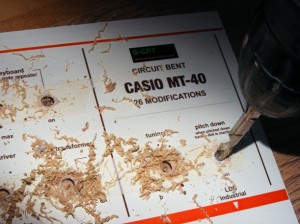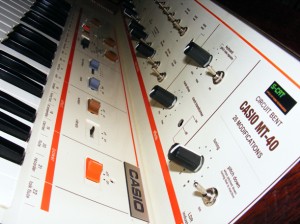 The Casio Casiotone MT-40 is a musical keyboard, formerly produced by Casio and originally developed for the consumer market. It is 9 voice polyphonic, with 37 main keys and 14 smaller bass keys. Eight notes may be played on the main keys, and one note on the bass. The bass section has one timbre, and the main section has 22, assignable to one of four presets. Like most small Casio keyboards, it also has a drum section with 6 different beats, a tempo knob, and a "fill" button. The fill button plays sixteenth note pulses of either the "snare" or "kick" as long as it is held down. Production started in the early 1980s and ceased shortly thereafter. The successor of the MT-40 came with a gray case, and was sold as the MT-41.
The keyboard is a prime candidate for modification through circuit bending, owing to simple circuits and a series of smaller potentiometers inside for factory adjustments, there are two examples of circuit bent units on Youtube, which have been built by S-CAT. The relative scarcity of these makes bending relatively risky, and most are left as stock.
The MT-40 had a built-in pattern based on the Eddie Cochran song "Somethin' Else". Because of this, a synthesizer version of the song's bassline ended up as the basis of one of the most popular dancehall music riddims of Jamaican music – the Sleng Teng riddim which started the "Digital Reggae" revolution in 1985.
It has also secured a niche in indie music. It occurs occasionally in songs by The Magnetic Fields, and is featured prominently on most of Emperor X's album Tectonic Membrane/Thin Strip on an Edgeless Platform. Its thin fuzz can be heard on lesser known Australian indie band Turnstyle's top 20 single Spray Water On The Stereo. In the UK, The Farmer's Boys, who were signed to EMI and beloved of John Peel, used it on a number of singles and album tracks – with an ironing board as a keyboard stand.