Movie demonstrating the Roland MIDI system, with MKB-300, MKS-80, MKS-30, TR-707, MSQ100 and MPU-401 and IBM PC with Personal Composer.
Video by Tom Gjertsen, Gustring Studio, Music by Brynjulf Blix. Narration by Kjell Kjær.
One of the typical keyboard-based setups that were used in the '80s for ballads.
Moog Minimoog: synth bass
Roland TR-808: drum machine
Yamaha DX7: electric piano
Cauldron born! Another dirge disco relic of the 80's risen from it's grave to do what it does best in the hell of the living. Juicy analogue filter mods on a retro 80's machine. Even if the glitch switches weren't fitted it would still sound good. The filter/delay combination i favour works nicely with drum machines and the tr505 is a fine example.
Upon completion the psu pcb had a few free terminals left so i decided to liven up under the front panel with a series of leds that shift through the RGB spectrum. So i guess as well as a nice drum machine it's also a moody lamp in a dark place for when you just want to lay back and and drift for a while.
The Sanyo DP 10 is a card player synthesizer from the early 80s. Yamaha released a series of keyboards around the same time and Sanyo appears to have taken that technology into their unit. Like the Yamaha keyboards they accept cards that have a magnetic strip the reader recognizes and plays a pre-programmed song. The cards features songs such as Dancing Queen, Londonderry Air, etc and a head cleaning card. The DP 10 can also mix signals into the unit via the 2 mic inputs and an auxiliary input to play along with another instrument or sing through a mic. You can also adjust the tone or change the tempo of he song. There is also a rhythm section for 10 different styles of music, such as march and disco, jazz and bossa nova.
Here is a demo with the Juno 60 and LinnDrum doing some 80's-ish, HI-NRG drums and basslines. The two were ran through a Roland MMP-2 Preamp/Compressor, then the SPDIF of that went straight into my Allen & Heath Xone DX.
The Linndrum hits extremely hard and is a complete joy to use. The Juno-60 is locking onto the trigger out of the Linn which allows for quick timing on basslines.
Listen to Chipbeat's take on the old Miami Vice song "Step back"
"only hardware used / ROLAND Alpha Juno 2 & ROLAND R8 — listen an Download here : http://soundcloud.com/crizdian/step-back-80s_mix_preview"
The Polivoks is the most popular vintage Russian synth made in the early 80's and it was among the first synthesizers produced in the USSR. It's purely analog with two voices of polyphony, two oscillators each with triangle, square, saw, two types of pulse waveforms and one noise generator, the levels of which are controlled via the internal mixer. Although the oscillators can become unstable and difficult to tune, the Polivoks is well suited for making screeching sounds and thunderous bass. You can also connect an external audio input for processing through the Polivoks' switchable dual-mode band pass/low pass filter and LFO sections. The LFO, or "Modulator" offers triangle, square, random and noise waveshapes and can be applied to the oscillator level and pitch or the filter cutoff. There are also two ADSR envelopes for contouring the oscillators and filters.
Polivoks had been produced since 1982 by the Formanta electronic factory (one of the biggest at the time); it was sold exclusively in the USSR. Polivoks has its own unique electronic components including a reliable keyboard (49 notes F to E) made with magnetically controlled contacts. Its synthesis modules consist of independent circuit boards, which is convenient for maintenance and repair. In addition, Polivoks is housed in an original rugged aluminum body of uncommon design with handy controls.
"Here is a Russian Formanta Polivoks Duophonic Synthesizer that was recently in for repair at The Analog Lab in NYC. It is a harsh sounding nasty beasty. Its basically impossible to get a sweet sound out of this thing, so we decided to go with a brash piece by Modest Mussorgsky…Hooray Russia! The guts of this thing are also pretty solid. Soviet era parts all over the place with plug-in circuit boards. The schematics for this synth are actually pretty decent. Strange grounding system and output connectors. The Polivoks just feels cheap, like you might break it by playing it, but damn, it can get in your face!"
www.theanaloglab.com
New from UNIVERS SONS (UVI), Emulation One is the sequel prequel to the now famous Emulation 2, presents you with the unbridled sonic imprint of this "nearly affordable and compact" sampler from 1981. Used by greats such as Vangelis, Herbie Hancock, David Bowie, Depeche Mode, Genesis, Kitaro, Jean-Michel Jarre, Stevie Wonder, Philip Glass, John Carpenter and more, this 8-bit classic will surely inspire you on new voyages of sound as you rediscover the magic character of this 80′s gem.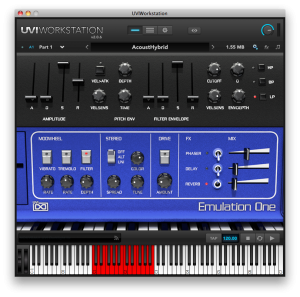 UVI prides itself in providing the highest quality instruments. Meticulous process is designed from the start to ensure the original character of these machines is preserved faithfully. Deep multi-sampling utilizing the very best analog and digital equipment is combined with industry-leading modeling tools to give you a hybrid instrument that's both genuine to the original and thoroughly customizable.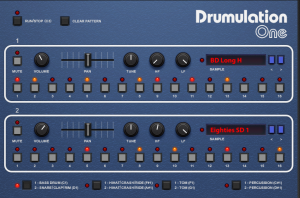 We carefully selected and recorded over 200 of the best sounds from a fully restored unit. Old-school drums, bass, choir-voices, fretted instruments, FX, keys, mallets, percussion, synths, strings, orchestral hits and more are all here.
Also included with Emulation One is the new Drumulation One – a beatbox and step sequencer loaded to the brim with vintage 8-bit drum and percussion sounds.
Add a piece of history to your musical arsenal and paint the future with the magic of the past–Get Emulation One today!
COMPATIBLE WITH ALL SEQUENCERS:
With the free UVI Workstation 2.0.6 (required version), UVI Emulation One can work:
• as a stand-alone instrument, compatible with Mac & PC
• as a VST, AudioUnit, RTAS and MAS plug-in. iLok required.
With MachFive 3 – make the most of all editing features included!
AVAILABLE NOW: US$99.
Info: http://www.uvisoundsource.com/all-products/emulati… .
Why Spotify didn't exist in the '80s. Some people asked me for the PC noise version of the Smurf song of Father Abraham… Here it is: http://archive.org/details/Squirrel-monkey.comTerribleSmurfSong