Electronic pop singer/songwriter Howard Jones has today announced that he will host a new 4-part radio series entitled "Electronic 80s with Howard Jones" for the UK's premiere 80s music radio station Absolute 80s. The hour-long show starts Sunday 4th March at 8pm, with subsequent shows airing on 11th March, 18th March and 25th March.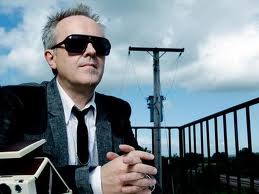 "Electronic 80s With Howard" Jones dovetails Howard's highly anticipated April 2012 UK Tour, which begins at the O2 Academy Bristol on Wednesday 11th April. This marks the first time Howard will perform his first two studios albums "Human's Lib" and "Dream Into Action", back-to-back in their entirety on a nationwide tour. Both albums feature 80s pop hit singles, including "New Song", "What Is Love?", "No One Is To Blame", "Hide and Seek", "Look Mama", "Everlasting Love", "I'd Like To Get To Know You Well", and "Things Can Only Get Better".
Enjoy
http://youtu.be/o-7nhDJk4DM
Here's a nice demo/tutorial on how to re-create the sounds of the 80's  – for whatever reason

Equipment used:
Drums:
MFB Kult
Simmons SDS 800
MAM ADX1
Lell UDS
Synths:
Waldorf Microwave
Oberheim Matrix 6R
Roland MKS-70
Doepfer Dark Energy
DSI Evolver
MFB Synth Lite
FX:
Lexicon MPX-1
Korg Kaoss Pad Mini
Ensoniq DP/4
Audio demo of the new Emulation II VST, providing 80's sounds with real time control and effects. Features many sounds from the original Emulator II sampler. Sounds were recorded and carefully selected from the authentic restored instrument, with the very best analog and digital gear, suiting UVI quality standard. This process allows preserving the original sounds' lo-fi charm.
Besides, hundreds of sounds and instruments among the best are included: drums, bass, bells, choir-voices, fretted instruments, FXs, keyboards, mallets, percussion, synths, strings, orchestral hits and a lot more.
A simple, yet complete, user interface reproduces the looks and feeling of the most famous and essential machine from the eighties. With 250+ best sounds and primary editing tools, Emulation II enables you to create authentic spin-offs with infinite options of sounds and tones.
Full info at:
http://www.uvisoundsource.com/product_info.php?currency=EUR&products_id=66
More including audio track demo's here:
http://blog.uvi.net/sounds-instruments/emulation-ii-launch-new/
As reported on last week Eowave released a teaser for their new synth – well here we are with all the details

Eowave KOMA Bass Synthesizer, an all-new analog synth – inspired by classic synths from the 1980s.
The KOMA offers the possibility to mix four different waveforms (saw, square, sub, noise). The unit's 24 dB lowpass filter is also inspired by classical filters from the '80s, and to this particular sound of the era, Eowave added a touch of modernity with new controls and parameters. The KOMA boasts a 16-step sequencer with four rows: one row for the notes and three that are freely assignable to a parameter of your choice.
The price of the KOMA, as listed on eowave.com, is 599 EUR (approximately $762).
Here are the KOMA specs:
Main VCO with 2 waveforms (square and saw), plus Sub (square) and Noise
The pulsewidth of the square waveform can be modulated by ENV2 or by the LFO
The main oscillator can be transposed up to 3 octaves
The main oscillator frequency can be modulated by the LFO or by ENV3
Glide
Mix of the 4 waveforms
Sub (sub can be 1 or 2 octaves below the master freq)
DESYNC mode enables you to desynchronize and detune the Sub from the main oscillator
In DESYNC mode, the Sub can be at the same frequency than the main oscillator or 1 octave below
24 dB resonant lowpass filter for a classical '80s sound
Variable cutoff and resonance
The filter can be modulated by ENV2, KB, LFO
External audio with a trimmer to feed the filter
The LFO has 8 waveforms (triangle, ramp up, ramp down, square, random, digital noise, staircase up, staircase down)
Variable speed
The LFO modulates the VCO, VCF, or PWM
External MIDI clock synchronization
ENV1 and ENV2: these 2 envelopes ADSR modulate respectively the amplitude and the filter
Attack goes from 2 ms to 10 s
ENV3: envelope Attack / Decay modulates the VCO
4 Banks of 64 sound presets (SAV PRST, SAVE PAT)
4 Banks of 64 patterns
256 Sound presets
256 Patterns
16-Step sequencer with 16 LED
4 Sections: 1 section for gate and note and 3 sections freely assignable to any parameter of the front panel
Random feature
Adjustable tempo
You can transpose the sequencer via an external MIDI keyboard
Each line can have a different number of steps to create complex modulations
Chain up to 8 sequences
Shuffle feature
External MIDI clock synchronization
Audio In
Audio Out
MIDI In
USB (for software update and MIDI I/O)
More information on the Eowave KOMA will be released at a later time, hopefully this week at Winter NAMM 2012. Keep up with Eowave at the company's Web site, eowave.com.
A mini tutorial – How to obtain that classic "bouncy" octave bass in vogue in the 1980s.
"I'm starting a new series of "Quick Tips" videos – short tutorials in which I'll describe several techniques (new and old) used in the synthesizer world. This is the first video, the "1980s Limahl-style" synth arpeggio."
How to obtain the classic "aggressive" 303 acid rave popular in the early 1990s.
Instruments used:
Roland TB-303 bassline
BYOC E.S.V. fuzz (germanium version)
Boss DD-3 digital delay
Roland TR-909 drum machine
A live improvisation of a typical mid-'80s style arrangement – a bit in vein of King's "Love and Pride". The Memorymoog has the lion share in this video, with its typical, quintessential synth brass. The LinnDrum is the standard drum machine of that era, and the PPG offers an elegant choir sound.
Hardware feature – PPG Wave 2.3: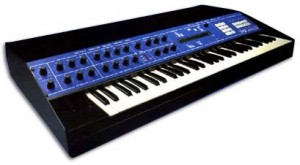 The German made PPG Wave 2 series of synthesizers are incredibly great sounding analog/digital hybrid vintage synths. They use digital samples of wavetables and feature analog VCA envelope and VCF filter sections for a classic and warm sound. The Wave 2.2 (pictured above) has oscillators that can generate over 2,000 different single-cycle 8-bit digital waveforms! Covered by knobs, the Wave still looks analog and this comprises the "Analog Control Panel". More complex and new-wave editing of the wavetables and samples is covered by the "Digital Control Panel" where there are several key-pad buttons and an LCD screen. Another familiar treat to analog junkies is the inclusion of an 8-track sequencer which features automation of pitch, loudness, filter cutoff, waveforms and more. A cool feature – its onboard sequencer will also record any filtering and wave changes, in real-time!!
The more commonly encountered Wave 2.3 followed the 2.2 and had enhanced sample-playback capabilities. The sampler was pretty full-featured for its time and included upgraded 12-bit digital waveforms, Fourier analysis and linear playback of samples. The 2.3 model also featured 8-parts multitimbrality and MIDI implementation. The PPG Waves are know to create excellent pads, brass and bass sounds.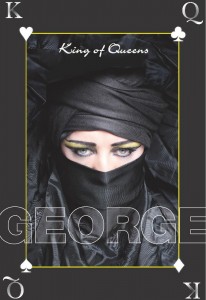 Getting in on the art publishing market, pop icon Boy George is releasing a coffee table book called King Of Queens. The 18″ by 12″ tome is part photo book and part biography containing a lot of unseen personal photos, illustrations and artist photos as well as his school reports, his baby book and letters.
Only 999 copies are being published but each one comes numbered and signed by Mr O'Dowd along with a 10″ picture disc containing unreleased material.
From those were the days:
New track by "harlemnightsmusic" in early 80s disco synth style
Synths: SCI Pro One, Sequential Prophet VS, Korg Polysix, Minikorg 700S
Drums: Korg Electribe SX (with Oberheim DMX sounds)
Original Studio 54 clips compiled by crap1453
Featured hardware:
The MiniKorg 700s is an old and simple monophonic analog keyboard from Korg. It is a dual-oscillator synth related to Korg's first monosynth, the single oscillator MiniKorg 700. Most of the controls are located in an odd place beneath the keyboard so as to make room above the keyboard for a sheet-music stand. Some controls have bizarre names like Bender, Traveler and Expand for the auto-bend, filter and envelope, respectively.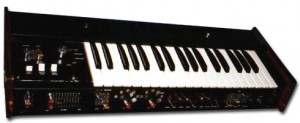 It has three ring modulators for some strange sounds and noises. Sometimes a decent bass sound for techno music can be achieved using the MiniKorg's hi-pass and low-pass filters. The two oscillators can be de-tuned and they offer triangle, sawtooth and square waveforms. There are some strange analog effects built-in as well such as portamento, a rudimentary repeat-delay, auto-bend (bender), vibrato and Chorus and Noise waveforms.
Indians in Moscow are synthwave pioneers, originally formed in Hull (UK) in 1981. They had a No.1 indie hit in 1983 with "Naughty Miranda", followed by "Jack Pelter and his Sex-Change Chicken" and the "Big Wheel e.p.". The original band split just as their first self titled album was released.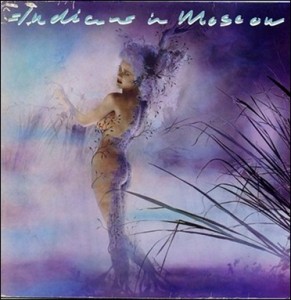 Expanded version of Indians in Moscow 1984 masterpiece will be available for the very first time on CD with large bonus section via Other Voices Records.
Catchy, Quirky and Unique. Absolutely not to miss!!!
Tracklisting:
1.Big Wheel
2.Meeting Place
3.Witches & Heroes
4.Howard's at Lunch
5.Jack Pelter and His Sex -Change Chicken
6.Puppet Dance
7.Square Dance in the Sepulchre
8.Love Song
9.I Wish I Had
10.Singing to French
11.Naughty Miranda
12.Underneath the Tree
13. Slide
14. Dies Irae
15.Naughty Miranda (Extended Mix)
16. I Wish I Had (Extended Mix)
17.Jack Pelter (Extended Mix)
18.Naughty Miranda (7″ Single Mix)
Indians In Moscow :
Adele Nozedar
Pete Riches
Richard Hornby
Stuart Walton
Their first release was a contribution to the various artists compilation "Your Secret's Safe With Us" in 1982. They came to fame on the cult 1980s Channel 4 music TV show The Tube as part of the show's Hull music special, and had three hits on the UK Indie Chart with "Naughty Miranda", "I Wish I Had" and "Jack Pelter & His Sex Change Chicken". After a fourth single, the "Big Wheel" EP, the band's only (self-titled) album was released in 1984. The band split up shortly afterwards, with Nozedar forming a new band, The Fever Tree, who released one single, "The Pixie Shop" late in 1985. Riches and Walton reformed the band in 1998 with singer Chris Guard and moved into techno / house territory.