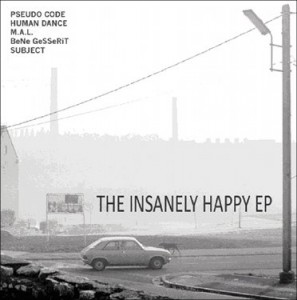 A new 7″ vinyl will be released on EE Tapes on February 7, 2011: "The Insanely Happy EP" featuring various artists. Limited to just 250 copies it's collection of vintage 80s tracks by various Insane Music label bands from Belgium, compiled by Alain Neffe. Four projects feature Neffe himself in different disguises: Pseudo Code, Human Dance, Subject and Bene Gesserit, and one track by M.A.L., a long-time Insane collaborator. This vinyl EP contains 6 tracks of which 4 were never released before.
Both Bene Gesserit tracks are taken from their classic LP on Insane, long out of print by now. The first 85 copies are handnumbered and contain 2 extra photographs. Order yours at www.eetapes.be .
Via SL
Sir Sampleton is a sampling keyboard, which means it can record sounds through the microphone that you can then play on a keyboard. If you want the sound of bagpipes or bells, then just use Sampleton to sample some bagpipes or bells. Or if you want more unique sounds, you can make samples with your own voice or noisy objects you find around the house.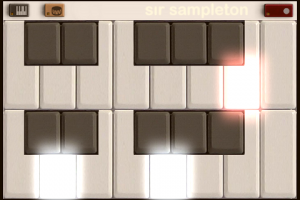 Sir Sampleton is inspired by sampling toy keyboards of the 80′s like the ones produced by Casio and Yamaha. These classic keyboards were great toys, but are now expensive because they are sought after by professional musicians for their warm, low-fi sound and simple operation. Now, it's possible to have similar sound and functionality in an app, plus the features that you wish the old keyboards had, like the ability to save samples.
FEATURES:
◊ Sample through the microphone and then play your samples on the dual keyboards
◊ Save and recall your samples
◊ Add rhythm with the built-in beats and random beat generator
◊ Tweak advanced sound settings such as vibrato, note trail length, and sample time
◊ Put one sample on each keyboard in dual-sample mode"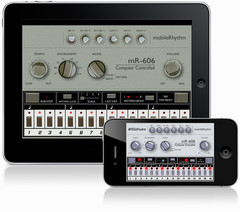 MPD Software has released the mobileRhythm mR-606, a music app for iPhone, iPad and iPod touch, inspired by the look and sound of classic 1980′s drum machines.
The mR-606 drum machine is reminiscent of the classic 1980′s beatboxes that heavily influenced both the Detroit and Chicago house music scenes – the forebears of modern dance and techno music. These classic boxes were re-discovered by the rave and acid music collectives of the '90′s in the UK and in Europe, and have been popular ever since.

Now hard to find in their original hardware form, the mobileRhythm mR-606 is destined to be popular with anyone who enjoys a bit of nostalgia in their music-making.
mobileRhythm mR-606 is now available in 3 versions: iPad, iPhone and Universal, for use on any iOS device. It is priced at $5.99 USD / £3.49 GBP.
More information: mobileRhythm
A rare early 80′s single featuring Peter Gabriel (once of Genesis) on backing vocals.
Johnny Warman (born 1950s in London) is an English singer-songwriter best known for his 1981 recording "Walking Into Mirrors" and "Screaming Jets".
via EB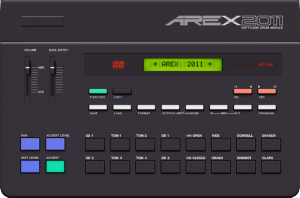 AREX 2011 is a free VSTi drum module, based on a hardware drum machine from the early 80's.
Features:
16 pads
29 embedded drum samples of RX11
12 individual/group outputs
individual volume, pan, accent
assignable MIDI note within 36 – 99 range
VST automation
MIDI automation of essential controls
16 part multitimbral MIDI Out flow
can be used as a MIDI controller of sorts
bundled with RX11 MIDI swing templates and 55 demonstrational patterns
Download from the Bayan site.
More news from Belgium and another dark electronic band that started in the 80:s: The Neon Judgement.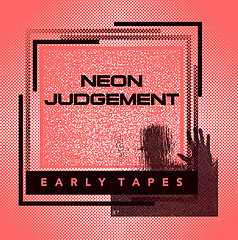 "TV Treated" and "Suffering", the two first cassettes from the duo, have been remastered and released on vinyl LP. This product from Dark Entries is a limited edition (500 numbered copies), including lyrics and photos, called "Early Tapes".
"Smack EP" is another new release: a digital EP with remixes which was released a week ago.
Michael Kastrup has released Tonemeister GM 80, an 80′s General Music ReFill for Reason.
In short this Refill could be considered as a General 80′s Music module with a twist, the twist is that the multisamples are done with effects on, meaning reverb and other spatial sound things are kept except for delays.

All multisamples are synthesized from scratch, additional samples are a special Redrumkit created for these 80′s sounds.

The Refill size is 300 MB (650 MB unpacked), covers 120+ multisamples which are made into NN-XT presets to keep things real simple.
Tonemeister GM 80 is available to purchase for 19 EUR.
More information: XSynth
Prime Loops have released Synth Bass Analogy, a collection of 80 analogue bass sounds formatted for Kontakt, Halion, NN-XT and EXS24. Here's what they have to say about it…

For adding pure organic soul and sonic temperament to electronic music, there's nothing better than analogue synths. Producers dream of owning classic kit like the Roland Juno 106, Roland MKS-30, Korg Mono/Poly, Polyvox and Novation's Super Bass Station, and engineers spend years tweaking the settings to create perfect, powerful vibrations.

Dmitry Vasilyev is one of those sonic freaks who has dedicated his musical life to discovering new sounds by pushing real hardware to the limit. As the producer of best selling Prime Loops sample packs such as "Synth Addict", "Ambient Illusions" amongst others, he's making his vast knowledge and huge range of equipment available to a wider audience, giving fellow producers the tools they need to get that authentic analogue vibe without a huge, expensive rack.

"Synth Bass Analogy" is Prime Loops' latest collection of professional sample patches, delivering over 80 deep and versatile analogue bass sounds, all ready-formatted for Kontakt, Halion, NN-XT and EXS24, fine-tuned for use in deep and groovy electronica, house, ambient, garage, disco and minimal techno.

Each of these patches contains several note references to maintain integrity as you play across a wide pitch range, and Dmitry has set it all up to drift and detune just like the real thing. Everything has been captured with high-quality recording equipment and the cleanest signal path possible, to give you serious samples suitable for professional projects. And, as with all our products, this pack is triple quality-checked for drag-n-drop reliability, so there's no interruption to your workflow.

Music lovers always appreciate the complex combination of sines, squares and saws flowing through real hardware, and analogue synths really shine when you give them a bassline, triggering deep, warm sounds that fill the room and add colour to your productions. So, whenever the mood strikes, just throw these lovingly prepared patches into your sampler, and hear your midi patterns come alive with the classic sounds of "Synth Bass Analogy".
Pricing and Availability:
£12.95 GBP
More information:
I can´t imagine why the US guys wouldn't like this

In 1982, American-based 7-UP got in touch with a UK agency to get a 30 second tune made by someone who was "happening" at the time to advertise their drink. So the agency contacted Gary and offered a £10,000 deal so he recorded 3 pieces of music with lyrics supplied by them. When the recordings were sent to the Americans they had not heard any music like this, and they were expecting something in a punk style as that had just arrived over there so these recordings were never used.
Thanks to WFL for posting

The Cure have launched a special standalone website dedicated to the upcoming "Disintegration: Deluxe Edition" that features videos, liner notes and photos plus streaming audio of 20 additional demos and live tracks that won't be featured on the 3CD set which is to be released on June 8. The additional set got the name "Alternative Rarities 1988-1989, the collection of unreleased tracks" and is an extra to the 20 outtakes which will be appearing on the upcoming reissue (to be released as a 3 CD deluxe edition, digital download, and a double gatefold vinyl). Head for www.TheCureDisintegration.com or download right here.
The complete set features 13 of Robert Smith's home and full band demos, three studio mixes and four live cuts, including a recording of "Faith" from a 1989 concert in Rome. The rest of the tracks are songs that ended up on "Disintegration", that became B-sides or that are leftover session material, including a different version of "Delirious Night" which appears on the deluxe edition. Also added are 2 previously unheard full-band jams: "Tuned Out" on RTV5″ and "Fuknnotfunk", an odd foray into funk.