all synthesizer sounds: PPG wave 2.2 Synthesizer (1982)
recording: multi-tracking without midi
fx: reverb and delay
Here comes the first PPG WAVE on the market, the PPG Wave 2.
A fantastic digital-analog hybrid using wavetable synthesis for the OSC section and analog filters, envelopes and amps.
Only 8-OSCs instead of 16 in the 2.2 and 2.3. 8bit in the Wave 2 and 2.2, 12bit in the 2.3. 8-track sequencer onboard along with a arpegator. CEM 3320 VCFs for the 2 against SSM 2044 in the later ones.
This unit however has 2 issues:
– 2 faulty VCA's (I guess)
– a horrible keyboard nearly unplayable
This unit has no retrofit, so I'm using an arpeggio and mostly long release times to hide the distorted VCAs or try to use it as an effect.
So no deep exploring here – but this lovely synthesizer has something hypnotic and sounds rarely especially digital, more than that it's warm and organic.
Be the waveforce with you…
This week, checking out the PPG WaveGenerator for PC / Mac
>> with the beauty aspect of the plugin. Why Beauty;
"It's because I choose a lot of sounds which has a bright sound and very beautiful to hear. It demonstrate how fantastic the WaveGenerator can sound."
Part 1 of the video: single use of PPG WaveGenerator
Part 2 of the video: Multi Instruments inside Presonus Studio One Pro
Another video cover the "Beast" side of PPG WaveGenerator which will coming later in this month
Polyphone Aufnahme mit einem monophonen PPG 1002 Sythesizer (1976) an einer 8 Spur-Mixe über ein uraltes Band-Echohall-Gerät entstanden ca. 1987
ca. 4 Stimmen die nacheinander improvisiert eingespielt wurden
Googlish:
Polyphonic recording with a monophonic synthesizer PPG emerged in 1002 (1976) on an 8-track mixes on an ancient tape-echo reverb unit circa 1987
about 4 voices which were recorded successively improvised
Vintage synthesizer demo track featuring the PPG wave
all synthesizer sounds: PPG wave 2.2 Synthesizer (1982)
drums: KORG KR-55B analog drummachine (1982)
recording: multi-tracking without midi, internal arpeggiator
fx: reverb and delay
A sound demo video of the PPG WaveMapper For Mac & PC. The new synth will be shipping late October and don't miss out on our very special deal.
Vintage synthesizer demo track featuring the PPG wave 2.2
all synthesizer sounds: PPG wave 2.2 Wavetable Synth (1982)
drums: Roland TR-707
recording: multi-tracking
sequencing: Doepfer Dark Time step sequencer
fx: reverb and delay
The German made PPG (Palm Products GmbH) Wave 2 series of synthesizers are incredibly great sounding analog/digital hybrid vintage synths. They use digital samples of wavetables and feature analog VCA envelope and VCF (filter) sections for a classic and warm sound. The Wave 2.2 has oscillators that can generate over 2,000 different single-cycle 8-bit digital waveforms! Covered by knobs, the Wave still looks analog and this comprises the "Analog Control Panel". More complex and new-wave editing of the wavetables and samples is covered by the "Digital Control Panel" where there are several key-pad buttons and an LCD screen. Another familiar treat to analog junkies is the inclusion of an 8-track sequencer which features automation of pitch, loudness, filter cutoff, waveforms and more. A cool feature – its onboard sequencer will also record any filtering and wave changes, in real-time!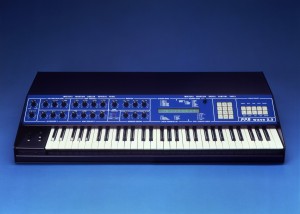 The more commonly encountered Wave 2.3 (pictured) followed the 2.2 and had enhanced sample-playback capabilities. The sampler was pretty full-featured for its time and included upgraded 12-bit digital waveforms, Fourier analysis and linear playback of samples. The 2.3 model also featured 8-parts multitimbrality and MIDI implementation. The PPG Waves are know to create excellent pads, brass and bass sounds.
PPG Company 1984, Production, 10 year anniversary celebration
music by Michael Wehr 2009 and from PPG-demo 1983
Synth designer Wolfgang Palm, pioneer of wavetable synthesis and creator of the PPG Wave and PPG WaveGenerator, uploaded this video, which takes a look at the creation of the PPG Wave 2 synthesizer.
Make a wavetable for the incredible PPG Wave Generator with Audio-term.
You can follow the progression of this here >>