King-style 80s synth pop with Memorymoog, LinnDrum, and PPG Wave 2.3
A live improvisation of a typical mid-'80s style arrangement – a bit in vein of King's "Love and Pride". The Memorymoog has the lion share in this video, with its typical, quintessential synth brass. The LinnDrum is the standard drum machine of that era, and the PPG offers an elegant choir sound.
Hardware feature – PPG Wave 2.3: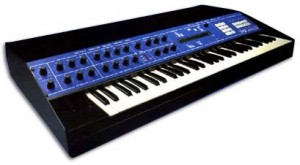 The German made PPG Wave 2 series of synthesizers are incredibly great sounding analog/digital hybrid vintage synths. They use digital samples of wavetables and feature analog VCA envelope and VCF filter sections for a classic and warm sound. The Wave 2.2 (pictured above) has oscillators that can generate over 2,000 different single-cycle 8-bit digital waveforms! Covered by knobs, the Wave still looks analog and this comprises the "Analog Control Panel". More complex and new-wave editing of the wavetables and samples is covered by the "Digital Control Panel" where there are several key-pad buttons and an LCD screen. Another familiar treat to analog junkies is the inclusion of an 8-track sequencer which features automation of pitch, loudness, filter cutoff, waveforms and more. A cool feature – its onboard sequencer will also record any filtering and wave changes, in real-time!!
The more commonly encountered Wave 2.3 followed the 2.2 and had enhanced sample-playback capabilities. The sampler was pretty full-featured for its time and included upgraded 12-bit digital waveforms, Fourier analysis and linear playback of samples. The 2.3 model also featured 8-parts multitimbrality and MIDI implementation. The PPG Waves are know to create excellent pads, brass and bass sounds.
Comments