April 22, 2011 · Posted in
Uncategorized
·
Comments Off

on Koma synthesizer – a new analogue bassline synthesizer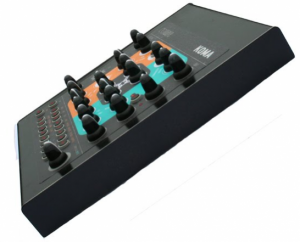 Eowave has introduced the Koma synthesizer – a new analogue bassline synthesizer, inspired by classic synths from the 80s.
Features include 4 different waveforms (saw, square, sub, noise), a 24 dB low-pass filter and a 16-step sequencer. The 16 steps sequencer has 4 rows: 1 for the notes and 3 that are freely assignable to a parameter of your choice.
The Eowave Koma is expected to be available Fall 2011, for 599 € excl. VAT. Details below.
Oscillator section
analogue VCO with square saw sub (sub can be 1 or 2 octaves below the master freq), noise.
VCO can be modulated by LFO and PW
Variable glide
mixer to mix the 4 waveforms
Filter section
external audio with a trimmer to feed the filter
24dB low pass filter roland style for a classical 80s sound
filter can be modulated by env2, KB, lfo.
VCA section
VCA is affected to env1
2 envelopes ADSR modulate respectively the amplitude and the filter.
Attack goes from 2ms to 10s.
LFO section
LFO with 8 waveforms (triangle, ramp up, ramp down, square, random, digital noise, staircase up, staircase down)
Connections
audio in
audio out
MIDI in
Usb (for software update and MIDI in&out)
Sequencer
16 steps sequencer with LED
4 rows: 1 row controls gates and notes.
3 other rows are freely assignable to any parameter of the front panel.
You can transpose the sequencer with an external MIDI keyboard.
April 5, 2011 · Posted in
Uncategorized
·
Comments Off

on Reissues for the A Flock Of Seagulls albums 'Dream Come True' and 'Same'
Out now via the Cherry Pop label are two reissues from A Flock Of Seagulls. 1986′ "Dream Come True" was A Flock of Seagulls' 4th album. This 14 track reissue CD features the 9 original tracks plus five bonus tracks, incl. the 7″ and 12″ single versions of "Who's that Girl (She's got it)" and "Heartbeat like a Drum". The other bonus track on the CD is the 13 minute "(Cosmos) Effect of the Sun", on CD for the first time. The booklet features sleeve notes and a full UK discography featuring many of their sleeves.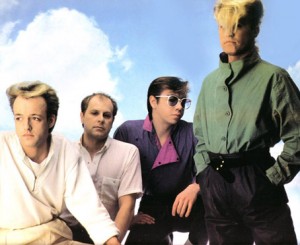 The reissue of "Same" comes with the 11 original tracks plus 4 bonus tracks. Originally released in 1982, it contains 4 timeless singles: "Telecommunication", "Modern Love is Automatic", "I ran" and "Space Age Love Song". The bonus-tracks included on this CD are the b-side tracks of the 4 singles – for the first time available on CD.
You can get the reissues at Amazon UK and Amazon DE (direct links).
February 20, 2011 · Posted in
Uncategorized
·
Comments Off

on Blancmange returns
Yet another 80's synthpop band returns to the stage with a new album
Blancmange, Neil Arthur and Stephen Luscombe, are actually back with brand new material. The single "Drive Me" is released in days and brand new album "Burn Blanc" lands in March followed by a UK tour where the band of writing booked eight dates in March. The closure takes place in London on 15 March.
Blancmange formed in 1979 in Middlesex and debuted years after the EP was "Irene and Mavis. " The big breakthrough came in 1982 with the hit single "Living On The Ceiling" which reached a seventh place in the British sales charts. First album "Happy Families" was released the same year.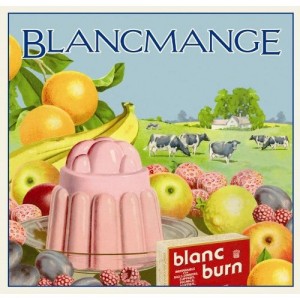 February 4, 2011 · Posted in
Uncategorized
·
Comments Off

on The Insanely Happy EP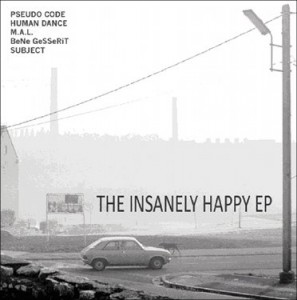 A new 7″ vinyl will be released on EE Tapes on February 7, 2011: "The Insanely Happy EP" featuring various artists. Limited to just 250 copies it's collection of vintage 80s tracks by various Insane Music label bands from Belgium, compiled by Alain Neffe. Four projects feature Neffe himself in different disguises: Pseudo Code, Human Dance, Subject and Bene Gesserit, and one track by M.A.L., a long-time Insane collaborator. This vinyl EP contains 6 tracks of which 4 were never released before.
Both Bene Gesserit tracks are taken from their classic LP on Insane, long out of print by now. The first 85 copies are handnumbered and contain 2 extra photographs. Order yours at www.eetapes.be .
Via SL
December 8, 2010 · Posted in
Uncategorized
·
Comments Off

on New sampling toy keyboards of the 80's like the ones produced by Casio and Yamaha
Sir Sampleton is a sampling keyboard, which means it can record sounds through the microphone that you can then play on a keyboard. If you want the sound of bagpipes or bells, then just use Sampleton to sample some bagpipes or bells. Or if you want more unique sounds, you can make samples with your own voice or noisy objects you find around the house.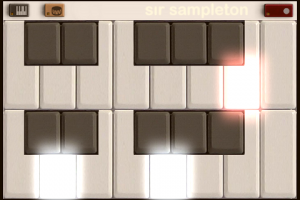 Sir Sampleton is inspired by sampling toy keyboards of the 80's like the ones produced by Casio and Yamaha. These classic keyboards were great toys, but are now expensive because they are sought after by professional musicians for their warm, low-fi sound and simple operation. Now, it's possible to have similar sound and functionality in an app, plus the features that you wish the old keyboards had, like the ability to save samples.
FEATURES:
◊ Sample through the microphone and then play your samples on the dual keyboards
◊ Save and recall your samples
◊ Add rhythm with the built-in beats and random beat generator
◊ Tweak advanced sound settings such as vibrato, note trail length, and sample time
◊ Put one sample on each keyboard in dual-sample mode"
November 17, 2010 · Posted in
Uncategorized
·
Comments Off

on Classic 80's type drum machine for iOS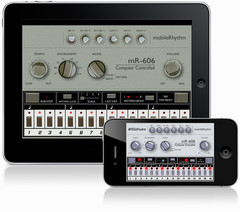 MPD Software has released the mobileRhythm mR-606, a music app for iPhone, iPad and iPod touch, inspired by the look and sound of classic 1980′s drum machines.
The mR-606 drum machine is reminiscent of the classic 1980′s beatboxes that heavily influenced both the Detroit and Chicago house music scenes – the forebears of modern dance and techno music. These classic boxes were re-discovered by the rave and acid music collectives of the '90′s in the UK and in Europe, and have been popular ever since.

Now hard to find in their original hardware form, the mobileRhythm mR-606 is destined to be popular with anyone who enjoys a bit of nostalgia in their music-making.
mobileRhythm mR-606 is now available in 3 versions: iPad, iPhone and Universal, for use on any iOS device. It is priced at $5.99 USD / £3.49 GBP.
More information: mobileRhythm
October 9, 2010 · Posted in
Uncategorized
·
Comments Off

on Rare 80´s clip with Johnny Warman
A rare early 80's single featuring Peter Gabriel (once of Genesis) on backing vocals.
Johnny Warman (born 1950s in London) is an English singer-songwriter best known for his 1981 recording "Walking Into Mirrors" and "Screaming Jets".
via EB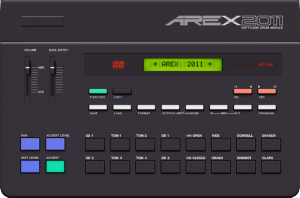 AREX 2011 is a free VSTi drum module, based on a hardware drum machine from the early 80's.
Features:
16 pads
29 embedded drum samples of RX11
12 individual/group outputs
individual volume, pan, accent
assignable MIDI note within 36 – 99 range
VST automation
MIDI automation of essential controls
16 part multitimbral MIDI Out flow
can be used as a MIDI controller of sorts
bundled with RX11 MIDI swing templates and 55 demonstrational patterns
Download from the Bayan site.
September 12, 2010 · Posted in
Uncategorized
·
Comments Off

on Neon Judgements' lost tapes
More news from Belgium and another dark electronic band that started in the 80:s: The Neon Judgement.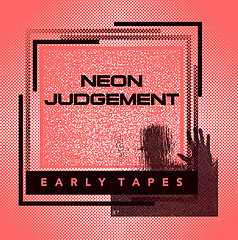 "TV Treated" and "Suffering", the two first cassettes from the duo, have been remastered and released on vinyl LP. This product from Dark Entries is a limited edition (500 numbered copies), including lyrics and photos, called "Early Tapes".
"Smack EP" is another new release: a digital EP with remixes which was released a week ago.
June 28, 2010 · Posted in
Uncategorized
·
Comments Off

on New stuff from Tonemeister
Michael Kastrup has released Tonemeister GM 80, an 80′s General Music ReFill for Reason.
In short this Refill could be considered as a General 80′s Music module with a twist, the twist is that the multisamples are done with effects on, meaning reverb and other spatial sound things are kept except for delays.

All multisamples are synthesized from scratch, additional samples are a special Redrumkit created for these 80′s sounds.

The Refill size is 300 MB (650 MB unpacked), covers 120+ multisamples which are made into NN-XT presets to keep things real simple.
Tonemeister GM 80 is available to purchase for 19 EUR.
More information: XSynth