Reissues for the A Flock Of Seagulls albums 'Dream Come True' and 'Same'
Out now via the Cherry Pop label are two reissues from A Flock Of Seagulls. 1986′ "Dream Come True" was A Flock of Seagulls' 4th album. This 14 track reissue CD features the 9 original tracks plus five bonus tracks, incl. the 7″ and 12″ single versions of "Who's that Girl (She's got it)" and "Heartbeat like a Drum". The other bonus track on the CD is the 13 minute "(Cosmos) Effect of the Sun", on CD for the first time. The booklet features sleeve notes and a full UK discography featuring many of their sleeves.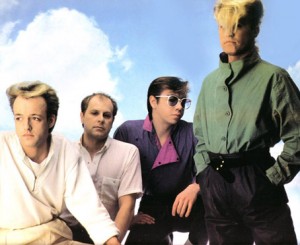 The reissue of "Same" comes with the 11 original tracks plus 4 bonus tracks. Originally released in 1982, it contains 4 timeless singles: "Telecommunication", "Modern Love is Automatic", "I ran" and "Space Age Love Song". The bonus-tracks included on this CD are the b-side tracks of the 4 singles – for the first time available on CD.
You can get the reissues at Amazon UK and Amazon DE (direct links).
Comments