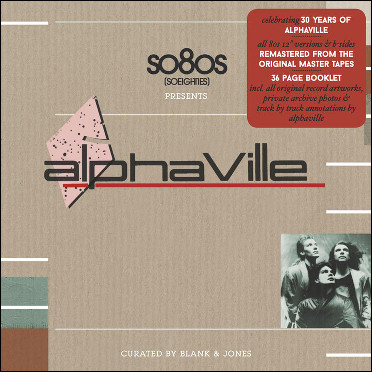 Celebrating 30 years of Alphaville, all 1980s 12″ versions and B-sides have been remastered from the original master tapes and collected on a 2CD set. This new "SO80S" collection is curated by Blank & Jones and features a 36 page booklet including all original record artworks, private archive photos plus track by track annotations by Alphaville.
Note that the B-sides included show an Alphaville experimenting with sounds and structures. You can get this set right here.
From the RAI program "Discoring" (1981), by Luigi Bonori.
Alphaville's demo song A Victory Of Love from the Dreamscapes box that was released 1999
Music video from Rheingold
Boytronic You 80s Cult…Featuring Holger Wobker….
Video of 'Ricocheted Love' by DATA. Words and Music by Georg Kajanus. All the videos on the Georg Kajanus Channel (bwbarb) were uploaded by the songwriter and performer for promotional purposes under the "fair usage" provision. DATA = Frankie Boulter and Georg Kajanus. Kajanus also penned the Sailor hits 'Traffic Jam', 'A Glass of Champagne', 'Girls Girls Girls', 'La Cumbia' and 'The Secretary' and the DATA hits 'Living Inside Me' and 'Ricocheted Love'. Recent Kajanus covers are 'La Cumbia' by Cuba Club and Scooter's 'Jumping All Over the World' a reworking of 'Champagne'.
Here's a multitrack using only the software synth Arturia Jupiter 8V, the recreation of the classic Roland synth. Only the drums and vocals are not Jupiter 8V.
The song is a cover of an old Alphaville song "The Elevator" or "The Nelson Highrise (Sector One: The Elevator). It's the b-side of "Sounds Like A Melody" from 1984.
Alphaville – Song For No One
Alphaville are currently available with a new single, taken from their latest album "Catching Rays On Giant".
The single have been mixed and produced by Sebastian Komor (Icon Of Coil/Komor Kommando/Zombie Girl).
A Progtronica exercise in DJ'ing from the drum stool using Ableton Live as the engine, A novation Launchpad, Roland V-Drums for the live drums, and various iPhone sound apps for many of the sonic textures. All sounds produced from scratch by Progtronica producer, digital DJ, and Drummer Nigel Sifantus. Visit nigelsifantus.com for more information, Ableton tutorials, videos, and a free preview of the debut Progtronica Ep "Live For No One" on No Service Required Records.
As part of the Alpha-ville International Festival of Digital Arts, Music and Culture, workshop series, organisers equipped their East London facility with a suite of Novation Launchpads and Ableton Live.
Guest speakers included Subeena, an Ableton Live artist.
After the "Forever Young" tour in Sweden featuring everything from Alpha Ville to Ultravox I am not sure we really need a new album from these guys
The radio in Germany has started airing the newest Alphaville single "I'll die for you today". The single, produced by Sebastian Komor (Komor Kommando, Zombiegirl, Icon Of Coil, …) during a 3 months stay in Berlin, was already played live back in 2004 under the name "The outsider".
The actual single and new album releases can be expected to be released somewhere in October 2010, although this has not been confirmed by Universal nor the band. Side-Line heard a few tracks and we can reassure critics that that Komor's production skills did quite a good work on the material.
Maybe because I am based out of Sweden the only hits I get on Google searching for good chinese synthpop bands I end up getting hits for the local band Chinese Theater (which of course is a rather nice band, but that is not what I am looking for

)
However I yesterday stumbled on these guys who make very nice traditional synthpop – melodic, athospheric and kind of like old Twins, Alpha Ville etc. They´re called IGO and based out of Shanghai – I certainly recommend checking them out:
Here are some background facts on the band:
When the Shanghai band IGO plays on stage, there is really not much to "see," with one man standing still playing the keyboards and another singing without much gestures.
However, people who have seen IGO live will still recommend it to you and tell you where they play, so you can experience the infectious atmosphere there and witness how and why the audiences get delirious for their music.
The one-year-old band is a combination of Shanghai's most active club DJ and the former front-man of a local post-punk band. The duo has a large fandom online and at local music venues. Their popularity may keep expanding as their music finally reaches the CD player.
The duo, featuring synthesizer talent B6 and singer-songwriter J Jay, is releasing their debut album, "Synth Love," on September 21 under Modern Sky, China's largest independent record label.
It's a time when IGO is among the most frequent players at Shanghai's nightclubs, where pogo dance usually heats up in front of the band's performances. This album is a collection of IGO's most played songs. It is for those who are yet to get a chance to visit Shanghai.
IGO is now offering previews of some of the songs on their Neocha page, a local-based music-sharing website B6 co-founded, similar to MySpace.