Checking out Roland Jupiter 8 – Demo
The Jupiter-8 was Roland's first truly professional analog synthesizer. The Jupiter-8 features 16 rich analog oscillators at 2 per voice, eight voice polyphony and easy programming! At eight voices you can get some pretty thick analog sounds. Easy and intuitive programming via front panel sliders, knobs and buttons for all your tweaking needs. The legacy of the Jupiter synthesizers is due to their unique voice architecture and design, creating sounds that were so unreal and amazing that they have to be heard! No other synths in the world can create analog sounds as cool and authentic as these.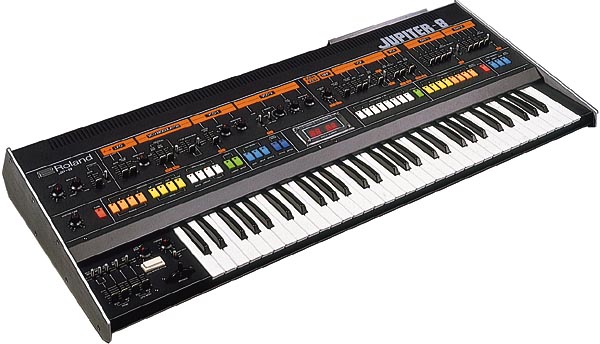 The Jupiter-8 was the biggest and fattest of them all (Jupiters and Junos)! It was one of the first synths to allow its keyboard to be split and layered – it's eight voices of trance heaven! Cross-mod, oscillator sync, a great LFO and a classic arpeggiator are also on-board. There's also a killer resonant analog low pass filter, same as the Juno-6 / 60, with the added option of choosing 2-pole (12 dB/oct) or 4-pole (24 dB/oct) modes as well as a separate high-pass filter. Unfortunately for the earlier models, tuning was very unstable but that seemed to be resolved in later models. Unlike its smaller counterpart, the Jupiter-6, the Jup 8 does not feature MIDI, only Roland's DCB sync can be found on some models. However, MIDI retro-kit's are available from various companies. Patch presets can store keyboard splits, arpeggiator settings, voice assign mode, hold, portamento and modulation settings.
Comments