Seen here- Prototypes of MacBeth NEXUS and INFERNO synthesizers.
"On the left I am playing a 1 Octave final test Touch Keyboard Assembly. I have this setup to check everything! The repetative rhythmic sounds are coming from the INFERNO prototype- the more lead/wash is coming from the NEXUS!"

TW-Sounds has announced the Yamaha FB-01 Bundle, a collection of vintage synthesizer sounds for Native Instruments Kontakt.
The samples are recorded from the old vintage FB-01 FM Synthesizer from Yamaha. The Bundle include 46 Instruments mapped in Kontakt 5 with a GUI for manipulation of the sounds.
The bundle is currently available to purchase from Sampleism for £7 GBP.
TW-Sounds is also offering all Sampleism users a free copy of the SampleWiz Sound Library as part of Sampleism's Summer Sale.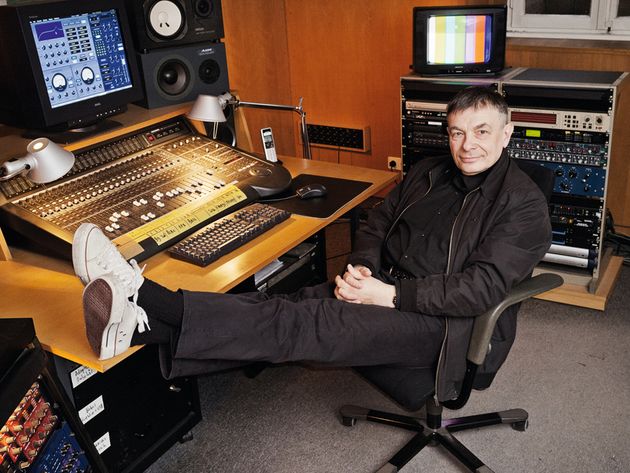 Here's a new interview with Karl Bartos where he discusses everything from vintage machines to his latest album:
Never meet your heroes, or so the old maxim goes, but FM is delighted to report that our recent encounter with bona fide Electronic music legend Karl Bartos put paid to the notion that meeting one's heroes is inevitably doomed to end in disappointment. In the flesh, Bartos is a charming, erudite man with a philosophical take on Electronic music that reflects itself in the pristine synthesized contours of the music contained on his latest LP, Off The Record.
From his time as a member of seminal German Electro Pop purveyors Kraftwerk, through his consequent Electrik Music project and collaborations with Bernard Sumner and Johnny Marr on their Electronic albums, Bartos has been a key figure in the synthesised music story. Off The Record, released in March, saw Bartos revisit his 'secret acoustic diary' of musical sketches and ideas built up during his Kraftwerk days and fashion them into an album that manages to simultaneously sound contemporary and timeless. With trademark vocoded vocals to the fore and his keen ear for a digital melody line still intact, we met with Bartos for a whistle-stop tour of the gear he employs to such stellar effect in his ergonomic Hamburg nerve centre.
How did you set about the Herculean task of trawling through your digital media archive to begin creating Off The Record?
"Well, I'm over it now but it was a hell of a job! There were tons of cassettes, 1/4″ tapes and various other stuff. I moved my archive when we went from Düsseldorf to Hamburg and there was boxes and boxes of it and various rooms full of it along with old synthesizers. I always avoided going through the archive to put things in order until Gunther from Bureau B [Bartos' German record label] said, 'Karl, do you have any old recordings?' I refused initially but finally gave in… I'd always wanted to do it, and knew I had to, but it took me several weeks and the sound quality was rotten with many tapes broken. Eventually, I managed to get most of it into the computer. I saw that everything was dated 1977, 1978, etc, and I thought, 'That's a diary. An acoustic diary.' So I made it a concept. You do that kind of thing but usually just inside your brain – you refer to the things you've done before. It's the way we organise our brains. I also had to write about the concept and where the songs came from."
Were you quite meticulous about correctly marking or naming ideas back in the days when you were building your archive?
"You do what you do. I'd come up with a name, 'Neon Piano' or whatever, and I'd sometimes write the date. Sometimes not. Most cassettes had a name or a date on them. I also found a lot of stuff on Zip and Jaz drives but even some of those were damaged or didn't work. Between all the different media I pretty much managed to retrieve everything eventually, though."
Were there a lot of nice surprises?
"It was all such a surprise and funny to hear a song I'd done without a trace of emotion sitting beside something like Computer World [Kraftwerk, 1981]. It made me feel a little sentimental at times. Once I had them in order, it was easy for me to collate and collage them."
Your first computer set-up was the IBM XT running Voyetra Plus sequencing software. That must have felt like going supersonic after using tape?
"It was a real revelation. We were recording Electric Café [Kraftwerk, 1986] at Kling Klang [the band's private studio originally located in Düsseldorf, Germany], then we took it over to Right Track Studio in New York where François Kevorkian and Fred Maher introduced me to the Voyetra Plus software he had running on a laptop.
The full interview from Music Radar can be found here >>
A second Prophet 12 demo from INHALT, details below:
For this next installment of demonstrations, I've recorded the more atmospheric, etherial, vocal, and ambient patches from the Prophet 12. What's wonderful about this synth is the fact that envelope times have been designed to give a wide range of times. This means anything from the most percussive sounds to absurdly long release times are possible. As such, making evolving tonal beds is a breeze and they are sure to find a home in any sound designers tool box when working for film, television, and experimental sound.
Just like the previous demonstration, no sequencing nor external effects have been used. Everything you hear was recorded through a Neve Portico Pre Amp into a Digidesign 192 HD io and assembled in Pro Tools.
In the MooG for Love
Animation film tribute to Legend of Electronic music KLAUS SCHULZE.
Directed by James L. Frachon
These "cut-outs" are faithful counterparts paperboard kits * of some mythical synthezisers which make me dream since ages (I'm almost vintage too !).
I'm still dreaming…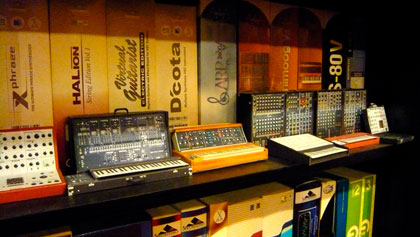 Waldorf Nave – Live Loop with Elektron Octatrack
All synth sound came from Waldorf Nave on the iPad.
Minibrute was used as a controller only.
Clavia's product specialist Tomas Johansson demonstrating an awesome patch with multiple layers of Arpeggiators using two Nord Lead 4′s (6 slots used in total / 1,5 Nord Lead 4:-)).
All elements (3 percussion sounds and 3 synthesizer sounds) are triggered live (no external sequencers).
Silent Way Voice Controller, part of the Silent Way plug-in suite, will soon be available as a Rack Extension for Propellerhead Reason. Silent Way offers deep control over analog synthesizers direct from your DAW.
For more information on Silent Way, see
http://www.expert-sleepers.co.uk/sile…
Silent Way is a suite of plug-ins designed for use with analogue synthesisers, and especially as part of a modular analogue synthesiser system. The plug-ins produce no sound themselves, nor do they process sound – rather, they generate signals to be used as control voltages (CVs), which can be patched into the control inputs of oscillators, filters, VCAs etc. of an analogue system. Also, with the addition of the CV Input plug-in, it is possible to bring CVs from the synth into the computer, for recording or processing.
There are currently eighteen plug-ins in the Silent Way suite – Silent Way AC Encoder, Silent Way CV Input, Silent Way CV To MIDI, Silent Way CV To OSC , Silent Way DC, Silent Way ES-4 Controller, Silent Way ES-5 Controller, Silent Way ESX-4CV Combiner, Silent Way Follower, Silent Way Learner, Silent Way LFO, Silent Way Quantizer, Silent Way SMUX, Silent Way Soundplane, Silent Way Step LFO, Silent Way Sync , Silent Way Trigger and Silent Way Voice Controller. These are described in more detail below. It is anticipated that more plug-ins will be added to the suite in the future – watch the website for product announcements.
Featuring Hammond XK3-c, Leslie 3300, Moog Voyager, Arp 2600, D6 Clavinet, Mellotron Mk. VI
External instruments can easily be played inside of Ableton Live. Enjoy this Ableton Live Quick Tip in which AfroDJMac shows you how to set up an external instrument, such as the Synthboy ( http://ninstrument.com ). Once inside Ableton, it can be sequenced and effects can be added to further the potential of your hardware synthesizers!
Visit his site for more stuff like this, including Live Instrument downloads, tutorials and music! http://www.afrodjmac.com