Xenophone – New Monophonic Analog Hardware Synth from HyperSynth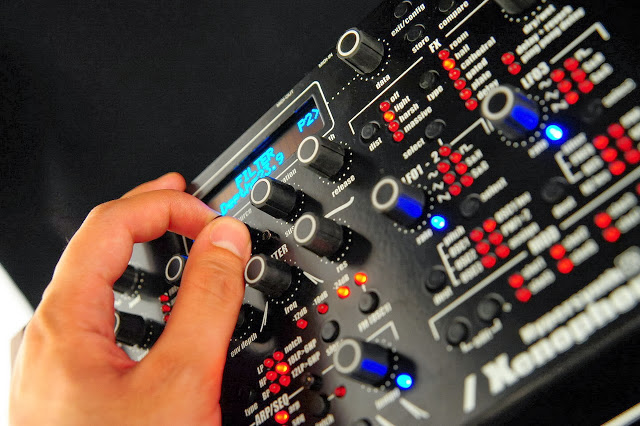 Here are all the details:
Synth-Engine:
Xenophone is an advanced analog mono-synth with 100% analog signal path. It has three oscillators, two subs, three ring modulators, one multimode VCF and analog distortion, all based on discrete analog circuits followed by a high quality stereo digital delay and reverb. The extensive modulation capabilities of the sound engine plus the warm and unique character of Xen's filter enriched by built-in analog distortion make it the best choice for creating deep basses, aggressive leads, transparent and crisp synth lines, acid sequences, complex arpeggios, punchy percussive sounds, extreme SFXs and more. Besides the synthesis capabilities, it can be used as a powerful audio processor to colorize an external input signal by analog filter, distortion and DFX.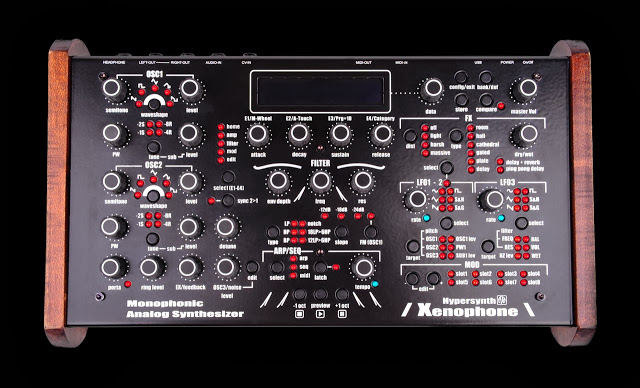 Control and User Interface:
26 encoders and 27 buttons put all the major parameters easily reachable with no menu diving. The Encoders smoothly turn and provide you 96 steps per rotation that mimic pot's feeling and sweep range. The layout is designed in a way to be simple and intuitive. Using 88 LEDs and a free-angle OLED display, it is easy to get the idea of the current preset at a glance. Master Tempo and all LFOs have blinking LEDs that show the BPM and rates. The presets can be previewed without external keyboard using 3 buttons in 3-octave range or pre-defined notes. User interface is easy to learn and creative with no useless bells and whistles. You can get a huge sound out of the box only with a few tweaks and changes.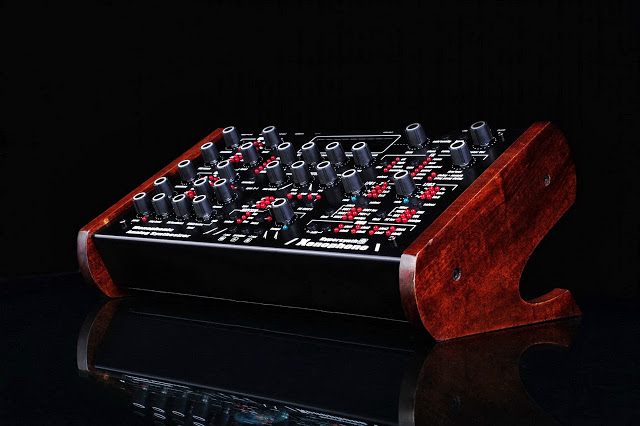 Enclosure and Connectivity:
Xenophone has a rigid Aluminum enclosure that comes with a pair of vintage style hand-made wooden side panel that made out of maple wood in two options: flat and tilted.
The box connects to the outside world using 2x balanced outputs (stereo), 1x headphone jack, 1x external input, 1x CV input, MIDI in/out, USB and DC power in.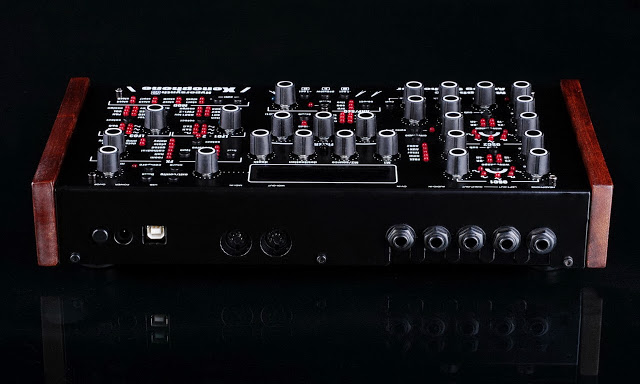 MIDI and DAW Integration:
Xenophone can function as a standalone instrument or fully programmable synth. It responds to the standard MIDI messages plus dedicated CC and NRPNs. The maximum implemented resolution in NRPN mode is 12bit, 4096 steps for filter frequency that provides super smooth sweep over the frequency range in compare to 127 steps CC standard!
The computer integration is an important feature of a modern synth that plays vital role in the studio. Xenophone comes with a software editor called: XEditor. Using this editor you can control and automate every parameter of the sound engine remotely via MIDI and storing your patches on your PC and vise-versa. It also helps you in deep and precise editing the patches. "XEditor" will be available as standalone and VST plug-in."
http://www.hypersynth.com/xenophone.html
Comments