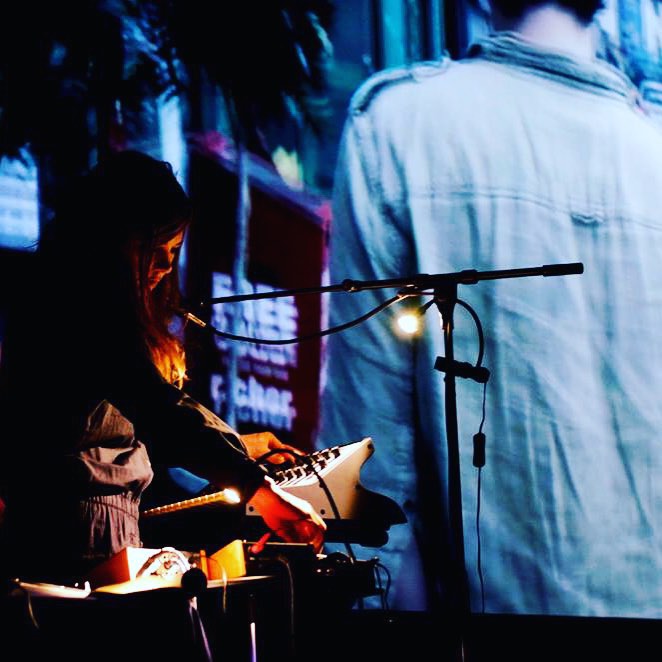 I Speak Machine (Tara Busch and Maf Lewis) has recently finished another of their live gigs in Malmö, Sweden, at Inkonst, this as an integrated performance with the ongoing art installation Sisters Academy. The band, being welcomed in a surreal environment featuring blindfolded students and experimental activities going on all over the place, fits nicely with the horror-futuristic music and visuals that I Speak Machine (ISM) performs on stage. Just like ISM the Sisters Academy are not just there due to general fascinations with the obscure, but rather a closer search into the realms of our existence and human conditions.
For those of you who have not seen ISM on stage, their live performances is far more than playing backtracked songs and soundscapes on laptops to visuals on the screen. Tara, a true machine geek, will bring a plethora of hardware gems on stage paired with intriguing vocals run through vocoders and the like. Perhaps not the most obvious route considering hers and Maf's common roots in the downtempo electronica band Dynamo Dresden. However, Tara and Maf apparently weren't content with performing in the straight forward rock/pop format. Tara have always had a fling towards dark and disturbing music, music that leaned towards horror and sci-fi, filled with those bizarre soundscapes – almost limitless in their nature.
Neither Tara nor Maf are 'true' horror/sci-fi geeks, but these type of movies do represent great reflexions on culture, and through ISM they have developed a new process on how to do things in this genre, without getting trapped in the conventional like the use of theremins and scary strings. This also means that ISM do not operate in a conventional way, such as adding music to a film score, but rather let the two grow and develop organically together, and through cross-pollination in the creative phase let music and visuals influence each other. And perhaps more importantly it is all being developed for live performances, not for home cinema viewing.
Read the full interview here >>
Sneak Preview for our show at Southbanks Centre, Sunday September 21st!
Deep in the Welsh countryside, there stands The Screeching Barn (aptly named for the owls nearby) , where this was filmed! I've been working in this loft for the past 9 months, eerie, bizarre, isolated & quite lovely.
On September 21st, I Speak Machine – the film/music collective consisting of Tara Busch & Maf Lewis will be previewing 3 sci-fi horror short films at the Southbank Centre's Purcell Room – and possibly playing this little number as well!
Buy tickets here: http://www.southbankcentre.co.uk/what…
The beautiful machine accompanying me here is the wonderful ARP 2600. I fell upon covering song this one day when I was getting my head around this glorious beast…and thought it would be quite romantic to do a "duet" with him. This, along with all the other gear I will be playing for this show was lent to me by Dave Spiers & Chris Macleod at G Force Software – gforcesoftware.com .
Hope to see you at the show…and perhaps you'll request this? x
More here:
www.analogsuicide.com/purcellgig
www.twitter.com/tarabusch
Facebook Event Page:
https://www.facebook.com/events/35534…
Commissioned by Bird's Eye View, written at I Speak Machine studios & performed live to picture at the Bird's Eye View Festival in 2011.
http://www.southbankcentre.co.uk/find…
Background data:
We recently posted an excellent stage tour from the John Foxx and the Maths gig at London's XOYO Club. Benge took us around selected highlights of the live rig used to reproduce the latest (and brilliant) release  from Foxx titled  Interplay. Its a lesson in how to produce minimal, dark electronica but with a healthy dose pop – recommended.
  Also shot on the day of the gig was a three way chat between Tara Busch – who was supporting for the UK section of the tour, Benge – musical collaborator for John's recent works and live drummer for the show and of course John Foxx himself.
Many thanks to Tara Busch for the interview
Via SS
Sonic State has produced this video featuring the synth maestro himself on stage and behind the scenes, here's a quote from article:
The thing that really hit me, was the power and purity of the sound and the songs. With Benge (musical collaborator on Interplay) playing the  Simmons SDS V analog drum kit, the sounds were MASSIVE and really made me rethink my opinions of electronic music played live. I became rather evangelical.

Fast forward to London and the first of two gigs at XOYO further into the UK leg of the tour. We were able to grab a few precious minutes post sound check with Benge, who gave us a look at some of the gear used to recreate Interplay live, as well as some earlier tunes from the Foxx catalog.

Stay tuned  for a pre-show interview with John  Foxx, Benge and Tara Bush.
For those of you who wants to know more about John check out our interview with him here >>
My friend Tara Busch uploaded this Moog fest preparation video clip
John Foxx And The Maths featuring Tara Busch – 'Where You End And I Begin' by theQuietus
Synth pioneer John Foxx and next generation analogue musician Tara Busch have recorded a track together.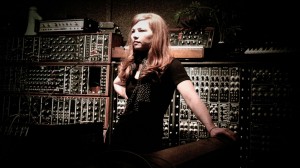 Tara Busch is an American producer/ musician/ remixer and score composer. She is influenced by the rich, complex harmonies of  Brian Wilson, the spellbinding sounds of the BBC Radiophonic Workshop diva, Delia Derbyshire and the innovations and futurist attitude of electronic music pioneer, Bob Moog. Together, with her creative partner, designer & filmaker Maf Lewis, she runs the widely popular music/gear blog, AnalogSuicide.com.
And we assume Mr. Foxx does not need any further introduction, but be sure to read our recent interview with him right here >>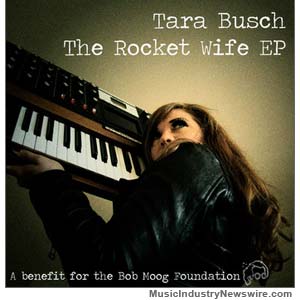 My friend Tara has decided to donate to the Bob Moog foundation via her latest release.
The Bob Moog Foundation announced today that synthesizer and vocal sensation Tara Busch has donated a three song EP to support its mission of "igniting the innovator inside us all". The ethereal electronica EP, "Rocket Wife," created specifically for and donated to the Bob Moog Foundation, is available for download at Bandcamp. In conjunction with the release of the EP, Busch and the Foundation have issued a remix contest using the 17 stem tracks from the title track of the EP.
The Bob Moog Foundation (BMF) will announce three winners on November 10, 2011. The winners will have their remix posted on the BMF Bandcamp site where it will be available for sale, with proceeds benefitting the Foundation. The grand prize winner will receive a framed limited-edition archival image of Bob Moog, a selection of BMF merchandise, and the opportunity to collaborate virtually with Busch on a track where she will supply vocals and synth soundscapes. Two other winners will receive runner-up prizes.
Tara Busch is an American producer/musician/remixer and score composer. She is influenced by the rich, complex harmonies of Brian Wilson, BBC Radiophonic Workshop diva Dellia Derbyshire, and the innovations and futurist attitudes of electronic music pioneer Bob Moog. She is known for her richly textured, vocally orchestral electronica, and her psychedelic, ethereal remixes.
Busch reflects, "This is a homage not only to Bob Moog and his legacy, but to the effect the synthesizer had on my music, creativity, and life. What Bob did, most famously with the Minimoog, was to make the groundbreaking world of synthesis available to everybody, not just for the privileged few.
Though grateful for my voice and writing ability, I think having a more embracing attitude towards merging the creative and scientific worlds when I was a child would have been beneficial; not just for my music, but also for my development in general. I think Dr. Bob's SoundSchool will help kids to develop open, bright, embracing and creative minds.
I'm excited and inspired by their quest to educate children and adults alike about 'the intersection of science & music' and hopefully this EP will help introduce more people to the Bob Moog Foundation. One hundred percent of the profits from the EP and the remix stems will be donated to the Bob Moog Foundation."
Sunday, August 21, 2011 marked the sixth anniversary of Bob Moog's passing and the fifth anniversary of the BMF's formal launch. In celebration of that milestone, the foundation is making daily announcements of new projects, branding and fundraising opportunities. Monday, August 22 saw the launch of the Moogstress blog, written by Michelle Moog-Koussa. On Tuesday, the BMF announced their new logo, which features the innovative spirit of "Dr. Bob" and an offer for a limited edition poster designed with materials from Bob Moog's archives. Later in the week the BMF will release a new merchandise line, Dr. Bob's Archive Series, featuring artwork found in Bob Moog's extensive archives. The BMF directs the preservation and interpretation of the archives for future generations of journalists, educators, innovators and fans.
The Bob Moog Foundation ignites the creative and innovative spirit in us all through exposure to interactive educational experiences rooted in the pioneering legacy of Dr. Bob Moog. Our work includes:
* Dr. Bob's Sound School (formerly MoogLab) teaching children and adults science through music in a hands-on environment.
* Dr. Bob's Archive Preservation Initiative. The BMF directs the preservation and interpretation of Bob Moog's extensive and historic archives for future generation.
* The Moogseum, a future interactive facility where music, science, history and innovation will converge. The creation of the Moogseum is pending adequate funding.
Find the album at: bobmoogfoundation.bandcamp.com/album/the-rocket-wife-ep-by-tara-busch . The stem tracks are available for download at: bobmoogfoundation.bandcamp.com/album/rocket-wife-remix-contest .
The remix contest begins today and ends at midnight on October 15, 2011. All submissions should be uploaded to the "Rocket Wife" group on SoundCloud via this link: soundcloud.com/groups/rocket-wife-remix-contest-tara-busch-and-the-bob-moog-foundation .
Learn more about the foundation at: www.moogfoundation.org .