Live shots of Gary Numan performing on his UK tour
Buy Tickets: http://bit.ly/k1BjPj
New Album 'Splinter (Songs From A Broken Mind)' is OUT NOW
Store: http://bit.ly/1a9jOry
iTunes US: http://bit.ly/19EY8Qw
iTunes UK: http://bit.ly/GZ8e6e
Geary Yelton, contributing editor to Keyboard and Electronic Musician magazines, interviews synth pop legend Gary Numan at Asheville's Mountain Oasis Music Festival, October 2013.
On September 23rd lucky competition winners were able to attend an exclusive Q&A with Gary Numan at The Hospital Club. The Quietus' Simon Price was on hand to host the event.
Gary Numan's new album Splinter (Songs From A Broken Mind) is out now. Buy from the following places…
iTunes – http://smarturl.it/gnsplinteritunes
Direct from Gary Numan – http://www.numan.co.uk/
Taken from Gary Numan's new album Splinter (Songs From A Broken Mind)
Buy from iTunes – http://smarturl.it/gnsplinteritunes
Buy the Single here – http://smarturl.it/gnlhb
Out on October 14th on Mortal Records is the brand new Gary Numan album "Splinter (Songs From A Broken Mind)". The album features guitarist Robin Finck (Nine Inch Nails, Guns N Roses) and was produced by Ade Fenton, and will be followed by a full national headline tour in November. Although Numan released a straight-to-the-fanbase album "Dead Son Rising" in 2011, this is his first self-penned full album since "Jagged" was released in 2006.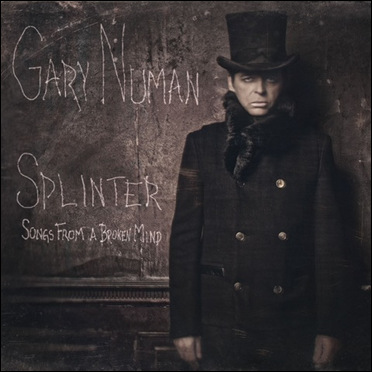 Gary Numan will tour the UK in November 2013. Here are the confirmed dates:
7th Bristol 02 Academy
8th Ireland Dublin Button Factory
11th Sheffield 02 Academy
12th Newcastle 02 Academy
13th Glasgow 02 ABC
14th Manchester Academy
15th Oxford 02 Academy
16th London Roundhouse
18th Brighton The Dome
19 Wolverhampton Wulfrun Hall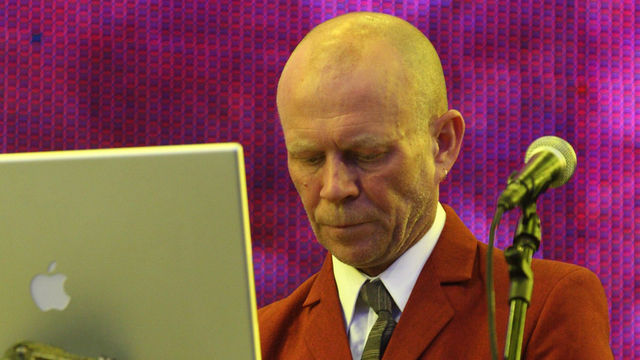 Historical interviews with the most famous electro musicians in the world have appeared in a new eBook.
The Electro Legend Interviews features interviews conducted over the past 20 years and taken from the archives of Computer Music and Future Music magazine.
Revealing their music-making techniques and inspirations are: Aphex Twin, Gary Numan, The Prodigy's Liam Howlett, Vince Clarke, Kraftwerk's Wolfgang Flür, Moby, Hot Chip, Alec Empire and Ultravox's Midge Ure.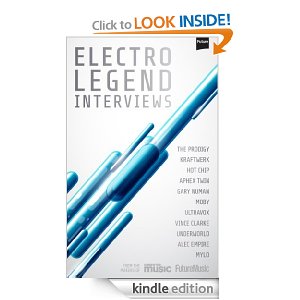 Available for just £2.99, the book sheds light on The Prodigy's place in the early rave scene, with Liam Howlett explaining in a 1993 interview that"When rave dies there are always going to be people who will still want to dance, so as long as we keep coming out with original songs we'll still be around…"
Meanwhile, Gary Numan discusses his classic Replicas album. Addressing the cover art, he says: "The character on the cover is called a Machman – he's looking out on the world, looking out at the park. Outside of the park, there's a man in a grey coat and a grey hat, which was a ghost I saw when I was much younger…"
Elsewhere reclusive genius Aphex Twin gives one of his only ever interviews. "If you plan to be good at anything, it has to happen using your own ideas. It's inevitable. It's exactly like natural selection," he muses.
Speaking exclusively about the early days of Kraftwerk, WolfgangFlür comments: "We were young, shy and childish! We loved to construct things and we never thought we would get famous from that."
The book also features Vince Clarke revealing his computer music-making secrets. "Once you've got the hang of the computer and the software," he says, "then you've still got to write the songs…"
And discussing the history of Ultravox, Midge Ure reveals that: "In those early days, a lot of musicians saw synths as electronic guitars. We just started going bang-bang-bang. Suddenly, you got this blast of unearthly noise and it changed the musical landscape."
Remix of Gary Numans Down in the park by Stephen Donohue using only Synth magics ZOM ZOM Polymoog emulation for Kontakt.
ZOM ZOM available at www.synthmagic.co.uk
Ade Fenton (Gary Numan producer) loves the Analogue Solutions Vostok synthesiser.
Loves the true analogue sound.

This demo features a variety of sound types and sequences (traditional and non-traditional) demonstrating the Vostok's sound palette and variety of timbres. All sounds, with exception of the obvious acoustic drums (used for context), are created on the Vostok using either traditional patching or the pin matrix — or a combination of both.
Sounds are being driven by either the on-board sequencer, MIDI sync (via GATE to CLOCK), or direct MIDI connection to a controller keyboard.
Emphasis for this video was more traditional synth sounds (basses, leads, sequences) as there are plenty of non-traditional (fx, ambient, noise) sound demonstrations on YouTube. The filter section at the heart of the Vostok was also a focal point of this video and is tweaked extensively for the various sound types.
Also, see the Telemetry (mini Vostok) in action at the following link:
http://www.youtube.com/watch?v=rvo5x5G4YJg
KEY FEATURES OF VOSTOK Pure analogue voice circuitry. Suitcase style design. 22×22 matrix pin panel. Rugged Steel construction. Quality chrome catches and cool steel spring handle. Stuffed full of electronics. No front panel space is wasted. Joystick, retro-VU meter, MIDI, jack socket patch points, more, more, more!
Watch John Interview Roxy Music's Brian Ferry: http://youtu.be/m91SFw0G9GQ
John Doran meets Gary Numan for the second episode of The British Masters, our latest interview series featuring the most influential and colourful figures from British popular music history.
In Johns Words "Today I'm talking to Gary Numan, who became an overnight sensation in 1979 when his post punk group Tubeway Army released the single "Are 'Friends' Electric?" and then achieved worldwide success later the same year with the release of his first solo album, and one of the cornerstones of synth pop, 'The Pleasure Principle.' Following some very lean years in the wilderness, Gary started the long and arduous task of rebuilding his career in the mid-90s, becoming a peer of many industrial and techno artists he had originally been an influence on. We catch him on tour in the UK as he gears up for the release of his 18th solo album, the much anticipated "Splinter."
Gary Numan's new remix album "Dead Moon Falling" (Mortal Records), a remix of 2011's "Dead Son Rising," is available now from http://www.numan.co.uk