Remix of Gary Numans Down in the park by Stephen Donohue using only Synth magics ZOM ZOM Polymoog emulation for Kontakt.
ZOM ZOM available at www.synthmagic.co.uk
Ade Fenton (Gary Numan producer) loves the Analogue Solutions Vostok synthesiser.
Loves the true analogue sound.
This demo features a variety of sound types and sequences (traditional and non-traditional) demonstrating the Vostok's sound palette and variety of timbres. All sounds, with exception of the obvious acoustic drums (used for context), are created on the Vostok using either traditional patching or the pin matrix — or a combination of both.
Sounds are being driven by either the on-board sequencer, MIDI sync (via GATE to CLOCK), or direct MIDI connection to a controller keyboard.
Emphasis for this video was more traditional synth sounds (basses, leads, sequences) as there are plenty of non-traditional (fx, ambient, noise) sound demonstrations on YouTube. The filter section at the heart of the Vostok was also a focal point of this video and is tweaked extensively for the various sound types.
Also, see the Telemetry (mini Vostok) in action at the following link:
http://www.youtube.com/watch?v=rvo5x5G4YJg
KEY FEATURES OF VOSTOK Pure analogue voice circuitry. Suitcase style design. 22×22 matrix pin panel. Rugged Steel construction. Quality chrome catches and cool steel spring handle. Stuffed full of electronics. No front panel space is wasted. Joystick, retro-VU meter, MIDI, jack socket patch points, more, more, more!
Watch John Interview Roxy Music's Brian Ferry: http://youtu.be/m91SFw0G9GQ
John Doran meets Gary Numan for the second episode of The British Masters, our latest interview series featuring the most influential and colourful figures from British popular music history.
In Johns Words "Today I'm talking to Gary Numan, who became an overnight sensation in 1979 when his post punk group Tubeway Army released the single "Are 'Friends' Electric?" and then achieved worldwide success later the same year with the release of his first solo album, and one of the cornerstones of synth pop, 'The Pleasure Principle.' Following some very lean years in the wilderness, Gary started the long and arduous task of rebuilding his career in the mid-90s, becoming a peer of many industrial and techno artists he had originally been an influence on. We catch him on tour in the UK as he gears up for the release of his 18th solo album, the much anticipated "Splinter."
Gary Numan's new remix album "Dead Moon Falling" (Mortal Records), a remix of 2011′s "Dead Son Rising," is available now from http://www.numan.co.uk
Following the trail of many famous electronic artists, like Thomas Dolby, Brian Eno and Jordan Rudess, Gary Numan now also ventures into the world of apps. The UK new music magazine Artrocker has created app for Gary Numan which represents a retrospective of the UK synth wizard. The app is only available for iPad and can be downloaded right here >>
The app is based on the interviews that Artrocker editor in chief Tom Fawcett has conducted with Gary Numan spanning April to September 2012. The interviews handled the past, present and future. Next to that interviews were conducted with co-producer Ade Fenton, members of Gary's present band as well as former members and Gary's merch man of many years. The app also includes the story behind the recording of and subsequent decision to release "Are Friends Electric" as a single. Embedded in the app are also exclusive interview videos on subjects as diverse as Cars and moving to the USA.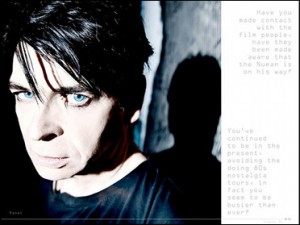 You'll also find new picture shot by music & fashion photographer Keith Martin.
What will the Gary Numan fans the most is that you'll be given access to an exclusive download remix album, "Dead Moon Falling" which is a full reworking of Gary Numan's "Dead Son Rising" album, featuring remixes by such artists as Sonoio, Atari Teenage Riot's Alex Empire etc. (Via SL)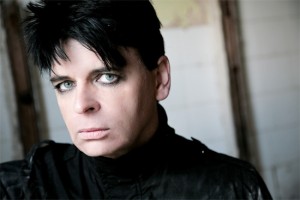 Gary Numan has posted a preview of a new song on his Soundcloud, titled 'We're The Unforgiven (work in progress)' – have a listen below:
It comes ahead of his Dead Moon Falling tour this December, where he'll be supported by recent collaborators Officers.
Gary Numan and Officers have collaborated on a new track, 'Petals', set for release as an EP on November 19 via Original Wall Of Death. The EP will feature remixes of the track by Ade Fenton, Jagz Kooner and LOSERS (Eddy Temple Morris from XFM/Paul Mullen from YourCodeNameIs:Milo/Tom Bellamy from The Cooper Temple Clause). Proceeds from the digital release will go to CALM (Campaign Against Living Miserably), a charity working to reduce the high suicide rate of men under 35.
"It's the first in a busy period for Numan: he's got a new album, Splinter, due next year, as well as new versions of tracks from his 2011 album Dead Son Rising by Tim Burgess, Alec Empire, The Duke Spirit, Alessandro Cortini from Nine Inch Nails and Gazelle Twin. All this material should be previewed on his upcoming 'Dead Moon Falling' tour, with Officers, whose debut album On The Twelve Thrones is set for release on December 3
Via Q"
First cover using the Roland Promars analog synthesizer. Tubeway Army used to use Minimoog for the lead part. The Promars has two VCO's (and a sub oscillator) even thought it is more limited than the Moog.
This is a cover based on the live version.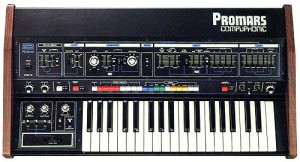 The ProMars CompuPhonic is essentially a classic, monophonic version of the Jupiter 4. It has 10 preset sounds (not too great) and 10 user programmable preset patches. The preset sounds include Bass, String, Clavi, Piano, Voice, Trombone, Sax, Trumpet, Synth I and Synth II. A very standard and well laid out set of knobs, sliders and edit controls give you the power to create some really cool sounds.
There are two individual VCO oscillators that can be de-tuned, a nice VCF (filter) with its own ADSR, a typical VCA envelope section, a nice LFO and a pitch/mod wheel that can effect the LFO, VCF or VCA. It even has a noise generator.
The Promars Compuphonic makes a unique alternative to other Roland SH-type synths since, although it has very SH-type controls and layout, its sound and preset capabilities are more like the famous Jupiter synths and at a fraction of the cost. Nice wood casing and Vintage appeal.
Gear used.
Upper: Roland Promars MRS-2
Mid: Roland JP8000
Lower (Midied to the JP): Kurzweil PC1x
Backtrack recorded on Pro Tools.
Original song composed by Gary Numan
A recently uploaded video featuring the synth maestro Gary Numan in a live performance dating back to 1979
Enjoy
A video interview with the York-based band Officers and Gary Numan has been uploaded online. The talk is produced by Soundsphere magazine, an online project of city-located media production agency The Creative Condition.
Leeds based electro-rock band Officers first heard of the national suicide prevention charity CALM (Campaign Against Living Miserably) through Xfm DJ Eddy Temple Morris who has thankfully worked with them for a long time supporting the cause. #numanxofficers
officers.uk.com
numan.co.uk
soundspheremag.com
thecreativecondition.co.uk
In the first of a series of five films featuring headliners playing at BLOC, Gary Numan sits down to chat Ultravox.
Bloc sat down with a selection of headliners from the 2012 festival to talk about who – or what – has influenced them in becoming the artist they are today.
First in the five part series is synth pop pioneer Gary Numan.
He joins Orbital, Snoop Dogg, Richie Hawtin and Steve Reich on a festival programme like no other..
We'll see you on the 6 July 2012.