In the first of a series of five films featuring headliners playing at BLOC, Gary Numan sits down to chat Ultravox.
Bloc sat down with a selection of headliners from the 2012 festival to talk about who – or what – has influenced them in becoming the artist they are today.
First in the five part series is synth pop pioneer Gary Numan.
He joins Orbital, Snoop Dogg, Richie Hawtin and Steve Reich on a festival programme like no other..
We'll see you on the 6 July 2012.
Background information:
In the studio working on a cover of Kraftwerk's "The Robots," which will be featured on the forthcoming Of Love and Robots EP. This (almost) all modular EP features covers of classics by Kraftwerk, Gary Numan / Tubeway Army, Giorgio Moroder, and more.
Sui Sibi Se Se – Of Love and Robots EP. Music for your self.
Gary Numan is set to release a new DVD, "Machine Music: The Best Of Gary Numan" on 11 June, 2012. This limited edition DVD (only 3000 will be made) brings together for the first time promos and some TV appearances from right across his career, including the videos made for tracks such as "We Are Glass" and "I Die: You Die", right up to more recent promos "The Fall" (from the 2011 "Dead Son Rising" album) and the Battles collaboration "My Machines".
The DVD will initially be sold on the Machine Music Tour which runs from late May into early June and will feature a one-off set, based around Gary Numan's singles over the last 33 years, and material from the recent "Dead Son Rising" album.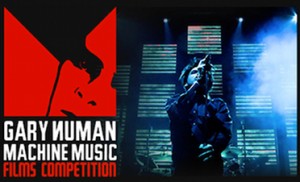 Numan will be supported by Officers at all the shows except for Dublin. Gary Numan has also been confirmed for the main stage at the Bloc Festival on 7 July, along with acts such as Orbital, Battles, Jeff Mills and Squarepusher.
Machine Music UK Tour:
MAY 2012
Check out this exclusive footage of electro legend and serial Artrocker cover star Gary Numan talking to Tom Artrocker…
"And it is interesting to note that Numan has now unequivocally the king of This Kind Of Thing. Nine Inch Nails have retired (notably Numan was a star guest at a handful of the farewell shows, coming on stage to perform Cars and Metal with Trent Reznor). Marilyn Manson has slumped into cocaine bleached self parody. Al Jourgensen of Ministry and Revolting Cocks stumbles from one ill-conceived schlocky album to the next. The Young Gods have sadly lost the spark that once made them true innovators. This leaves Numan, who is significantly older than all of them bar Jourgensen, weirdly as one of the only credible practitioners of industrial metal at this scale."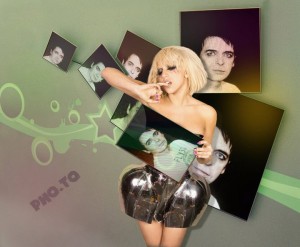 1 x minute clip of Gary Numan's new promo video The Fall. The full video is featured on the  Super Deluxe and Deluxe Editions of the new album, Dead Son Rising
Gary Numan has a new studio album called Dead Son Rising.
The new album developed out of a set of demos the singer had left from previous projects, but as he explains: 'The original ideas that sparked off these songs are now barely visible. It's grown into another animal, something more experimental."

Produced and co-written by Ade Fenton ( Numan's collaborator on 2006's Jagged), the material ranges from the heavily anthemic 'The Fall' (written about 'an old friendship gone bad') to the Arabic and ghostly 'We Are The Lost' and one of the standout moments, the brooding 'Dead Sun Rising'. The latter both contain elements from a sci-fi fantasy story Numan has been writing over the last few years. Meanwhile, troubled relationships are explored on 'For The Rest Of My Life' and Not The Love We Dream Of', and there's also room for two instrumentals ('Resurrection' and 'Into Battle'), showcasing some of the 'soundtrack-type' material that Numan and Fenton have been working on recently. It all adds up to one of Numan's most atmospheric albums – one for those who loved his B-side experiments in the past but also containing some very direct, streamlined electronic rock in the likes of 'Big Noise Transmission', 'The Fall' and 'When The Sky Bleeds, He Will Come'.
Track Listing
1. Resurrection
2. Big Noise Transmission
3. Dead Sun Rising
4. When The Sky Bleeds He Will Come
5. For The Rest Of My Life
6. Not The Love We Dream Of
7. The Fall
8. We Are The Lost
9. For The Rest Of My Life (Reprise)
10. Into Battle
11. Not The Love We Dream Of (Piano Version)
Available Now
Dead Son Rising is available exclusively through Gary Numan's Official Shop and was released on September 15th.
There is a pretty weird group on Flickr building album covers in Lego. Tons of famous artists of all genres are represented here with their most memorable albums entirely done in Lego building blocks. As always, fun but entirely useless, hehe. Check it out here >>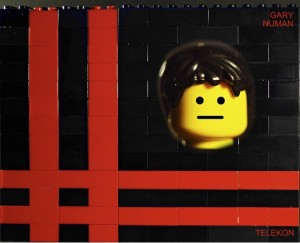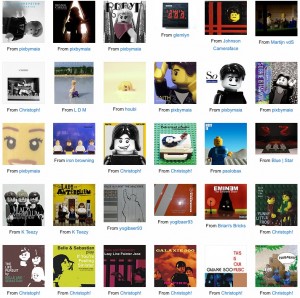 The next Battles single will be "My Machines" which features Gary Numan. The track will be released as a limited silver-coloured 12″ vinyl on August 15, you'll also be able getting it digitally. The B-side to the single is the new song "A.M. Gestalt".
My Machines (Featuring Gary Numan) by BATTLES
Video:
Festival de Mayo
Guadalajara, Plaza de la liberación.
14/05/11
Moog Minimoog Polymoog & ARP Odyssey performed by Tubeway Army. Tubeway Army (1976–1979) was a London-based punk rock and new wave band led by lead singer Gary Numan. Tubeway Army was the first band of the post-punk era to have a synthesiser-based hit, with the single "Are 'Friends' Electric?" and its parent album, Replicas, topping the UK Album Chart in mid 1979. Gary Numan was the driving force of the band, writing the material and producing the recordings. Subsequent albums were issued under his own name once the album Replicas became successful. Gardiner, Sharpley, and Payne continued as his backing band for some years. Gardiner died from a drug overdose in February 1984. Numan's personal tribute to his former cohort was the song "A Child with the Ghost", on the album Berserker (1984).
Gary Numan will release a new album Dead Son Rising. 5 September!
EXCLUSIVE BTTP VIDEOS
Our friends at Digital Insanity, who provided the amazing visuals for Gary's performances at Manchester Academy and London Troxy, have given us videos of The Fall and Pure for your enjoyment. You'll find them on the Video page in the Media section of the site.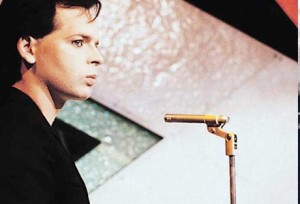 Under the Radar met up with electronic giant Gary Numan for a chat: Groundbreaking electronic artist Gary Numan is celebrating the 30th anniversary of his seminal album, The Pleasure Principle. As part of this revelry, he is returning to New Zealand for the first time in 31 years and UTR caught up with him to discuss how it feels to revisit an album three decades later, whether he knew the album was going to have the impact it has and what made him write such music in the first place.
You're coming to New Zealand this month, are you looking forward to it?
Yes, it's been 31 years since I was there last, so it's very cool. I'm very very pleased to have the opportunity to come and do it again but I'm also very aware that a lot of time has passed and I don't know what to expect really. So I'm very pleased that I'm coming I just not really confident, I have to say, I really don't know how it's going to go.
Is it crazy to think The Pleasure Principle came out over three decades ago?
It's funny, actually. Sometimes it feels like it was yesterday and sometimes it feels like it was 130 years ago. So much has happened since I wrote that album that I feel like such a different person to what I was when I wrote it. It's a little bit weird going back to it after such a long time and I have to say that I'm not really a fan of looking back into the past, I'm much more of a fan about what I'm doing tomorrow than yesterday.
When the 30th anniversary came along I didn't want to make a big deal about it but I didn't want to ignore it either, so I thought I'd just do one show in England and all the hardcore fans can come along to that. Then that sold out really quickly so it became four shows and then at that point the record company got interested and they wanted to do a special anniversary issue of the album with all these extra tracks they'd found in the archives, and so it turned into a much bigger tour. And then the Americans – it was quite a big album over there when we toured it there – got interested. So what started as a single gig has grown into this much bigger thing that I never planned.
I've enjoyed it more than I thought I would, because I've always found anything to do with nostalgia is sort of taking a few steps backwards, and I'm really not that interested in playing old songs so for me to do this is quite a big thing. Having said that it's been really interesting to play the music I wrote when I was a boy.
The Pleasure Principle is what the tour is about, so what we're doing is playing that album for the first 45 minutes but then we've got another 45 minutes or more which tends to be new stuff, and quite often we'll do two or four songs that aren't even released yet. For me it's quite interesting to be playing things that are right from the beginning and things that are so new they haven't been heard, all in one show. It's a nice way of showing people something I'm proud of from when I started but also how it's evolved into what we do now.
How does it feel to have an album that is still musically relevant three decades after it was released?
For a long long time I didn't think much about it at all. Obviously when I made it I was keen to make it sound as good as I could and then out it went. Some people in the press liked it but most people didn't – it generally got pretty bad reviews, especially in the UK. The press didn't really go for it here, so it took a long time before people started to view it the way they do now.
A really interesting thing happened a while ago where the NME Magazine did a retrospective review of it and said how important it was and how innovative it was – all these really complimentary things – but when it came out they absolutely slagged it into the ground, they hated it. Since I've gone back and re-visisted it again, I do feel proud of it in a way that I never was before. I think when it first came out it was quite a quirky unusual record for the time and I appreciate it more now than I did then. It just sounded like a record that I'd made rather than anything that was particularly unusual or different so I've grown proud of it and I appreciate it now more that it was quite an unusual record for the time.