Roland ProMars synth playing Gary Numan's "Are Friends Electric"
First cover using the Roland Promars analog synthesizer. Tubeway Army used to use Minimoog for the lead part. The Promars has two VCO's (and a sub oscillator) even thought it is more limited than the Moog.
This is a cover based on the live version.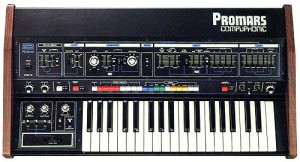 The ProMars CompuPhonic is essentially a classic, monophonic version of the Jupiter 4. It has 10 preset sounds (not too great) and 10 user programmable preset patches. The preset sounds include Bass, String, Clavi, Piano, Voice, Trombone, Sax, Trumpet, Synth I and Synth II. A very standard and well laid out set of knobs, sliders and edit controls give you the power to create some really cool sounds.
There are two individual VCO oscillators that can be de-tuned, a nice VCF (filter) with its own ADSR, a typical VCA envelope section, a nice LFO and a pitch/mod wheel that can effect the LFO, VCF or VCA. It even has a noise generator.
The Promars Compuphonic makes a unique alternative to other Roland SH-type synths since, although it has very SH-type controls and layout, its sound and preset capabilities are more like the famous Jupiter synths and at a fraction of the cost. Nice wood casing and Vintage appeal.
Gear used.
Upper: Roland Promars MRS-2
Mid: Roland JP8000
Lower (Midied to the JP): Kurzweil PC1x
Backtrack recorded on Pro Tools.
Original song composed by Gary Numan
Comments