The Spirit of Talk Talk
New Talk Talk book 'The Spirit of Talk Talk' & website – register now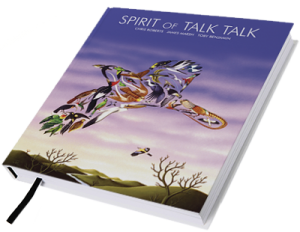 Something for your book shelf:  "The Spirit of Talk Talk", a richly illustrated and designed publication celebrating the music and art of the legendary group Talk Talk.
None other than the celebrated illustrator, and Talk Talk cover artist, James Marsh has remastered and chronicled all of the iconic artwork that he produced for the band throughout their 10 year reign in the 80's. The book will feature James' original cover concept sketches, hand written lyrics from Mark Hollis, as well as various ephemera, posters, and related items of interest to fans. It will also feature unseen group photos from 3 sessions with photographer Richard Haughton.
The main essay has been written by music writer Chris Roberts. But the book also features 80 written contributions from bands, label owners, DJs and creatives, all of whom have been inspired or influenced by the music and art of Talk Talk. And yep, you'll find a note by Alan Wilder as well in there next to a string of other artists.
And here's the best bit: if you want to speed up the pressing of getting this book released, then register at www.spiritoftalktalk.com . Registering does not commit you to purchase the book but simply helps the publisher gauge the print run required. You will be kept informed about developments right up to publication.
Don't forget that there will also be a Talk Talk tribute CD featuring Elbow, Alan Wilder, The Lovetones, Chris Walla from Death Cab For Cutie, Turin Brakes, and Stars Of The Lid amongst many others.
Here is what Jason Lytle from Grandaddy has to say about it:
'Fans of Talk Talk unite! This is an incredible book on the band that needs to get published. I will be helping to support this, and I really hope you will too!'
This website is currently gauging interest in the book. If it appeals to you, please register and you will help ensure the book goes ahead.
Superbly produced and documented it will be the definitive visual companion to the Talk Talk legend, to become a desirable collectors' item, featuring:
Every copy individually signed by James Marsh
Fine fabric cover featuring one of James Marsh's artworks
High quality heavyweight art paper
Full color throughout
Roll of Honour listing the names of readers who pre-order the book
Produced by Essential Works, publishers of the acclaimed Barrett
Projected price

£40

Expected publication

Spring 2012
Comments