In this video Arjen Schat demonstrates how to create flute sounds with the Moog Little Phatty. He starts from the calibration patch (CA CALIBRATION) as usual and create a flute sound as he goes.
In this video Arjen Schatt demonstrates how to create bass sounds with the Moog Little Phatty. He starts from the calibration patch (CA CALIBRATION) as usual and create a bass sound as I go.
In this video Arjen Schat demonstrates how to create lead sounds with the Moog Little Phatty. Arjen starts from the calibration patch (CA CALIBRATION) again and create a lead sound as he goes. Quick note: He syncs the oscillators to get a sharper sound. For a wider sound you can leave the oscillators un-synced.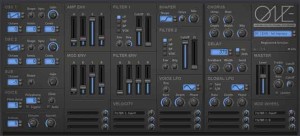 Kilohearts lets us know that kHs ONE was not designed to be a fat analog beast with a massive warm sound… that just happened anyway. A spokesperson told us,
"We have put a lot of time and effort into making oscillators and filters of the highest quality which gives kHs ONE a pleasantly warm and analog sound. Working with professional musicians and producers throughout the development process, we have made sure that the sound meets their high standards."
kHs ONE is available as VST and AudioUnit plug-ins. Both 32 bit and 64 bit versions are available on MacOS X and Windows operating systems.
Features
2 Oscillators (saw/square/noise)
Sub oscillator
2 Filters
Per voice wave shaper
2 LFOs
3 Envelopes (amp/filter/mod)
8 voice unison
24 voice polyphony
Env/LFO legato on/off
Portamento/Glide
Onboard FX: Chorus, Delay, Equalizer and Limiter
Pricing and Availability:
79 Euros
More information: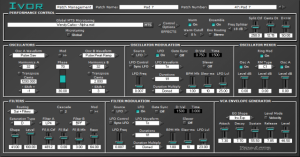 Xen-Arts has introduced IVOR – a two-oscillator subtractive synthesizer that features full-controller MIDI Pitch Microtuning using MTS (MIDI Tuning Standard). Any MIDI Note Number can be freely microtuned to any desired pitch across the MIDI range, enabling musicians and composers to explore the expressive possibilities of composing music with alternative intonation systems.
Features:
Oscillator Section

Two Oscillators with 22 Waveforms
Microtonal, Harmonic Series and Subharmonic Series Oscillator Transposition
LFO (with Rate Sequencer) and Envelope Generator for Phase, Pulse-Width and Pitch Modulation
LFO and Envelope Generator features both Unidirectional and Bidirectional Modulation
Analog Pitch Drift Emulator with both Unidirectional and Bidirectional Modulation
Velocity-to-Harmonics Modulation enables oscillators to dynamically sound harmonics of the fundamental pitch
Ring Modulation with 23 RM Types
Oscillator and Ring Modulator Mixer

Filter Section

Pre-Filter Saturation Stage with 20 Saturation Types
Two Independent Filters with Six Filter Types: LP4, LP2, HPF, BPF, BRF, APF
One and Two Stage Filter Cascade
LFO (with Rate Sequencer) and Envelope Generator for Filter Cutoff Frequency Modulation
LFO and Envelope Generator enables both Unidirectional and Bidirectional Filter Modulation

VCA Section

Dedicated Envelope Generator
Switchable Velocity Sensitivity and Fixed Volume Control

Performance Control

MIDI Pitch Microtuning with MTS (MIDI Tuning Standard)
MTS Support for both Single Note and Bulk Dump
Loads MTS Microtuning Format Files Internally and Receives MTS Externally
Local (Per-Patch) and Global Microtuning (Static Microtuning for All Patches)
Microtunings can be loaded from any directory on hard drives or storage devices connected to the computer
Ten Note Polyphonic
Monophonic Legato Mode
Polyphonic Portamento with Three Glide Modes
Microtonal Pitch Bend
Vibrato
Effects include Warm Filter and Stereo Ensemble
IVOR is available for download as a 32-bit VSTi for Windows XP or higher.
SimSynth Live captures the big multi-oscillator sound of a MiniMoog, and combines it with the warm, fat sound of Oberheim style SVF filters.
The result? Rich strings, wall to wall brass, and fat punchy basses. And we haven't forgotten techno sounds either. SimSynth Live uses a filter technique that gives the EMPH knob a sound you can crank.
3 oscillators, each with a dual (warm) mode effectively making 6 oscillators
Ring modulator
A dual SVF filter that programs like an old Oberheim SEM, (lets you mix lowpass, bandpass, and highpass)
Two discrete envelopes and an LFO.Stereo chorus effect, (in case 6 oscillators aren't warm enough)
Studio quality alias free rendering
FX Panel with EQ, Reverb, Phaser & Delay
FL Studio & VSTi versions included
FXpansion's Etch is a versatile filtering effect based on DCAM circuit-modelled technology. Etch's dual filters let you switch between 4 models for all manner of fat, warm subtractive tone-shaping, with a comb filter type providing mind-bending psychedelic effects.
Additional distortion and compressor stages are provided for beefing up signals, and FXpansion's TransMod modulation system lets you animate Etch's circuits over time. Use inter-modulating LFOs, envelopes and more to drive the filter cutoffs, distortion level, compression amount or any other parameters. Etch does amazing things to all kinds of audio material and is great for subtle warming, deep tone sculpting, wild sweeps, special effects and experimental sonics.
Availability & Pricing
Etch is available as a download-only product from the FXpansion web shop!
Pricing is USD $99.00, EUR €79.00, GBP £69.00 inc VAT where applicable
Introductory Offer: Etch is USD $70, EUR €55, GBP £48 inc VAT for all registered owners of Geist, DCAM: Synth Squad, Tremor, BFD2 and BFD Eco (and customers purchasing Etch at the same time any of these products) until 30 April 2012.
A disruptive innovation in software synthesis, nothing else compares to the diversity Sytrus packs. FM, RM & Subtractive synthesis – have it all!
Sound engine
Meticulously crafted, Sytrus delivers ethereal lush pads, sonorous bells, scintillating highs or simply dirty grunge. The 6 user-definable operators can act as independent oscillators for subtractive synthesis, cross-modulate to create complex FM (Frequency Modulation) or RM (Ring Modulation) synthesis or the 256 partial harmonic editor can be used to additively synthesize virtually any timbre you can imagine. With up to 64x oversampling Sytrus delivers 100% epic sound.
Effects
Sytrus features 3 independent, chainable, filter units, each containing an array of filters (13 types each with 5 cutoff slope settings) and integrated waveshaper (distortion processor).
The filter units are optionally followed by a Chorus, Delay & Reverb unit. 100% Flexibility.
Presets
With over 500 hand-picked presets Sytrus is ready to contribute to any genre immediately upon installation. Sounds cover – Arps, Bass, Bell, Brass, Chromatics, Drum, DX7, Experimental, FX, Guitar, Orchestral, Organ, Pad, Percussion, Piano, Plucked, Sequence, Synth, String, Wind. 100% inspiration.
http://www.image-line.com/documents/sytrus.html

L-Day Synth has released LPX-S1, a free synthesizer instrument for Windows.
A new combination of Linear Phase Modulation and Virtual Analog/Subtractive Synthesis.
6 Voice polyphonic Synth
2 Oscillatos ( LPM und 7xUnison Oscillator mit standard Wellen)
1 Filter+ADSR ( LP,HP,BP,XP,Vocal )
1 Envelope ADSR
2 LFO's ( mit SINE,SAW,RAMP,S&H )
1 Trancegate ( mit Gate Trigger )
1 Pingpong Stereo Delay
Midieingang mit Velocity Aftertouch.
In the second installment of my "Synth School" series I'll be staying on the Subtractor synth but looking at the Filter sections, Amp Envelope, Filter Envelope, and Mod Envelope sections. The masters of synth production are masters of these tools. Something as simple as a Low Pass filter when paired with the right chord progression can lift the entire club crowd into a frenzy. The proper Amp Envelope can bring out the vibe in your song. These are powerful tools to conveying and even evoking strong emotion from what sometimes are rather sterile starting melodies or chords.
As always, I encourage you to play around with them on your own to get a feel for how they behave and interact with each other but today I'll walk you through each slider and button and show you a little of my own experimentation.