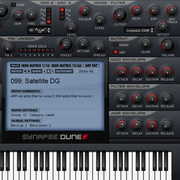 Synapse Audio has released a demo version of DUNE, an advanced subtractive software synthesizer instrument for Windows and Mac.
Dune is a next-generation software synthesizer plugin designed for creating music on a computer. It was developed with the highest possible audio quality in mind and offers exceptional flexibility. The latter is achieved by its modulation system, the new differential unison engine (DUNE) — hence the name.

Despite the complexity of the synthesizer, the highly optimized code allows Dune to run even on older computers. On current hardware, many instances can be run in parallel, making Dune the perfect everyday studio workhorse. Dune was tested by professional music producers to guarantee its ambitious design goals were met. It comes with high quality sounds, mostly created by professional sound designers.
DUNE will be available to purchase for Windows and Mac (VST/AU) soon. The demo version is available to download now.
More information: Synapse Audio
I wonder who Sandra is



Fsynthz has released Sandra, a hybrid AM+FM subtractive synth. Here's what they have to say about it…

Being special for low rezo sweeps and drones, delivers also lash polysynth chords in midrange. Ice, whispers, boiling, extruding, sandshifting at your orders.
Pricing and Availability:
Free download
More information:
Roland Kuit is a composer, artist, sound designer, and teacher who lives in The Hague in the Netherlands. He has released a new e-book on modular synthesis called SouldLab.
Click the image below to see a larger view or click here to load a printable PDF version.

The book is about modular synthesis in general and Roland uses he Clavia G2 hardware editor/Demo version to illustrate concepts. The screenshot below is from the end of chapter one where he illustrates patching old subtractive modular systems like the ARP 2600.
Visit his blog to learn more and buy the book.
Toxic Biohazard is the 4th generation in the line of Toxic synthesizers. Toxic Bio distills the best features from the previous 3 versions to deliver our most concentrated Toxic ever. Beware!
Toxic Biohazard features a hybrid synthesis engine, combining the best of FM and Subtractive synthesis. With the addition of a warm, analog-modeled filter and set of built-in effects, the Toxic concept remains one of convenience, simplicity, and superb sound quality.
What's new?
Improved sound quality
"Physical Envelopes" that allow you to model how sounds in real world decay & resonate etc…
Integrated effects such as tube-like distortion, to warm stereo delay, reverb, flanger, and phaser.
A hybrid synth engine combining FM and subtractive synthesis
A complete rebuilt FM engine adding warmth
Alias-free oscillators with low CPU consumptom
An integrated simple sequencer (64 steps, which can be divided into two independent, 32 step modules to allow double-polyphonic patterns. Using our own "Smart Sequencer" technology, when a chord is played, the module defines that chord, and tunes the pattern accordingly.)
Visit http://www.image-line.com/documents/toxicbio.html to learn more, download a free demo, and listen to samples songs created with Toxic Biohazard.