Machinedrum supplies percussion and master clock source.
PP controlling E340 thru various filters to create lead sound. Bass from AFG sequenced by Modcan Touch sequencer. Sport Modulator and Quantimator controlling MFB triple Osc to created randon slewed chord sound. 2x Ulfo's FM'ing each other thru a LGP controlled by A155.
Other stuf fgoing on but you get the idea…short sharp and to the point!
B.Serrano has released Radium on his web site for free download. Radium looks to be a pretty Xen-Arts that offers a combination of subtractive / virtual analog and frequency modulation (FM) synthesizer engines. Features include 16 voices of polyphony. Substractive synthesizer with 2 oscillators. FM synthesizer with 2 operators. Dynamic user definable envelopes. Programmable XY Pad controller. Filter step sequencer. MIDI learn implementation. Auto Pan functions and much more. Download Radium for free at http://bserrano.free.fr/Synt…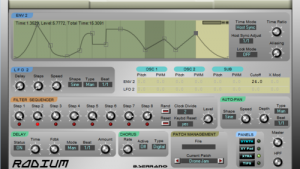 Fsynthz has released 15E, a sync modulation synthesizer instrument for Windows.
This time the envelope does the trick. So we get a "normal" synth with six parameters enveloped. Do the double sync and other stuff… To be considered as an expected exercise on the "15″ playground.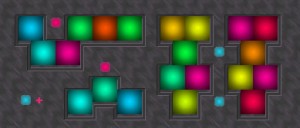 15E features
Designed for any random set of controls to sound good and playable.
3 stereo tools (used simultaneously).
2 dedicated operation modes for ModWheel.
Compact GUI with tooltips on controls.
15E is available to download as a freeware VST instrument plug-in for Windows PC.
More information: Fsynthz