Subtractive Polyphonic Synths – Kilohearts introduces ONE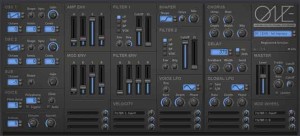 Kilohearts lets us know that kHs ONE was not designed to be a fat analog beast with a massive warm sound… that just happened anyway. A spokesperson told us,
"We have put a lot of time and effort into making oscillators and filters of the highest quality which gives kHs ONE a pleasantly warm and analog sound. Working with professional musicians and producers throughout the development process, we have made sure that the sound meets their high standards."
kHs ONE is available as VST and AudioUnit plug-ins. Both 32 bit and 64 bit versions are available on MacOS X and Windows operating systems.
Features
2 Oscillators (saw/square/noise)
Sub oscillator
2 Filters
Per voice wave shaper
2 LFOs
3 Envelopes (amp/filter/mod)
8 voice unison
24 voice polyphony
Env/LFO legato on/off
Portamento/Glide
Onboard FX: Chorus, Delay, Equalizer and Limiter
Pricing and Availability:
79 Euros
More information:
Comments