Can machines make music by themselves? What would happen if you told Pepp to make up something at random? I just did.. Enjoy the Pepp machine! Available soon for iPhone and iPad.
AudioThing has released miniBit, a 8-bit/chiptune synthesizer.
miniBit is a 8-bit/chiptune style synthesizer that emulates the sound of 80s game consoles and retrocomputers.
It features a main oscillator with 12 waveforms paired with a sub oscillator (a square wave pitched one octave below). The waveforms are not bandlimited and will produce aliasing. Furthermore, using the built-in bitcrusher, is it possible to create even more noisy and retro sounds.
Details:
12 Waveforms.
Sub Oscillator.
Poly and Mono mode with Glide.
2-poles Low Pass Filter.
Delay and BitCrusher effects.
LFO with multiple destinations.
30 Presets.
Preset randomizer.
Formats: VST, AU, and AAX (32/64-bit).
Platforms: OS X, Windows.
Price: €20 / $24.50. miniBit is available for the introductory price of €16 / $19.60 until January 15th, 2015.
This week ISyn Poly
https://itunes.apple.com/app/id443141…
iSyn Poly is an electronic music studio for use with Apple iPad. iSyn Poly places an unbelievable number of features including three studio-quality, fully programmable virtual analog synthesizers and a drum machine packed in just three different screens on your iPad !
Each synthesizer is a full-featured analog modeling synth with three oscillators, a classic 24 db/oct ladder-style lowpass filter, independent filter and amp envelope generators, and full modulation routings. With our 10+ years of experience with analog simulations you can expect some serious sound easily covering all those fat frequencies so prevalent in modern production.
iSyn Poly also includes a sample playback-based drum machine with seventeen kits, each containing eight samples. Drum samples include 808, 909, modular synth drums and numerous 80's drum machines. Volume, pan and decay time are individually adjustable and pitches are tunable over a wide range for crazy effects.
The full fledged sequencer let you arrange complete songs and can record the notes and controller movements of your performance. The unique gesture oriented user interface makes it ideal for live editing of notes and automations.
With the Apple iPad Camera Connection Kit you can use a CoreMIDI compatible MIDI Keyboard to control iSyn Poly.
iSyn Poly is developed by VirSyn with content from audioMIDI.com.
Features:
Three Independent Synthesizers
One polyphonic synth with eight voices and two monophonic synths with:
• Three oscillators with sawtooth, pulse, triangle and sine waves.
Modulations routings: LFO->pitch, filter ADSR->cutoff, LFO->pulse width.
• White/Pink noise generator.
• Classic 24 dB/oct  ladder-style lowpass filter with drive parameter.
Modulations routings:  LFO->Cutoff, Filter ADSR->Cutoff.
• Amp section includes distortion with drive, asymmetry and crusher.
• Control matrix allows real time control of five parameters using the X/Y touch pad, the modulation wheel and the tilt sensors of the iPad.
• Arpeggiator for automated sequences.
• 64 factory presets, unlimited user presets can be shared.
Drum Machine
• Eight simultaneous instruments arranged into eight user-selectable drum kits.
• Editor page allows tuning, panning, level and decay time for individual instruments.
Effects Section
• iSyn Poly features one global effects unit with phaser, flanger, chorus and stereo/cross delay.
Live
• Play melodies live with onscreen keyboard/drum pads. Drag fingers for slides and vibrato.
• Optionally use CoreMIDI compatible hardware keyboard.
Full featured Sequencer
• Four track sequencer with piano roll and automation editor.
• Real time recording with quantize function and metronome.
• Arrange your songs with variable length patterns. Move and copy/paste patterns.
• Recording and playback of X/Y Pad movements, mod wheel, pitch bend and key velocity.
• Full set of editing functions with unlimited undo.
Sample Logic has released CYCLONE RETWISTED, which they describe as the ultimate sample synth. This is what they have to say about it…
Completely re-engineered and re-imagined, CYCLONE RETWISTED is the next generation of Sample Logic's CYCLONE. Now equipped with Sample Logic's proprietary Step and FX Animator technology along with a new dual-voice additive synthesizer, CYCLONE RETWISTED is truly a one-stop shop for astounding, inspiring electronic sounds, and the ultimate sample synth solution for Kontakt. So whether you're on a tight deadline, in need of inspirational presets and production tools, or looking to dig deep and create your own twisted instruments, CYCLONE RETWISTED delivers amazing multi presets and instruments that are production ready and can be quickly customized for instant transformation.
You can get Photophore Synth here at the app store.
https://itunes.apple.com/gb/app/photo…
Photophore is a unique instrument that uses flocks of up to 100 sound generators to create rich, organic synthesizer sounds. By controlling the behavior of the flocks you can make Photophore sound like a choir of synthesizers or, at more extreme settings, a swarm of angry insects.
Unlike other digital synthesizers, Photophore creates warmth and character in a completely new way. Instead of modeling analog circuits, it models animal behavior. Photophore's sound engine is made up of flocks of oscillators that move through a virtual three-dimensional environment. Their motion is controlled by a special behavioral algorithm and physics simulation that keeps the oscillators in tune with each other, but allows for a certain amount of natural drifting and detuning. This creates rich timbres that are perfect for crafting massive bass sounds, complex pads and searing leads.
You can interact with the oscillator flocks by controlling their behavior – how much they try to flock together, how much they avoid each other, their speed, and how much turbulence is in their environment. Oscillators will flee from your touch, so you can create extreme pitch modulation and more chaotic effects by simply swiping across the screen.
Key Features:
• Unique flock synthesis engine
• Up to 100 oscillators per patch
• Monophonic or polyphonic operation (up to 6 voices)
• 6 oscillator waveforms (saw, square, pulse and more)
• Low pass/High pass filter with resonance
• Dedicated amplitude and filter envelopes
• Stereo echo effect
• Arpeggiator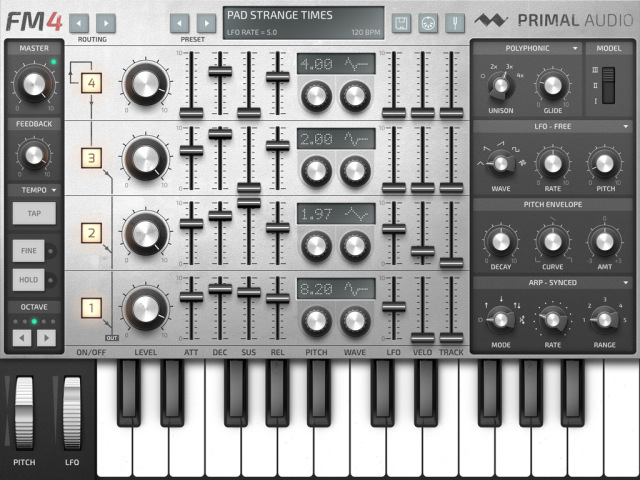 Primal Audio today released FM4, a new FM synthesizer for iPad they say reinvents FM synthesis, making it more accessible and intuitive.
FM4 is a four operator FM synthesizer for iPad. FM4 is modeled on Yamaha DX synths of the 80s, but with a modern interface and free of some of the limitations of the original synths' technology.
FM4 is capable of producing a multitude of sounds, ranging from punchy basses, crystal-clear bells, and lush pads, to organic textures, striking drums, and piercing leads.
According to Primal Audio, every aspect of the hardware — from envelope curves to sine-table sizes and quantization errors to digital-to-analogue converters — has been meticulously analyzed, in order to recreate the sound of the original units.
The interface of FM4 is much more intuitive than the original, putting every parameter on a single page. No menus, tabs, or jumping from page to page.
Features:
Four operators configurable in eight different routings
Three sound engines modelled on 1980s hardware units
Eight waveforms derived from classic FM synths
2x, 3x, and 4x polyphonic unison
Tempo-syncable arpeggiator with up, down, up-down, and random patterns
Microtuning with eight different temperaments
Supports Inter-App Audio, background audio, and support for Audiobus is coming)
Up to 24 voices of polyphony
Presets can be imported/exported through iTunes
Note: MIDI is not working in the initial release. The developers say that an updated FM4 that adds MIDI support has already been submitted to Apple for review.
FM Manifesto
1) FM synthesis is unintuitive and incomprehensible.
Due to a combination of cumbersome interfaces, poor terminology, and plain calumny, FM synthesis has over time garnered a reputation of being arcane and hard to grasp.
We have put great effort into giving FM4 the most simple conceivable, yet powerfull, interface — with every parameter being available on a single page — akin to early analogue synthesizers.
2) FM synthesizers sounds cheesy and farty.
When the first FM hardware synths came out, only a few people embraced their underlying concept and undertook programming them. Instead they were primarily used for their, at that time enticing, factory presets and commercially programmed banks.
oday FM is still being identified with cheesy electric pianos and farty brass sounds. To put an end to this FM4 does purposely not include a sysex converter.
3) Software FM synthesizers sounds clean and sterile compared to original vintage FM hardware.
Contemporary implementations of FM synthesis typically focus on reducing aliasing and related digital artifacts resulting in a sterile and lifeless sound.
With FM4 we have taken the opposite approach and analysed and incorporated inherent sonic aspects of original 1980s hardware units, such as the bit-depth of internal sine-tables, quantisation errors, and digital-to-analogue converters.
Conclusion:
It is time to reinvent FM and we encourage musicians to dive into and embrace what was formerly considered as /the black art of FM programming/.
FM4 is available now in the App Store for $0.99, through the end of December.
New preset collection of 26 presets for IOS Synth Laplace
Available for donation
2 USD = Preset collection
3 USD + = Preset Collection + FB-01 Sample Library with Kontakt 5 Mapped and other samplers also (46 instruments) (6.99 Pounds)
Payment here http://www.patreon.com/synthanatomy and than sending a confirmation to synthanatomynews@gmail.com
Checking out PolyKB II from Xils-lab, it's a plugin based on the vintage Poly Kobol analog synth from RSF syntheszers. It has a classic interface with morphable oscillators and a bunch of other modulation options. Most importantly, it has a very warm and vintage tone to it, I was definitely sleeping on this one. Excuse the extra blank space at the end of the video, forgot to remove it lol.
Read the full review: http://soundsandgear.com/xils-lab-pol…
Product page: https://www.xils-lab.com/pages/PolyKB…
Available at Sweetwater also for $149: http://fave.co/1xv5kwF
Learn Maschine: http://MaschineTutorials.com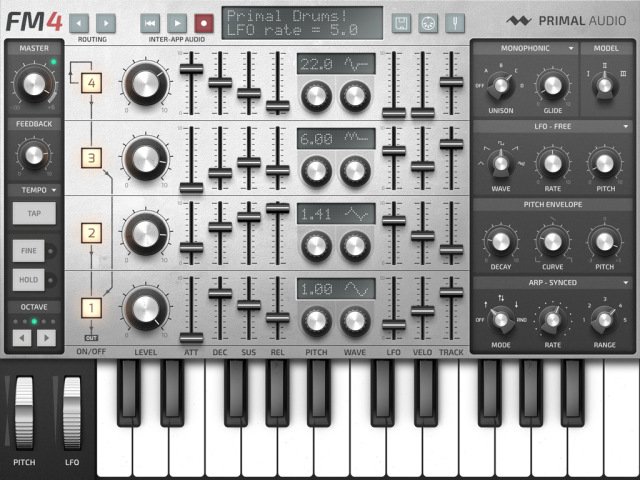 Primal Audio has announced FM4 – a new FM synthesizer for iPad, modeled on classic 1980s Yamaha DX series keyboards.
According to the developers, "Great care has been put into analyzing and replicating inherent sonic characteristics of the original hardware, such as internal quantization errors and digital-to-analogue conversion."
Features:
Four operators configurable via eight different routings
Three sound engines modelled on 1980s hardware units
Eight waveforms derived from classic FM synths
2x, 3x, and 4x polyphonic unison
Tempo-syncable arpeggiator with up, down, up-down, and random patterns
Microtuning with eight different temperaments
Supports Inter-App Audio, background audio, and MIDI (support for Audiobus is planned)
Up to 24 voices of polyphony
Import/export presets through iTunes
Works on all iPads supporting iOS 7.0 and up
FM4 will be available in the App Store in December 2014, with an introductory price of $0.99. See the Primal Audio site for details.
Laplace is a new Resonator Synthesizer, from iceGear the developer of Cassini.
"I explain what "Resonator Synthesizer" actually means as I poke around at it to create an ensemble of bells and strings in a single patch. If you enjoyed this please consider supporting this series by sponsoring them on Patreon: http://www.patreon.com/user?u=107612
Be sure to visit http://discchord.com for the latest music app news!"
Laplace is a physical-modeling synthesizer based on resonator synthesis that makes it easy to create bowed string, plucked string, blown pipe and metallic sounds.
Specifications:
* Inter-App Audio
* MIDI
* CoreMIDI / Virtual MIDI Input
* MIDI Controller Mapping with MIDI Learn mode
* External Midi sync
* Arpeggiator
* 16 step sequencer – On/Off, Glide, Octave, Accent, Staccato
* Exciter
* Click – Stiffness, Color, Decay, Damper Noise
* Noise – LPF, HPF, ENV
*Resonator
*Flavor, LPF, ENV, Pitch ENV
*Sine – Pitch, FM, ENV
*HPF
*Effectors
*Chorus
*Delay
*Reverb