One synth to rule them all. Listen here: https://soundcloud.com/nativeinstrume…
More info here: http://www.native-instruments.com/are…
One synth to rule them all. Years of meticulous research and the latest in cutting-edge DSP technology combine to deliver a virtual synth with teeth. Stay tuned.
It's built in Reaktor and is called Monark – a synth to rule them all!
Casino 2 contains 64 new presets for Cassini. Basses, Leads, Pads, Arpeggiations, Chiptune, Formant and FM patches, and more.
Every preset has the modulation wheel routed as well as all 4 performance modulation knobs assigned to interesting and important aspects of the sound, giving you a high degree of real time control and command over your sound.
Compatible with iPhone 3GS, iPhone 4, iPhone 4S, iPhone 5, iPod touch (3rd generation), iPod touch (4th generation) and iPad. Requires iOS 4.3 or later.
Format:
▪ 100% Original and Royalty Free
▪ 64 cassini_timbre files
▪ 256 Controller knob settings
▪ 64 Mod Wheel settings
▪ Includes easy installation instructions
Price: $2.49
Available from – www.sunsineaudio.com
Free Preview Pack – http://www.sendspace.com/pro/dl/cd5ikl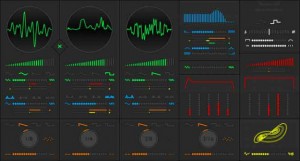 Sinevibes has announced Torsion, its new monophonic Audio Unit instrument plugin. They tell us that Torsion is built upon a unique combination of multiple synthesis technologies and modulation sources, wrapped into an intuitive interface which makes working with it as fun as playing a game. Sinevibes believes that it has a very distinctive, original sound character – and is ready to push your musical creativity in a fresh new direction. Here's the details in Sinevibes' own words…
Reinvented classics
At first glance, Torsion's sound structure is similar to a traditional subtractive synthesiser – three oscillators going into a low-pass filter and into an amplifier – and it's certainly as easy to use. But Torsion's oscillators are completely different: they produce simple additive waves based on just a few partials, which are then enriched with lots of new spectral content using a technique called waveshape modelling (which literally "curls" the wave in real time). To further spice the sound up, there is a ring modulator and an audio-range oscillator for filter FM.
Modulation galore
Torsion features as many as four separate LFO generators – one for each oscillator and one for the filter and output amplifier. In addition to precise synchronisation, each LFO cycle can be self-randomised, which makes the modulation rhythmical yet non-repetitive. There are also two AHDSR envelope generators, as well as a two-dimensional chaos oscillator.
Interactive experience
The interface of Torsion is designed with high-contrast, colour coded elements, which lets you operate the instrument intuitively in just a few minutes. It also includes graphic representations for every building block – oscillator waves, LFO phases, envelope shapes and filter spectrum all change as you modify them, making sound design with Torsion a truly engaging, fun process.
Specifications
• Three oscillators each with four basic additive waveforms and four waveshape models.
• -24 dB/octave resonant low-pass filter.
• -12 dB/octave high-pass filter.
• Ring modulator.
• Modulation oscillator for low-pass filter FM.
• Four tempo-synchronised LFO generators with four waveforms and per-cycle randomisation.
• Two AHDSR envelope generators.
• Two-dimensional chaos modulation generator based on Lorenz attractor.
Pricing and Availability:
Torsion is immediately available as an Audio Unit plugin for OS X 10.6 or later (32/64 bit Intel), and costs $49.
More information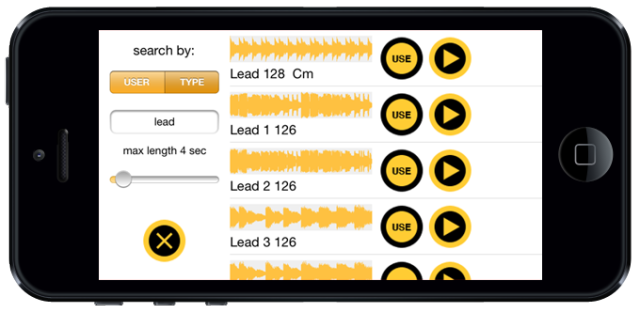 Brio Taliaferro, Alessandro Contini & Daniele Guevara have released CloudSynth – a free app that lets you browse and play sounds from SoundCloud.
Features:
Search sounds by name, user and duration
Pre-listen and select the sound
SAMPLER MODE: play the sound at different pitch
SYNTH MODE: select a portion of the waveform and create new unexpected granular sounds
Rotate the iPhone to modulate Reverb and Delay
It's available as a free download here >>
A little demo of the microTone with iRig MIDI and (free) osynth!
http://microtone.ozurkirchen.ch
i connected an iRig MIDI to my iPad with the microTone running. The MIDI signal goes via audio/MIDI interface into my computer where the data is parsed by osynth.
the microTone:
- control one octave fluently without steps. Just glide over the keyboard with up to 10 fingers!
- switch octaves or lowest/highest notes
- the microTone has an integrated polyphonic synthesizer with 8 different sound presets
- send pitch data over MIDI cable to your computer
- send pitch data over WiFi to your computer (receive MIDI or OSC data with e.g. max/MSP or OSCulator)
- receive microTone MIDI or OSC data with osynth: a free synthesizer, made for the microTone.
osynth:
- voice1: saw/sine with hpf
- voice2: white noise filtered with note frequency
- voice3: sine sub-osc
- voice4: sine osc one octave higher
- voice5: wavetable osc
- ADSR
- reverb
- stereo delay
- binaural FX
- pitch random modulator
- recallable presets
- connect the microTone with core MIDI over WiFi or cable
- connect the microTone with OSC over WiFi
Yonac has released a major update to Magellan, its software synthesizer for iOS.
The update includes intelligent preset generation, two new effects, configurable FX signal flow, user-friendly additions to the preset system and more. The update also opens up Magellan as an FX processor you can use with Audiobus.
"Some synthesizers have a random preset feature that haphazardly chooses sound parameters, which mostly produces unusable sounds," explains chief engineer Jim Yonac. "Instead, we use artificial intelligence to generate unique and usable patches for Magellan."
Magellan's new SPAWN feature uses a balance of expert knowledge and well-informed randomization to generate presets in a given category or combination of categories, selecting something in the order of 180 parameters in a mutually compatible manner. SPAWN settings allow the user to choose among or mix bass, lead, pad, or "weird" sounds, with an option to also generate an arp. The "Surprise Me" feature transfers tonality decisions to the system.
New in Magellan 2.1:
Smart Preset Aggregation with Windowed raNdomization (SPAWN)

Uses specially designed artifical intelligence algorithms to generate new presets on-the-fly
Makes decisions based on the user-specified tonality parameters, such as Bass, Lead, Pad or "Weird"
Algorithms intelligently decide and generate over 100 synth-related parameter and over 80 fx-related parameters
Generate arp patterns in any chosen scale, or in a random scale
Use "Surprise Me" option to give complete control to the system
Retains 16 most recent spawns in memory under the dedicated "Recent Spawns" bank

Use Magellan as an effects processor in Audiobus connections!
Two new free effects,

HEXEq: a very powerful and highly configurable 6-channel parametric equalizer with 9 filter types you can choose from for each channel, including shelving, peak, band and more.
VC-93 Compressor: a juicy compressor with built in I/O VU meters

Change the FX signal flow via easy to use drag-n-drop interface. Allows you to experiment with any possible linear ordering.
MIDI inlets for all the new features
Master output meter with clipping indicators on the main panel
Improved launch procedure
Favorite presets bank to collect your preferred presets in a single place. Simply star or unstar a preset to add or remove it from favorites.
Recent presets banks
Restore Factory Presets option, so you can reinstall factory presets without having to reinstall the whole app
Various other improvements
Wavetable generator by Wolfgang Palm, the guy who created the PPG Waves from the 80′s. Has 3 oscillators for control of pitch and waveform. 3D display for viewing sound from any angle and the ability to import or take your own photo to generate a waveform. This video is just a quick demo using one waveform. More videos to come. Buy it from the itunes store for $20.99.
Key Features:
• Creation of your own waves and wavetables.
• Playful sound creation simply by drawing or picking harmonics
• 3D page, visualization of the wavetables, transformation from photos into wavetables.
• 256 waves assembled within a wave grid
• 3 Audio Oscillators
• 3 Noise generators, for audio and modulations
• Classic 24 dB Lowpass Filter, combined with an overdrive simulation.
• Dual amplifier, for versatile control of 2 audio signals as well as panning.
• 13 Envelopes, for independent control of pitch, waveform, filter and noise gain and panning
• 4 LFOs
• Arpeggiator
• Delay/Reverb effect
• Audio engine with 2 synthesis modes, and variable wave blending quality.
• Directly accessible context help inside the app
• Use a camera, to shoot a picture and then transform it into a sound!
• Using state of the art technologies, but still the versatile and efficient synthesis system.
• Build your own keyboard, with the keys you prefer for your music.
• Audio recorder, up to 10 min. at 44.1 stereo
• Audio Copy to the pasteboard
• File Sharing via iTunes
For the past 2 years the market has more or less been swamped with tablet synthesizers, drum machines, vintage clones, ambient electronic instruments for tablets. At first it was more or less an iOS only business, Android has been struggling for a long time with its user experience and more importantly with its audio latency. But now there is movement also on the Android side with several music creation app developers porting their apps also on to Android, ie FL Studio, Caustic to name but a few.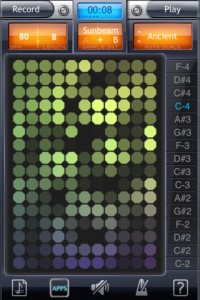 NOTE: We do not claim that this screenshot necessarily implies a poor music experience, it is for illustrative purposes only
All this is great in a sense but how much real music production is being done on these devices, sure there are bands and artists that claim that their entire new album has been done on a tablet, but seriously how many go beyond using them for leisure playing or perhaps inspirational journeys into the ambient worlds of many of these glossy and experimental tablet synthesizers. Of course in a studio environment you can hook these tablets up, attach necessary controllers and get it all in your DAW, but is it effective – will it actually transform how we create music, will it replace an acoustic guitar or piano to create a new tune or melody. As of right now it tends to be more an effects generator for adding cool sounds, ambient pads, chip sounds etc. To be honest music creation is much more than machines – in the end no song is better than the melody that forms the base of music creation – tablets will not change this.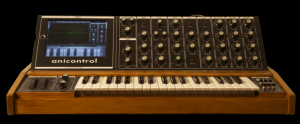 Just to be clear, we are not hardware fanatics in any way, most is done in a virtual studio environments. The question we ask, can tablets really take the jump from a toy or perhaps experimental control surfaces, to be effective tools in the music creation process. With crisp graphics and UIs you can run awesome looking vintage clones, like the iMS-20, but still comparing the feeling of twisting a virtual knob to a physical one – the sense of precision is not the same, sure you can hook it up to a keyboard and sure you can get a "real" KORG analog synth for the price of a couple of visits to Starbucks, but it is not the same as dealing with the real thing. But maybe this is good enough for a greater crowd and we have with tablets definitely pushed the envelope on what defines a music production environment. However, what can be seen now is that we only get more of the same – more ambient synths, more vintage clones, more cheap drum machines and sequencers, more experimental control surfaces and hybrid DAWs.
What will be the next step and will we ever take these guys below seriously


We sure do in one sense, but in another it still feels so 2012…
The Laptop Orchestra of Lake Forest Academy plays Radiohead's "Meeting in the Isle" as they open their Fall 2012 concert. 8 musicians play and project iPads on sound panels behind them while using a combination of apps including Animoog, iMS-20, iElectribe, Reactable, and Garageband.
An extensive show and tell of the new PPG WaveMapper app from Wolfgang Palm.
For more info visit http://www.wolfgangpalm.com
PPG WaveMapper is the second next-generation iOS based synth from Wolfgang Palm, who in 2012 released the PPG WaveGenerator to critical acclaim from both press and public.
In final development the PPG WaveMapper offers iPad users a second synthesiser to compliment the already loved PPG WaveGenerator from Wolfgang Palm. PPG WaveMapper allows the user the opportunity to create limitless sounds from this unique and powerful new technology.
PPG WaveMapper features the Sound Map, which maps the various sounds in a way to easily access and experiment with them, more importantly the PPG WaveMapper features a new synthesis system which maps the waveforms of a sound into a new kind of wavetable which preserves the sound characteristics better than classic Wavetable synthesis and at the same time allows for the manipulations which make WT synthesis so unique.
The Mapping window is the visualisation of a pool of programs on which "modules" float. Those modules represent certain parameters of the synthesiser engine and each module can be placed on one of 32 programs. The moment an item is placed on map then the parameters of that module will take on the settings of those parameters in the underlying program on the Mapping window.
People who do not posses synth-programming skills can use this mapping technology as a starting point to create complex sounds. For example a user can drag a string sound source onto a drum envelope, or a guitar sound onto a string envelope – the concept is simple, yet incredibly powerful.
PPG WaveMapper is the second next-generation iOS based synth from Wolfgang Palm, who in 2012 released the PPG WaveGenerator to critical acclaim from both press and public.
In final development the PPG WaveMapper offers iPad users a second synthesiser to compliment the already loved PPG WaveGenerator from Wolfgang Palm. PPG WaveMapper allows the user the opportunity to create limitless sounds from this unique and powerful new technology.