The latest session at Mitosynth U explains how to automate synth settings to add motion to a sound.
Rob Papen demoing his Predator-PL software synthesizer.
Features:
A powerful software synthesizer that covers the bases of a wide range of electronic musical styles
Loaded with 4,400 presets arranged logically into banks to make finding the right sound easy
A simple set of subtractive synthesis elements let you tweak sounds and come up with your own presets
Three lush effects engines let you get even more out of your sounds
32/64-bit compatibility provides full support for the latest AAX, VST, and AU plug-in hosts on Mac and PC computers
No dongle required but supports eLicencer key/Syncrosoft/Steinberg Key
License allows 2 simultaneous activations at once
Predator-PL is a basic version of Papen's Predator virtual analog synthesizer, available via Sweetwater and MusicStore Koeln:
A Tour and Demo of this amazing simulation of the classic synth from EMS, the VCS 3.
Official EMS VCS3 emulator
The VCS3 was created in 1969 by Peter Zinovieff's EMS company. The electronics were largely designed by David Cockerell and the machine's distinctive visual appearance was the work of electronic composer Tristram Cary. The VCS3 was more or less the first portable commercially available synthesizer—portable in the sense that the VCS 3 was housed entirely in a small, wooden case.
The VCS3 was quite popular among progressive rock bands and was used on recordings by The Alan Parsons Project, Jean Michel Jarre, Hawkwind, Brian Eno (with Roxy Music), King Crimson, The Who, Gong, and Pink Floyd, among many others. Well-known examples of its use are on The Who track "Won't Get Fooled Again" (as an external sound processor, in this case with Pete Townshend running the signal of a Lowrey Organ through the VCS3's filter and low frequency oscillators) on Who's Next. Pink Floyd's "On the Run" (from The Dark Side of the Moon) made use of its oscillators, filter and noise generator, as well as the sequencer. Their song Welcome to the Machine also used the VCS3. The bassy throb at the beginning of the recording formed the foundation of the song, with the other parts being recorded in response. The VCS3 was also a staple at the BBC's Radiophonic Workshop, and was a regular (and most frightening) sound generator for the Dr Who TV series. Many fo the monsters and atmoshere;s created for the show came directly from the VCS3.
Description
The VCS3 has three oscillators (in reality, the first 2 oscillators are normal oscillators and the 3rd an LFO or Low Frequency Oscillator), a noise generator, two input amplifiers, a ring modulator, a 18dB/octave (pre-1974) or 24dB/octave (after 1974) voltage controlled low pass filter (VCF), a trapezoid envelope generator, joy-stick controller, voltage controlled spring reverb unit and 2 stereo output amplifiers. Unlike most modular synthesizer systems which use cables to link components together, the VCS3 uses a distinctive patch board matrix into which pins are inserted in order to connect its components together.
Keyboards controller
DK1 keyboard controller
Although the VCS3 is often used for generating sound effects due to lack of built-in keyboard, there were external keyboard controllers for melodic play. The DK1 in 1969 was an early velocity sensitive monophonic keyboard for VCS3 with an extra VCO and VCA. Later it was extended for duophonic play, as DK2, in 1972. Also in 1972, Synthi AKS was released, and its digital sequencer with a touch-sensitive flat keyboard, KS sequencer, and its mechanical keyboard version, DKS, were also released."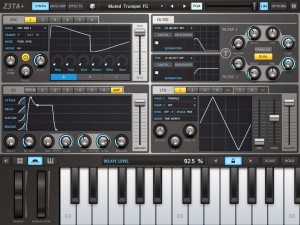 The legendary Z3TA+ synthesizer has been used on countless records, and it's distinctive sound has been a staple of electronic artists the world over. And now Z3TA+ iOS puts the full power of Z3TA+2 on your iPad. Packed with hundreds of presets, modulatable waveshaping, dual mode filters, and flexible effects, Z3TA+ iOS is the perfect creative synth for making music anywhere, anytime.
Feature Highlights:
Includes over 500 presets
User-friendly on-screen Keyboard and external MIDI control
Waveshaping synthesis with 6 Oscillators, 6 LFOs, and more
Modulation Matrix including 16 Sources, Curves, Controls, and Destinations
Advanced modular effects including Distortion, Mod, Compression and more
Performance section with Tap Tempo, assignable XY Pad, Mod Wheels, and Adaptive Pitch Bend
Inter-App Audio, Background Audio, and Audiobus support
Z3TA+iOS will be there for you when you're working behind your studio rig, or on the road. It embodies every characteristic of the original synthesizer and brings the all of parameters you know and love to a fluid iOS7 touch-enabled interface. Z3TA+iOS is perfect for both experienced and new users especially when connecting to other audio applications using Audiobus and Inter-App Audio. Plugin in any iPad compatible MIDI controller and take your performance to the stage.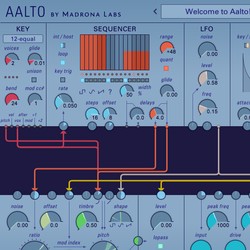 Madrona Labs has updated its Aaltosynthesizer for Windows and Mac to version 1.5.
Aalto is a semi-modular software synthesizer with an innovative, patchable UI, distinctive sounds, and a charming personality.
Changes in Aalto v1.5
Fixed an issue that was slowing down Aalto dramatically on some Windows systems.
Fixed an issue requiring a runtime support pack on some Windows systems.
Improved latency through the patcher when running at large host buffer sizes.
Aalto now draws at full resolution on Macintosh Retina Display, in compatible hosts.
Aalto is now compatible with Soundplane version 1.0 and higher.
Fix mousewheel direction on Mac OS 10.7 and higher.
Accelerated drawing to the screen on Mac OS with OpenGL.
Optimized drawing scheduling to avoid glitches, especially in Logic.
User and factory presets now share the same location.
Improved ergonomics of patcher with larger handles and smoother graphics.
Fixed a drawing problem with bipolar dials.
Improved drag ergonomics for dials.
Aalto for Windows and Mac (VST/AU) is available to purchase for $99 USD.
Clear steps about recording,locating automated parameter,automating
pan and level in mixer,copying 1 bar to 2.
Sergio Rodríguez playing Structsynth v. 1_0 ensemble from Reaktor 5 Native Instruments. Comin soon in Reaktor user library.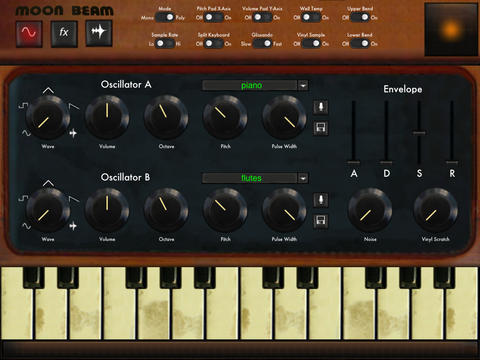 Inspired in part by the Casio Sk-1's lo-fi sonics/sampling and Sequential Circuit's Pro-One synth, the Moon Beam also adds features only possible in the touch screen world: bend keys independantly!!! You can of coarse also bend all voices in sync using the touch pad. Also, for those of you Baroque sticklers… you can switch to Well-Tempored mode!
The Moon Beam Synth/Sampler gives you:
-Unique key independant pitch bending
-2 sample/oscillator layers for each voice… or split them to top and bottom keyboards.
-Effects (Delay/Reverb, Filter, Tremelo, Vibrato, Vinyl Noise, Distortion)
-Easy sampling for each audio source
-Easy editing of audio sample start/loop points
-4 octave keyboard + 2 pitch ribbons
-1 assignable effects touch pad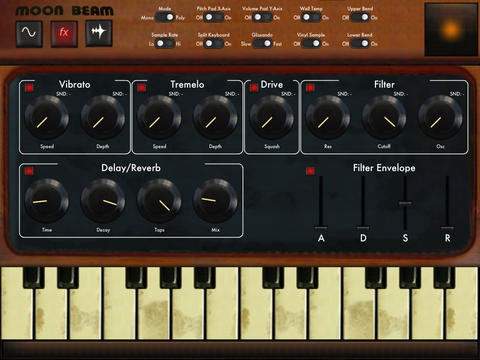 ReDominator is an emulation of the classic Alpha Juno 1/2 (JU-1/2), a polyphonic DCO (digitally controlled oscillator) based synth from 1986. The JU-1/2 became popular in the early 90's techno and rave scene particularly by the classic Hoover sound (which ReDominator attempts to emulate accurately). But beyond those niche sounds there lays a versatile synthesizer that does bass, pads, leads, organs and a lot of other sounds waiting to be discovered!
Available at the Prop Shop:
https://shop.propellerheads.se/produc…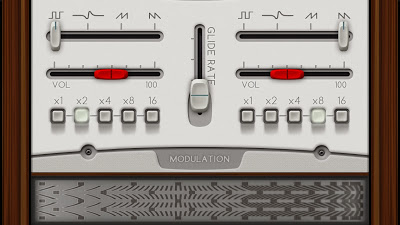 The 432Hz Synth is a Must For Every Music Love Fan Out There!
Features:
Oscillator A'
Oscillator A Waveforms:

Square, Sine, Sow, Revers Sow.

Oscillator A Volume.
Oscillator A Step:
Oscillator B'
Oscillator B Waveforms:

Square, Sine, Sow, Reverse Sow.

Oscillator B Volume.
Oscillator B Step:
Modulation'
Cutoff.
Resonance.
LFO Waveforms:

Square, Sine, Sow, Reverse Sow.

LFO Amount.
LFO Rate.
LFO mode:
Arpeggiator'
Arpeggiator Step:

Up, Down, Up & Down, Random.

Octaves, 1 To 5.
Arpeggiator Rate.
Volume Envelope'

Attack, Decay, Sustain, Release.

Filter Envelope'

Attack, Decay, Sustain, Release.

Oscillator B Fine Tune'
Oscillator A-B Sync.
Semis.
Cents.
Warning Before Use:
Please Volume Down, The Gain is +10db : )
Also The 432Hz Synth Has No Rules, Only Pure Fun. Enjoy!
Powered by Oren Fridman – Promobeat™. This Synth Dedicated To Mr Allen Porter Behind This Open Source Code.