Checking out PolyKB II from Xils-lab, it's a plugin based on the vintage Poly Kobol analog synth from RSF syntheszers. It has a classic interface with morphable oscillators and a bunch of other modulation options. Most importantly, it has a very warm and vintage tone to it, I was definitely sleeping on this one. Excuse the extra blank space at the end of the video, forgot to remove it lol.
Read the full review: http://soundsandgear.com/xils-lab-pol…
Product page: https://www.xils-lab.com/pages/PolyKB…
Available at Sweetwater also for $149: http://fave.co/1xv5kwF
Learn Maschine: http://MaschineTutorials.com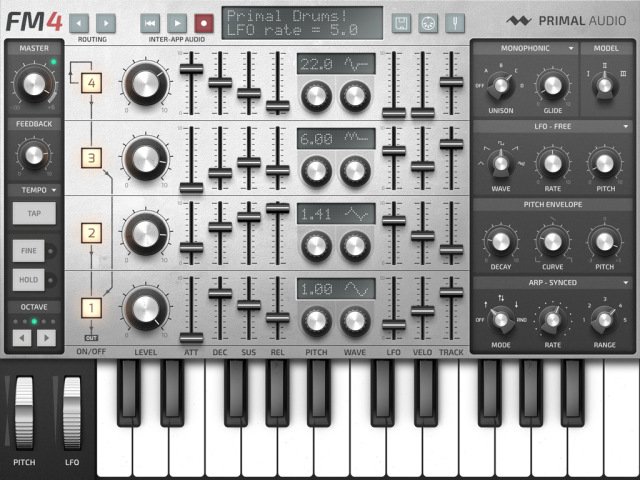 Primal Audio has announced FM4 – a new FM synthesizer for iPad, modeled on classic 1980s Yamaha DX series keyboards.
According to the developers, "Great care has been put into analyzing and replicating inherent sonic characteristics of the original hardware, such as internal quantization errors and digital-to-analogue conversion."
Features:
Four operators configurable via eight different routings
Three sound engines modelled on 1980s hardware units
Eight waveforms derived from classic FM synths
2x, 3x, and 4x polyphonic unison
Tempo-syncable arpeggiator with up, down, up-down, and random patterns
Microtuning with eight different temperaments
Supports Inter-App Audio, background audio, and MIDI (support for Audiobus is planned)
Up to 24 voices of polyphony
Import/export presets through iTunes
Works on all iPads supporting iOS 7.0 and up
FM4 will be available in the App Store in December 2014, with an introductory price of $0.99. See the Primal Audio site for details.
Laplace is a new Resonator Synthesizer, from iceGear the developer of Cassini.
"I explain what "Resonator Synthesizer" actually means as I poke around at it to create an ensemble of bells and strings in a single patch. If you enjoyed this please consider supporting this series by sponsoring them on Patreon: http://www.patreon.com/user?u=107612
Be sure to visit http://discchord.com for the latest music app news!"
Laplace is a physical-modeling synthesizer based on resonator synthesis that makes it easy to create bowed string, plucked string, blown pipe and metallic sounds.
Specifications:
* Inter-App Audio
* MIDI
* CoreMIDI / Virtual MIDI Input
* MIDI Controller Mapping with MIDI Learn mode
* External Midi sync
* Arpeggiator
* 16 step sequencer – On/Off, Glide, Octave, Accent, Staccato
* Exciter
* Click – Stiffness, Color, Decay, Damper Noise
* Noise – LPF, HPF, ENV
*Resonator
*Flavor, LPF, ENV, Pitch ENV
*Sine – Pitch, FM, ENV
*HPF
*Effectors
*Chorus
*Delay
*Reverb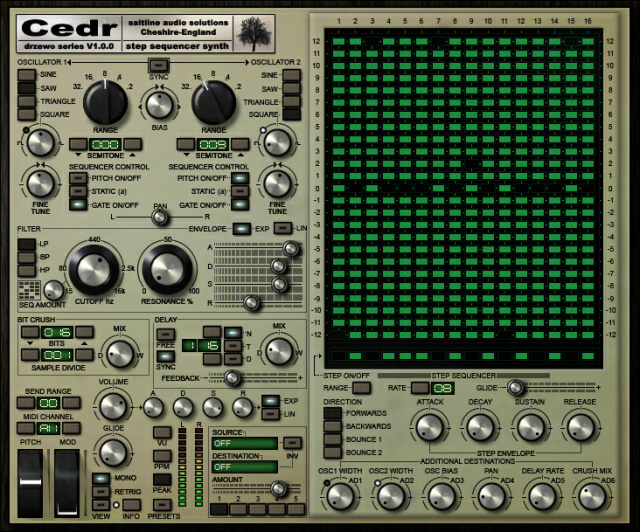 Saltline has released Drzewo Cedr – a free 2 oscillator subtractive synthesizer for Windows. with a 16-step pitch sequencer. Cedr was created with chip tunes in mind.
Features:
The sequencer can also be fed to several other of the synthesizer's controls.
The pitch sequencer can be turned on or off for each oscillator allowing for greater flexibility in sound creation
Bit crush and delay effects also add to the degraded yesteryear quality of Cedr.
Other controls include a step sequencer 'step envelope' giving the user the ability to create a range of sounds from choppy arps to strange pads and textures.
5 modulation slots also allow midi control routing, such as, key follow, velocity and aftertouch.
The SH-2 PLUG-OUT Software Synthesizer is a total reproduction of the classic SH-2 synthesizer from 1979. Renowned for its raw vintage tone, the SH-2's dual VCO plus sub oscillator configuration dishes out devastatingly fat basses, edgy leads and wild effects. With or without a SYSTEM-1, this VST3 and AU plug-in support multiple instances and can be used in any compatible DAW. SYSTEM-1 owners get a dedicated controller and can take advantage of the SH-2's PLUG-OUT capability and turn their SYSTEM-1 into a stand-alone, hardware SH-2 that can go anywhere and doesn't require a computer. And this is just the beginning. More synthesizers based on Roland's acclaimed Analog Circuit Behavior are on the way.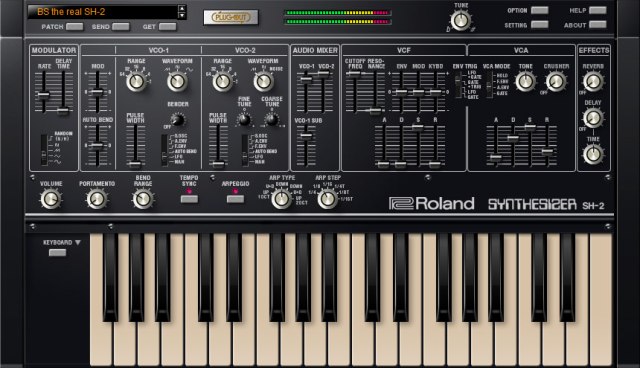 Everything has been reproduced exactly, from the VCF which is capable of self-oscillation to the attack and long decay characteristics of the steep envelope. The unique harmonic makeup and pitch wavering are present as are the complex interactions between parameters that result from the original analog circuit design.
Even behaviors that occur only in analog circuitry are accurately reproduced, like the subtle effect on tonality when the user tweaks parameters unrelated to the actual tone being produced.
There are even some new features that were not available on the original. This new SH-2 has a VCO range that is expandable to 64′, two envelopes, reverb, delay and crusher effects, Autobend with support for reverse actions, and a tempo-syncable arpeggiator.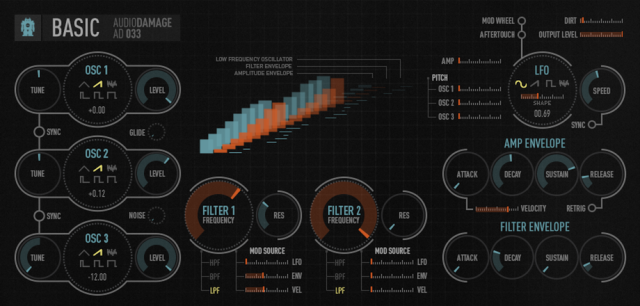 Audio Damage has introduced Basic – a three-oscillator monophonic software synthesizer for Mac & Windows.
According to Audio Damage, Basic is designed with ease-of-use, low cost, and simplicity in mind, and offers 'an aggressive tone and self-resonating filters that 'scream' when pushed'.
Features:
Three alias-free wavetable oscillators with six waveforms each, and oscillator sync.
A pair of cascaded filters featuring MS20-style lowpass and highpass, and a bandpass of our own design.
A four-waveform tempo-syncable LFO with waveshaper.
ADSR envelopes for amplitude and filter frequency.
User-definable soft-saturation.
A simple and easy-to-understand workflow, inspired by the classic topology of vintage analog synths like the Minimoog, SEM, and MS20, but with modern usability.
Touchscreen-friendly and highly visible user interface.
DRM-free, for easy installation and updating.
Audio Damage Basic is available now. It is priced at US $39 through Sept 4, 2014. After that, $49.00. See the AD site for an audio demo.
easy#toolz has released Mormox Imitate, a free synthesizer instrument plug-in for Windows.
Its an "Emulation" of a very new Hardware-synth from Greece, called "Murmux Initate"
And it has a very "simple" Structure at Original: 2 Oscillators with Subosc, 2 waves (Saw and Pulse)
Lowpass-Filter, simple LFO, 2 Envelopes (one AD, one ADSR)… thats all

My "Emu" has some extra Features, indeed, i have tried to receive the brilliantly easy structure.
Mormox Imitate is available to download for Windows (VST) as freeware as part of the KVR Developer Challenge 2014.
The latest session at Mitosynth U explains how to automate synth settings to add motion to a sound.
Rob Papen demoing his Predator-PL software synthesizer.
Features:
A powerful software synthesizer that covers the bases of a wide range of electronic musical styles
Loaded with 4,400 presets arranged logically into banks to make finding the right sound easy
A simple set of subtractive synthesis elements let you tweak sounds and come up with your own presets
Three lush effects engines let you get even more out of your sounds
32/64-bit compatibility provides full support for the latest AAX, VST, and AU plug-in hosts on Mac and PC computers
No dongle required but supports eLicencer key/Syncrosoft/Steinberg Key
License allows 2 simultaneous activations at once
Predator-PL is a basic version of Papen's Predator virtual analog synthesizer, available via Sweetwater and MusicStore Koeln:
A Tour and Demo of this amazing simulation of the classic synth from EMS, the VCS 3.
Official EMS VCS3 emulator
The VCS3 was created in 1969 by Peter Zinovieff's EMS company. The electronics were largely designed by David Cockerell and the machine's distinctive visual appearance was the work of electronic composer Tristram Cary. The VCS3 was more or less the first portable commercially available synthesizer—portable in the sense that the VCS 3 was housed entirely in a small, wooden case.
The VCS3 was quite popular among progressive rock bands and was used on recordings by The Alan Parsons Project, Jean Michel Jarre, Hawkwind, Brian Eno (with Roxy Music), King Crimson, The Who, Gong, and Pink Floyd, among many others. Well-known examples of its use are on The Who track "Won't Get Fooled Again" (as an external sound processor, in this case with Pete Townshend running the signal of a Lowrey Organ through the VCS3's filter and low frequency oscillators) on Who's Next. Pink Floyd's "On the Run" (from The Dark Side of the Moon) made use of its oscillators, filter and noise generator, as well as the sequencer. Their song Welcome to the Machine also used the VCS3. The bassy throb at the beginning of the recording formed the foundation of the song, with the other parts being recorded in response. The VCS3 was also a staple at the BBC's Radiophonic Workshop, and was a regular (and most frightening) sound generator for the Dr Who TV series. Many fo the monsters and atmoshere;s created for the show came directly from the VCS3.
Description
The VCS3 has three oscillators (in reality, the first 2 oscillators are normal oscillators and the 3rd an LFO or Low Frequency Oscillator), a noise generator, two input amplifiers, a ring modulator, a 18dB/octave (pre-1974) or 24dB/octave (after 1974) voltage controlled low pass filter (VCF), a trapezoid envelope generator, joy-stick controller, voltage controlled spring reverb unit and 2 stereo output amplifiers. Unlike most modular synthesizer systems which use cables to link components together, the VCS3 uses a distinctive patch board matrix into which pins are inserted in order to connect its components together.
Keyboards controller
DK1 keyboard controller
Although the VCS3 is often used for generating sound effects due to lack of built-in keyboard, there were external keyboard controllers for melodic play. The DK1 in 1969 was an early velocity sensitive monophonic keyboard for VCS3 with an extra VCO and VCA. Later it was extended for duophonic play, as DK2, in 1972. Also in 1972, Synthi AKS was released, and its digital sequencer with a touch-sensitive flat keyboard, KS sequencer, and its mechanical keyboard version, DKS, were also released."