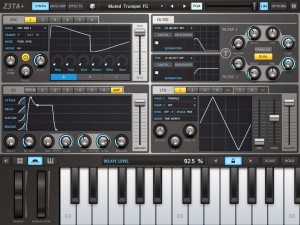 The legendary Z3TA+ synthesizer has been used on countless records, and it's distinctive sound has been a staple of electronic artists the world over. And now Z3TA+ iOS puts the full power of Z3TA+2 on your iPad. Packed with hundreds of presets, modulatable waveshaping, dual mode filters, and flexible effects, Z3TA+ iOS is the perfect creative synth for making music anywhere, anytime.
Feature Highlights:
Includes over 500 presets
User-friendly on-screen Keyboard and external MIDI control
Waveshaping synthesis with 6 Oscillators, 6 LFOs, and more
Modulation Matrix including 16 Sources, Curves, Controls, and Destinations
Advanced modular effects including Distortion, Mod, Compression and more
Performance section with Tap Tempo, assignable XY Pad, Mod Wheels, and Adaptive Pitch Bend
Inter-App Audio, Background Audio, and Audiobus support
Z3TA+iOS will be there for you when you're working behind your studio rig, or on the road. It embodies every characteristic of the original synthesizer and brings the all of parameters you know and love to a fluid iOS7 touch-enabled interface. Z3TA+iOS is perfect for both experienced and new users especially when connecting to other audio applications using Audiobus and Inter-App Audio. Plugin in any iPad compatible MIDI controller and take your performance to the stage.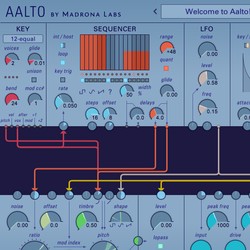 Madrona Labs has updated its Aaltosynthesizer for Windows and Mac to version 1.5.
Aalto is a semi-modular software synthesizer with an innovative, patchable UI, distinctive sounds, and a charming personality.
Changes in Aalto v1.5
Fixed an issue that was slowing down Aalto dramatically on some Windows systems.
Fixed an issue requiring a runtime support pack on some Windows systems.
Improved latency through the patcher when running at large host buffer sizes.
Aalto now draws at full resolution on Macintosh Retina Display, in compatible hosts.
Aalto is now compatible with Soundplane version 1.0 and higher.
Fix mousewheel direction on Mac OS 10.7 and higher.
Accelerated drawing to the screen on Mac OS with OpenGL.
Optimized drawing scheduling to avoid glitches, especially in Logic.
User and factory presets now share the same location.
Improved ergonomics of patcher with larger handles and smoother graphics.
Fixed a drawing problem with bipolar dials.
Improved drag ergonomics for dials.
Aalto for Windows and Mac (VST/AU) is available to purchase for $99 USD.
Clear steps about recording,locating automated parameter,automating
pan and level in mixer,copying 1 bar to 2.
Sergio Rodríguez playing Structsynth v. 1_0 ensemble from Reaktor 5 Native Instruments. Comin soon in Reaktor user library.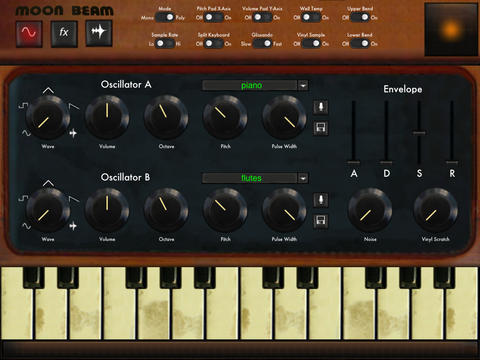 Inspired in part by the Casio Sk-1's lo-fi sonics/sampling and Sequential Circuit's Pro-One synth, the Moon Beam also adds features only possible in the touch screen world: bend keys independantly!!! You can of coarse also bend all voices in sync using the touch pad. Also, for those of you Baroque sticklers… you can switch to Well-Tempored mode!
The Moon Beam Synth/Sampler gives you:
-Unique key independant pitch bending
-2 sample/oscillator layers for each voice… or split them to top and bottom keyboards.
-Effects (Delay/Reverb, Filter, Tremelo, Vibrato, Vinyl Noise, Distortion)
-Easy sampling for each audio source
-Easy editing of audio sample start/loop points
-4 octave keyboard + 2 pitch ribbons
-1 assignable effects touch pad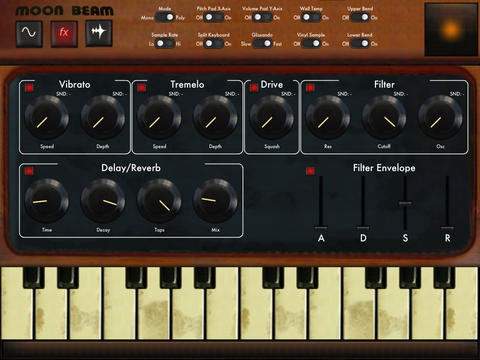 ReDominator is an emulation of the classic Alpha Juno 1/2 (JU-1/2), a polyphonic DCO (digitally controlled oscillator) based synth from 1986. The JU-1/2 became popular in the early 90's techno and rave scene particularly by the classic Hoover sound (which ReDominator attempts to emulate accurately). But beyond those niche sounds there lays a versatile synthesizer that does bass, pads, leads, organs and a lot of other sounds waiting to be discovered!
Available at the Prop Shop:
https://shop.propellerheads.se/produc…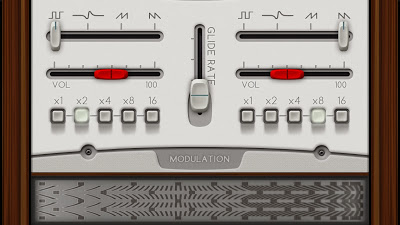 The 432Hz Synth is a Must For Every Music Love Fan Out There!
Features:
Oscillator A'
Oscillator A Waveforms:

Square, Sine, Sow, Revers Sow.

Oscillator A Volume.
Oscillator A Step:
Oscillator B'
Oscillator B Waveforms:

Square, Sine, Sow, Reverse Sow.

Oscillator B Volume.
Oscillator B Step:
Modulation'
Cutoff.
Resonance.
LFO Waveforms:

Square, Sine, Sow, Reverse Sow.

LFO Amount.
LFO Rate.
LFO mode:
Arpeggiator'
Arpeggiator Step:

Up, Down, Up & Down, Random.

Octaves, 1 To 5.
Arpeggiator Rate.
Volume Envelope'

Attack, Decay, Sustain, Release.

Filter Envelope'

Attack, Decay, Sustain, Release.

Oscillator B Fine Tune'
Oscillator A-B Sync.
Semis.
Cents.
Warning Before Use:
Please Volume Down, The Gain is +10db : )
Also The 432Hz Synth Has No Rules, Only Pure Fun. Enjoy!
Powered by Oren Fridman – Promobeat™. This Synth Dedicated To Mr Allen Porter Behind This Open Source Code.

❐ Buy UltraMini : http://bit.ly/ultra-mini
❐ UVI Official Website : http://www.uvi.net
New UltraMini 1.5 : rich hybrid software synthesizer based on the classic sounds of the original 'affordable analog synth'. With over 200 new presets, a low-CPU mode and computer-based authentication, UltraMini is leaner, meaner and easier to use than ever.
The same thick analog tones, meaty harmonics and modeled filters that made v1.0 so aggressive are back in spades. Over 200 new presets have been forged by the sound design team at UVI, giving you over 600 in total. Find the sounds you're looking for quickly with convenient category browsing and explore a wide range of analog timbres and soundscapes provided by the newly updated patch library.

UltraMini 1.5 also introduces a new low-CPU mode, known internally as UltraMini LE. This new mode significantly reduces the processor overhead by replacing the dual multimode filters with dual single-mode LP filters. The new filters offers the same great sound as the original at a fraction of the CPU cost, making UltraMini a no-brainer go-to synth for classic analog sounds. The new low-CPU mode is perfect for laptop-based producers, composers working with large multitrack arrangements or anyone who needs to keep their processor use in check.
Also included is compatibility with the completely revised iLok system; now supporting computer-based authentication. Utilizing the free iLok License Manager, your UltraMini license can now be stored on a computer hard drive or a physical iLok dongle. Furthermore you're free to move your license from computer to iLok or vice versa at will, giving you the ultimate in convenience and portability. Gone are the days of dongle dependance — authorize the way you want to.
Free Ableton Live Instruments created with vocal samples from Alluxe's "Warrior"
Free Download: http://bit.ly/freesynth94
Alluxe: http://alluxemusic.com
Caustic 3 is a music creation tool inspired by rack-mount synthesizers / samplers rigs.
Everything is real-time and optimized for mobile devices.
Create your rack by adding up to 14 machines from a choice of:
* Subsynth – Virtual analog subtractive synthesizer
* PCMSynth – Multi-sample wave synthesizer
* BassLine – 303-like monosynth
* BeatBox – 8-channel sampling drum machine
* PadSynth – Harmonic table pad synthesizer
* 8BitSynth – 8bit equation solver synthesizer
* Modular – Fully configurable and routable synthesizer
* Organ – Hammond-like tonewheel organ with rotary speaker
* Vocoder – 8-band harmonic vocoder
* FMSynth – DX-style 3-operator fm synthesizer
The app also includes:
* Effects rack supporting 2 effects per machine. (16 effect types)
* Mixer desk with global Delay/Reverb effects
* Master section with parametric EQ and limiter
* Song sequencer
Supports automation on most controls and includes powerful editors for modifying recorded automation curves.
All files are stored on the user-accessible storage, and users can supply their own WAV files for use in the PCMSynth, BeatBox, and Vocoder.
Supports all uncompressed WAV files (8-16-24-32bit, any sampling rate).
The PCMSynth can also load SoundFont files (.sf2) and FL Studio mobile instruments (.instr, .ZIP)
Class-compliant USB MIDI controllers can be connected via USB OTG cable on devices running at least Android 3.2 and supporting USB host mode.