With Audulus, you can build synthesizers, design new sounds, or process audio. All with low latency real-time processing suitable for live performance. Audulus's user interface is clean, simple, and easy to learn, allowing you to focus on sound.
A quick tune with Animoog and The Grateful Dead Expansion
Audiobus grows in importance, here's a good example:
"in a previous video i did the main arpeggio from bliss on the IMS20 for iPad, now with Audiobus i added iPolysix, ReBirth and some effects with Nlog and Livefx, all in the same iPad, that was fun!!
…and expensive :S
if you like it subscribe and share

"
Anthony Distefano's Absynth version of Eno's "An Ending (Ascent)" from Apollo: Atmospheres and Soundtracks. This was all done using Absynth's envelopes.
This episode Gaz takes a look at the beautiful Samplr – a sampling and playback app, plus Borderlands – a granular sample player with a unique interface. Nick checks out Korg's new iPolysix synthesizer
So right before Xmas Arturia's MiniBrute goes virtual for Kontakt, details below:
Programmed pre-sets for PreBrute are listed below for each demo
Festive Introductory Offer- 25% Saving at checkout until 07/01/13
http://www.precioussound.com/prebrute
DEMO – Downtown (Part 1)
Percussions: Synthetic Percussions (JW)
Percussions: Junkyard Orchestra (JW)
Percussions: Flabby Kicks 3 (JW)
Keys: Cyberphone (JW)
Bass: Fretless Smoothie (JW)
DEMO: Serenade
Bass: Serenade Bass (PS)
Pad: Serenade Pad (PS)
Lead: Serenade Lead (PS)
Drums: Maschine PreSid Kit Serenade
DEMO – Solitude
Keys: Grand Piano (Solitude) (JW) (two instances for panning purposes)
Pads: Retro Strings (Solitude) (JW)
Pads: Space Pad (Solitude) (JW)
Demo: Runner
Pad: Runner Pad Modulate Lp Master Filter (PS)
Pad2: Runner Pad Map Hp Master Filter (PS)
Bass: Runner Bass (PS)
Lead: Runner Lead (PS)
Drums: Maschine PreSid Kit Runner
DEMO – Downtown (Part 2)
Percussions: Res Toms (JW)
Percussions: Industry Snares (JW)
Percussions: Dance Kicks 2 (JW)
Percussions: Glitch 1 (JW)
Keys: Cyberphone (JW) (modified with a longer attack)
Bass: Fretless Smoothie (JW) (with modified cutoff)
Demo: Sunshine
Pad: Sunshine Pad (PS)
Stabs: Sunshine Chord Delay Stabs (PS)
Bass: Sunshine Bass (PS)
Lead: Sunshine Lead (PS)
Drums: Maschine PreSid Kit Sunshine
DEMO: For Clifford…
keys: Mr Wait's Bourbon (JW)
lead: Manik Moon (JW)
Demo: Breakdown
Stabs: Breakdown Delay Chord Stabs (PS)
Stabs: Breakdown Accordion Like Chord Stabs (PS)
Bass: Breakdown Bass (PS)
Drums: Drum break used
Demos composed by Jonathan Watridge and Precious Sound
JW= Jonathan Watridge
PS=Precious Sound
Specifications:
• 2.16GB Kontakt 5 Library
- 7612 24bit samples
- 0.92GB Ram usage for first instance 200mb per instance after per project
• Equipment used
- Arturia MiniBrute
- AMS 1073lb (Class A)
- API 512C (Class AB)
- Type 1 cassette through a Tascam 122 MKIII
• 20 Waveforms sampled from MiniBrute
- 4 Flavours Per Osc (Raw/1073/512C/Tape)
- 80 Possible waveform choices per Osc
• 4 Oscillators
- Independent Amp ADSR / Filter ADSR
- 2 Switchable Envelopes per Osc Amp Adsr (Normal/Punch)
- Inv Phase per Osc
- Sample start adjustment per Osc
• Octave function
- Shift +/- 3 octaves per Osc (natively plays samples does not tune sample)
• Copy paste
- One Osc's settings to another Osc
• 2 LFOs per Osc
- Adjustable Speed, Depth and Sync
- Shape: Sine, Triangle, Rectangle, Sawtooth, and Random
- Destination: Filter Cutoff, Filter Resonance, Osc Volume, Osc Pan, Osc Tune and Osc Fine Tune
• 7 FX per Osc
- Lo-fi / Distortion / Flanger / Phaser / Chorus / Saturation / Limiter
• 6 selectable Filters per Osc
- LP / HP / BP / Notch / Phase / Vow
- Adjustable Key track and Velocity amount
• Global Dual LP/HP Filter
- Global filters can be linked to behave like a BP Filter
• Global summing mixer
- Global Insert effects Width / Distortion / Tape Saturation / Eq / Limiter
- Global send effects Phaser / Flanger / Chorus / Ir Reverb / Delay
- Unison (up to 8 voice)
- Global Amp ADSR with a softer curve
• Onboard Preset system
- load and save presets via the global panel
- All sounds heard in all demo's are available in the preset folder
- 45 presets to help get you started
• Intuitive design
- Large LED info Panel for a visual aide when setting up the synth
• Raw tones modulated within our engine
• Non-Intrusive Protection
- Sales are automated and you will recieve download links
- .NKI file (Instrument file) will be sent to your email address seperatly.
- Serial numbers are displayed on the global section of the instrument.
- our samples are not watermarked
- no file sent to you contains any personal information simply a serial number.
- PreBrute Kontakt £39.99 Inc VAT / $49.99 (Valid VAT numbers can be entered at checkout)
Six brand-new soft synths with the brilliant depth and character of classic hardware. Instantly call up inspiration from : the Yamaha CS-70M, CS-40M and CS-20M, the crazy Italian Elka Synthex, the Rhodes Chroma, the king of FM – the Yamaha DX1, the rare DK Synergy and the classic K250 revisited.
From modern prog and pop to dance, electro, hip-hop and experimental, Vintage Legends is a deep and versatile sonic resource that's sure to inspire artists working in any style.
Special introductory price : $299 instead of $349
❐ UVI Official Website : http://www.uvi.net
❐ Buy Vintage Legends : http://bit.ly/uvi_vintage-legends
———————————————————————————
Take 6 iconic vintage synthesizers, carefully restore them, create a massive array of presets and deeply multi-sample them, professionally process and master the sounds, infuse them into the industry proven UVI Engine — giving you endless sound shaping options, then wrap the results in immaculately prepared GUIs and you've got UVI Vintage Legends.
At UVI we've been producing sound for over 20 years and designing our own software for over 12.
We've found that virtual instruments with a foundation in sampling have a more defined character and distinct sound quality than those based on digital modeling. The trouble with sample-based instruments is that they're typically lacking in expression and flexibility; one sample, one sound.
UVI hybrid instruments are more flexible than a conventional ROMpler and more authentic than a simulation, giving you the best of both worlds. Vintage Legends integrates over 30,000 samples from classic synths into the acclaimed UVI Engine, giving you the distinct character of hardware with the added control, convenience and power of a modern digital instrument.
Taking these classic tones into new sonic territory, the UVI Engine delivers massive unison spreads, abundant polyphony, thick-modeled filters, drive, reverbs, modulation, FX and much, much more. These instruments will never need to be serviced or go out of tune, and they're far easier to lug around than hardware.
———————————————————————————
SIX POWERFUL VINTAGE MACHINES REVISITED
Vintage Legends comes packed with over 800 presets expertly crafted by our sound design team, giving you a huge library of unique sounds and textures.
Each instrument features an intuitive and evocative GUI with a versatile and easy-to-navigate control set helping you to quickly shape sounds to fit your needs, transform them for wild inspiration or crack open the unit and design your own.
Timeless sounds. Infinitely customizable. Compatible with everything.
◆ UVI CS-M – Vintage Japanese Power
◆ UVI SYNTHOX – The Real Italian Stallion
◆ UVI KROMA – Premier Analog Synth
◆ UVI FMX1 – The Gem of FM
◆ UVI U1250 – Dawn of the ROM Age
◆ UVI ENERGY – Additive Fury (bonus only available in Vintage Legends)
CS-M, SYNTHOX, KROMA, FMX1 and U1250 are available as individual instruments for $99 each.
More info & screenshots : http://bit.ly/uvi_vintage-legends
———————————————————————————
COMPATIBILITY
With the free UVI Workstation 2.0.8 (required version), UVI Vintage Legends can work:
• as a stand-alone instrument, compatible with Mac & PC
• as a VST, AudioUnit, RTAS and MAS plug-in.
With MachFive 3 – make the most of all editing features included!
———————————————————————————
* Yamaha, Elka, ARP, Rhodes, Kurzweil, D.K, CS70M, CS40M, CS20M, DX1, Synthex, Chroma, K250, K1000 and Synergy are trademarks of their respective owners and are not affiliated, endorsed, connected or sponsored in any way to UVI or any of our affiliate sites; therefore do not be confused between UVI and these brands.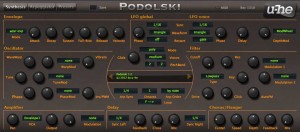 u-he has released a refurbished version of Podolski. Originally published as magware, Podolski is now available for free.
Podolski's specialities are the Click parameter (emphasizes the filter attack) and its ability to seamlessly morph between three waveforms (WaveWarp). The new version adds two new GUI skins, better support for MIDI, VST3 and 64-bit support, new presets by Howard Scarr and an English user guide among other improvements.
Podolski is a simple, CPU-efficient virtual analogue synthesizer. Basically a cut down version of FilterscapeVA with just one oscillator, one filter, one envelope and two LFOs, it also features a Zebra-style arpeggiator/sequencer plus chorus and delay effects.
A teaser video of the upcoming 1.3 release of this popular iOS synth:
Sunrizer XS synth is a virtual analog synthesizer that takes the definition of iOs synthesizer to the next level.
Thanks to carefully designed architecture and heavy usage of coprocessor it blurs the boundaries between iOs and hardware synthesizers.
Sunrizer XS was built to perform and works perfectly with any MIDI keyboard or sequencer. A lot of research has been done in order to achieve unheard warmth and clarity.