In this video, Steinberg product specialist Sebastian Mönch teaches you how to use Micrologue inside Cubasis 1.5.
Ryan Hemeon demos another nice iPad synth, details below:
In this demo and walkthrough I show a little bit of the features of Addictive Synth by VirSyn. I like this app and find it has a great sound as well as some interesting features. The only thing I didn't like is the inability to select Midi input apps, I recommend using MidiBridge to get your apps working if you are having problems.
For more info and videos like this one, please visit www.iOSMARS.com
100% TAL Bassline 101 including drums. Most patches are original.
Grab the demo version of TAL Bassline (only restriction is no saving of patches!): http://kunz.corrupt.ch/products/tal-b…
Additional FX provided by the free TAL plugins: Reverb ii, Dub Delay ii & iii, Tube and Chorus LX. Some light compression and limiting on the master.
Review and audio demo of Propellerhead's brilliant Thor synth for iOS. For a full review of the app see the Music App Blog website at www.musicappblog.com
Demo of Thyses working with Cubasis and Thor. Thyses is used to send MIDI data to a Cubasis MIDI track. Via MIDI Thru, this MIDI data is passed to the Thor synth. The MIDI data can also be recorded in Cubasis.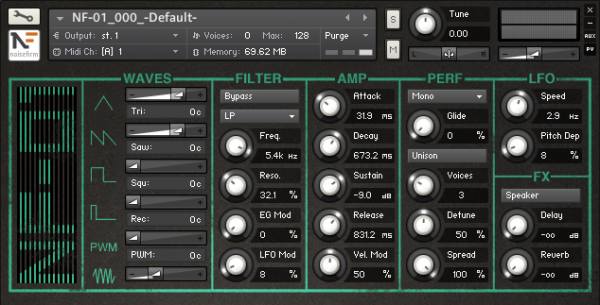 Noisefirm has released the NF-01 Classic Synthesizer, which is inspired by the classic Yamaha CS01. Capturing all the nuances of its classic ancestor, NF-01 evokes the rich harmonics and fat sounds of a bygone era. Featuring 6 unique waveforms, with the ability to to be independently mixed and tuned, NF-01 can produce a vast array of synth textures. From warm evolving pads to percussive pluck sounds and aggressive basses, NF-01 can serve up a variety of inspirational synth elements for your next creation.
Specifications:
Kontakt instrument (full retail version 4.2 or later) with custom scripting and GUI.
Over 100 built-in patches for Kontakt.
1.15 GB of samples and instruments.
Additional patches for Apple Logic EXS24 sampler and Ableton Live (version 8 or later).
Fully recreated Yamaha CS-01 vintage synthesizer plus additional features.
6 unique waveforms including a noise channel.
independent waveform volume and tuning.
switchable 3-mode filter.
Filter modulation by AMP envelope.
Filter modulation by LFO.
Switchable playback behavior (Mono, Poly, Legato).
Unison option with up to 8 unison voices, detune and spread controls.
Variable LFO with pitch modulation.
Effects section with Delay, Reverb, and Internal speaker simulation.
Each waveform sampled over the entire range of the original instrument.
Over 1400 individual samples (including 1100 "one shots").
One shots of each of the built-in patches for quick and easy import into sampler of choice.
Price: $49.
Waldorf Nave has a 4 track tape recorder in which you can cut,copy,trim,move,and stretch for precise editing as well as snapping the audio file into the ruler grid for easy editing and looping.
In this tutorial Ryan Hemeon shows how you can sample any iOS app using Audiobus to record into Audioshare and open it directly into Nave to start a new patch. He also shows a little bit about setting up your own patch and saving it.
"This is a really cool way to make patches, kind of turning Nave into a "Super Sampler". I hope this is helpful! "
Please visit www.iosmars.com for more info!
Cubasis 1.5 features Micrologue, a virtual analogue synthesizer based on the award winning VST instrument Retrologue.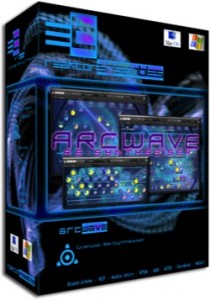 EverythingTurns has released ArcWave, a granular re-synthesiser ensemble for Native Instruments Reaktor.
ArcWave is a granular re-synthesiser that uses samples in place of oscillators allowing very diverse waveform generation from virtually any conceivable sound source.

An independent multipoint envelope generator bidirectionally scans the sample without affecting pitch, producing an ever changing waveform output feed to the filters.

The scan cycle, flow, motion, start point and length along with gain, pan, pitch and fine tune are all definable, plus the scan cycle can be disabled and set to static mode.
ArcWave is available to purchase for £12 GBP. It includes a separate ensemble of the Atmospheara effect processor included in ArcWave.
This is the first in a series of video tutorials about Spektrumsynth, which is available at www.dongarbutt.com/spektrumsynth . The Reaktor setup, presets, audio sections, signal path and preliminary patching are discussed. Detailed descriptions of synthesis technology, signal processing and modulation routing will follow..