Background description of the app:
http://apps4idevices.com/read/i.pocketsynth
i.pocketsynth is more than a synthesizer, it is a little keyboard… The main interest of the mini keyboard is not its sound quality which is a little bit cheap or not really interesting… There are two features which make it a unique App on the whole the App Store. Firstly you'll be able to play over a Song which is playing on a Radio Station! I don't really know the real interest of this feature, but I've never see it on another App… The second one is that you can Sync 2 i.pocketsynth App over Bluetooth. This feature allows you to play notes on one of your devices and they will be played on the second device too. Unfortunately you can't set a different sound on each device. With i.pocketsynth you can also choose a Backing Track from 30 available styles and you can record (by using the built in microphone on your iDevice) and what's more, share your performances via email. You can also send your creation to the ipocketsynth team for a review. How shall I rate this App?… For its unique features, even if I don't really know what to do with them… i.pocketsynth is a Super App despite its poor sound quality and interest…
Generation -
Sunsine Audio's new pack for PPG Wavegenerator features 32 presets including 5 basses, 7 leads, 5 keys, 2 arps, 9 pads, and more. In addition 20 unique wavetables have been included, and exchanging these between presets allows a large degree of tonal variation very easily. Each preset has parameters mapped to both the horizontal and vertical keyboard control for expressive performance opportunities.
*Requirements: Compatible with iPad. Requires iOS 5.1 or later and PPG Wavegenerator.*
Format:
• 32 Presets in 1 .bin file
• 20 WaveTables in .wts files
• Full horizontal and vertical key modulation support.
• Easy Installation Instructions
Price: $1.49
Available from – www.sunsineaudio.com
Free Preview Pack – http://www.sendspace.com/pro/dl/unlxtv
The DigiEnsemble Berlin Physically Premieres the Aria "Großer Herr, oh starker König" from Bach's Cristmas Oratorio in the Berlin Cathedral on the 16th Dec 2012.
Keep track on our
website http://digiensemble.com/
German website http://digiensemble.de
http://facebook.com/DigiEnsemble
http://twitter.com/digiensemble
Magellan Jr is the bold new professional analog modeling synthesizer for the iPhone and iPod Touch. Modeled after its big brother, Magellan for iPad, you can now create powerful music wherever you go. With extensive MIDI capabilities and near-zero latency, Magellan Jr is a fierce live-performance machine.
Complete with a full FX rack, three oscillators, dual filters, multiple unison stages, extensive modulation matrix, arpeggiator, and a polyphonic step-sequencer – the aural possibilities with Magellan Jr are infinite!
All sounds in this video were made with Magellan Jr! Please visit http://www.Yonac.com to see Magellan Jr's full spec list!
Magellan Jr on iTunes: https://itunes.apple.com/us/app/magellan-jr/id581728336?ls=1&mt=8
http://www.appsformusicproduction.com/2012/11/06/50-magellan-presets/
50 Magellan presets from Apps for Music Production!
"Grab yourself 50 high quality Magellan presets here for just £1.99. Ready to slot into any production style and bursting with inspiration for your iOS music!"
Polyphonic Full-Modular Synthesizer with Patch-cable system, "Kamioooka"
VST Instrument 32/64bits for Windows freeware.
Participated in KVR Developer Challenge 2012.
http://www.kvraudio.com/kvr-developer-challenge/2012/
Kamioooka is a full-modular synth with patch cable system developed by g200kg (known mainly from nice pitch correction "auto-tune" plugin called Kerovee). Kamiooka scored third place in KVR Developer Challenge 2012, which is the fourth free-for-all audio plug-in / audio application / soundware design event, where people vote and there are prizes, hand shakes etc

First of all, it's very low CPU consumption plugin. It offers real (well it's modular ) flexibility. If you need to, you can choose ie. five voltage controlled oscillators, or few LFOs and connect everything with nice cables I would say that Kamiooka is a very interesting plugin especially for those who like program (modular) synths. If you're a preset player then there aren't many presets available. The factory bank contains only 38 patches (first 5-6 are more like a tutorial), but luckily you can extend it – there's an additional 30 patch bank available on official website.
Robert Tubb has introduced The Wablet, a "physics based synthesiser and noise toy".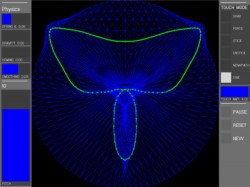 An animated mesh of springs can be vibrated with the fingers. A path around this mesh is read as into an audio waveform, and hence your gestures are turned into sound. Complex evolving drones, chiptunes bleeps or full on noise can be produced, and beautiful undulating patterns created. The physical properties of the mesh can be changed using the sliders, new sound-paths can be drawn onto the Mesh and the App comes with a Max/MSP patch for wireless MIDI control and more in depth adjustable parameters. The Wablet scans the current state of the interactive mass-spring network and uses that waveshape as an oscillator cycle for synthesizing sound.
The Wablet – being triggered via MIDI over a wireless network. No two loops are quite the same.
u-he has released a video of an alpha version of the upcoming arpeggiator for its Diva virtual analog synthesizer.
The oscillators, filters and envelopes closely model components found in some of the great monophonic and polyphonic synthesizers of yesteryear. Modules can be mixed and matched so you can build hybrids, but what sets DIVA apart is the sheer authenticity of the analogue sound. This comes at the cost of quite a high CPU-hit, but we think it was worth it: Diva is the first native software synth that applies methods from industrial circuit simulators (e.g. PSpice) in realtime. The behaviour of zero-delay-feedback filters when pushed to the limit clearly demonstrates the advantages of this groundbreaking approach.
Tone2 Rayblaster Feature Overview
Rayblaster employs a new synthesis technique called Impulse Modelling Synthesis (IMS)
Opposed to using looped waveforms, Impulse Modelling Synthesis creates its sound by using short bursts of energy, which are then combined to form its sound. Allowing free manipulation of pitch, time and timbre in real-time, to create complex compositions.
IMS no longer requires a separate filter section, its oscillators can authentically mimic the filter sound of other synthesizers and filters, using one of the factory impulse presets or by simply importing one of your own impulses. RayBlaster is capable of modelling both the sound of existing filters, as well as create completely new artificial filters, exclusive to Rayblaster.
Next to importing filter characteristics into its oscillators, Rayblaster also offers resynthesize options to import the waveform of any other source or synthesizer. By using one of the quick importers, or by directly importing your sample into one of Rayblaster's four oscillators, providing a large amount of possible wave-shapes, all capable of being morphed in real-time.
RayBlaster ships with an inspiring library of over 500 outstanding presets from some of the world's top sound designers. Many complex sounds such as arpeggiators, vocals or drumloops automatically synchronize to the BPM.
For fast & easy access to the specific sound you desire, all sounds are arranged into categories, making them easy to locate whether for live performance or within a professional studio environment.
For more information on Rayblaster and our other products, please visit the Tone2 website at http://www.tone2.com
Grain Bender, a synthesizer that shapes the sounds using the real time bend button. Lots of potential.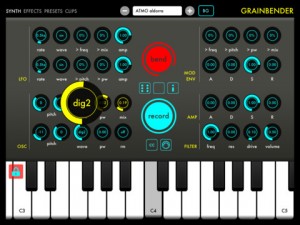 GrainBender is a new iPad synthesizer that makes designing new sounds easier than ever before. Just tap the bend button and sculpt your new sound directly in realtime. GrainBender is capable of making a wide range of sounds, from traditional analog favorites to exotic digital effects.
Key Features:
- unique, intuitive sound design interface
- versatile oscillators with analog & digital waveforms
- audio clip recording and export to other apps via AudioCopy
- extensive but easy-to-use modulation
- effects ranging from chorus and delay to digital grunge
- core midi support, both as a controller and sound module
- background audio support. control grainbender with other apps