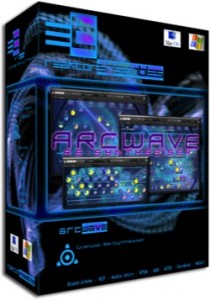 EverythingTurns has released ArcWave, a granular re-synthesiser ensemble for Native Instruments Reaktor.
ArcWave is a granular re-synthesiser that uses samples in place of oscillators allowing very diverse waveform generation from virtually any conceivable sound source.

An independent multipoint envelope generator bidirectionally scans the sample without affecting pitch, producing an ever changing waveform output feed to the filters.

The scan cycle, flow, motion, start point and length along with gain, pan, pitch and fine tune are all definable, plus the scan cycle can be disabled and set to static mode.
ArcWave is available to purchase for £12 GBP. It includes a separate ensemble of the Atmospheara effect processor included in ArcWave.
This is the first in a series of video tutorials about Spektrumsynth, which is available at www.dongarbutt.com/spektrumsynth . The Reaktor setup, presets, audio sections, signal path and preliminary patching are discussed. Detailed descriptions of synthesis technology, signal processing and modulation routing will follow..
We've written about this interesting tool in a previously, but Soundmorph has decided to make it available outside of the library it is normally bundled with. $19 for a UI synth anyone? Check it out here.
Galactic Assistant is a synthesizer tool used for creating high-tech sci-fi interface sounds. It's free for a limited time with the "Users of Tomorrow" sound effects library.
visit www.soundmorph.com for more details.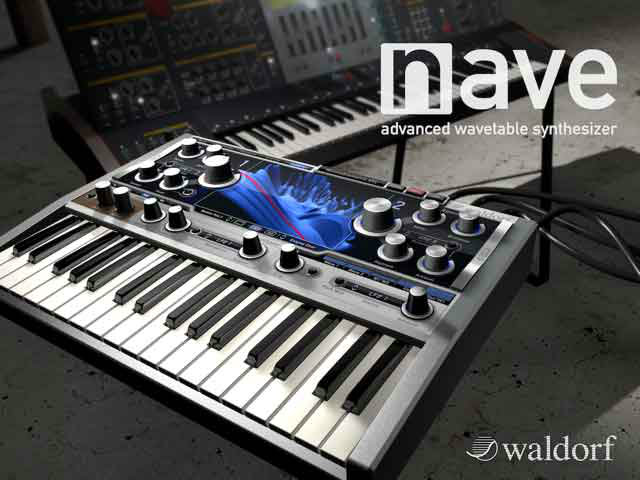 Waldorf have now announced availability of Nave, its first synthesizer app for Apple's  iPad. Waldorf says that, jointly created by Stefan Stenzel (audio algorithms), Rolf Wöhrmann (iOS development), and Axel Hartmann (graphic design).
This tutorial shows how to program a wavetable sound within a short amount of time.
It comes complete with over 500 presets from highly acclaimed sound designers like Richard Devine, Sacha Dikiciyan (of Sonic Mayhem fame), Laurence Rapaccioli (Arksun), David Boldini (7 Skies), and Fletcher Kaufman (Sunsine Audio), amongst many others. Waldorf tells us that all seriously showcase the depth and diversity of this synthesizer — so much so, in fact, that Richard Devine was suitably moved to create no fewer than 95 presets alone, all of which are included for free. Here's more details in Waldorf's own words…
For the benefit of those who want to indulge in some serious sound design of their own making, Nave does not disappoint. Its powerful sound engine includes two trailblazing wavetable-based oscillators, leaving all previous attempts at wavetable synthesis severely wanting. While the sound spectrum can cleverly be transposed independently of pitch, the waves can be rendered from perfectly periodic to very noisy and anywhere in between.
Nave's clear-cut GUI invites both beginners and advanced users alike to experiment both sonically and musically while the hosting iPad's generous display helps make wavetable creation and editing a blast! Besides integrated speech synthesis, wavetables can also be formed from analysing audio files. Furthermore, stretching, rotating, and shifting in the spectral domain allows wavetables to be refined or distorted in the fullscreen Wavetable Edit Mode. Here users can edit and fine-tune the wavetables using several 3D views that are as easy on the eye as they are to use. And in a reverential nod to Waldorf's illustrious past and present, factory wavetables from the breakthrough Microwave, mighty Wave, and price barrier-breaking Blofeld synthesizers are all present and accounted for, complemented by an abundance of tasty new ones that make extensive use of those enhanced possibilities!
And if that's not enough to get your creative juices flowing then Nave additionally includes a classic oscillator with an ultra useful selection of basic waveforms, plus a super-fat-sounding Überwave function for beefing up sounds by up to eight individually detuned oscillators a la Waldorf's recently released Rocket synthesizer. Nave is, indeed, truly a sound designer's dream machine!
But, Waldorf being Waldorf, that's not all: Nave's flexible Filter section delivers that high-quality synthesizer sound recognisable right away by anyone at all familiar with Waldorf's noteworthy name, and, as such, features LP (low-pass), BP (band-pass), and HP (high-pass) filter types with either 12 dB or 24 dB slope settings. Its neighbouring Drive section offers contrasting characteristics by being positioned Pre Filter or Post Filter or as a summing overdrive Pre EQ or Post EQ — perfect for those who prefer harsh and screaming sounds rather than delicate wavetable sweeps.
An extended modulation matrix and diverse realtime control functionality also awaits anyone wishing to animate any Nave sound in any desired direction. In addition to the classic virtual chromatic keyboard, Nave can be played with the Blades that allow for dynamic triggering of polyphonic modulation by simply sliding fingers in X and/or Y direction.
Yet more flexible fun is to be had on the FX & Arp page with pro-quality ModFX (Phaser, Flanger, Chorus), Delay, Reverb, parametric Equalizer, and a highly effective Compressor all adding to Nave's sound and performance possibilities, as does a full-featured Arpeggiator. And last, but by no means least, the Tape & System page plays hosts to an old school, four-track recorder — replete with virtual tape spools. Use it to record complete compositions or simply sketch some musical ideas inspired by the superlative sounds of Nave!
So how does Nave naturally sound, then? Totally in a class by itself. Just like Waldorf! After all, the well-known Waldorf name has been synonymous with high-quality synthesizers for nigh on 25 years; indeed, its innovative position in the musical instrument marketplace dates back to 1989 with the release of the wavetable-based Microwave, an extraordinary reincarnation of the legendary PPG Wave series — arguably amongst the most coveted high-end synthesizers of the early Eighties. Time and technology stand still for no one, of course, and today Nave takes those heady heavyweight hardware developments of yesteryear — and a whole lot more besides — and serves them up to thankful iPad-adoptees at a fraction of the cost of its forebears.
Any adventurous musical iPad owners out there intrigued by the creative possibilities of wavetable synthesis surely owe it to themselves to check out Nave, the advanced wavetable synthesizer from Waldorf. Going for a song on Apple's App Store, right here, right now!
Pricing and Availability:
iPad owners can purchase Nave directly from Apple's App Store for a five-day special introductory price of €10.99 EUR/$11.99 USD. (Thereafter it will rise to €17.99 EUR/$19.99 USD.)
Sonic XTC lets us know that their new monophonic bass line synthesizer, B-Line 303, captures the vibe and sound of classic EDM and Acid techno music synthesizers from the 70's and 80's. They say that B-Line 303 can easily dial up the classic Acid bass sound with all the squelch and buzz of the original classics, giving producers the unique ability to shape their sound with sub oscillators, distortion, distortion intensity, and built in Waveshaper unit.  B-Line 303 comes with 14 presets to get you started but has room for up to 64 user presets. In order to create the entire Acid bass sound experience, B-Line 303 comes equipped with a Stereo "Doppler" Chorus effect and a Stereo Echo effect.
In the beginning of the song B-Line 303 sounds like your standard Roland TB 303. In the middle of the song it sounds like a Roland SH-101. At the end of the song the B-Line 303 gives you a glimpse of why we think it is special! Only used Deep 606, Deep Mono, and B-Line 303 to create this track. Side chain compression on the Deep 606 kick only external effect used.
Highlights
64 user presets
14 custom presets
Midi automation
Doppler Chorus, Stereo Echo effect
VST 2.4 effect
$14.95
Pure Nave sounds, no external FX, no external processing!
All sound examples were directly recorded in Nave´s 4 track recorder.
As far as we know the Nave synth will be released today on the app store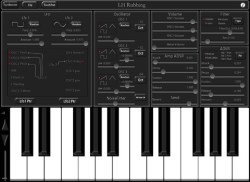 Here's a nice Friday morning treat for you all iPad synth guys out there

Liu Hao has released LH Rubbing – a free polyphonic software synthesizer app for iPad.
Here's what Hao has to say about LH Rubbing:
There are three wave oscillators, one noise oscillator, two LFOs and one three type embedded filter (low-pass, hi-pass and bandpass).
Each wave oscillator can generate three kinds of waveform which are triangle, square and saw wave.
LFO can be attached to different modul for different modulation or control such as OSC Pitch, PW, Filter Cutoff Frequency, Filter Resonance and OSC Output Mixing.
The frequency and amplitude of the 1st LFO can be modified by the 2nd LFO.
Pitch, Filter Cutoff Frequency and Resonance can be controlled by the ADSR envelope generator.
The Keyboard Rubbing brings up vibrato while control the vibrato rate and depth.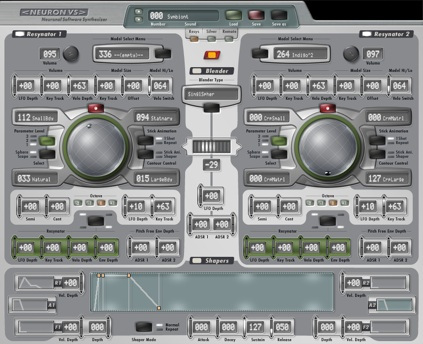 The Hartmann Neuron synthesizer is rare, the company that released it out of business, and the software version discontinued – until now. Developer Stephan Bernsee has released Neuron VS – the software version of the Neuron – as a free app for Intel Macs. Neuron VS was US $899 when it was originally released.
More information on the Neuron VS:
In 2000, Axel Hartmann and I, Stephan Bernsee, set out to designing a novel synthesizer based on artificial neural networks used for sound synthesis, the <NEURON> synthesizer. We were able to get support from a lot of people, including well known artists such as Hans Zimmer, and Hartmann Music as a company won several awards for innovation in synthesis technology.
Unfortunately and despite the huge interest in our products, due to some issues with distribution and our hardware manufacturer Hartmann was driven out of business in 2004. With the company dead there was no chance for <NEURON> owners to get tech support or updates.
Just recently, a Facebook group came into existence that managed to attract many knowledgeable and skilled Neuron owners who provide support and advice to each other in their spare time. To aid them in the process of keeping the Neuron alive I have dusted off the old NeuronVS sources in order to revive the NeuronVS VST plug-in, a software-only version of the Neuron synth that came with a powerful hardware controller, the <NUKE>. Thanks to the generosity of former Hartmann CEO Stefan Rapp and Neuron designer Axel Hartmann I am now able to provide an updated version of the original <NeuronVS> software here free of charge, (hopefully) free of bugs – and with no warranties of any kind.
Note: Their are some notable limitations about the current version of Neuron VS:
The project is a labor of love by Bernsee, and he notes, "This is a free and unsupported product and we don't have the resources to develop for Windows."
It's also based on an older version of the VST standard, VST SDK 2.1. Because of this, the current version will not be compatible with some DAWs.
It's designed to work with the Hartmann Nuke controller, and some features are unavailable without it.
How to use SampleWiz to create real-time sampling effects for the Radiohead song "Everything In Its Right Place"
The Washington & Lee University Electronic Music Ensemble (EME) performed the Radiohead song "Everything In Its Right Place" in their Fall '12 concert. This video describes how they utilized an iPad app called SampleWiz to mimic the real-time sampling effects used by Radiohead in this song. EME members Matt Kinderman '16 and Rodes Brown '13 explain and demonstrate these techniques.
Under the direction of Graham Spice, the EME capitalizes on the strengths of its individual members. This ensemble calls upon its performers to utilize their instrumental or vocal talents in new ways incorporating electronic music. In addition, those students who specialize in composition, engineering, and production are given the opportunity to showcase their skills in the creation and performance of this contemporary music. A strong visual element is also included in their concerts provided by computer-generated video projections.
Here is an interesting Performance Synth, an app that turns your iPad into a real time performance instrument. This $5 app allows you to carry a complete, full featured, real time synthesizer around with you and have it available for whenever the need arises. Performance Synth uses a subtractive architecture so if you like the MiniMoog you will love Performance Synth.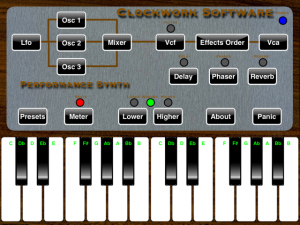 Product description:
Performance Synth is Clockwork Software's amazing synthesizer for the iPad. Performance Synth can express an almost infinite variety of unique sounds using its subtractive synthesis architecture. While Performance Synth doesn't have every feature a stand alone synthesizer has, you have in your hand an amazingly powerful tool in a portable, use anywhere format. As the name implies, Performance Synth is meant to be played in real time. If you are a guitar or bass player you can carry around a complete musical synthesizer in your guitar case and use it where ever you need it. Performance Synth's architecture and capabilities are similar to that of a Mini-Moog or a Roland Juno synthesizer. Many of the synthesizer sounds heard in todays contemporary music and movies can be reproduced with Performance Synth. Unlike old analog synthesizers, Performance Synth is implemented entirely in software which means all timing is rock solid and Performance Synth will never, ever go out of tune. Performance Synth turns your iPad into a complex musical instrument which will take time to completely master. In experienced hands, Performance Synth is a serious musical instrument. For all users, Performance Synth can be a source of wonder and delight with the multitude of sounds and sonic textures it can create.
Performance Synth has the following features:
– Three voice polyphony
– Three independent, configurable oscillators
– An LFO (Low Frequency Oscillator) for AM/FM modulation of the other oscillators
– Oscillators have six octave range
– Oscillators have four selectable waveshapes: Sin, Triangle, Square and Sawtooth
– Oscillators can run in tracking mode or polyphony mode
– Oscillators can be detuned in relation to each other
– Oscillators can be amplitude or frequency modulated to a user selected level
– Built in metronome with tappable tempo and selectable beats per measure
– 24 db/octave variable resonance Low Pass sweepable filter
– Pink noise generator
– Two Attack, Decay, Sustain, Release (ADSR) type envelope generators for driving filter (Vcf) and amplitude (Vca) envelopes
– Effects infrastructure which allows audio effects to be applied in any order.
– On board effects include Delay, Phaser and Reverb
– Ability to save and load presets. This allows you to save your important sound setups and recall them in real time during a performance.
– All aspects of Performance Synth run in real time