Caustic 3 is a music creation tool inspired by rack-mount synthesizers / samplers rigs.
Everything is real-time and optimized for mobile devices.
Create your rack by adding up to 14 machines from a choice of:
* Subsynth – Virtual analog subtractive synthesizer
* PCMSynth – Multi-sample wave synthesizer
* BassLine – 303-like monosynth
* BeatBox – 8-channel sampling drum machine
* PadSynth – Harmonic table pad synthesizer
* 8BitSynth – 8bit equation solver synthesizer
* Modular – Fully configurable and routable synthesizer
* Organ – Hammond-like tonewheel organ with rotary speaker
* Vocoder – 8-band harmonic vocoder
* FMSynth – DX-style 3-operator fm synthesizer
The app also includes:
* Effects rack supporting 2 effects per machine. (16 effect types)
* Mixer desk with global Delay/Reverb effects
* Master section with parametric EQ and limiter
* Song sequencer
Supports automation on most controls and includes powerful editors for modifying recorded automation curves.
All files are stored on the user-accessible storage, and users can supply their own WAV files for use in the PCMSynth, BeatBox, and Vocoder.
Supports all uncompressed WAV files (8-16-24-32bit, any sampling rate).
The PCMSynth can also load SoundFont files (.sf2) and FL Studio mobile instruments (.instr, .ZIP)
Class-compliant USB MIDI controllers can be connected via USB OTG cable on devices running at least Android 3.2 and supporting USB host mode.
Just going through some of the sounds in the Arp 2600 V2 Bank.
Going through yet more of the Arp 2600 V2 patches.
Analog Laboratory is an extremely powerful software synthesizer solution.
First of all, Analog Laboratory offers 4300 legendary classic synthesizer sounds from Arturia's vintage analog recreations: Mini V, Prophet V, CS-80, Jupiter-8, ARP, Prophet VS,Moog Modular V, Wurlitzer and Oberheim SEM V.
But Analog Laboratory goes further by offering a unique interface to tweak them all as well as the ability to edit each of them in depth, in the original synthesizer*.
With the addition of 200 scenes organized by genres, including drum loops, advanced arpeggiation melodies and ways to allocate sounds to different parts of your keyboard, Analog Laboratory is likely to become your favorite synth workstation, constantly feeding your creativity with inspiring ideas.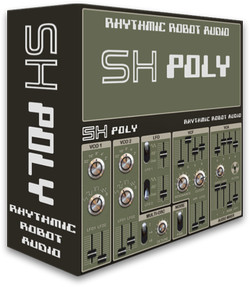 Rhythmic Robot has released SH Poly, a classic analogue subtractive synth for Native Instruments Kontakt, sampled from Roland's 70′s flagship synthesizer, the SH7.
It features two main oscillators accessing six different waveforms between them, plus a white / pink noise generator, dual LFOs with sine, ramp or randomised output, and a host of modulation possibilities.

The two main oscillators can be thickened further using the Multi-Osc feature, which adds multiple extra detonable oscillators – up to a maximum of ten, for an intense, stacked, "supersaw" style sound. SH Poly also features a selection of 70s-inspired effects and Rhythmic Robot's trademark Glitch button, which randomises the instrument in a musically-aware fashion, making generating your own patches extremely simple. The user interface is closely modelled on the classic Roland signature graphics and colour palette.

The original SH7 was a powerhouse monosynth that crowned Roland's lineup in the late 70s. SH Poly takes that amazing sound and crams it into a poly machine: rich, lush pads and thick basses can be dialled up with ease; bubbling leads and squelchy riffs are right there too. The sound is characteristically dense, warm and rich, especially with the Over Load control turned up and a little dose of Multi-Osc.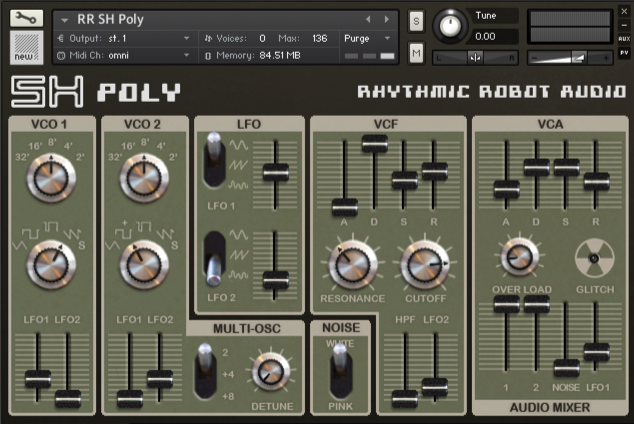 SH Poly features
Classic twin-oscillator subtractive synthesis in a Roland-inspired framework.
Multiple samples of authentic SH7 oscillators.
58 factory patches to start you off.
"Multi-Osc" allows extra oscillators to be switched in for a hugely rich, intense sound.
"Glitch" button for instant, musically-randomised inspiration.
The Poly SH for Kontakt is available to purchase for the introductory price of £13.45 GBP (regular £14.95 GBP).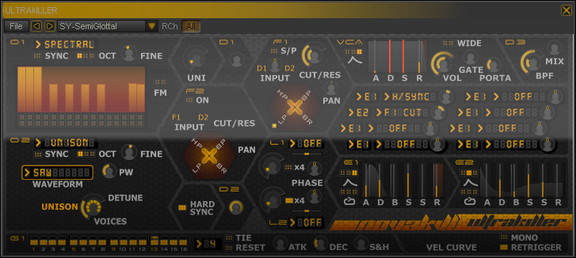 Novakill has announced that its Ultrakiller synthesizer instrument for Windows is now available as freeware.
ULTRAkILLER is NOVAkILL's latest uber-synth.

It has two oscillators, each of which offers multiple forms of synthesis. They run through two independant multi-mode filters with multiple routing opportunities. Three envelopes, two LFO and a modulation matrix make for almost endless possibilities.

You can now download it for free.
The Ultrakiller plug-in is available for Windows VST (32-bit).
Here's a new teaser featuring Madrona Labs' new soft synth Kaivo
Cube Synth is a groundbreaking new iPad Synthesizer giving you the power and flexibility of additive synthesis together with easy editing and morphing capabilities. Macro parameters allow you to control this beast with unequalled ease.
Intelligent sound morphing capabilities enables you to easily create complex evolving sound scapes, vocal phrases or stunning rhythms simply by choosing up to four sound sources from a predefined set. Then add one of the predefined envelopes and a unique, complex sound preset containing thousands of parameters is created! If you want to dive deeper into the inner secrets of this synthesis monster you can manipulate each parameter individually to get precise control over the sound. A number of high level parameters such as Brightness and Harmonic spread control hundreds of synthesis parameters in a way modeled after the inner workings of natural instruments.
Cube Synth gives you also a new method of getting randomly generated sound patches in a way you never experienced before: roll the dice! Every single try gives you a new unique sound patch, really every try, promised…
Synthesis
• over 400 sound presets
• four morphable sound sources
• up to 512 partials per voice
• harmonic/inharmonic spectra
• arbitrary noise spectra
• morphable filter banks
• 3 Envelopes with tempo sync
• 64 time/level segments per envelope
Arpeggiator
• Uses programmable sequences with up to 32 steps.
• Can trigger single notes and chords.
• Unique randomizer generates Arpeggios with 100% usability.
• 32 Arpeggios included, unlimited useer arpeggios possible.
• For each step you can program tie, accent, transposition and note order
Effects
• Chorus
• Phaser
• Overdrive
• Ensemble
• Echo/Delay
• Reverb
Global
• Audiobus compatible (Output)
• CoreMIDI / Virtual MIDI
• Audio recorder with Metronome.
• Upload to SoundCloud and File Export.
• Audio pasteboard.
In this video 'thesoundtestroom' runs through some of the factory presets that come with strange and wonderful touch surface synth from Bit Shape..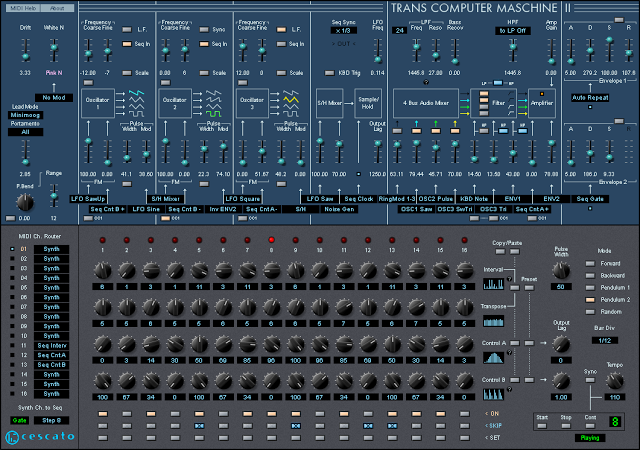 Trans Computer Maschine is a semi-modular Vintage Lead Synthesizer + Pattern Sequencer. Modeled after two legendary mono synths and a custom analog sequencer from Germany.
3 Multi-Oscillators with Sawtooth, Triangle, Sawtooth-Triangle and variable Pulse shapes.
Color adjustable Noise Generator.
3 mode Ring Modulator.
Advanced Sample/Hold.
Selectable 2/4-pole resonant LP Filter with auto-oscillation.
HP Filter with bus selection.
2 exponential Envelope Generators offering 3 operation modes.
Unique Sequencer features like 'skip' and 'set' can be played live from MIDI keyboard.
Inter-patch Sequencer pattern 'Copy/Paste' feature.
Fully MIDI controllable.
Fully VST automatable.
– Added 'Drift' control for subtle analogue detuning adjustment.
– Added 'Noise Colour' modulation from multiple sources.
– Added routing to use 'S/H Mixer' as OSC3 'Minimoog modulator'.
– Extended Envelopes 'Attack' range to 200µs.
– Fixed/added Oscillators self-modulation via 'S/H Mixer'.
– Improved Amplifier featuring light distortion with clipping indicator.
– Remodelled Low Pass Filter feat. 3 modes with resonance 'Bass Recover'.
– Remodelled Oscillators feat. accurate upper harmonics and isolated phase.
– Remodelled Ring Modulator featuring true Odyssey behaviour.
http://cescato.net/T-C-M-II.htm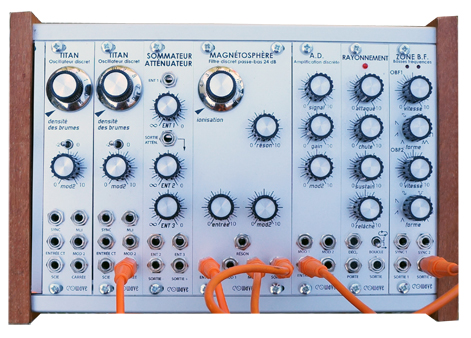 Eowave crew is proud to announce the release of the Spatiolab Capsule TITAN, also available in individual modules. Because Titan has a thick atmosphere able to carry sound waves, the moon is a noisy place…
For a long time, we've imagined the music of the space to be a sweet song of gods, crystalline magical sounds. And we thought that the space was a silent place, cold and empty. Since 2004, the Cassini-Huygens mission has recorded some sounds of the space, different from everything we'd imagined before, shock of particles launched in the space at a prodigious speed, a deep chaos, unexpected, which the ESA/NASA has sometimes called « alien sounds »… The Cassini-Huygens mission started the exploration of Titan in 2007.
Since 2000, Eowave designs instruments for electronic music. The Titan Capsule is a fascinating and immersive experimentation mixing space mysteries and music. It will make you explore sound dimensions that are still unknown.

Titan has a very thick atmosphere able to carry sound waves. With the Capsule TITAN, we'll get onboard to explore how the sound goes across Titan orange thick atmosphere. In a way, the Capsule Titan is a simulation station able to reproduce the journey of the sound waves crossing Titan's atmosphere and offer the possibility to modulate parameters like the thickness of the haze, the ionisation of the magnetosphere, Titan's magnetic glow, or low frequency zones.
Price : 699 euros incl VAT / 549 euros (without case, no MIDI interface, no patch cables, no PSU).
Virtual ANS is a software simulator of the unique Russian synthesizer ANS – photoelectronic microtonal/spectral musical instrument created by Russian engineer Evgeny Murzin from 1938 to 1958.
The app is cross-platform and available for iOS, Android, Windows, Linux and OSX.
More info: http://warmplace.ru/soft/ans