Here's a new teaser featuring Madrona Labs' new soft synth Kaivo
Cube Synth is a groundbreaking new iPad Synthesizer giving you the power and flexibility of additive synthesis together with easy editing and morphing capabilities. Macro parameters allow you to control this beast with unequalled ease.
Intelligent sound morphing capabilities enables you to easily create complex evolving sound scapes, vocal phrases or stunning rhythms simply by choosing up to four sound sources from a predefined set. Then add one of the predefined envelopes and a unique, complex sound preset containing thousands of parameters is created! If you want to dive deeper into the inner secrets of this synthesis monster you can manipulate each parameter individually to get precise control over the sound. A number of high level parameters such as Brightness and Harmonic spread control hundreds of synthesis parameters in a way modeled after the inner workings of natural instruments.
Cube Synth gives you also a new method of getting randomly generated sound patches in a way you never experienced before: roll the dice! Every single try gives you a new unique sound patch, really every try, promised…
Synthesis
• over 400 sound presets
• four morphable sound sources
• up to 512 partials per voice
• harmonic/inharmonic spectra
• arbitrary noise spectra
• morphable filter banks
• 3 Envelopes with tempo sync
• 64 time/level segments per envelope
Arpeggiator
• Uses programmable sequences with up to 32 steps.
• Can trigger single notes and chords.
• Unique randomizer generates Arpeggios with 100% usability.
• 32 Arpeggios included, unlimited useer arpeggios possible.
• For each step you can program tie, accent, transposition and note order
Effects
• Chorus
• Phaser
• Overdrive
• Ensemble
• Echo/Delay
• Reverb
Global
• Audiobus compatible (Output)
• CoreMIDI / Virtual MIDI
• Audio recorder with Metronome.
• Upload to SoundCloud and File Export.
• Audio pasteboard.
In this video 'thesoundtestroom' runs through some of the factory presets that come with strange and wonderful touch surface synth from Bit Shape..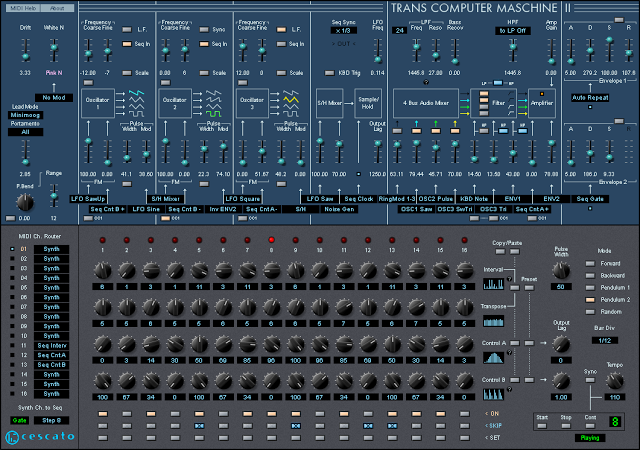 Trans Computer Maschine is a semi-modular Vintage Lead Synthesizer + Pattern Sequencer. Modeled after two legendary mono synths and a custom analog sequencer from Germany.
3 Multi-Oscillators with Sawtooth, Triangle, Sawtooth-Triangle and variable Pulse shapes.
Color adjustable Noise Generator.
3 mode Ring Modulator.
Advanced Sample/Hold.
Selectable 2/4-pole resonant LP Filter with auto-oscillation.
HP Filter with bus selection.
2 exponential Envelope Generators offering 3 operation modes.
Unique Sequencer features like 'skip' and 'set' can be played live from MIDI keyboard.
Inter-patch Sequencer pattern 'Copy/Paste' feature.
Fully MIDI controllable.
Fully VST automatable.
– Added 'Drift' control for subtle analogue detuning adjustment.
– Added 'Noise Colour' modulation from multiple sources.
– Added routing to use 'S/H Mixer' as OSC3 'Minimoog modulator'.
– Extended Envelopes 'Attack' range to 200µs.
– Fixed/added Oscillators self-modulation via 'S/H Mixer'.
– Improved Amplifier featuring light distortion with clipping indicator.
– Remodelled Low Pass Filter feat. 3 modes with resonance 'Bass Recover'.
– Remodelled Oscillators feat. accurate upper harmonics and isolated phase.
– Remodelled Ring Modulator featuring true Odyssey behaviour.
http://cescato.net/T-C-M-II.htm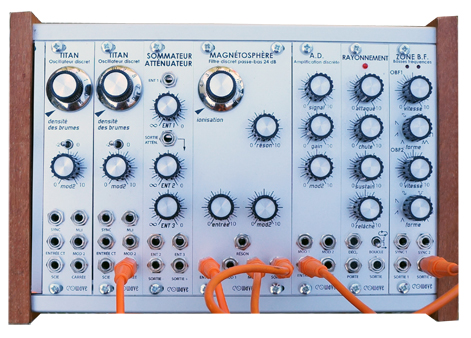 Eowave crew is proud to announce the release of the Spatiolab Capsule TITAN, also available in individual modules. Because Titan has a thick atmosphere able to carry sound waves, the moon is a noisy place…
For a long time, we've imagined the music of the space to be a sweet song of gods, crystalline magical sounds. And we thought that the space was a silent place, cold and empty. Since 2004, the Cassini-Huygens mission has recorded some sounds of the space, different from everything we'd imagined before, shock of particles launched in the space at a prodigious speed, a deep chaos, unexpected, which the ESA/NASA has sometimes called « alien sounds »… The Cassini-Huygens mission started the exploration of Titan in 2007.
Since 2000, Eowave designs instruments for electronic music. The Titan Capsule is a fascinating and immersive experimentation mixing space mysteries and music. It will make you explore sound dimensions that are still unknown.

Titan has a very thick atmosphere able to carry sound waves. With the Capsule TITAN, we'll get onboard to explore how the sound goes across Titan orange thick atmosphere. In a way, the Capsule Titan is a simulation station able to reproduce the journey of the sound waves crossing Titan's atmosphere and offer the possibility to modulate parameters like the thickness of the haze, the ionisation of the magnetosphere, Titan's magnetic glow, or low frequency zones.
Price : 699 euros incl VAT / 549 euros (without case, no MIDI interface, no patch cables, no PSU).
Virtual ANS is a software simulator of the unique Russian synthesizer ANS – photoelectronic microtonal/spectral musical instrument created by Russian engineer Evgeny Murzin from 1938 to 1958.
The app is cross-platform and available for iOS, Android, Windows, Linux and OSX.
More info: http://warmplace.ru/soft/ans
Quick look at this Wine Glass synth

Dan-D shows us some really quick tips to get around Cyclop!
Product description:
Cyclop has landed. A powerful monster that has grown out of all the sounds in the universe. And with it comes bass – lots of it. Synthesis in its purest form. Spectral, digital, or fat analog. Use your own samples as a wavetable, throw effect sequencer orgies, drop on filters and make wobble basses never heard before. Cyclop is here to create new sound. Wrap your bass around your drums like melted sugar around a hot chili pepper. Cyclop is monophic and it will blow your mind. Wobble bass? Dubstep? Do something completely new!
New kinds of modulators like the Wobble Generator and the Sound Knob.
FX-Sequencer, also to be controlled by the FX-Knob.
6 Synthesis Engines: Saw Regiment, Analog Sync, FM, Transformer, Spectromat, Phase Stressor
10 state of the art Filter types, plus vowel mode.
Routing Module for Synth / Filter patching, including Overdrive.
Sub Oscillator, Bass Processor, one-view modulation-flow.
Recommended by BoysNoize, Skrillex, Peaches, Modeselektor, SiriusMo, Mouse on Mars, Biohazard.
Over 800 presets included, most of them from various artists.
Cyclop comes as standalone application and VST/AU/RTAS/AAX plugin.
The new synthesizer from Intelligent Gadget. Uber Synth: a polyphonic multi-timbral FM synthesizer. Its particularity is that you will be able to map any number of preset or custom sound patches to different positions on the keyboard. Note that the underlying sound engine is the same polyphonic triple-oscillator cross-modulated FM synthesizer used in the xMod. Uber Synth is Core MIDI compatible and supports MIDIRTP for wireless control. My conclusion: I really love when a developer finds a new (good) idea… And here we have one… To be able to map any preset so easily and fast on your keyboard. Great! A Killer Synthesizer!
A demo of this synth sequencer called ZMors made by Sven Braun..A clever little app that lets you control and loop your own sounds or use the built in presets.
zMors is a 4 Layer iPad synthesizer with build in sequencer
– Audio engine use 32Bit float per sample
– Vector based oscillators with touch edit
– Audiobus support
– Midi, Clock, MTC input
– 8 Oscillators
– 4 AMP envelopes
– 4 LFOs with FM,AM,Filter and oscillator mix
– LFO beat or key sync
– 4 Filters (HP,BP,LP)
– Reverb and delay sends
– Sequencer unit