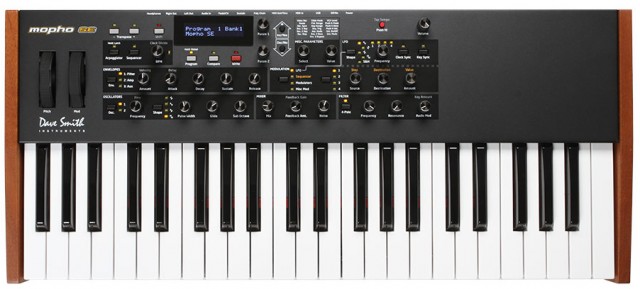 Dave Smith Instruments today introduced the Mopho SE – a new take on their monophonic Mopho synthesizer.The Mopho SE is based on the same architecture as the Mopho Keyboard, but it's been updated with a larger 44-note keyboard and design that's closer to the Prophet synths than the original Mopho.
The Mopho SE
The Mopho SE voice is composed of two analog oscillators, two sub octave generators, selectable 2- or 4-pole famed Curtis low-pass filter, three 5-stage envelope generators, four LFOs, a re-latchable arpeggiator, and a 16 x 4 step sequencer. Its voice also comes packed with 20 modulation sources and almost 50 destinations.
The SE's full sized 44-note semi-weighted keyboard has aftertouch and velocity sensitivity. The sturdy full sized pitch and mod wheels are freely assignable.
You can expand the Mopho SE's polyphony using it's Poly Chain port. Mopho, Tetra, and Prophet '08 can all be connected to the SE to increase its voice count.
Features:
100% analog signal path
Two oscillators capable of producing sawtooth, triangle, saw/triangle, and variable pulse width square waves, with hard sync
Two sub-octave generators (one octave below oscillator 1 and two octaves below oscillator 2)
One classic Curtis low-pass filter (switchable 2- or 4-pole) with audio rate modulation, self-oscillating in 4-pole mode
Analog VCA
Three envelope generators (ADSR plus delay)
Feedback loop with programmable level and gain
White noise generator
4 LFOs
Gated 16 x 4 step sequencer (one sequence per program)
Arpeggiator
Glide (portamento): separate rates per oscillator
Full-sized, 44-note (F to C), semi-weighted keyboard action with velocity and aftertouch
Full-sized modulation wheel and spring-loaded pitch wheel
Fully programmable with 3 banks of 128 user programs (384 total)
I/O
USB type B receptacle
MIDI In, Out/Thru, and Poly Chain
Left and Right audio outputs: 1/4″ phone jack (unbalanced)
Audio Input: 1/4″ phone jack (unbalanced)
Sustain pedal input (accepts normally on or off momentary footswitch with 1/4″ phone plug)
Expression pedal/control voltage (3.3 VDC max.) input (1/4″ TRS phone jack)
Headphone output: 1/4″ TRS stereo phone jack
Physical Specs
Dimensions: approximately 25.2″ L x 11.1″ W x 3.6″ H (64 cm x 28.2 cm x 9.1 cm)
Weight: 13.25 Lbs
Included
Power supply for 100V ? 240V AC operation
Operation manual
Free downloadable software editor for Mac OS and Windows
Pricing and Availability:
The Mopho SE is priced at $949 and is expected to ship at the end of October.
Novation's new analogue monosynth is here, more than twenty years since the first time around. Sonic takes a look

Spektro Komplex is a MaxforLive monophonic synthesizer designed to create complex and unique sounds. Like the Buchla 261e module, Komplex uses two oscillators to produce FM sounds. What really makes this synth stand out is it's habilities to morph the waveform of the first oscillator (carrier) and use a different waveform for the second oscillator (modulator).
The frequency of the second oscillator (modulator) is calculated based on the operation:
Oscillator 1 Frequency (operation) Ratio = Oscillator 2 Frequency
For example: If the frequency of the first oscillator is 220Hz, the operation is set to multiplication, and the ratio is set to 2, the frequency of the second oscillator will be 440Hz. A variable offset can also be added to the resulting frequency.
3 different effects that can be used to further manipulate the sound:
– Shape: fold, wrap or clip the signal.
– Overdrive
– Spread: creates a stereo-widening effect by delaying the right channel.
You can use Spektro Komplex to create anything from classic FM bass to metallic percussion sounds. It's also a great tool for sound designer who want to create complex synthetic sounds."
You can find it here: http://www.spektroaudio.com/komplex
Station X , is the amazing cute little monophonic analogue synth from Analogue Solutions. There are 6 sequences in total, status indicators show fx's when used.
Fx List
Sonalksis Stereo Tool ( convert mono to stereo )
Arts Acoustic Reverb
X-Delay (Orion native DAW fx)
Tube Distortion (Orion native DAW fx)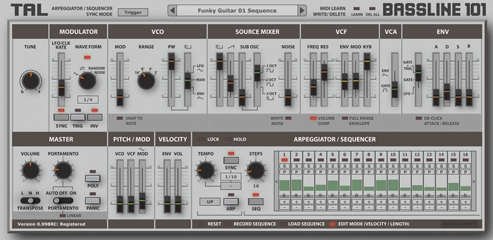 Togu Audio Line has announced the release of TAL-BassLine-101, a monophonic bass synthesizer with a classic analogue sound. The GUI is designed to be intuitive and easy to use.
TAL-BassLine-101 is designed to have a smooth and authentic analogue sounding 24dB zero feedback delay resonance low pass filter. Especially designed and calibrated for extreme settings, it sounds smooth with a lot resonance and a high oscillator pitch. Details such as envelope transitions between overlapping notes are carefully modeled. The oscillators do not use any samples. The plug-in generates all wave-forms in real time.
Features:
Self resonating zero feedback delay filter (24dB LP).
Calibrated and tuned after our hardware device.
MIDI learn / automation for all controls.
Alias free oscillators for an authentic sound also @ 44'100Hz sampling rate.
Arpeggiator with different sync modes (host, MIDI clock, not on).
Original (RC) and linear portamento mode.
Built in arpeggiator with some additional modes.
Powerful step sequencer with up to 64 steps and recording option.
6 voice poly mode.
Sequencer MIDI export with drag and drop.
Sequencer / arpeggiator MIDI out for VSTi version.
De-Clicker mode for slower envelopes :/.
More than 300 presets.
All sample rates supported.
Price: $40.
Sonic's full review is here http://www.youtube.com/watch?v=QQ_Q1Q…
but Sonic has also invited live viewers to join them and the MS20 Mini synthesizer from Korg and ask any additional questions that weren't answered in the full review.
KORG's background info on the machine:
An analog synthesizer featuring the original circuitry from 1978
Korg's MS-20 monophonic synthesizer, first introduced in 1978, is still a coveted instrument to this day, thanks to its thick, robust sound, its powerful, iconic analog filter, and its versatile patching options. Over 300,000 people have enjoyed the distinct MS-20 sounds from the original, from Korg's MS-20 plug-in synth, or the iMS-20 iPad app.
Today, the sounds of the MS-20 have been reborn in hardware, as the MS-20 Mini. The same engineers who developed the original MS-20 have perfectly reproduced its circuitry and fit into a body that's been shrunk to 86% of the original size, yet retains the distinctive look of the original.
The MS-20 mini will amaze you with its absolutely authentic analog synth sound.
Comments from the developers
Fifty years have passed since Korg was founded, and we have once again put our hand to an analog synthesizer. We took particular care to deliver smooth parameter adjustments, which are a distinctive feature of analog synthesizers. We also took special care to completely reproduce the original specifications of the MS-20. The analog circuits we designed 35 years ago still deliver the same unbeatable, powerful sound, from the ultra-low to the ultra-high range.