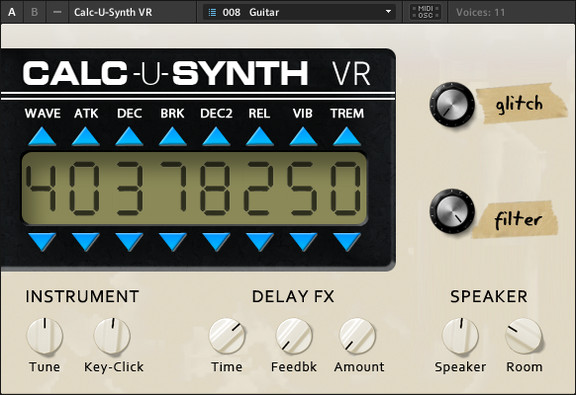 Icebreaker Audio has released Calc-U-Synth VR for Reaktor, an emulation of the classic Casio VL-Tone calculator/synthesizer combo from the '80s.
Precise measurements of the VL-Tone's volume envelope, vibrato, and tremolo were then gathered in order to faithfully emulate the whole instrument in Reaktor.

This library was designed in order to present the full capabilities of the VL-Tone's programmable features in a more convenient interface, while retaining the character of the original instrument.
Calc-U-Synth VR features
Full emulation of the Casio VL-Tone's programmable synth engine.
Built-in tempo-sync delay effect.
Speaker emulation with room simulation.
Additional "Bend" controls: Glitch and Filter.
Key-Click noise control.
The Calc-U-Synth VR for Reaktor is available to purchase for £4.50 GBP / $7 USD.
Icebreaker Audio has also announced a bundle sale, offering all its bundles at a 50% discount until November 30th, 2013.
A quick, simple piece 'acemonw' put together using the Spectralis 2 Sample Library V2 from Radikal Technologies.
"I routed the bass sample through the LP and MM analog filters and used noise for some extra parts, otherwise… this was completely done using only the sample library."
About the Spectralis 2:
Spectralis 2 is the even more powerful successor of Radikals sophisticated Hybrid Synthesizer. With up to 4 GB sample memory and tons of new features Radikal raises the bar again for our competition. Never stop the sequencer engine again with our fully redesigned sequencer engine that allows for on the fly realtime sequencing. Quick Sound Selection for every part – your most favorite sounds are just one fingertip away. Transpose your patterns and step sequences with the attached keyboard. There is only one thing, we left untouched in our new design – the sound engine. Still the warmest and richest sound out there with the power of a modular synthesizer in a box.
The Spectralis 2 hybrid synth, fueled by the latest DSP- and true analog technology, delivers maximum tonal capabilities and leads you into a radical new world of sounds full of life and animation. The Spectralis 2 oscillator section takes sound design to new extremes. The 4 oscillators offer continuously variable waveshapes plus time linearity modulation, FM, PM, oscillator synchronisation, bit reduction and independent pitch and volume envelopes. The self resonating filters, a 4 pole lowpass and a 2 pole multimode filter with LP, HP, BP and notch outputs, use two highly improved true analog circuit designs to overcome the restrictions of modelling based synths.
The way players can interact with the destinctive user interface makes the Spectralis 2 hybrid synthesizer a killer live instrument with unbeatable richness and stunning flexibility. The synthesis engine takes advantage of a sophisticated step sequencing system – 32 independent parameter control lines with up to 192 steps let you explore an universe of previously unheard rhythmic effects and atmospheric textures. Punchy high resolution envelopes, are the cutting edge of todays synthesizer technology. They are the perfect weapon for the creation of floor pounding kicks, state of the art sequencer staccatos and numerous percussion effects.
So Studio Electronics Midimoog was the right answer. It is actually a real Minimoog (original Minimoog boards) in a different (19″) housing with MIDI. Fabulous machine!!!
The Midimoog is an excellent resurrection of the Minimoog by Studio Electronics, a company that has shown with its ATC-1 Tone Chameleon that they can emulate the classic synths. Remaining faithful to the original design, circuitry and components, Studio Electronics has recreated the original in a new rackmount MIDI equipped unit. Every unit has a genuine Minimoog Model D board inside. They've added a new dedicated LFO in addition to the Midi. Unfortunately, due to the 100% analog design of this synth, including the analog pots and switch controllers, retrofitting patch memory to the original Minimoog boards would have been a major electronic undertaking. So just like the original Minis, there is no patch memory storage.
The front panel layout of the Midimoog strongly resembles the Minimoog's original design. Familiar to old Minimoogers and fairly easy to learn and explore for the newer users. As for the sounds… they're the real thing. Three oscillators power this monophonic analog beast to create fat and warm synth basses, leads, blip-bleeps and sweeping sounds. The classic 24 dB/oct lowpass Moog filter is here too, and just as powerful as always. The rack-mountability and MIDI implementation alone make this an excellent choice for anyone looking for the famous warm Moog sounds in a compact yet classic MIDI-equipped module.
Arturia has put a page on their site, teasing a new hardware synthesizer. Arturia doesn't offer any details on the new synth, other than to say that it "Looks tiny, Sounds massive" and that it offers "Vintage sound, modern connectivity".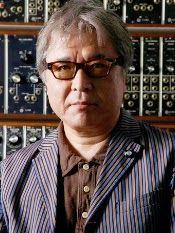 Check them out, and let us know what you think Arturia's 'sonic monster' is going to be!
"I really love the sound of the original , and IT's got that character and can be even wilder. You can get all kinds of crazy and musical interactions going on with other analog gear and drum machines. Combine the two together and you're rocking?" Adrian Utley (Portishead)
"IT takes me back to the joy I felt when I pushed that first key and a saw wave spoke back to me. IT allows for more than 100% values of such things as keyboard tracking. IT melds the best in a compact little powerhouse." Terry Lawless (U2 and P!NK)
"Once again Arturia has given me the best of both worlds with IT. It's blowing minds at both my recordings session and in concert. The perfect compliment to my already diverse rig." Roger Joseph Manning Jr (The Moog CookBook, Jellyfish, Imperial Drag, Beck)
"So Just when you think Arturia can't be any more practical than the Mini Brute. They bust you in the head with THIS." Keith Shocklee (Public Enemy)
"For me, a Synthesizer that has no presets is an adventure every time. IT is a recipe for audio joy. IT soon becomes a real electronic instrument, that develops with your knowledge and expertise."Chris Cross (Ultravox)
"The small form factor is disproportionate to the massive sound you can get out of IT. Having used many Arturia soft synths, this is a great piece to transition from a laptop. Turn the switch and go." Sandra Vu (Dum Dum Girls, SISU)
"Big, ballsy sound! Arturia has another sonic monster on its hands!" André Bowman (Will.I.Am)
"It's SMALL GIANT! I love it!!" Hideki Matsutake
Product description:
The Monomachine SFX-60+ MKII is the ultimate sound generator. Five different synthesis methods plus sequencing make it the mixed martial artist of synthesizers.
Each of the six Monomachine tracks is loaded with sound shaping devices. At your command is a tape style delay, a resonant multi mode filter, a sample rate reducer, a distortion effect, an arpeggiator and no less than three LFO's – per track. The sound palette is limitless.
Despite the depth of the Monomachine it is very easy to use. Every parameter is close at hand and no confusing menus are in your way. Everything is laid out in a logical and usable manner. This is particularly useful when you perform live and don't want to press the wrong buttons.
A special MIDI mode gives you control of six dedicated MIDI tracks. Use the versatile arpeggiators and all the other special sequencer features to take MIDI sequencing to the next level. The Monomachine is a given centre piece in any studio.
You can upload your own customized waveforms and use them in the Monomachine environment. This, plus the ability to treat sound incoming through the two external inputs using the special FX machines, makes the Monomachine a sound designer's dream come true.
The Monomachine SFX-60+ MKII comes equipped with a +Drive by default. With a +Drive there is no risk of running out of storage space. Over 16'000 patterns, 16'000 kits and 8'000 waveforms can be internally stored.
Man and machine have never been closer to each other.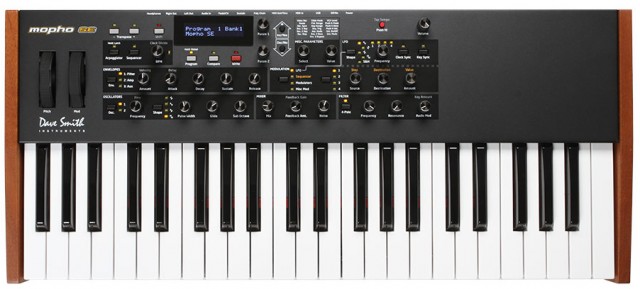 Dave Smith Instruments today introduced the Mopho SE – a new take on their monophonic Mopho synthesizer.The Mopho SE is based on the same architecture as the Mopho Keyboard, but it's been updated with a larger 44-note keyboard and design that's closer to the Prophet synths than the original Mopho.
The Mopho SE
The Mopho SE voice is composed of two analog oscillators, two sub octave generators, selectable 2- or 4-pole famed Curtis low-pass filter, three 5-stage envelope generators, four LFOs, a re-latchable arpeggiator, and a 16 x 4 step sequencer. Its voice also comes packed with 20 modulation sources and almost 50 destinations.
The SE's full sized 44-note semi-weighted keyboard has aftertouch and velocity sensitivity. The sturdy full sized pitch and mod wheels are freely assignable.
You can expand the Mopho SE's polyphony using it's Poly Chain port. Mopho, Tetra, and Prophet '08 can all be connected to the SE to increase its voice count.
Features:
100% analog signal path
Two oscillators capable of producing sawtooth, triangle, saw/triangle, and variable pulse width square waves, with hard sync
Two sub-octave generators (one octave below oscillator 1 and two octaves below oscillator 2)
One classic Curtis low-pass filter (switchable 2- or 4-pole) with audio rate modulation, self-oscillating in 4-pole mode
Analog VCA
Three envelope generators (ADSR plus delay)
Feedback loop with programmable level and gain
White noise generator
4 LFOs
Gated 16 x 4 step sequencer (one sequence per program)
Arpeggiator
Glide (portamento): separate rates per oscillator
Full-sized, 44-note (F to C), semi-weighted keyboard action with velocity and aftertouch
Full-sized modulation wheel and spring-loaded pitch wheel
Fully programmable with 3 banks of 128 user programs (384 total)
I/O
USB type B receptacle
MIDI In, Out/Thru, and Poly Chain
Left and Right audio outputs: 1/4″ phone jack (unbalanced)
Audio Input: 1/4″ phone jack (unbalanced)
Sustain pedal input (accepts normally on or off momentary footswitch with 1/4″ phone plug)
Expression pedal/control voltage (3.3 VDC max.) input (1/4″ TRS phone jack)
Headphone output: 1/4″ TRS stereo phone jack
Physical Specs
Dimensions: approximately 25.2″ L x 11.1″ W x 3.6″ H (64 cm x 28.2 cm x 9.1 cm)
Weight: 13.25 Lbs
Included
Power supply for 100V ? 240V AC operation
Operation manual
Free downloadable software editor for Mac OS and Windows
Pricing and Availability:
The Mopho SE is priced at $949 and is expected to ship at the end of October.
Background information below (Googlish):
From Córdoba, Argentina Córdoba but Martin Castro and Mauricio Piombo sent us some incredible instruments, Synthetic Instruments Reaktor ensembles to generate quite complex sounds and textures as is typical autechre, which certainly does not leave you indifferent. We have loved all your devices, also has a wide range, sound generators (RA1D3N v1 – SOUND GENERATOR), the beatbox Flash Dance (Matrix Drum Machine), the synthesizer wavetable rhythms (SINESTESYNTH – RHYTHMS WAVETABLE SYNTHESIZER ), and the synth TERRA INC0GN1TA – (sYNTH PADS) Flash Dance -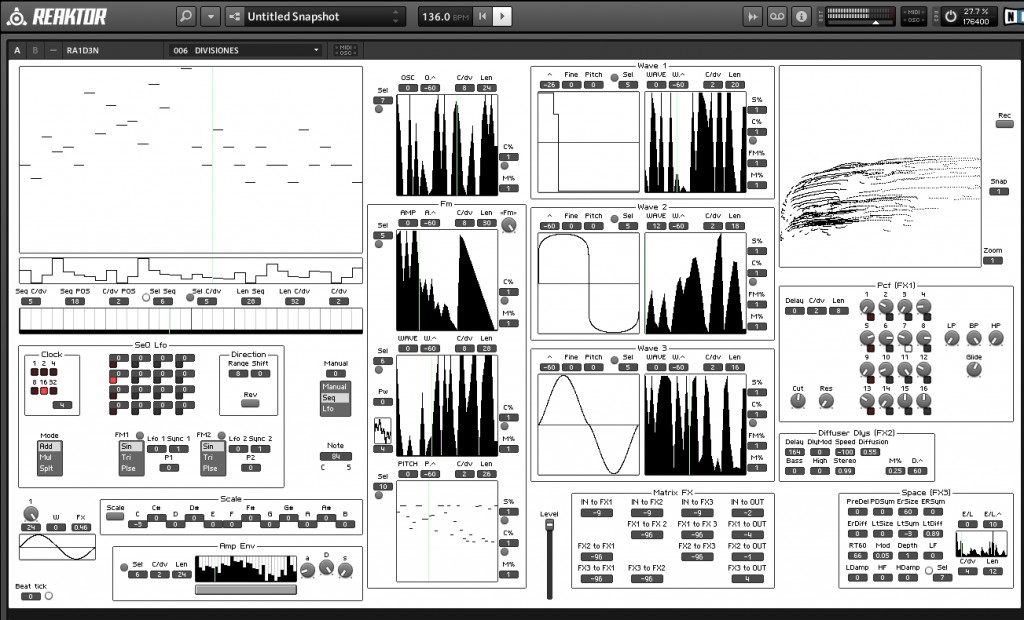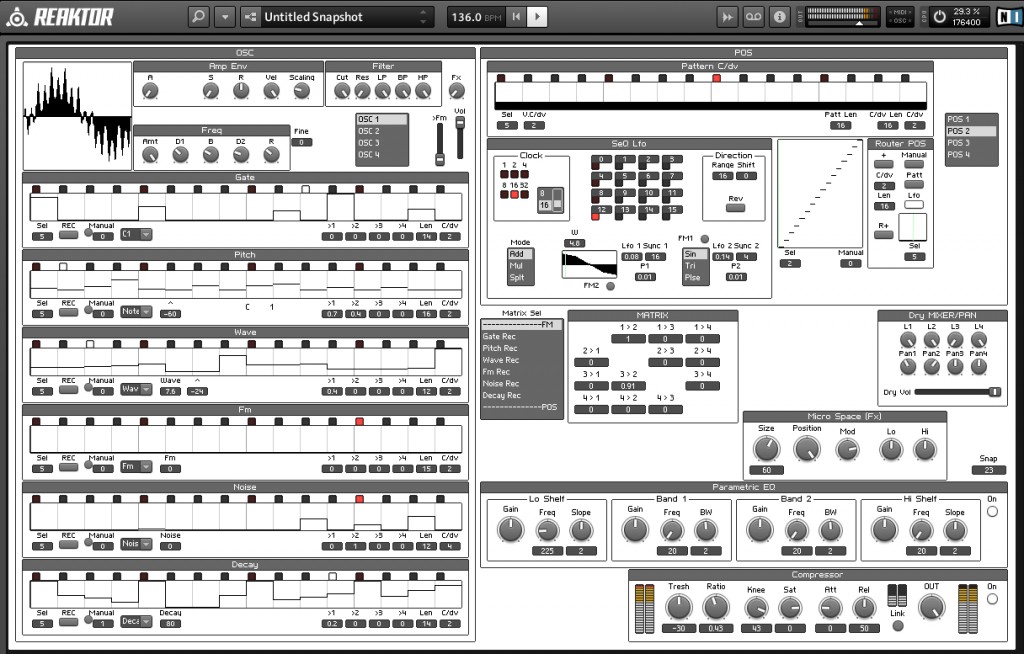 Spektro Komplex is a MaxforLive monophonic synthesizer designed to create complex and unique sounds. Like the Buchla 261e module, Komplex uses two oscillators to produce FM sounds. What really makes this synth stand out is it's habilities to morph the waveform of the first oscillator (carrier) and use a different waveform for the second oscillator (modulator).
The frequency of the second oscillator (modulator) is calculated based on the operation:
Oscillator 1 Frequency (operation) Ratio = Oscillator 2 Frequency
For example: If the frequency of the first oscillator is 220Hz, the operation is set to multiplication, and the ratio is set to 2, the frequency of the second oscillator will be 440Hz. A variable offset can also be added to the resulting frequency.
3 different effects that can be used to further manipulate the sound:
- Shape: fold, wrap or clip the signal.
- Overdrive
- Spread: creates a stereo-widening effect by delaying the right channel.
You can use Spektro Komplex to create anything from classic FM bass to metallic percussion sounds. It's also a great tool for sound designer who want to create complex synthetic sounds."
You can find it here: http://www.spektroaudio.com/komplex
Waldorf Microwave XT synthesizer demo — playing a dreamy ambient electronica music soundscape on Microwave XT wavetable synth from Waldorf. Headphones recommended!
This ambient synth demo was created using 2 wavetables, delay, tremolo, filter/envelope adjustments and more.
Performed live, no external processing. Excerpt from a longer session.
Vintage synthesizer demo track featuring the classic Yamaha DX7
all synthesizer sounds: YAMAHA DX7 II FD FM-Synthesizer (1987)
recording: multi-tracking without midi
fx: reverb and delay
The demo shows typical and not so typical FM sounds. a bit PPG and Fairlight like.
"I like this synth a lot! Yamaha should built a DX7 III with realtime controller like the old PSS FM keyboards, with internal arpeggiator, step sequencer and a fx unit with reverb and delay and chorus. this would be fantastic."