This is the ultimate analog polysynth. Eight voices, four oscillators per voice, all discrete point-to-point circuitry. It costs the price of a new economy car (literally, it's $20,000), and you know what? We'll walk to work.
Recent advances in DSP performance and the designer's relentless perfectionism in the development of sound synthesis algorithms have taken things up yet another level. The result is this brand new polyphonic instrument sporting a sound quality never heard before from digital synthesizers.
Each voice consists of three oscillators, two multimode filters, 6 envelope generators, three voice LFOs and one section LFO. Phasemodulation, time linearity modulation, oscillator synchronisation, ringmodulation, sweepable waveforms and a unique modulation and audio matrix allow for a much bigger spectrum fexibility than the analog subtractive synthesizer counterpart. An additional noise source with independent multimode filtering and variable signal routing has been added for more sonic flexibility. A three band full parametric EQ per voice is a perfect addition to the engine to place that instrument right into the mix. A very nice balanced lightweight keyboard with 61 keys, keyboard split option, aftertouch and velocity sensitivity completes the new synthesizer.
The Accelerator is perfectly prepared for Live performances. A lot of synthesizers nowadays do not offer direct patch selection anymore. Instead of using direct access push buttons one has to dial in the desired patch and press enter. The Accelerator makes sound selection instantly available at your fingertips with dedicated patch select buttons.
Additionally the unique program chain feature allows for programming a chain of programs that selects the correct patch automatically for you. Another stunning new feature is the the built in acceleration sensor. Movements of the keyboard are converted into modulation data. This brilliant addition allows for controlling parameters like pitch, the filter frequency or modulation depths by lifting up or shaking the keyboard.
How about step sequencers and arpeggiators? The Accelerator would certainly not be a Radikal Technologies synthesizer if the designers had not integrated some sequencing goodies. You can enter some notes into the step sequencer, transpose the sequences with the left hand while performing a solo at the upper end of the split keyboard. Piece of cake! The powerfully warm and crispy sound of this new flagship synthesizer is destined to become the centerpiece of any keyboard setup. For anyone wishing to expand the Accelerators sonic power even more additional voices with up to 2 DSP expansion modules are available. The DSP expansions not only add extra polyphony to the Accelerator, they will also allow the use up to eight independent synthesizer sounds at a time with the integrated multimode feature.
KORG fully enters the realms of iOS with this powerful app, details below:
For every situation that creative minded people face, KORG's answer is "KORG Gadget."
KORG released the iELECTRIBE simultaneously with the appearance of the first-generation iPad in 2010, and ever since has maintained its position at the forefront of mobile music apps. And now we've brought you the ultimate all-in-one studio app for serious mobile music production.
KORG Gadget provides a collection of 15 different synthesizers and drum machines called "Gadgets", which can be freely combined to produce powerful electronic music. Users can take advantage of the simple and intuitive sequencer, and experience track-making in an environment that's been perfectly optimized for mobile use, while retaining professional quality in everything from the effects to the mixer. Also, songs created using KORG Gadget can be shared on "GadgetCloud," a music sharing site for KORG Gadget users worldwide.
There's a roadmap for future updates that will add new gadgets and support audio tracks, further perfecting the system as a mobile music production studio. KORG Gadget will continue to evolve in support of serious mobile music-making.
—————————————-
­—————
KORG Gadget is available on the App Store:
World: https://itunes.apple.com/app/korg-gad…
Japan: https://itunes.apple.com/jp/app/korg-…
—————————————-­—————
Learn more about Gadget at http://www.korg.com.
Music & Video produced and performed by Mee Zanook
- The ultimate mobile synth collection on your iPad -
KORG Gadget – the all-in-one music production studio
Fantastic and very versatile drum machine from developer Alexander Smith.
https://itunes.apple.com/app/id698024…
STIX is a powerful 16 channel (8×2 voices) sampling synthesizer and sequencer.
Check out Audio and Video demos + download the user manual from our webstite now:
http://twisted-electrons.com/apps/stix/
Each kit features no less than 200 parameters that are controllable in real-time via touch or MIDI.
STIX is also a 8 channel 16 step drum sequencer with recording functionality. The sequencer's 8 patterns can be chained into songs in Track Mode.
Up to 100 Preset Kits can be stored and the 8 drum modules can be performed on the pads throughout the app's modes.
STIX also features Audiobus compatibility!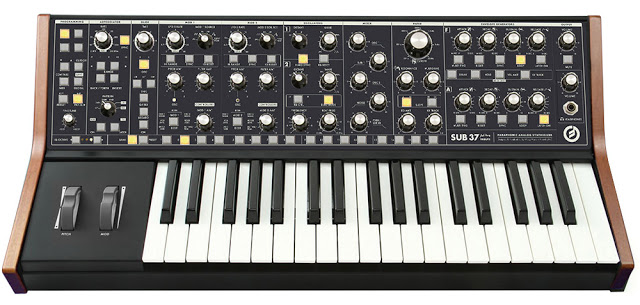 Via Moog's Facebook page we get this message:
"…the new Moog synth is '2-note paraphonic' — it can play two independent pitches from its two oscillators, in response to two keys played at once. Paraphonic still seemed less misleading than 'Duophonic' (to me) because of the single VCF, VCA, and their respective envelope generators. Although ultimately I had very little to do with what got written on the panel"
Paraphony is the property of an electronic musical instrument that can produce multiple notes or voices, but falls short of being truly polyphonic because the voices are not fully independent since they share at least one common element. For example, there might be just one single filter working on all voices collectively rather than the one filter per voice of truly polyphonic instruments; or there might be only one envelope generator.
One well-known paraphonic synth is the Korg Poly-800, which had 8 oscillators and could produce 8 voices (or 4 2-oscillator voices), but had just one filter.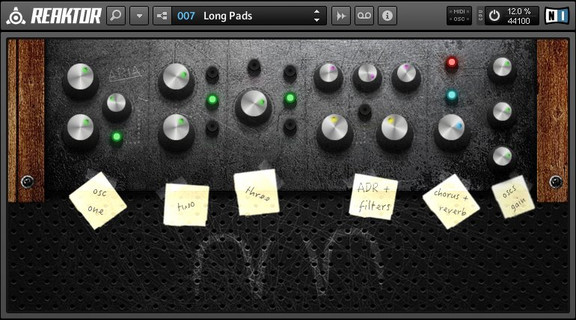 Need a Name has introduced Aria, a free synthesizer instrument for Native Instruments Reaktor.
Hey guys, I released a new Reaktor ensemble named Aria, it's an experimental synthesizer.

The synth is mostly enjoyable when playing it with a dynamic keyboard, 'cause filters are modulated by velocity.
Aria is a free download at Need a Name. Requires Reaktor full version.
Clavia have released a new official video demonstrating the capabilities of the Nord Lead 4 Performance Synthesizer, details below:
We invited the talented Italian keyboard player and producer Federico Solazzo over to our factory in Stockholm to demo some of the powerful new features in the Nord Lead 4! Everything recorded live, with no overdubbing.

For detailed product information and specifications, visit http://www.nordlead4.com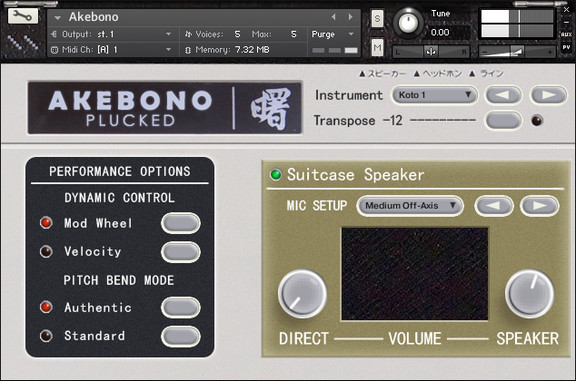 Icebreaker Audio has announced the Akebono Collection, a sample-based emulation of the Akebono Koto Synthesizer, a unique suitcase instrument from Japan.
Akebono was released exclusively in Japan some time in the 1980s. It was designed as a portable practice instrument for Koto players, and as such it features many unique features that are intended to make performing in the traditional style a lot easier than using a MIDI keyboard.

All sounds were meticulously sampled and integrated into in a custom Kontakt instrument that emulates the performance options available on the original hardware.
Akebono Collection features
All 15 instrument sounds and 13 percussion sounds sampled.
24-bit 48kHz sample quality.
Original performance features emulated with custom scripts.
7 impulse responses of the original speaker.
5 custom and easy-to-use effects: Amp, EQ, Mod, Echo, and Dynamics.
The Akebono Collection for Kontakt is available to purchase for £12.50 GBP. Requires full version of Kontakt 4 or 5.
Background information:
"We are excited to announce FL Studio Mobile 2.3 for iOS now includes MiniSynth, a real-time synthesizer ready to be used in your FL Mobile projects. Check iTunes for your free update. Android will be updated with MiniSynth sometime earlier in 2014.
What's New?
MiniSynth (including 70 presets)
Modulation via accelerometer (new option in the keyboard setup).
Transfer button in the in-app shop for emailing your purchases to another device.
Bug fixes (report bugs and we will fix them).
FL Studio Integration
A MiniSynth FL Studio plugin is also in development so you can transfer your MiniSynth FL Mobile projects to FL Studio and get the same sounds.
Android catching up
If you are wondering why the Android catch-up is taking some time, we have been migrating to a cross-platform code base and once that is completed the convergence of the two operating systems will follow rapidly, expect this Q1 2014. Thanks for your patience.
Enjoy"
http://www.image-line.com/documents/news.php?entry_id=1387407573
Animated/Directed by Ambar Navarro
Music by Hyperbubble
Additional Animation by
Julian Petschek
Tempe Hale
Quique Rivera Rivera
Isabela Dos Santos
Tomas Christian
Post-Prod done by Julian Petschek
Shot at BE∆RD H∆US
CALARTS 2013