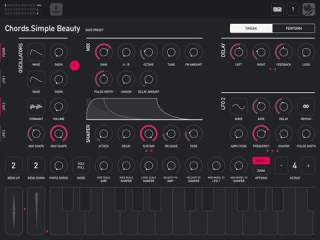 Retronyms has released Phase84 – described as 'a next generation phase distortion synthesizer', inspired by the classic phase distortion synthesis sounds of the Casio CZ line of synths.
Phase distortion synthesis is a form of waveshaping synthesis that has its roots in Casio's CZ line of digital synthesizers from the 80s. It is designed to have the warmth of a subtractive (analog) synthesizer, yet be capable of the squelchy tones and sharp attacks of an FM synth.
Phase84 is an extremely capable synthesizer and features over 110 presets, containing all sorts of basses, leads, pads, bell tones, sweeps, atmospheric sounds, pseudo-realistic tones, and more. While you don't need to know much about synthesizers to get a lot out of Phase84, experienced synth tweakers will be thrilled at the sheer variety of unique sounds that can be produced with this incredibly versatile synth.
Features:
More than 100 presets.
MIDI support.
inter-App Audio support.
Advanced Keyboard section.
Expressive Perform Mode with Groove Gate.
Tabletop Ready App.
Precision Knob mode.
Phat, naturalistic unison feature for super thick pads and sweeps.
Oscillator Section: 9 Params, 2 General-Purpose Oscillators, 1 Formant Oscillator.
Mix Section: 8 Params including Delay Amount and Pulse Width.
Envelope Section: Amplitude and Shaper Envelopes. Fully visualized and interactive
ADSR plus special Fade Param.
Delay/Filter Section: Stereo delay with loss modeling and a punchy overdriven analog-style filter.
3 LFOs: More flexible than your average LFO, this has 4 waveforms, optional delay and repeat count, and can go into the audible frequency range.
Taika Systems has introduced Photophore – a unique instrument that brings 'flock synthesis' to the iPad'. Photophore uses 'flocks' of up to 100 sound generators to create rich, organic synthesizer sounds. By controlling the behavior of the flocks, you can make Photophore sound like a choir of synthesizers or, at more extreme settings, a swarm of angry insects.
**Now available on the App Store at special introductory price of only $4.99!**
Photophore is a unique instrument for iPad that uses flocks of up to 100 sound generators to create rich, organic synthesizer sounds. By controlling the behavior of the flocks you can make Photophore sound like a choir of synthesizers or, at more extreme settings, a swarm of angry insects.
App Store Link: https://itunes.apple.com/us/app/photo…
More Info: http://www.taikasystems.com/photophore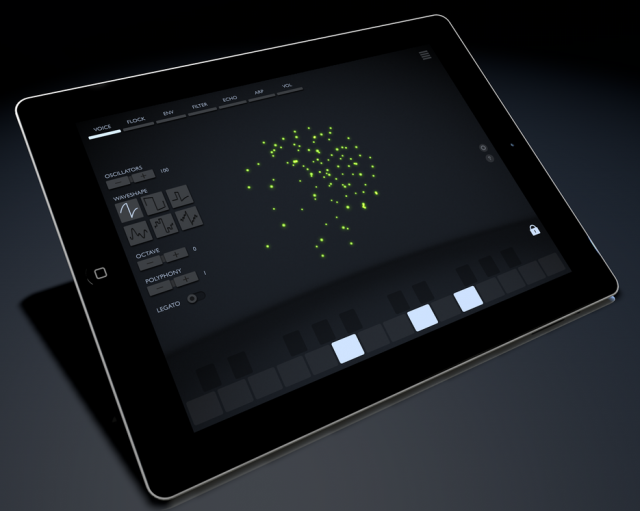 Flock Synthesis
Unlike other digital synthesizers, Photophore creates warmth and character in a new way. Instead of modeling analog circuits, it models animal behavior.
Photophore's sound engine is made up of flocks of oscillators that move through a virtual three-dimensional environment. Their motion is controlled by a behavioral algorithm and physics simulation that keeps the oscillators in tune with each other, but allows for a certain amount of natural drifting and detuning.
You can interact with the oscillator flocks by controlling their behavior – how much they try to flock together, how much they avoid each other, their speed, and how much turbulence is in their environment. Oscillators will 'flee' from your touch, so you can create extreme pitch modulation and more chaotic effects by swiping across the screen.
Features:
Unique flock synthesis engine
Up to 100 oscillators per patch
Monophonic or polyphonic operation (up to 6 voices)
6 oscillator waveforms (saw, square, pulse and more)
Low pass/High pass filter with resonance
Dedicated amplitude and filter envelopes
Stereo echo effect
Arpeggiator
Connectivity:
Use any iPad-compatible MIDI keyboard to play notes and perform pitch bends
AudioBus and Inter-App Audio support for streaming audio to other apps
Control Photophore from other apps via CoreMIDI
Tech Requirements:
3π/2 [pi] miami beach limited edition
The circle got reopened. Standuino comes back with three quarters of the circle waiting for YOU to fulfill the remaining quarter!
mystery drone synth with patchable clock sequencer is back !
buy now exclusively from noise.kitchen: http://noise.kitchen/shop/standuino/3…
get more info: http://www.standuino.eu/musical-instr…
3π/2 is amazing sensual experience with rough mahogany knobs, the touch of 100 % natural wool&cotton felt case, golden patching nails and UV leds… and the color finish glows in the dark!
Features
-several oscillators, wavetables and synthesis types
-settings accessed by randomizers
-high probability of getting cool bass sounds
-14 bit PWM sound core
-4 presets
-patchable clock sequencer with several patterns
-internal clock or MIDI clock divider
-MIDI input
-UV leds
-numbered limited edition
-natural pure wool felt case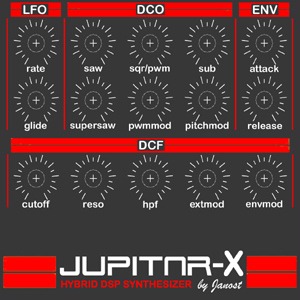 The Jupitar-X tabletop synth is a monophonic synth with a single Juno DCO voice available ready-built or as a kit from Jan Ostman at DSP Synthesizers

Features:
Oscillator with SAW, SQR/PWM and SUB waveforms.
SUPERSAW unison setting for the SAW waveform.
LFO and AR-envelope.
DSP filter with LPF, HPF and Resonance setting.
MIDI input for note on/off.
5 volt CV/Gate input for oscillator. Frequency range 65-2093Hz (C2-C7).
5 volt CV input for filter cutoff.
External audio input to filter.
Great analog sound.
Also available is the extremely tiny (65x60mm) Jano-X synth
Features:
Just CV/Gate, PWM-CV and Pitch-CV 0-5v analog inputs.
SUPERSAW unison setting for the SAW waveform.
Great for sequencing and use with external filter.
Pricing and Availability:
Jupitar-X : $330 ready built or $235 for a kit including all parts, knobs, box and frontpanel.
Jano-X: $70
Order from DSP Synthesizers
GR-SAKURAでMIDI音源を開発しました。
回路による再現ではなく、数学的技法によりアナログシンセサイザーを再現しています。
Googlish:
I have developed a MIDI sound source in the GR-SAKURA.
Rather than the reproduction by the circuit, we reproduce the analog synthesizer by mathematical techniques.
beatassist.eu says that Mantra Evo is a high capable synthesizer, combining FM and Phase Dist synthesis, all in one. Here's what they have to say about it…
Mantra Evo is based on an FM synth and a Phase Dist synth. Both of these synths are gifted with a morphing system that will morph the basic waves into some more complex ones. Each of these synths are also gifted with 5 envelopes (amp, pitch, filter, modulation and morphing). The modulation of these synths is based on FM modulation system using kbd and depth.
On the filter envelope you can tweak just cutoff, resonance or both. Each of these synths are gifted of an LFO with two targets, dedicated filter, free speed knob, sync option and waveform choice. There is a Chorus for each synth too, making your sounds phater.
The effects you can use for Mantra are Octave Stepper, Distortion, Reverb, EQ, Stereo Delay and Trancegate.
Each of the synths can be individually connected to any of these effects leaving the other off.
Mono Mode can be used with a high gliding range.
Mantra Evo runs on Windows XP/Vista/Win7/Win8 32-bits and 64-bits when bridged.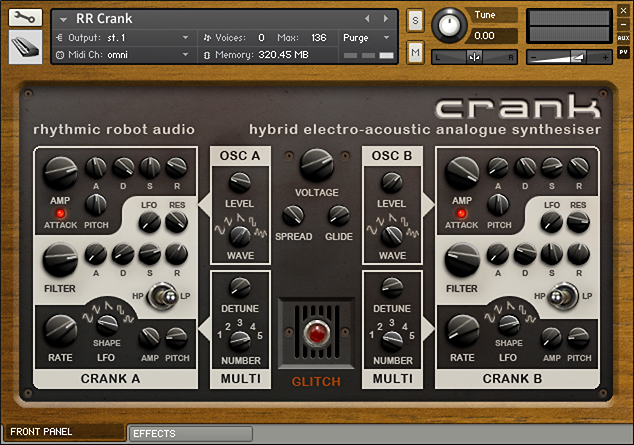 Rhythmic Robot Audio has released Crank, a hybrid synthesiser for Kontakt melding acoustic and electronic sources in a 4-oscillator architecture.
Crank takes over six hundred samples of an Eastern European stringed hurdy-gurdy – and places them at the heart of a four-oscillator analogue synthesiser framework ideally suited to the creation of strange, eerie, evolving patches.
The acoustic hurdy-gurdy produces its sounds by rubbing a rosined wooden wheel over a series of violin-style strings: the sound is half violin, half hand-cranked barrel organ and can be both plaintive and raw-sounding. Rhythmic Robot has sampled a hurdy-gurdy extensively to create the basic tones for Crank, and named the instrument after the handle that the player cranks round to make the hurdy-gurdy play.
The twin Crank oscillators are independently controllable, with dual filters, envelopes, pitch control, LFOs and so on; they also run in tandem with twin Analogue Oscillators, adding some classic analogue waves to the tonal palette. The characteristic attack "squeal" of the acoustic hurdy-gurdy can be turned on or off individually, and the sound sources mixed and blended to create haunting and evocative instruments that sound "almost real."
Features:
Twin Crank oscillators drawn from extensive samples of the hurdy-gurdy.
Twin Analogue oscillators sampled from the Roland SH7 flagship analogue synth.
Twin flavours of noise: classic white noise, plus vinyl-style crackle.
Extensive LFO modulation of pitch, amplitude and filter cutoff, independently for both Cranks.
The Rhythmic Robot GLITCH button to randomise the instrument in musically inspiring ways.
Price: £24.95 – Crank is available now from Rhythmic Robot, at an introductory special-offer price of £19.95. Requires Kontakt v.4.2.3 or later to run (including all versions of Kontakt 5). Kontakt Player is not supported.
Vintage synthesizer track featuring the Roland M-VS1
supported by UVI: http://bit.ly/retrosound-uvi
all sounds: Roland M-VS-1 "Vintage Synth" module from the year 1995
recording: multi-tracking without midi
fx: reverb and delay
No vintage synthesizer but a synthesizer module with nice vintage synth sound. 😉
256 waveforms (Oberheim, PPG, Moog, ARP, Mellotron, Solina, CS-80, Roland SH, Jupiter, JX, Juno, MKS, VP330, TR-808 samples and a lot more)
Das Eurovisionssignet kennt jedermann. Dass es auch ganz anders klingen kann, zeigt der Musiker Bruno Spoerri und führt uns gleichzeitig in die Welt des Synthesizers ein. ("Perspektiven" vom 13.4.1972)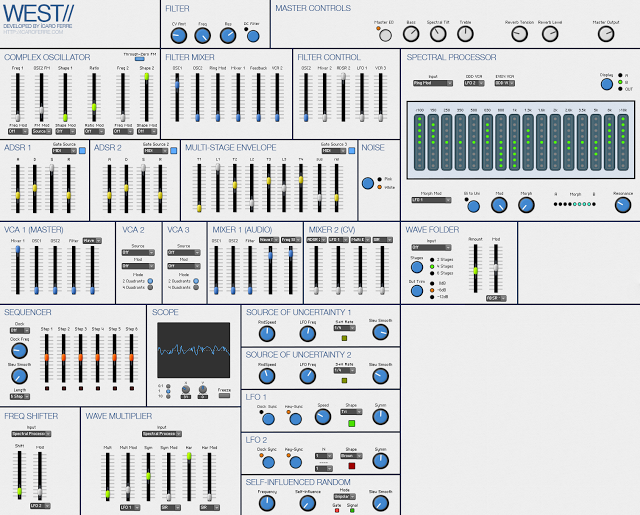 Here's what the developer has to say about it:
Hey guys, since a lot of you enjoyed the 1.0 version, I thought it'd be a good idea to let you know that I've just updated my WEST// Reaktor ensemble.
This new 1.1 version adds a clone of the Buchla 296e Spectral Processor, Wave Folder, Master EQ, LFO Key Sync, new MIDI modulation sources as well as a bunch of bug fixes. Check the link for the full changelog.
Get it for free from the Reaktor user library
WEST// is a west-coast style monophonic synthesizer.
Since there aren't too many of this kind of synths available for Reaktor I decided to try to create something. WEST// was inspired by the sounds of the Buchla modules and the semi-modular workflow from the ARP 2600 synthesizer.
It contains a Complex Oscillator (FM based dual-oscillator), a filter similar to a low-pass gate, 2 ADSRs, 1 Multi-Stage envelope, Noise generator, 3 VCAs, 2 mixers, 1 sequencer, 2 random modules inspired by the Source of Uncertainty, 2 regular LFOs, 1 Self-Influenced Random module, a frequency shifter and a Wave Multiplier.
The workflow on it is a bit particular so here are a few tips to get started:
– The VCA 1 is linked to the Master output and it's always controlled by the ADSR 1.
– The sliders available on the Complex Oscillator behave as offsets when there's no Modulation selected. Once you select a modulation source, the sliders turn into attenuators for the incoming modulation signals.
– Shape 1 and 2 are a bipolar slider