Another demo of the NESizer. Added some new functionalty; now patterns for the square 1 and triangle channels can be added as well, and playing along on the square 2 channel.
Information about the project can be found here:https://github.com/Jaffe-/NESizer2
We teased the upcoming release a couple of days ago and here it is – somewhat faster than we thought the new TeraSynth, details below:
Explore new sound spaces with Tera Synth that go beyond the emulation of synthesizer legends. Use the power of analog and digital synthesis combined with new modules for physical modelling. Wireless patching of modules combined with an intelligible modulation routing simplifies the development of new synthesizer designs from scratch. Distortion effect, Delay/Chorus/Phaser and Reverb effects give your sounds the final polishing. Tera Synth gives your music an individual character with its unique fat sound. The well-designed algorithms and the economical modular structure provides you with a comparatively high voice yield. Precise timing with the unique built-in Arpeggiator let you feel the rhythm.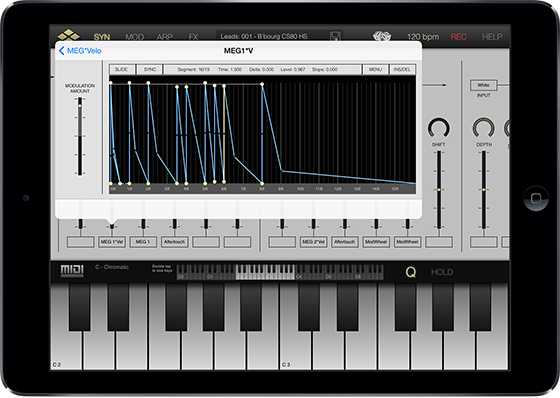 Tera Synth supports Audiobus and Inter-App-Audio for integration with other Music Apps.

Modular Analog Synthesis
• Modular synthesizer with free connections between modules.
• 25 Sound Modules
• 4 Low frequency oscillators
• 4 Standard ADSR Envelope generators.
• 4 Multi Segment Envelopes with tempo sync.
• 64 time/level segments per envelope
• Monophonic or polyphonic with 16 voices.
• More than 920 factory presets, unlimited user presets can be shared.

FX
• Chorus with four delay lines.
• 8 pole Analog Phaser.
• Distortion effect with Tube/Tape emulation
• Stereo Echo/Delay effect.
• Hi end reverberation unit.

Live
• Play melodies live with the onscreen keyboard. Drag fingers for slides and vibrato.
• Optionally use CoreMIDI* compatible hardware keyboard.
• Dozens of scales selectable
• Variable Keyboard layout for scale optimized playing

Full featured programmable Arpeggiator
• Uses programmable sequences with up to 32 steps.
• Can trigger single notes and chords.
• Unique randomizer generates Arpeggios with 100% usability.
• 32 Arpeggios included, unlimited useer arpeggios possible.
• For each step you can program tie, accent, transposition and note order

Global
• Audiobus compatible (Input slot).
• Inter App Audio
• Audio pasteboard. Copy audio recordings to Clipboard for use with other Apps
• Exchange user presets with File Sharing in iTunes.
• Support for virtual MIDI input connections.
• MIDI learn functionality.
• Publish loops and recordings online with the SoundCloud audio platform.
Carson from Dave Smith Instruments presents the Pro 2 synthesizer, at the Summer NAMM 2014 show in Nashville, TN. Enjoy the demo, then click the link above for even more on the Pro 2 synth!
In this radio commentary, Bill discusses the theremin, and how it lead to one the music industry's most fundamental assets, the electronic synthesizer.
This was originally broadcast on December 26, 2000. Visit this link to view complete list of media attributions http://goo.gl/fmGESM.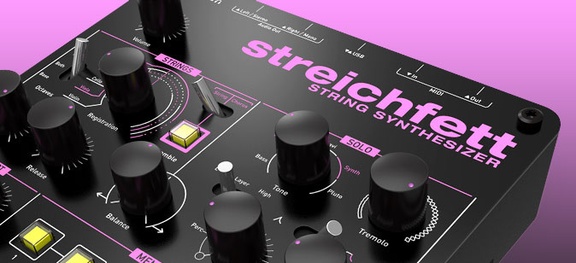 Waldorf has announced the release of Streichfett, a colourful string synthesizer desktop module.
Streichfett combines the best of the previously extinct species of String Synthesizers of the 70s and early 80s. Its dual sound engine features a fully polyphonic strings section and an eight voice solo section, which is essential for recreating how adult movies sounded thirty years ago.
The Ensemble Effect handles lubrication of the String Section, while the Effects section adds adjustable Phaser and Reverb. Additionally, the Animate Effect can be used to modulate the strings registration, allowing spectacular sound morphs.
Streichfett is available for purchase for SRP 279 EUR (including tax).
Checking out Twisted Electrons' AY3 Chiptune Synth.
Features:
64 preset memory (8 banks x 8 presets)
5 pots and 1 endless encoder with push button
40 blue leds
16 step sequencer to sequence notes on/off, pitch and noise on/off
4 Pitch modulation modes (aka lfo)
4 arpeggiator modes
ultra fat 6 voice unison mode with detune knob
6 chords to split the voices
6 voice polyphonic mode
Glide mode
Stereo sound (3 voice per channel/chip)
intuitive 5×6 mode matrix to access and control:

volume, pitch, noise volume, envelope assignments, arp modes, sequencer assignments etc

control of all knobs and other features via midi CC
backlit front panel
The AY3 Chiptune Synth is available via Twisted Electronics for €197.00.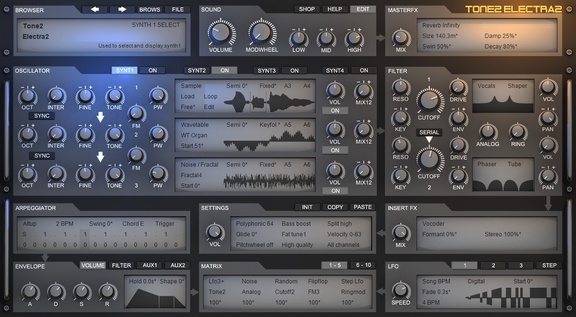 Tone2 Audiosoftware has officially announced the forthcoming release of Electra2, the successor of the ElectraX synthesizer instrument for Windows and Mac.
Coming early July, a major upgrade to our successful ElectraX synthesizer workstation will be released. Equipped with a high quality sound engine, multilayer support and a large range of music production features, yet designed in a way that puts you in control.

Electra2 will have a large number of new features, like a comfortable patch browser to give you an instant overview of all available categories and sounds. 16 new effects, a sample editor, physical modeling synthesis, 5 new filter types, enhanced sound quality, improved user interface and a huge number of further enhancements.
Electra2 features
Over 700 additional patches.
All factory sounds were completely reworked.
Comfortable patch browser.
Sample editor.
Physical modeling synthesis.
16 new effects.
5 new filter types.
236 additional waveforms.
Enhanced sound quality.
New graphics.
Better user interface.
Enhanced performance.
Electra2 is fully downward compatible with the previous version.
A large number of further features and enhancements.
Electra2 will be available in early July, 2014. Until the release, a purchase of ElectraX will come with a free update to Electra2 upon its release
RSF Polykobol 2 demo. 
All tracks are made with the Polykobol, except drums.
Cubase Vst used for the record, and synchronised with Polykobol arpeggiator
About RSF and the Kobol line:
The RSF Kobol was the French synth company's first compact keyboard synthesizer, certainly inspired by the Minimoog. It is a much more compact instrument than the Modular Model 11 series of synthesizers they had been making thus far. It is a monophonic analog synthesizer with traditional controls, knobs, switches and two oscillators for a good solid analog synth sound. Initally released as a keyboard in 1978, a 3-unit rack-mount system was later released in 1979.
Although it is mostly a traditional analog synth with stable oscillators and lots of knobs that allow you to control the ADS envelope, the filter section and the nice LFO, it did offer some unique features for its time. Most notably, the oscillator waveforms can be continuously swept across for a very cool morph from square to saw to pulse, etc. This, as well as note on/off and other parameters can be controlled via CV/gate. External sounds can be processed through the Kobol filter and envelope sections too.
The rack version came in four different components. The Kobol Rack (Expander I) was essentially only the VCO/VCF/VCA/LFO sections of the Kobol in a rack module. The Expander 2 was an add-on to the Kobol that added some new processing modules such as ring modulation, sample-hold, and envelope followers as well as extra VCA and LFO modules. The Programmer rack module contained the memory circuits for storing patches and sequencing. And the KM8 was an 8-channel rack-mount mixer. The connections between modules were normalized but could be bypassed by external patches, similar to other semi-modulars like the ARP 2600 and Korg MS-20.
The Kobol looked and sounded great, and was quickly snapped up by the big names in synthesizers of the time. But being a small French company, RSF were never able to truly mass produce these on the same sort of scale that Moog, Arp, Roland or Korg could. Less than 200 Kobol keyboards were made, around 800 Kobol Racks, 200 Expander 2's, 200 Programmer's and only a handful of the KM8's. This makes them quite rare and quite pricey too!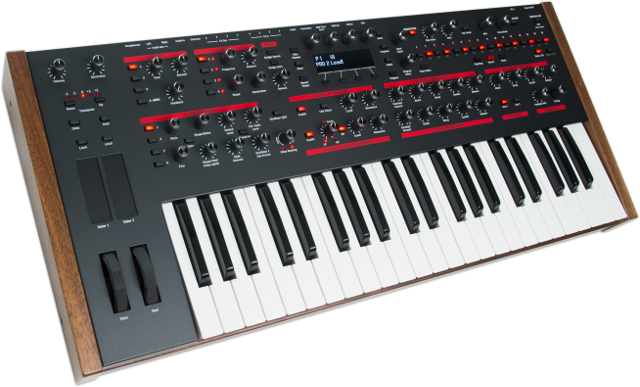 Dave Smith Instruments has introduced the Pro 2, an all-new, feature-rich monophonic synthesizer. "We really raised the bar with this one," said Smith. "As synth geeks, we asked ourselves what our ultimate mono synth would be. Then we built it."
A hybrid instrument, the Pro 2 features four digital oscillators (plus sub-oscillator) with superwaves and newly-designed, dual analog filters inspired by classic designs. The filters (one low-pass and one state-variable) can be run in series or parallel, with the state-variable filter providing low-pass, notch, high-pass, and band-pass modes. Oscillators can be routed in pairs to either filter for a variety of tonal possibilities. "Our new analog filter design gives the Pro 2 a depth and presence that's immediately recognizable," said Smith. "It has a sound all its own—distinctly different from our other instruments such as the Prophet 12."
The full-featured multitrack step sequencer operates in 32 x 8, or 16 x 16 mode and allows real-time input. It can sync to external MIDI clock and can also be driven by an external audio input. Sequences can control not only oscillator pitch, but any parameter in the Pro 2's extensive modulation matrix. It supports both rests and variable-length sequences.
Another notable feature of the Pro 2 is its 4 rear-panel control voltage inputs and outputs, which make it compatible with modular synths. The control voltages can be assigned and routed from within the modulation matrix and can run at audio rates for extreme modulation effects. "A primary goal was to make the Pro 2 as open-ended and flexible as possible," said Smith. "The four control voltage ins and outs really open up a world of interfacing possibilities with other gear. You could almost call the Pro 2 our own mini-modular."
Smith says that the surprises don't end there: "A very cool bonus features is that even though we designed it primarily as a very powerful mono synth, it's actually 4-voice paraphonic—you can play 4 notes simultaneously, if you want to. Add in the super saws, and you've got a very big sound." In paraphonic operation, the 4 individual voices share a common filter and envelopes. Paraphony has gained popularity in recent years and was found in such vintage instruments as the ARP 2600 and ARP Odyssey, which were duophonic.
The feature set of the Pro 2 is rounded out with a multimode arpeggiator; 4 stereo, multi-tap delays with analog modeling; 4 LFOs; tuned feedback; analog distortion; Character controls with sound sculpting options such as Drive, Hack, Decimation, Girth, and Air; and extensive modulation possibilities. The LFOs, delay, and arpeggiator can be synced to either the internal clock or an external MIDI clock. Two programmable position- and pressure-sensitive touch sliders and pitch and mod wheels provide nuanced control over live performance.
"Right now there's a trend of reissuing classic synths from the past. People have been asking for a reissue of the old Sequential Pro-One for quite a while. But as a synth designer, I'm happiest creating new instruments—synths that with every iteration put more power and better sounds into the hands of musicians. The Pro 2 is light years beyond the Pro-One in every way. It's the most powerful mono synth I've ever made. You've got to keep moving forward."
The Pro 2 will be available late July of 2014 with a US MAP of $1,999