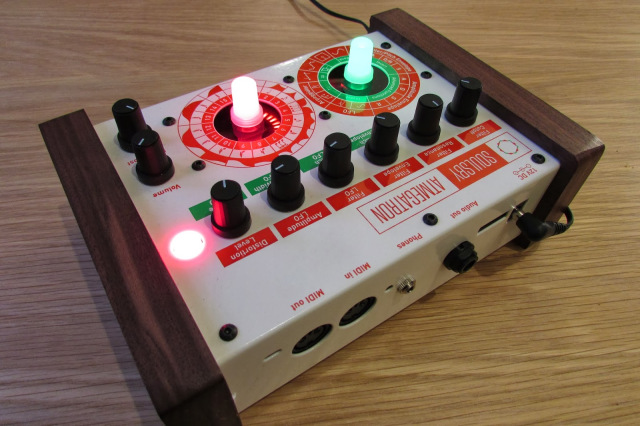 Soulsby Synthesizers has finalized the design of the Atmegatron synthesizer – "a revolutionary new synth module that combines classic 8-bit sounds with exciting new features."
It is expected to be available in February, with PCB and Complete options.
Enjoy
http://livingston-eliptik.bandcamp.com/ https://soundcloud.com/herdmusic
One Yamaha TX81z in performance mode (8 sounds max on keyboard). No Fx, no mastering. Drumkit is composed of basics presets sounds. Heavier bassdrum can be made with editing.
Sequence via computer
Yet another FM synthesizer from Yamaha, this one comes in a compact, multitimbral, 1-unit rackmount module and is basically a key-less version of the DX-11. It has far more professional features than its relative, the FB-01. The TX81Z features great FM type synth sounds similar also to the DX-21 and DX-27. It's still not as good as the classic DX-7, but it's an inexpensive source of those sounds with lots of programmability. Eight voice polyphony, 128 preset sounds, 32 user and lots of functions hidden behind 11 push buttons.
The TX81Z features a new ability to use waveforms other than just a sine wave. There are eight voices that can be split, layered and detuned. Also onboard are pseudo-effects including delay and reverb. These features can be stored as performance setups. The effects are simply envelope and re-triggering effects. The TX81Z works great as a sound-module for any live or studio production. It's got a wider range of sounds than the DX-7, may not be quite as warm or 'classic' sounding, but at its low price and with the excellent MIDI implementation it makes a great alternative or backup synth for percussive, punchy FM synth sounds.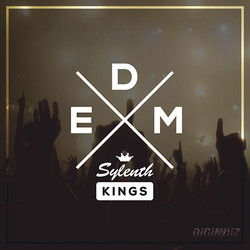 Diginoiz has announced the release of EDM Sylenth Kings, a collection of 65 patches for the Sylenth1 synthesizer instrument by Lennar Digital.
Inspired by the greatest Edm artists like: Hardwell, Avicii, Nicky Romero, Armin Van Buuren, Tiesto , Skrillex, Swedish House Mafia, Afrojack and many more. Made to give You full possibility of creating Your own melodies, sounds and songs!

All You need is the most popular and probably best vst instrument – Sylenth1, Your creativity and our 'Edm Sylenth Kings' package! You will find here 65 great sounding Sylenth1 prests in one fxb file, ready to be imported to Your Sylenth instrument. All in the EDM genre, ready to create the best tracks in You carrier!
EDM Sylenth Kings features
65 presets for Sylenth1 by Lennar Digital.
Includes Bass Synths (14), Chords (10), Drum (5), Fx Sounds (6), Leads (15), Plucks (15).
Requires Sylenth1 v 2.21 or higher.
The soundset costs 20 EUR.
Background video description:
One of the best versatile analog drum expanders currently made. Awsome KICKS, jazzy SNARES, weird dubby FX, the beast electronic CLPAS I ever has and the right mixture of CAMBALS
5 channel analog synthesizer with bassdrum, snare and 3 toms. Each channel features a unalterable factory sound and a variable user sound. It came at the same time with the SDS 7 as its cheaper alternative.
The SDS 8 comes with the same analog filters of its predecessor, the SDS 5. Every knob on the metal chassis is easliy accessable. If you are looking for the classic analog Simmons sound with access to all the nice filters forgoing luxury like user banks, midi or modularity, this is the right machine for you.
Specials: sequencer input, single outputs, stereo out
Background video description:
In fact this is a Simmons SDS-8 module that has two voices not workin (Hi Tom, Mid Tom) and this still knocking out every other synth drum I know that is in production!!
Grab it now at http://sound-guru.com. A trailer and short demo of The Mangle, a new granular synthesizer plugin for AU on Mac and (soon) VST on Windows.
Key Features:
Animated granular display - Visualize your grain stream. Individual grains move across the waveform in real time. Amplitude, pitch and envelope are also represented.
Drag & drop modulation - Creating new modulations is easy – just drag the modulator to its target, then set the amount with in-place markers showing changes.
Resizable vector interface - The Mangle's interface is rendered dynamically as vectors – resize it with no loss in quality. Handy for live performance.
Dual sequencers - The Mangle is also great for making rhythmic patterns. A pair of sequencers can be used to modulate any parameter.
Multiband waveform display - Quickly and easily see where high, mid and low frequencies are in your audio, for clearer sound setup and tweaking.
Multi-timbral - Each instance of the plugin has 8 full 'slots' each with their own audio & parameters. Map them to any MIDI range for multi-timbral patches.
The first additive synth for Propellerhead Reason is now available – the Parsec Spectral Synthesizer. Now, Nucleus SoundLab has released Hyperdrive, the first Reason ReFill created specifically for Parsec.
Here's what they have to say about it:
Hyperdrive contains a full palette of new sounds for Parsec, suitable for a variety of electronic music genres – such as ambient, IDM, trance, or filmscore.  Nucleus SoundLab has employed five experienced sound designers to produce a ReFill of truly varied scope.  Inside Hyperdrive you'll find their work has produced Blade Runner-esque FX, piercing psychedelic leads, glassy sweeping pads, hybrid Parsec/Thor duets as well deep sci-fi atmospheres.
The same quality customers have come to expect from Nucleus SoundLab is well-represented in Hyperdrive:  Unique Combinators with unique Combinator controls; Parsec patches that make up each Combinator are individually available; full categorization of both Combinators and device patches; careful volume-balancing for every single patch.  Together, Parsec and Hyperdrive are the perfect combination to propel your electronic music productions to vast new aural galaxies!


Features:
128 unique Combinators across eight categories
178 Parsec device patches
2 demo songs packed inside the ReFill
All Combinator rotaries/buttons/modwheel uniquely mapped.
Patches designed by veteran Reason sound designers – Adam Fielding, Shaun Wallace, Lewis Osborne, Navi Retlav, James Miles and Jeremy Janzen.
Requires: Parsec Rack Extension.
Here is a synthesizer Gtechture has designed called the Colangelo Ascension, unfortunately only still images in this video but you can listen to the sound, details below:
So far it is in an research and development phase and may never go into production. It is a virtual analog synthesizer with an analog post processing section featuring an analog filter, and a tube drive circuit. It features a powerful 8-track sequencer that can be used to sequence notes or parameters. In multi mode sequences can be layered. If you have any questions or would like to contribute, please email me at giancolangelo@gmail.com
Vintage synthesizer track featuring the classic Oberheim OB-X
all synthesizer sounds: Oberheim OB-X Analog Synthesizer (1979)
drums: LinnDrum
recording: multi-tracking without midi
fx: reverb and delay
A few Kawai K5000S pads from the ASL4 library
About the synth:
The K5000 was Kawai's top of the line music workstation digital synthesizer when it was released back in 1996. It's a bold and elegantly designed synth with a large LCD display, realtime controls and incredible sounds! The look and functionality is rivals the competition from the time…the Korg Trinity and Kurzweil K2500
Programming sounds with the K5000 can be a breeze (once you learn how) although it has over 1,000 parameters per patch! That's plenty to play with. It combines additive synthesis and PCM sampled waveforms for you to layer and combine to design a whole range of sounds. Plenty of LFO modulation, filters and envelope controls allow you to shape and morph your sounds further. On-board multi-effects add the final touch of life to your sounds.
Once you've created some sounds, there's the on-board sequencer (K5000W only) for creating songs or loading Standard Midi File sequences (via disk-drive). It has a 40,000 note capacity and 40 tracks. Real-time record and step-edit modes are available and the sequencer is pretty straight forward.
The K5000S (pictured above) adds 12 dedicated knobs for hands-on control of filter, LFO and envelope parameters. There are 4 user-definable knobs and 2 assignable switches. The K5000S also has a 40-pattern arpeggiator on-board with 8 user-definable patterns too! K5000′s have been used by Kraftwerk.
.