Das Eurovisionssignet kennt jedermann. Dass es auch ganz anders klingen kann, zeigt der Musiker Bruno Spoerri und führt uns gleichzeitig in die Welt des Synthesizers ein. ("Perspektiven" vom 13.4.1972)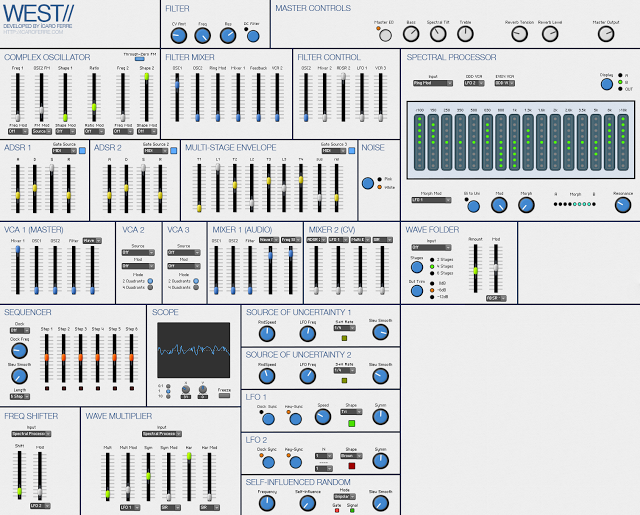 Here's what the developer has to say about it:
Hey guys, since a lot of you enjoyed the 1.0 version, I thought it'd be a good idea to let you know that I've just updated my WEST// Reaktor ensemble.
This new 1.1 version adds a clone of the Buchla 296e Spectral Processor, Wave Folder, Master EQ, LFO Key Sync, new MIDI modulation sources as well as a bunch of bug fixes. Check the link for the full changelog.
Get it for free from the Reaktor user library
WEST// is a west-coast style monophonic synthesizer.
Since there aren't too many of this kind of synths available for Reaktor I decided to try to create something. WEST// was inspired by the sounds of the Buchla modules and the semi-modular workflow from the ARP 2600 synthesizer.
It contains a Complex Oscillator (FM based dual-oscillator), a filter similar to a low-pass gate, 2 ADSRs, 1 Multi-Stage envelope, Noise generator, 3 VCAs, 2 mixers, 1 sequencer, 2 random modules inspired by the Source of Uncertainty, 2 regular LFOs, 1 Self-Influenced Random module, a frequency shifter and a Wave Multiplier.
The workflow on it is a bit particular so here are a few tips to get started:
– The VCA 1 is linked to the Master output and it's always controlled by the ADSR 1.
– The sliders available on the Complex Oscillator behave as offsets when there's no Modulation selected. Once you select a modulation source, the sliders turn into attenuators for the incoming modulation signals.
– Shape 1 and 2 are a bipolar slider
Here is a very serious review and sound demo of the Dirty Electronics Mute Synth I, a handheld noise synth with a twist … or tilt. More info below. Subscribe: http://www.youtube.com/subscription_c…
The Mute Synth is controlled by bridging connections with your fingers. It's a weirdly fun noise maker and I'm looking forward to the Mute Synth II, which is just around the corner. What do you think?
Official Websites:
http://dirtyelectronics.org
http://www.mutebank.co.uk
The Dirty Electronics Mute Synth II (MSII), is a hand-held synth and sequencer designed in collaboration with the designer and writer, Adrian Shaughnessy. The MSII follows the first Dirty Electronics Mute Synth (MSI), originally created for the legendary Short Circuit presents Mute event at the Roundhouse in 2011.
MSII's elegant design and focus on usability pushes through a pick-up-and-play approach, with switches and knobs, in conjunction with the touch controls inherent in the MSI, to enable complex and infinite rhythms and sounds to be created simply.
Mute Synth II comes with a selection of works created using the synth by artists associated with Dirty Electronics and Mute.
Mute Synth II is available to pre-order now from: http://www.mutebank.co.uk/mutebank/3J…
http://mute.com/
http://www.dirtyelectronics.org/
Features:
Designer circuit board
Noise generator
Feedback
Oscillator
Wave-shaping
Buffered output
Sequencer
Touch and pot control
Mini patchbay
Headphone/line output
Mute Synth II comes with a selection of works using the synth, by artists associated with Dirty Electronics and Mute. The CD features Chris Carter (Throbbing Gristle / Carter Tutti Void), Simon Fisher Turner, Dominic Butler (Bronze Teeth / Factory Floor), Kidanevil, Dirty Electronics and more.
Interview 2014
Daniel Miller showing Minimoog, Pro One, TR 808 / 909 and even the Anyware Tinysizer – shown on the last modular synth meeting – as well as  polivoks, System 100m and SE1X along with Microwave and Matrix 1000 by Oberheim and Arp Sequencer.
Introducing our newest Tabletop ready phase distortion synthesizer, currently codenamed "Digits." Louis, from the Adventures in Funk, is back to demo the prototype. Stay tuned to see Digits in development!
Wej needs you! Help support wej by pre-ordering yours and get 20% off. Get Wej for just $99.00 through November 7th preorder.retronyms.com
Follow Retronyms
http://www.facebook.com/retronyms
http://twitter.com/retronyms
The Build is a semi-regular series of videos showcasing what's in development! Take a peek behind the scenes at our new tech and latest progress in Audio and Music creation.
Vintage synthesizer demo track
all sounds: YAMAHA DX7 II FM Synthesizer (1987)
drums: LinnDrum (1982)
recording: multi-track without Midi
fx: reverb and delay
Vintage Synths at Arturia HQ in France – 15th anniv.
Tom demonstrating his new (old) Moog Sonic 6
The Sonic Six is an interesting, although obscure synthesizer from the Moog history books. Its predecessor, the Sonic V, was designed by an ex-Moog employee for the muSonics brand. When muSonics eventually bought out R.A. Moog, forming Moog muSonics, the Sonic V's basic design was moved into a portable brief-case style synthesizer, and with only a few tweaks, the Sonic Six was born.
The fact that the Sonic Six originated from another company's design not only accounts for why the Sonic Six looks different than any other Moog, but also for some pretty unique differences under the hood as well. To start, it is duo-phonic, utilizing two analog oscillators with three basic waveforms each plus tuning, modulation and scaling controls. There are two independent LFO generators with advanced control options not seen on other Moog synths (for instance, an X/Y knob is used to mix and balance the LFO outputs). Also on-board is a Ring Modulator (that can modulate either Osc. B or external audio) and pink/white noise generators.
Moog synthesizers are known for their filters, and the Sonic Six strays from the usual Moog in this area as well. While it is known that ARP stole a filter design from Moog for use in some of their 2600 and Odyssey models, leading to lawsuits between Moog and ARP, according to Mark Vail in "Vintage Synthesizers," the Sonic Six actually used some circuitry in its filters which were stolen from an ARP design, although ARP never sued Moog over it. However, later models of the Sonic Six were eventually fitted with a more traditional Moog designed filter. In either case, the filter is a low-pass 24dB/oct which offers the usual controls and is capable of self-oscillation. The VCA, however, has a rather limited set of controls – attack and decay plus a sustain on/off switch.
Not commonly seen, they are actually rather durable devices and used ones generally (if proper care was taken of them) are found in good working order. It was originally designed for educational and home use so it is light and portable and even has a built-in amplifier and speaker. It's a genuine Moog synth that is equally as obscure as useful these days. And its rather simple looking front-panel layout hides the uniquely flexible, powerful and great sounding little beast it truly is!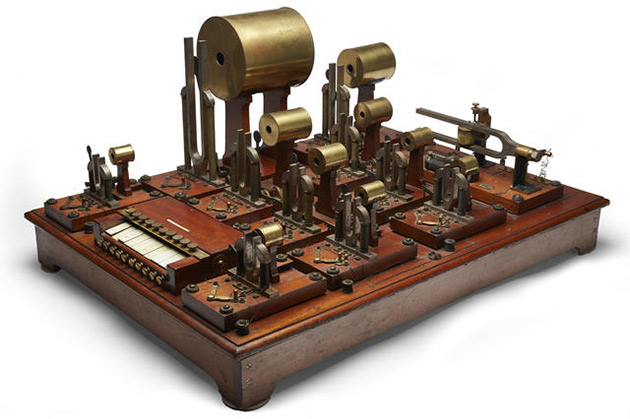 A "bargain" – if we may say so 😀
But it sure is a beauty !!
Abstract:
When Hermann von Helmholtz designed what was essentially the world's first electric keyboard, he didn't do out of a need to lay down crunchy riffs on the shores of the Rhine. What he needed was a way to generate tones and mix timbres in a bid to better understand the musicality and substance of vowel sounds. He ultimately came up with a series of electrically activated tuning forks hooked up to brass resonators, and now you can try to own one of your every own… assuming you've got between at least $20,000 burning a hole in your pocket. This particular unit — hewn of wood and keys whittled from African ivory — wasn't made by Helmholtz himself, but it is one of the few remaining examples of such 19th century tech still in existence. To hear auction brokerBonhams tell the tale, there's just one other floating around the United States (another seems to be in safe hands at the University of Toronto). Intrigued? The Helmholtz synthesizer will go up for auction in New York come late October along with a slew of other scientific curios from back in the day.