Vintage Yamaha PS-20 analog keyboard connected to iPad using Apogee Jam interface, played through Crystalline. Also features iOS apps Animoog, Audiobus and Arturia iSEM. No other effects or processing done.
Crystalline: Shimmer Effects Processor for iPad
http://crystallineapp.com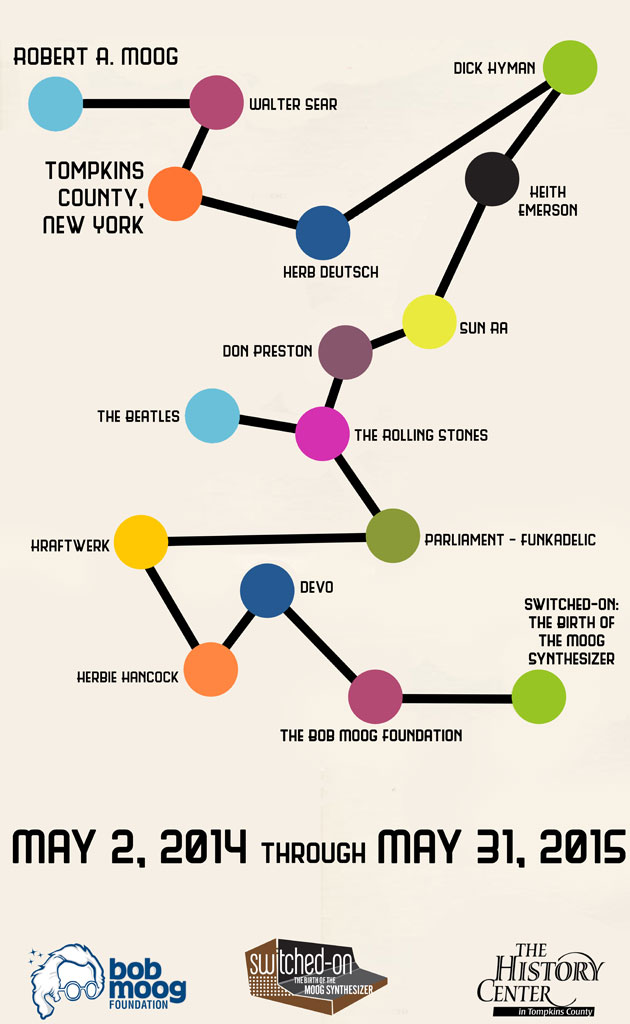 The History Center in Tompkins County will open the highly anticipated exhibition Switched-On: The Birth of the Moog Synthesizer on Friday, May 2nd. Telling the story of Bob Moog and the development of the groundbreaking electronic instruments bearing his name, Switched-On will provide museum-goers an interactive, engaging opportunity to learn about this important chapter of our region's history. Based on a series of wide-ranging oral history interviews done with family members, colleagues, and contemporaries, and done in partnership with the Asheville, N.C.-based Bob Moog Foundation, the exhibition provides unparalleled insight into the unique genius of Bob Moog and the ways in which he ushered in a revolution in music. Switched-On is the first major exhibition on Bob Moog and Moog Synthesizers to occur in the region, and will run through May 31st, 2015.
First Friday Gallery Night
Friday, May 2nd, 2014
5:00 – 8:00 p.m.
The History Center
More info on the museum here – http://www.thehistorycenter.net/thc_exhibits/2014/moog.php and more info on The Bob Moog Foundation here http://moogfoundation.org/.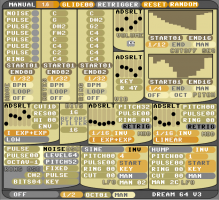 Odo Synths has announced the release of version 3.0 of Dream 64, the free Chip Synth VST instrument plug-in for Windows.
Dream 64 is not an SID emulator, but it's a plug-in that can recreate sounds that are used in chip-music. It's inspired by the SID chip from the old but good Commodore c64 but with some extra features for fun.
Main features:
All sequencers have a start and end loop but start always at step one.
Start-step never can be higher than the end.
Every sequencer has its own BPM rate or all have one manual rate.
8 step Wavetable sequencer with audio on/off (gate effect).
8 step Arp sequencer notes from c to c3 and one c4 note.
8 step Ring modulation sequencer notes from c to c3 and one c4 note.
A Bitcrusher only for the ringmod. This is nice if you use the Wavetable.
16 step easy to edit filter-sequencer. Can be used for nice bass sounds because it has an end step (will sustain).
Waveforms for the oscillator are saw, triangle, pulse, noise, ringmod mode. The noise is very special – it can be pitched by key or fixed.
Oscillator octaves from -3 to 2.
Ring modulation oscillator notes from c to c3 and one c4 note and a bitcrusher (this is nice for the wavetable sequencer).
2 LFOs with 21 waveforms BPM rates and manual with inverter.
The LFOs can start (key sync) (host sync) and (free run).
Destinations of the LFOs are pitch/pulse/ring osc and Filter.
2 modulation envelopes with inverter and BPM retrigger.
Destinations Pitch/pulse/ring modulation.
Filter Envelope can be switched to the filter sequencer.
filters lowpass/hipass/bandpass/low and hipass/band and hipass/band and lowpass.
Random for most of the controls.
Reset most of the controls.
Double click is reset for most of the controls.
Bitcrusher before and after filter.
Dream 64 is a free download at http://chips.site90.com
Video by LickMyKazoo (www.lickmykazoo.com)
Drum programming, mixing and all synth tracks performed by Kostis Tsioulakis
(https://soundcloud.com/kostistsioulakis)
Synthesizers used: murmux initiate, semi-modular and pedalsynth
(http://www.dreadbox-fx.com/synthesize…)
Delay used (on lead track only): Dreadbox Sonic Bits
(http://www.dreadbox-fx.com/sonic-bits…)
Recorded directly through an RME fireface 400, no aditional effects, eq, compressor or filters used (except for the drum track)
controller used: Keith McMillen QuNexus
(http://www.keithmcmillen.com/qunexus/…)
Original track covered: "Revenge of the Black Regent" by Add N to (X),
Avant Hard, Mute Records Ltd, 1999
This is a demo of the Soulsby Synthesizers ATMegatron 8-bit synth. Enjoy!
Torn Sub has released Byron, a VA-style organ synth for Windows that offers 3 oscillators with a 50 waveforms sound engine in each. Each sound engine has a secondary engine which gives the ability to morph the driving waveform to another one and to combine the whole 3 oscillators together, so that method can create a wide range of organ sound combinations.
Apart from the engine, each oscillator has its own sound engine designing section, envelope, powerful 5 states filter (low pass, high pass, band pass, band reject, peak) with its own envelope, 2 LFOs (one for the amp, one for the filter) and 3 built-in effects: equalizer, tube and bass tube, so in fact, every oscillator can perform as a complete instrument. Each oscillator also has its own ability to send itself to each of the global effects directly from the synthesis section, with only a single button press.
Byron reduces the use of the mouse to the necessary minimum as it has been built according to the "one click" approach and is suitable for touch screens. No matter if it comes to choosing a new preset or just leaping to another section, everything is bright and clear and done with only one click. This approach is particularly evident in the preset manager section: In addition to the traditional method, every preset gets its own knob on the panel with its name on it, and will help to find sounds easily and efficiently, with only on one single click.
Byron is equipped with 8 master effects (tube, bass tube, overdrive, phaser, chorus-flanger, reverb tremolo and delay) alongside a wide MIDI section.
The MIDI section contains some new features like "octaver" effect, MIDI limiter (limits the maximum velocity gain to a specific value), Fixed velocity (plays any note with a specific velocity), a separate "MONO MODE" with portamento effect for each oscillator, "MIDI learn" possibility for every Significant knob and "MIDI split" that splits the user's keyboard into 2 ranges, low and high, allows the user sending each of the 3 oscillators to a selected keyboard range with only one button press.
Byron gives the possibility to combine the beloved drawbars method and obtain an organ playing experience with 9 drawbars that divide the frequency spectrum into 9 frequency ranges. The user may choose to turn on\off sending each oscillator's signal via drawbars separately from the oscillator's synthesis section with only one button press.
Pricing: For 39$, customers will get licenses for three computers on the first purchase for both Windows VSTi and stand-alone versions. Each extra license for both versions will cost 13$.
Find out more at www.tornsub.com
A demonstration of some of the sounds available from the legendary Wasp synthesiser.
The Wasp is a quirky little synthesizer that, despite its toyish look, is a quality instrument capable of fun and funky analog sounds. It really is black and yellow too, just like the insect it is named after. Probably its most distinguishing feature is the 2-octave keyboard which uses non-moving touch-sensitive keys. The flat little keys are sensitive only to your electro-static touch. It's a nifty technology for 1978, but in reality they are unreliable and difficult to play. Other unique touches include a little speaker built-in to the synth and EDP's own pre-MIDI connector ports for linking it to other Wasps and EDP gear.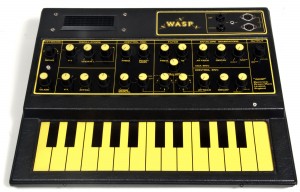 A look under the hood, however, reveals some nice surprises. The WASP is monophonic and powered by two digital oscillators supported by analog filters, envelopes and controls. This makes it one of the earliest compact digital/analog hybrid mono-synths, and it sounds great! The Wasp offers flexible subtractive synthesis. It's pretty easy to dial up some cool bass, synth, and other classic monophonic sounds. Its designer, Chris Hugget, also designed the Oxford Synthesizer Company's venerable OSCar Synthesizer.
Later versions of the Wasp included the Wasp Deluxe (released 1979) which had all the features of the original plus a standard 3-octave keyboard, wood panels, an oscillator mixer, an external audio-input, a larger built-in speaker, and battery operation. It was definitely redesigned for the practical musician. There was also the Wasp Special (released 1981) which also came with wood panels, a black and gold color scheme, and an internal power supply, but no built-in speaker and a return to the 2-octave touch-sensitive keyboard design. EDP also produced a heavily modified Wasp that was built into a guitar-form called the Keytar. It had a 2-octave keyboard with transpose and portamento buttons on the neck. However, only two Keytars were ever made as far as we know.
The rest of EDP's wild world of synthesis includes the Spider, a 252-note step, or 84-note real time digital sequencer designed to control the Wasp. The Caterpillar which is a 3-octave master keyboard for controlling up to four inter-connected Wasps played polyphonically. The Gnat which is a smaller, single-oscillator version of the Wasp that could also be linked to another Wasp to form a makeshift triple-oscillator synth playable from either keyboard (the Gnat also came in three versions similar to the Standard, Special and Deluxe models of the Wasp). All EDP instruments could be inter-connected via their own pre-MIDI style connection interface. While the Wasp and it's fellow insects may seem quirky and even toy-like, their sound, technology, flexibility and portability make them surprisingly good instruments that can still be found in use today.
.
Demo of the Kawai K5000S advanced additive synthesizer, running OS ver.4.04. A beautiful-sounding, different, powerful and distinct synth from 1996.
Horus is something between a string-machine and a poly synth.
It can generate impressive and inspirative pads.
Full MIDI learn
64 voices polyphonic
FREE
Download link: http://bserrano.free.fr/vsti/Horus.zip
Features
– Create powerful noisy rhythms and unpredictable sounds
– Portable design in wood and acrilic
– Sync by Clock, lead or follow the pitch
– CV output
– Stereo oscillators output
The Sismo Qad4 is a portable squarewave generator with four analog oscillators, ajustable by pitch potenciometers, built in amplifier and output, powered by batery or external power source. The Sismo Qadrox is a squarewave generator with four analog oscillators built in eight step sequencer, input to external clock, CV and sync outputs. The audio outputs have two options, one mono by the 3/4 inch (guitar plug) and RCA stereo, split the oscillators two per each side.
Front panel have nine potenciometers, is the CV sequencer (0-5 Volts) controlling the sound generator. The potenciometer in the middle is the sequencer pitch control.The lower panel have an external clock input and the clock output, internal or external and the CV sequencer output. The one switch change completely the sound generator, increment some sweeps, noises and lfos, charge and discharge capacitors. The another switch is a sequencer reset.
Specifications
Polyphony: monophonic
Oscillators: Four fixed oscillators square/pulse
Control: CV in-out, Clock in-out
Power source: 12 Volts (center positive) (Not included)