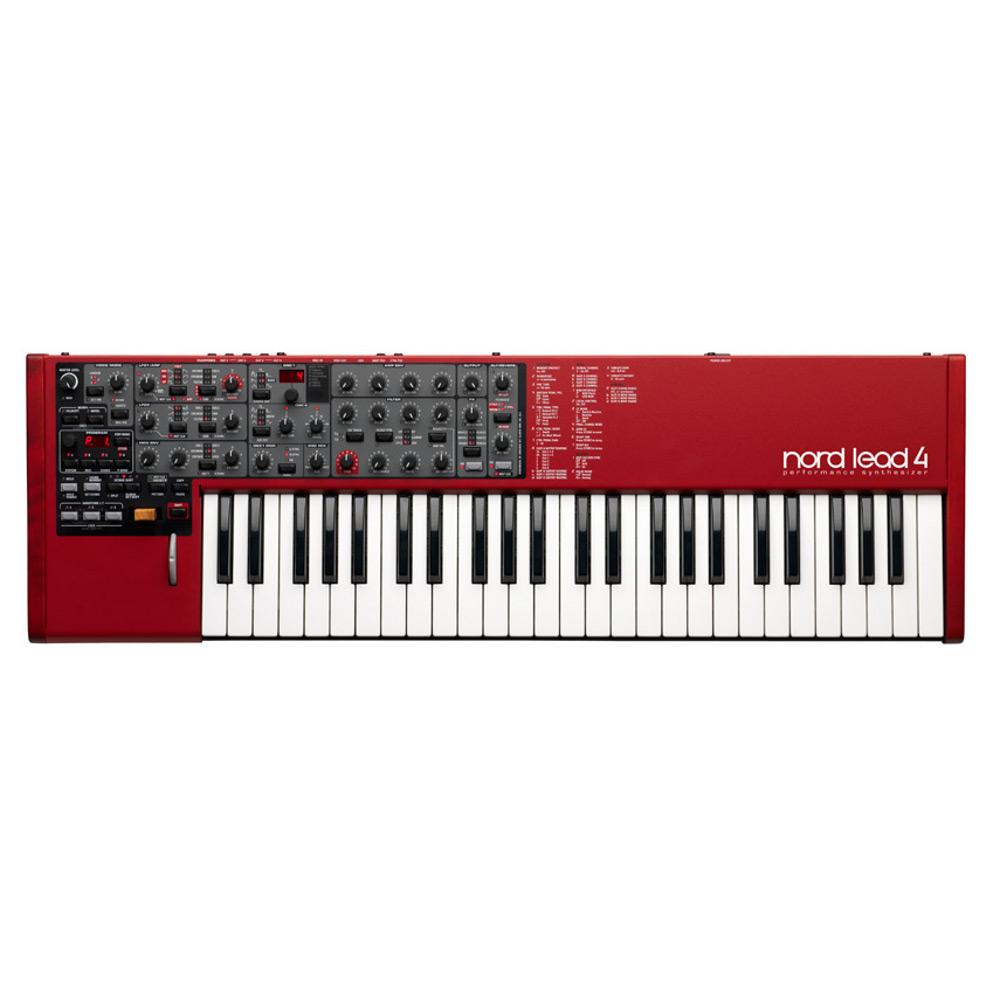 Nord has announced six new artist sound banks for the new Lead 4 and Lead 4R are now available for free download. They tell us that six very different sound designers have created a wide range of new sounds covering everything from classic analogue vintage leads and pads, FM pianos, evil distorted rave basses and complex performance patches with multilayered synchronized arpeggiating monsters and much more.
The sound creators are ASL SoundLab, Federico Solazzo, Åke Danielson, Palle Dahlstedt, Kristofer Ulfves and Ulf "Vinyl" Stenberg.
The sounds are compatible with the Nord Lead 4 and the Nord Lead 4R and are transferred using the Nord Sound Manager.
Free download from the Nord Lead 4 Program Library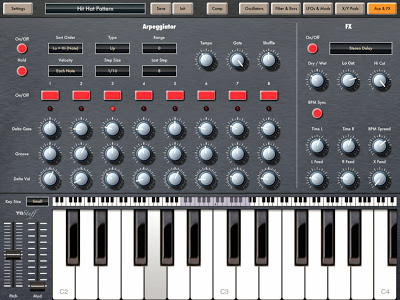 A new synth for your iPad arrives. Here's what iTuttle is all about:
iTuttle is an Awesome Fat & Warm Subtractive Monophonic Synthesizer. Fat by Design with its 9 oscillators section, all waveforms (but Sinus with oscillators) use generalized PWM (called "Ratio"), so you can tune/modulate the waveform of each oscillator / LFO. Its huge modulations capabilities lets you create a very large sound styles. The arpeggiator includes an 8 steps sequencer and lets you mute, change the gate duration, the groove and the velocity of each step. In addition, you can use the global Shuffle to humanize your arpeggios.
Specifications :
9 Oscillators section organized on 3 Oscillator Modes (8 waveforms)
White Noise
Full Stereo path (from Oscillators Section to FX)
24dB/oct Filter (Low Pass, Band Pass & Hi Pass)
3 Envelopes
2 LFOs (11 waveforms with Generalized PWM, even with Sinus/Cosinus)
2 X/Y Pads
8 Modulation Slots (20 Sources and 67 Destinations !!!)
Arpeggiator with Shuffle/Groove and Step Controls
Stereo Delay with delay time modulation capability
Full MIDI implementation
Background Audio
Korg WIST support
User Bank sharing with Mail/Safari
The app is priced at $9.99
The Well-Sequenced Synthesizer is a series of sequencers that are designed to be physical interfaces to play with traditional music theory. The sequencers were created by Luisa Pereira, a research fellow at NYU?s Interactive Telecommunications Program. The Counterpointer, below, is a cross between an electronic arpeggiator and a baroque music rule book. It takes a melody input and responds with voices that follow the rules of counterpoint.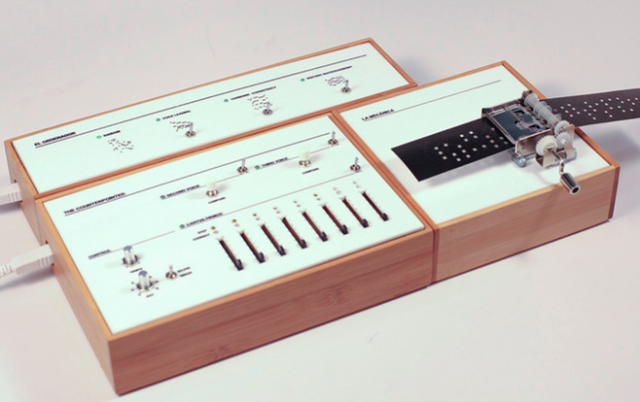 El Ordenador carves chaos into order by applying constraints to randomly generated chord progressions, inspired by the features of tonality described by Dmitri Tymoczko in A Geometry of Music
This is an in-your-face review of the Oberheim Drumulator Audio Synthesizer (Waldorf Micro Q + Novation X-Station 25).
This was the first Gluten Free iPad Synthesizer App from 1977.
The JD-800 is Roland's answer to half a decade of hard-to-program synthesizers. Covered in sliders that act as dedicated editors just like a classic analog synth, the JD-800 is an extremely programmable and hands-on digital synthesizer. It is also an interesting and great sounding digital synth with incredible flexibility and control. Internal ROM based waveforms are combined to build your sounds. The sounds are based on Roland's D-50, but updated for the nineties with multimode filters – uncommon but welcome at the time.
The JD-800 came in a tough metal case capped off on the sides with large plastic covers. Programming may be a little too flexible for some users, but once you know what you're doing with it, almost any sound you can dream up can be dialed in and stored.
Vintage synthesizer demo track by RetroSound
"Back In 1972″
all synthesizer sounds: ARP Odyssey Mk3 analog synthesizer
recording: multi-tracking without midi
fx: a bit reverb and delay
He used the internal LFO with the sample/hold modul for triggering the sequence. for the sounds: FM, Osc-Sync and Ringmodulator.
Affordable, fully programmable poly synth with a 100% analog signal path.
Classic, real analog sound—including legendary Curtis analog low-pass filter.
Four-part multitimbral capability with four separate outputs.
Combo Mode for huge unison patches, stacked sequences, and "modular-style" poly sounds.
Expandable: poly chain with other Tetras, Prophet '08, and Mopho for expanded polyphony
Just 7.9″ x 5″ (20.07 cm x 12.7 cm).
Free editor for Mac OS and Windows.
Tetra Product description:
Tetra is our next-generation analog poly synth. Tetra takes the award-winning sound and features of Mopho, multiplies them by four, and packs them in a box less than half an inch larger!
Tetra has multiple personalities. It is a four-voice, analog poly synth, a sort of "mini Prophet." It's a four-part, multitimbral synth with separate outputs, essentially four Mophos in one very compact box. And it's a voice expander for other Tetras or the Prophet '08.
Outside the Box
Physically, Tetra is similar to Mopho, with four assignable parameter controls per program and a row of controls dedicated to the most commonly used performance parameters. All of the parameters can be accessed from the front panel and Tetra is fully programmable. A free, downloadable editor is available for Mac OS and Windows to facilitate more comprehensive tweaking.
Most of the rotary controls are detented encoders, but Cutoff and Resonance are potentiometers, allowing full sweeps with a single turn. The Push It button is a manual trigger to play notes and latch sequences on without the need for a MIDI controller.
Audio is output in mono, stereo, or per voice, via the four audio output jacks. There is also a headphone out. MIDI communication is by standard MIDI in and out jacks or USB. Poly Chain Out is a special, dedicated MIDI output to chain multiple instruments for increased polyphony.
Under the Hood
The voice architecture is based on the Prophet '08, but with the addition of a sub-octave generator for each oscillator and a fully programmable feedback loop for each voice. That breaks down to two DCOs, a resonant low-pass filter, three DADSR envelope generators, four LFOS, deep modulation routing, an arpeggiator, and a 16 x 4 analog-style step sequencer per voice. Feedback is capable of producing effects ranging from mild distortion to fairly extreme harmonic instability. (That's a good thing.) The possibilities are nearly endless. And the audio signal path is 100% analog.
Tetra a la Mode
In Program Mode, Tetra is a four-voice, polyphonic synthesizer with four banks of 128 programs. As with the Prophet '08, each program contains two layers—each layer is essentially a separate patch—that can be used to create keyboard splits or stacked sounds. Banks 1 and 2 are the Prophet '08 factory programs; banks 3 and 4 are a combination of Mopho and new programs.
In Combo Mode, a different program can be assigned to each of the four voices. Combos can be used for mammoth unison patches or for triggering up to four different 16 x 4 sequences—each with its own program—simultaneously. Combos can also be used to create "modular-style" polyphonic patches, where each voice plays a different program, with a slight variation on the same sound or even a drastically different sound.
In Multi Mode, Tetra becomes a multitimbral sound module capable of playing four monophonic parts on four MIDI channels, with separate outputs for each voice. Coupled with a MIDI sequencer and DAW, Tetra can play complex arrangements or analog drum parts with each part individually processed and recorded to its own track.
This One Goes to 12…and 16
Up to four Tetras can be poly chained for eight, twelve, or sixteen voices total. When used with a Prophet '08, up to two Tetras can be poly chained for a maximum of sixteen voices. In addition, the Prophet's front panel controls map directly to almost all of Tetra's parameters, so the Prophet acts as a programmer and control surface. And a Mopho can be connected to Tetra's Poly Chain Out for five-voice operation.
Demo from the Korg Delta Vintage analog synthesizer/string machine.
Korg's Delta is an analog semi-poly synth/string machine, basically a slimmed down version of the Korg Trident. Though limited in the range of sounds compared with other synths of the same genre, the sheer quality of the sound from this little beastie really does make it something of a marvel. It can be found used for cheap and is worth it for the retro synth strings and fat bass synth tones.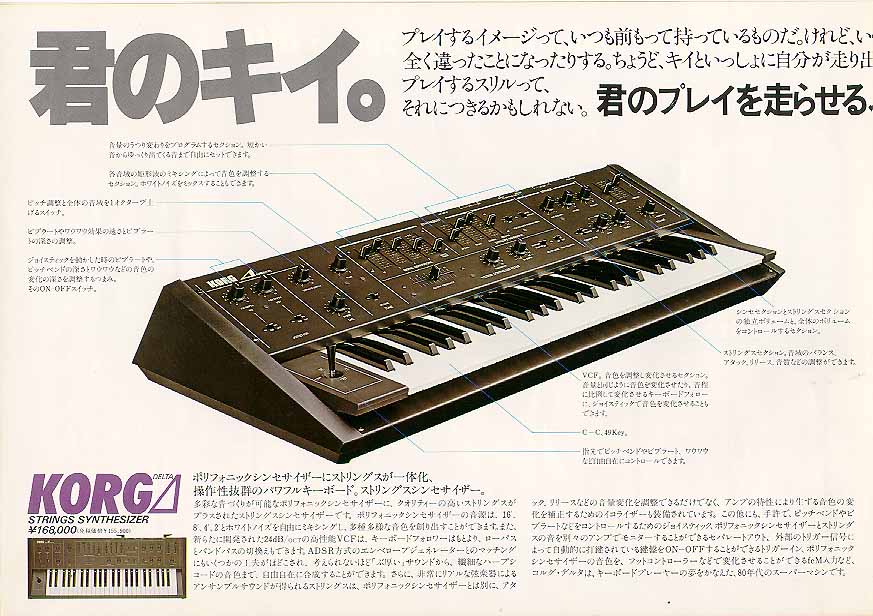 The synth is split into two sections, Strings and Synth, for which there are separate audio outputs along with a combined output for headphones or mixing. Each section has its own controls. The String section has two pitch sliders (16′ and 8′) along with two tone controls (Bass and Treble) and variable Attack and Release controls to modify the sound. The Synth section has four pitch sliders (16′, 8′, 4′ and 2′). There is also a white noise generator along with a very effective 24dB/oct low pass filter (high pass and band pass options are included too) and full ADSR controls. The synth has no memory storage or MIDI, however it does has voltage control and gate ins and outs.
The string sounds are very basic but with its separate outputs and when mixed together with the polysynth you do get that classic 'layered' sound which is useful enough on this synth; and it's fully polyphonic, so you wont be running out of notes! There is a handy joystick to the left of the 49-note keyboard for pitch bending and modulation capabilities. The construction is solid and heavy partly due to the implementation of a wooden base but also because it was designed for heavy usage on the road. Added bonuses: noise modulation, stereo out (strings/synth split), and the ability to combine synth and strings or turn off oscillators in the mixer section.
A little demonstration of the early RA Moog Minimoog from 1972, the italian group PREMIATA FORNERIA MARCONI. You can see plexy wheels, squared bottom case and fat sound of the old oscillator board
Released in 2003, the V-Synth was a new flagship synthesizer from Roland debuting some of their coolest features of the time, allowing for a new world of sounds full of life and motion. The V-Synth combines multiple oscillator technologies, user sampling and new COSM filtering for incredibly dynamic new sounds. The user has realtime control of a waveform's pitch, time and formant plus a killer arpeggiator and a host of realtime controllers including the revolutionary TimeTrip Pad and twin D-Beam controllers. All this leads to sounds that can move, morph, evolve and sound totally unique.
The V-Synth has dual oscillators that offer a choice of three different synthesis methods: analog modeling, PCM waveforms with user sampling, and external audio input processing–all with up to 24-voice polyphony. The PCM oscillator is powered by VariPhrase for complete sonic control. Choose from over 300 preset waveforms or sample your own. Then use the "TimeTrip" function to manipulate a waveform's time aspect in any way you wish. Slow it down to uncover rich moving harmonic content; speed it up to create high-speed tonal motion; freeze it at your favorite spot; or rewind it backward at any speed without changing pitch and formant, which can also be independently controlled. The Analog modeling offers several fat-sounding analog style waveforms. The third oscillator type is External Audio Processing, which lets you process any signal arriving at the V-Synth's analog inputs. All three oscillator types can be layered and mixed in several ways, or modulated using FM, ring mod and oscillator hard sync.
All programming is achieved via the large LCD Touch Screen plus a bunch of hands-on controls and knobs including the new TimeTrip Pad, twin D Beams and the velocity/aftertouch sensitive 61-note keyboard. While you can independently manipulate the pitch, time and formant of sampled waveforms using VariPhrase technology there is also powerful COSM processing offering analog-style filter modeling, a resonator and Side Band Filter, plus global reverb, chorus and multi-effects. The V-Synth's programmable arpeggiator can modulate sound parameters to provides additional rhythmic and timbral controls.
The V-Synth is fully suited to the modern day studio as well, with analog I/O and MIDI ports supplemented by USB and digital S/PDIF I/O ports. Use the analog or digital inputs to sample your own waveforms to be used in the variable oscillator. You can even exchange .WAV and AIFF files via the built-in USB port, which also works for MIDI. Resampling is also possible, allowing users to capture any performance with the TimeTrip Pad, D Beam or arpeggiator – or even effected sounds – as an entirely new waveform. All Preset Patches are fully re-writeable, giving users plenty of space for their own creations, which can also be saved via USB to a computer or to an optional PC card. With PC card adapters, other media such as CompactFlash, SmartMedia and MicroDrives can also be used.
Additionally, with V-LINK Onboard Video Control users are allowed playback and performance of video clips with music created on the V-Synth via the Roland DV-7PR Digital Video Workstation (sold separately). Use V-LINK to trigger different video clips with V-Synth's keyboard while using the bender to change playback speed. Using the TimeTrip Pad, you can scan a clip forwards or backwards with your finger, or change colors using the Twin D Beams. A totally unique feature perfectly suited for live use.
The V-Synth GT was later released in 2007 which adds Roland's Vocal Designer technology with revolutionary Articulative Phrase Synthesis technology. Articulative Phrase synthesis recreates the ever-changing behavior, nuance and sound of an instrument as it's being played. The results are stunningly expressive and realistic, and can be applied to acoustic instrument simulation as well as new, never-before-heard sounds. In a nutshell, it lets acoustic instrument sounds such as a violin sound like it's being played with a bow rather than keys on a keyboard. New front panel features include a color touch-screen with eight universal control knobs, and the addition of dedicated buttons and sliders to make access faster and easier. The GT could also has a maximum 28 voices of polyphony.