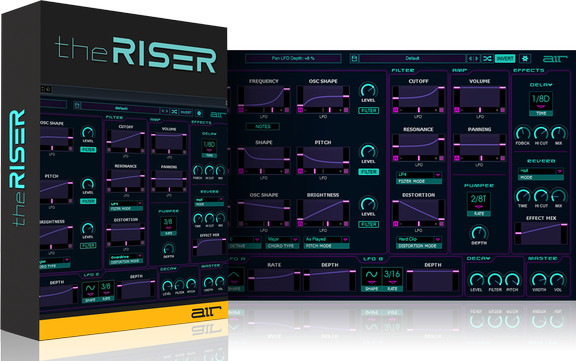 AIR Music Technology has introduced The Riser, a synthesizer instrument designed for creating powerful transitions with electronic dance music producers and DJs in mind.
A powerful, synth-based instrument, The Riser features all of the tools you need to compose heart-stopping transitions in one intuitive user-interface. In seconds, you can construct rises, falls, swells, fades, and more, based on our coveted sound synthesis technology. For instant inspiration, The Riser includes 300 pro-grade presets that you can edit, deconstruct, copy, mangle, and implement into your tracks.

Transitions add suspense, hype, drama, and movement to your music. Cymbal swells and reversed instruments were go-to transitions for years, until the DAW pioneered fast and flexible audio editing, paving the way for complex sound effects. When combined with synths and other audio shaping tools, transitions completed their metamorphosis from science to art. Until now, this process has convoluted and time-intensive, taking attention away from the overall project itself. The composer spent more time trying to get plugins, virtual sample players, hardware effects, sound modules, and other gear to play nice with each other – and that was before hitting "record".
The Riser features
Transition designer optimized for electronic music production, scoring, and remix work.
3 editable oscillators; sweep, noise, and chord.
3 LFOs; free-running, tempo-synced, and Pumper.
23 filter types including multi-pole and phase shift.
300 professionally designed, editable presets.
Randomizer generates patches at the click of a button.
Invert mode creates complementary patches by instantly changing transition direction.
Easy MIDI-Learn Mode; just click and twist to assign parameters to your favorite MIDI controller hardware.
Pumper effect creates pulsating movement.
Configurable delay and reverb with wet/dry processing; 4 reverb types.
Adjustable panning movements and master stereo width control.
64-bit AU; 32- and 64-bit VST/AAX; Mac or Windows.
The Riser will cost $79.99 USD. A full version 15-day demo is available for 48 hours only.
We hope this video gets a rise out of you.
This is the fourth selection from takes during a five day recording session and performance series at the Singing Ringing Tree (SRT) in Burnley, UK, a wind activated musical panopticon in Northern England. The sculpture was designed by architects Tonkin Liu and completed in December 2006. I performed accompaniment for the SRT binaural recordings simultaneously using a Novation Bass Station II connected to a USB battery. I also ran the Bass Station II through a Moog Minifooger Delay.
NOTE: This is a binaural recording combined with a monophonic synthesizer track. Although it sounds great through speakers, circumaural headphones must be used to experience the binaural effect.
This is a demonstration of the Oberheim Two Voice vintage analog synthesizer!
Oberheim's first synthesizer was a single-voice mini-module called a SEM (Synthesizer Expander Module). However, in 1975, Oberheim created their first compact, programmable and polyphonic synthesizer by coupling two SEM modules to a 37-note keyboard and a simple analog sequencer. This was what became the Two Voice. Oberheim achieved a polyphonic sound not yet seen in ARP and Moog gear at the time by hard-wiring the two monophonic SEMs into the compact keyboard design.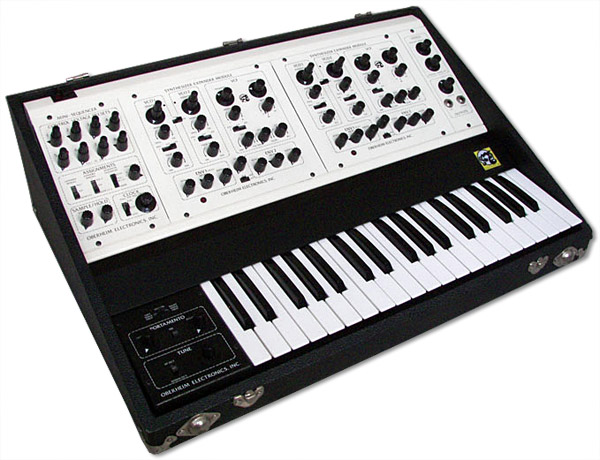 In 1976 Oberheim came out with another module, the Polyphonic Synthesizer Programmer. This could memorize the control voltages of many parameters for up to eight SEM modules. When these were added to the Two Voice, Oberheim finally had one of the earliest programmable and polyphonic instruments! Released alongside the Two Voice also came the Four Voice which had four SEMs installed, and a larger 49-note keyboard. And later, in 1977, a second tier was added above the four SEMs on the Four Voice to add yet another four SEMS, making the Eight Voice.
Two voices was great in 1975, and eight voices was pretty monstrous in the later seventies. But, a major drawback to these first Oberheim synths was that polyphony was achieved by having multiple modules. This meant that each voice had to be independently programmed. This also means that each voice has its own filter, making real-time filter sweeps of all your voices more than a handful! Fortunately the sequencer comes in handy for controlling each voice/module independently.
Despite its innovative features, the Two Voice was soon blown out of the water by the popular monophonic and truly polyphonic synths like the OSCar, ARP Odyssey and SH-101.
Multivox MX-65 Polyphonic Synthesizer. It is an analog poly keyboard that was made in Japan from 1977 to 1980. Very very rare.
It has six voices. Piano, strings, clavichord, honky-tonk, piano and organ. The voices them selves are just different combinations of the filter and envelope positions that you can switch between. The filter is interfaced with the envelope with 3 modes. A fast attack/fast decay mode, an 'expand' mode with resonance emphasis, and a fast attack/slow decay mode..
Excuse the poor playing! I am trying to focus on the controls and just show a quick demo of the sound. Reverb in Ableton.

Acrobatics has released Mate, a free synthesizer instrument for Windows.
Mate is a hands-on, simple desktop musicians friend, inspired by synthesizers of the seventies and eighties.

It produces original synth tones and reproduces strings, pianos, basses, organs and bells patches with ease, but it can also explore wild and spacey atmos using its flexible modulation options and smart programming.
Mate features
32-bit ultra-optimized code, zero latency, samplerate independent engine.
All sample rates supported.
Each control is fully recordable and automatable in host.
Most knobs & switches receive external MIDI control changes.
Mate for Windows (VST) is available to download from KVR Audio as part of the Developer Challenge 2014.
Another demo of the NESizer. Added some new functionalty; now patterns for the square 1 and triangle channels can be added as well, and playing along on the square 2 channel.
Information about the project can be found here:https://github.com/Jaffe-/NESizer2
We teased the upcoming release a couple of days ago and here it is – somewhat faster than we thought the new TeraSynth, details below:
Explore new sound spaces with Tera Synth that go beyond the emulation of synthesizer legends. Use the power of analog and digital synthesis combined with new modules for physical modelling. Wireless patching of modules combined with an intelligible modulation routing simplifies the development of new synthesizer designs from scratch. Distortion effect, Delay/Chorus/Phaser and Reverb effects give your sounds the final polishing. Tera Synth gives your music an individual character with its unique fat sound. The well-designed algorithms and the economical modular structure provides you with a comparatively high voice yield. Precise timing with the unique built-in Arpeggiator let you feel the rhythm.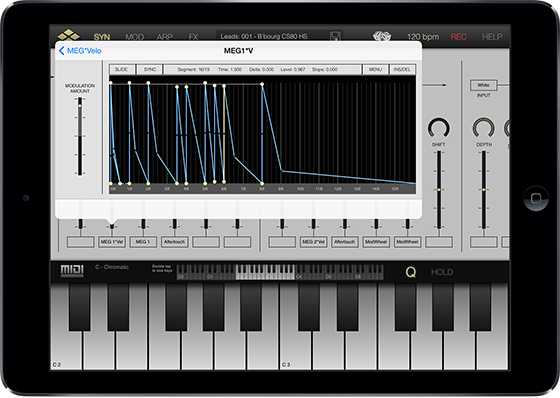 Tera Synth supports Audiobus and Inter-App-Audio for integration with other Music Apps.

Modular Analog Synthesis
• Modular synthesizer with free connections between modules.
• 25 Sound Modules
• 4 Low frequency oscillators
• 4 Standard ADSR Envelope generators.
• 4 Multi Segment Envelopes with tempo sync.
• 64 time/level segments per envelope
• Monophonic or polyphonic with 16 voices.
• More than 920 factory presets, unlimited user presets can be shared.

FX
• Chorus with four delay lines.
• 8 pole Analog Phaser.
• Distortion effect with Tube/Tape emulation
• Stereo Echo/Delay effect.
• Hi end reverberation unit.

Live
• Play melodies live with the onscreen keyboard. Drag fingers for slides and vibrato.
• Optionally use CoreMIDI* compatible hardware keyboard.
• Dozens of scales selectable
• Variable Keyboard layout for scale optimized playing

Full featured programmable Arpeggiator
• Uses programmable sequences with up to 32 steps.
• Can trigger single notes and chords.
• Unique randomizer generates Arpeggios with 100% usability.
• 32 Arpeggios included, unlimited useer arpeggios possible.
• For each step you can program tie, accent, transposition and note order

Global
• Audiobus compatible (Input slot).
• Inter App Audio
• Audio pasteboard. Copy audio recordings to Clipboard for use with other Apps
• Exchange user presets with File Sharing in iTunes.
• Support for virtual MIDI input connections.
• MIDI learn functionality.
• Publish loops and recordings online with the SoundCloud audio platform.
Carson from Dave Smith Instruments presents the Pro 2 synthesizer, at the Summer NAMM 2014 show in Nashville, TN. Enjoy the demo, then click the link above for even more on the Pro 2 synth!
In this radio commentary, Bill discusses the theremin, and how it lead to one the music industry's most fundamental assets, the electronic synthesizer.
This was originally broadcast on December 26, 2000. Visit this link to view complete list of media attributions http://goo.gl/fmGESM.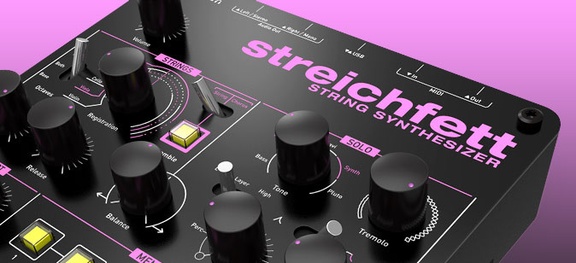 Waldorf has announced the release of Streichfett, a colourful string synthesizer desktop module.
Streichfett combines the best of the previously extinct species of String Synthesizers of the 70s and early 80s. Its dual sound engine features a fully polyphonic strings section and an eight voice solo section, which is essential for recreating how adult movies sounded thirty years ago.
The Ensemble Effect handles lubrication of the String Section, while the Effects section adds adjustable Phaser and Reverb. Additionally, the Animate Effect can be used to modulate the strings registration, allowing spectacular sound morphs.
Streichfett is available for purchase for SRP 279 EUR (including tax).