All sounds from the Roland Juno 60, no midi.
The Roland Juno-60 is a popular analogue 61-key polyphonic synthesizer introduced by Roland Corporation in 1982 and a successor to the slightly earlier Juno-6. Like its predecessor, the Juno-60 has some digital enhancements, used only for clocking the oscillators and for saving and loading patches. This instrument was succeeded by the Roland Juno-106 in 1984. Roland was losing market share with the Juno-6 in competition against the Korg Polysix. Related in features and price-class, the Polysix featured external control and patch memory, which the Juno-6 lacked. These features were quickly added to the Juno-6′s design, which sonically and architecturally did not change notably between the two versions, and then released as the Juno-60.
The Juno-60 synthesizer is a six-voice polyphonic synthesizer. The single digitally controlled oscillator (or DCO for short) per voice gave the Juno-60 a high degree of stability in maintaining tune; most analogue voltage-controlled oscillators (VCOs) of the time would tend to drift in pitch and require re-tuning of the oscillator. The DCO provides sawtooth and square/pulse waveforms as a sound source, in addition to white noise and a square-wave suboscillator pitched one octave beneath the key played. Both of these additional sources can be mixed in with dedicated sliders.
The filters and envelope on the Juno-60 rely on control voltages sent by depressing the keys on the keyboard and were thus analogue. The Juno-60 features a rather distinctive-sounding 24 dB/octave lowpass filter with resonance. Unlike other VCF's of the day, the Juno-60′s is capable of self-oscillation and thus could be used to some degree as a tone generator in and of itself. The filter section also features controls for envelope amount and polarity, LFO modulation, and keyboard tracking. In addition, a three-position non-resonant highpass filter is provided to thin out lower frequencies.
The signal is then sent through a voltage-controlled amplifier (or VCA) and a simple four-stage ADSR filter envelope.
The Juno-60 provides limited options for modulating the audio signal. A single triangle-wave variable-rate LFO is provided as a modulation source; this can be mixed into the DCO to create vibrato or into the lowpass filter to generate a tremolo effect. The LFO can either be triggered manually by the left hand using a large button above the pitch bend lever or set to engage automatically whenever a key was pressed.
The baby brother of the Jupiter-8. Still a pretty great machine, with an awesome arpeggiator and the cool Jupiter sound.
Italo-Disco style live improvisation with JP-6, TR-707, SH-101. Leveraging the power of the JP-6′s sweet sounding multi-mode filter
Roland Jupiter-6 = BPF pad, portamento brass
Roland TR-707 = rhythm
Roland SH-101 = sequenced synth bass
The Roland Jupiter-6 (JP-6) is a synthesizer manufactured by the Roland Corporation introduced in January 1983 as a less expensive alternative to the Roland Jupiter-8. The Jupiter-6 is widely considered a workhorse among polyphonic analog synthesizers, capable of producing a wide variety of sounds, such as ambient drones, pads, lead synthesizer lines, and techy blips and buzzes. It is renowned for its reliability and easy, but sophisticated programmability.
The JP-6 has 12 analog oscillators (2 per voice), and is bitimbral, allowing its keyboard to be "split" into two sounds – one with 4 voices, and one with the remaining 2 voices (either "Split 4/2″ or "Split 2/4″ mode). "Whole Mode" is also available, dedicating all 6 voices to single (monotimbral) sound across the entire keyboard.
The JP-6 was among the first electronic instruments (alongside the Roland JX-3P and the Sequential Circuits Prophet-600) to feature MIDI, then a brand new technology. Sequential CEO Dave Smith demonstrated MIDI by connecting the Prophet to a Jupiter-6 during the January, 1983 Winter NAMM Show.
Europa, a popular firmware replacement available from 'Synthcom Systems' adds modern enhancements to the instrument's MIDI implementation, user interface and arpeggiator, turning the Jupiter 6 into a contemporaneously adaptable machine
Some old-school Electronica with classic machines. Played and edited live (with errors!)
Vintage synthesizer demo track featuring two classic synths
pad, fx and lead sounds: Sequential Circuits Prophet VS (1986)
bass: Sequential Circuits Pro-One (1981)
drums: Roland TR-707
recording: multi-tracking without midi
fx: reverb and delay
Saltline has announced ADHDidi, a free additive synthesizer plug-in for Windows.
Created for facebook fans as a thanks for their feedback and support, ADHDidi is an additive synthesizer comprising of 16 sine waves tuned to different frequencies (fundamental plus the first 15 harmonics).

Facebook fans were asked what they would like as a free download exclusively for them. We received many suggestions and settled on James Jason Duckett's idea of creating an additive synthesizer.
ADHDidi for Windows (VST) will be available soon as a free download from the Saltline Facebook page.
Number 10 in the SynthMania quick tips series – here's one way to obtain the classic "Hi-NRG fast sequenced synths" used in many hits of the '80s.
Here's a good classic vintage example:
Dead Or Alive – You Spin Me Round
I guess this one is a must have for anyone enjoying the Reason DAW, however it is expensive (as with everything else in the Prop Rack extension shop !!!) – its 99€
Parsec is available in the Propellerhead Shop
http://shop.propellerheads.se/product…
Propellerhead proudly presents Parsec Spectral Synthesizer—the futuristic sound of additive synthesis for the Reason Rack. With two independent sound engines, up to 1024 oscillators per voice, a wide range of sound sculpting tools, built-in effects and free modulation routing, Parsec won't leave you wishing when it comes to sonic horse-powers.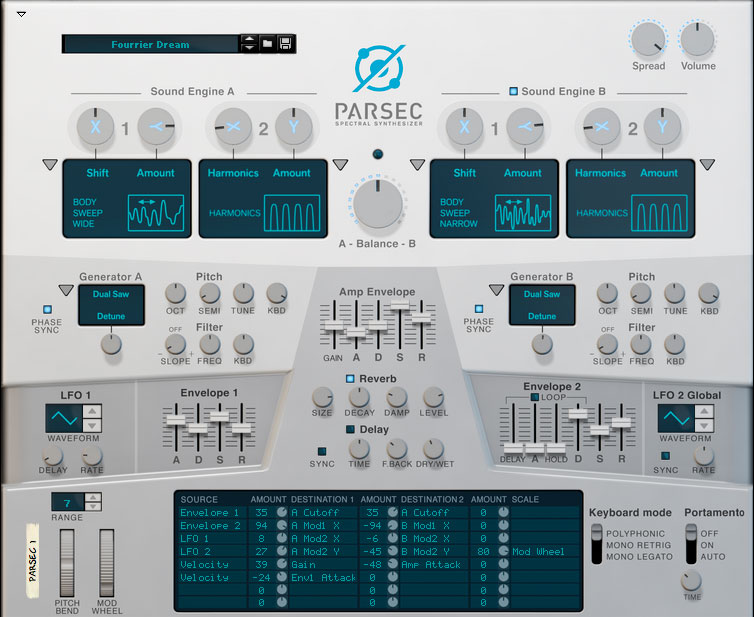 Boasting a state-of-the-art synthesis engine and an inviting user interface, Parsec was designed for the novice and the PhD of sound synthesis alike. The comprehensive sound bank with patches spanning everything from crisp, digital sounding leads to lush and evolving pad sounds, rich sonic textures and instrument sounds, will make an excellent starting point to explore the sounds of Parsec. Once you are ready to dive further, the easy to grasp interface will have you creating your own otherworldly sounds in no time.
Features:
- Extremely powerful and easy to use additive synthesis.
- Amazing sound bank with inspiring sounds for electro house, bass music, minimal techno, electronic indie and pop, far-out experimental, and more.
- Two sound engines that make up a single sound. Use one engine for the attack and another for sustain. Or use both at the same time for ultra thick tones!
- Up to 1024 oscillators per voice.
- It's a vocoder too, with modulation from Parsec's audio input.
- Built in high quality reverb and delay.
James Wiltshire from The Freemasons makes a demonstration of the feature-set and sonic capabilities of the new Clavia Nord Lead 4 synthesizer. Watch the video and discover why James thinks it's a truly next-generation synthesizer.
Here's some bonus footage for the Nord Lead 4 demonstration with James Wiltshire from The Freemasons. Watch as he makes some parts for a track using the Nord Lead 4 and displays the synthesizers vast sonic capabilities.
The rack-mounted version of the U-20. Plenty of realistic sounds (especially for the time), and several drawn from classic Roland synths like Jupiter-8 and D-50.
The U-220 is a digital synthesizer that uses ROM samples of pianos, brass, strings, bass, drums, etc. However it is built for professional use and is truly a quality instrument, even though its sounds may seem like dated-eighties synth pop cheese. It's got nice piano sounds, but they're not the real thing. It features 6 part multitimbrality with a 7th drum part, plus 2 direct outputs and 2 stereo outputs. The 30 note polyphony helps if you take advantage of this synths multitimbrality for creating entire performances and ensembles. Digital reverb, chorus and delay effects liven up your sounds. Editing is simple, but there are no filters. With several performance features, the U-20 has a full 61 note keyboard with velocity and aftertouch. There's an on-board arpeggiator, a chord-memory feature and the U-20 accepts Roland SNU-110 sound library cards.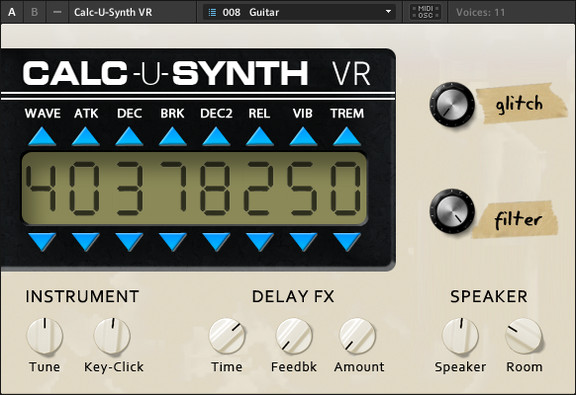 Icebreaker Audio has released Calc-U-Synth VR for Reaktor, an emulation of the classic Casio VL-Tone calculator/synthesizer combo from the '80s.
Precise measurements of the VL-Tone's volume envelope, vibrato, and tremolo were then gathered in order to faithfully emulate the whole instrument in Reaktor.

This library was designed in order to present the full capabilities of the VL-Tone's programmable features in a more convenient interface, while retaining the character of the original instrument.
Calc-U-Synth VR features
Full emulation of the Casio VL-Tone's programmable synth engine.
Built-in tempo-sync delay effect.
Speaker emulation with room simulation.
Additional "Bend" controls: Glitch and Filter.
Key-Click noise control.
The Calc-U-Synth VR for Reaktor is available to purchase for £4.50 GBP / $7 USD.
Icebreaker Audio has also announced a bundle sale, offering all its bundles at a 50% discount until November 30th, 2013.