Demo of the Kawai K5000S advanced additive synthesizer, running OS ver.4.04. A beautiful-sounding, different, powerful and distinct synth from 1996.
Horus is something between a string-machine and a poly synth.
It can generate impressive and inspirative pads.
Full MIDI learn
64 voices polyphonic
FREE
Download link: http://bserrano.free.fr/vsti/Horus.zip
Features
– Create powerful noisy rhythms and unpredictable sounds
– Portable design in wood and acrilic
– Sync by Clock, lead or follow the pitch
– CV output
– Stereo oscillators output
The Sismo Qad4 is a portable squarewave generator with four analog oscillators, ajustable by pitch potenciometers, built in amplifier and output, powered by batery or external power source. The Sismo Qadrox is a squarewave generator with four analog oscillators built in eight step sequencer, input to external clock, CV and sync outputs. The audio outputs have two options, one mono by the 3/4 inch (guitar plug) and RCA stereo, split the oscillators two per each side.
Front panel have nine potenciometers, is the CV sequencer (0-5 Volts) controlling the sound generator. The potenciometer in the middle is the sequencer pitch control.The lower panel have an external clock input and the clock output, internal or external and the CV sequencer output. The one switch change completely the sound generator, increment some sweeps, noises and lfos, charge and discharge capacitors. The another switch is a sequencer reset.
Specifications
Polyphony: monophonic
Oscillators: Four fixed oscillators square/pulse
Control: CV in-out, Clock in-out
Power source: 12 Volts (center positive) (Not included)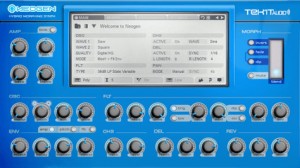 Tek'it Audio lets us know that Neogen is a hybrid (phase distortion/subtractive) polyphonic synthesizer with sound morphing capabilities.
Feature highlights
Phase distortion oscillators.
56 variation of waveform shapes.
5 oscillator quality modes, HQ, Digitized, Sampler Computer, 8bit, 8bit Glitch.
4 modulation types.
1 square wave sub-oscillator.
Monophonic Glide.
11 Filter types from low-pass with an analog tone to variants that sounds digital.
Filter drive control.
Filter modulation with rate and depth control.
Filter modulation rate can be sync on the beat.
Triggering, Dip wave and Invert modulation controls.
ADSR amp and filter envelope, AD pitch envelope with depth control.
2 voices chorus, sync delay, reverb and auto-pan effects.
Bass and treble tone control.
Switchable output soft limiter.
Sound morphing with depth control on any parameters.
Visual feedback of the amount of morphing effect.
Morphing fade with 2 envelopes modes.
8 voices arpeggiator sequencer.
8 pattern by presets.
Save, Load pattern and patterns bank.
Support MTS (MIDI Tuning Standard) file.
Velocity amount control on 12 parameters.
10 Velocity curves.
Full MIDI automation support.
Easy MIDI learn on all parameters.
Use 7-bit MIDI Continuous Controller or High resolution 14-bit MIDI NRPN and RPN.
Selectable Maximum MIDI pitch bend range.
Four note playback priority mode.
Selectable envelope re-trigger mode.
Preset manager, rename, copy, save, load…
Undo your changes to initial preset value.
One click randomize for all parameters.
326 Factory presets.
Up to 128 user presets per bank.
Easy installer.
Pricing and Availability:
Introductory price: €39 / $55 (normal price will be €49 / $69)
Minimojo is an emulation of an old synthesizer built in Reaktor, available for all registered product owners in the NI Reaktor User Library.
The Juice 3 is not in any way a copy of MONARK. The builder did not have access to or ever used MONARK during the making of Juice 3. Instead, the old ensemble Minimood made by NI in 1999, which has then been modified by several users, has been used as the starting point. I think that the basic structure will be recognizable from that early ensemble.
As the Model D is the most emulated synthesizer the world probably don't need yet another one. Juice 3 should be seen as a proof of concept; how to emulate the should of vintage synthesizers using the Reaktor environment.
The technology developed for this is called Analog Legacy. Analog Legacy is the theory of modulating all functions in a synthesizer at all frequencies. The key is to find the right balance of the modulation depth for each frequency. Juice 3 is the first attempt to use this theory in practice.
http://youtu.be/cAhNylHjX_4
Laurie Spiegel Playing the Bell Labs Digital Synthesizer, better known as the Alles Machine or Alice, was an experimental additive synthesizer designed by Harold G. Alles and Douglas Bayer at Bell Labs in 1977-78.
This composition was commissioned by Bell Labs and the Motion Picture Academy for the 50th anniversary of talking pictures. Working with the Alles synthesizer, with its extensive array of input and output channels for control, was a real pleasure after years of GROOVE's extreme restrictions. The interactive software I wrote for this composition recycles the player's keyboard input into an ongoing accompaniment. However, writing the software from a remote DEC PDP-11 computer (see also the PDP-11 FAQ and PDP Music Survey) in the new "C" computer language still undergoing frequent change, within a still-experimental UNIX operating system, without the control inputs or sonic output, under a tight deadline, while the Alles synthesizer hardware was still under construction, turned out to be quite an adventure.
It can orchestrate and perfome musicale scores as fast as a composer at its controls can think them up; create previously unheard musical sounds; and raise or lower the pitch of an instrument or human voice in real time-instantly-so that a man speaking into a microphone can be made sound like Donald Duck or Ezio Pinza. The machine divides sound into its frequencies and amplitudes, processing it un up to 200 million operations per sesond.
For more information look :
http://www.retiary.org/ls/
http://en.wikipedia.org/wiki/Bell_Lab…
http://timara.con.oberlin.edu/~jtalbe…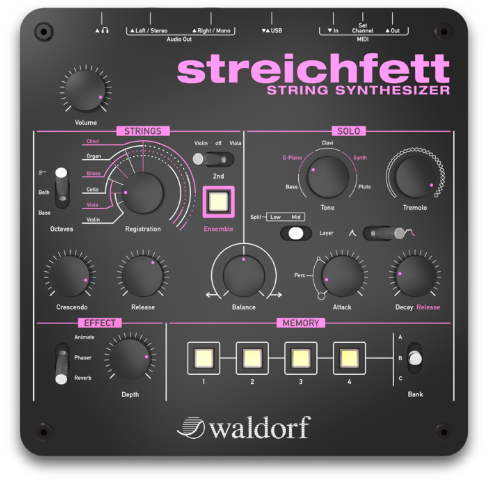 Waldorf will release a new string synth at MusikMesse but already now the full details have been revealed, read below for all the details:
Streichfett combines the best of the now extinct species of String Synthesizers of the 70s and early 80s. Its dual sound engine features a fully polyphonic strings section and a monophonic solo section, which is essential for recreating how adult movies sounded thirty years ago. The Ensemble Effect handles lubrication of the String Section, while the Effects section adds adjustable Phaser or Reverb. Alternatively, the Effect section can be used to animate the strings registration, allowing spectacular sound morphs.
The Solo Section offset presets named Bass, E-Piano or Clavi, and just like in your typical string machine, the sound has little to do with that name. Instead, these are shimmering and slightly percussive sounds that blend well with the string section.
Although the User Interface is simple and easy to comprehend, it controls a rather complex sound engine which is capable to delivers rich and creamy pads unlike any other instrument.
Twelve patches can be stored and selected in the Memory section, USB and MIDI are of course on board.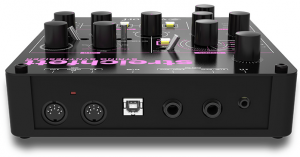 Specifications
Fully polyphonic Strings Section with Violin, Viola, Cello, Brass, Organ and Choir presets
2'nd Layer with Violin/Viola Voicing
Ensemble Effect for String Section
Typical String Envelope Generator with Crescendo and Release
Monophonic Solo Section, offering Bass, E-Piano, Clavi, Synth and Pluto sounds
Dedicated Tremolo for Solo Section
Switchable Envelope generator with variable Sustain setting and Attack/Decay (Release) function
Effect Section with Animate, Phaser or Reverb
Layer or Split for Solo Section
Dedicated balance knob for quick adjustment of layered/split sounds
Fully programmable with 3 x 4 memory locations
Controls
Volume Pot
Strings Section with organic preset select, Crescendo and Release pots
3-state Octave switch (Base/Both/8va)
3-state 2'nd voice switch
Ensemble Effect pushbutton
Solo Section with organic solo sound select pot
Tremolo pot
3 state split switch (splitpoint low/mid/layer)
2 state sustain switch
Balance pot with center detend
Effect Section with 3 state switch (Chorus/Phase/Animate)
Effect Depth pot
3 state switch for memory bank position (A, B, C)
4 pushbuttons for program number (1 to 4)
Full MIDI/USB Control
Connections
Stereo Audio out (Left/Stereo, Right/Mono)
Headphone out
USB MIDI
MIDI in/out"
All sounds come from the Commodore 64 Stereo Synthesizer, containing two 6581-SID chips. External EQ, delay and reverb added. Built by Björn Engstrand and Robert Engstrand.
Build your own one here:
http://www.ucapps.de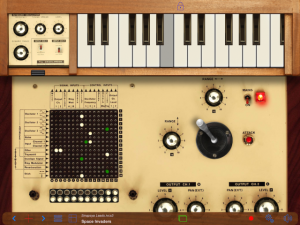 The original VCS3 is a very rare monophonic synthesizer, introduced in 1969. It offers a 3 VCO/VCF/VCA/ subtractive synth architecture, and includes a flexible patching matrix and some interesting control options, including a joystick.
iVCS comes from Densitygs, creators of Density asynchronous granular synthesizer for Mac & Win, Pulsaret microsound granular synth for Mac & Win, and iPulsaret and iDensity for iOS.
Specifications and pricing/availability details are to be announced.
Description:
The VCS3 has three oscillators (in reality, the first 2 oscillators are normal oscillators and the 3rd an LFO or Low Frequency Oscillator), a noise generator, two input amplifiers, a ring modulator, a 18dB/octave (pre-1974) or 24dB/octave (after 1974) voltage controlled low pass filter (VCF),[citation needed] a trapezoid envelope generator, joy-stick controller, voltage controlled spring reverb unit and 2 stereo output amplifiers. Unlike most modular synthesiser systems which use cables to link components together, the VCS3 uses a distinctive patch board matrix into which pins are inserted in order to connect its components together.
Keyboards controller
Although the VCS3 is often used for generating sound effects due to lack of built-in keyboard, there were external keyboard controllers for melodic play. The DK1 in 1969 was an early velocity sensitive monophonic keyboard for VCS3 with an extra VCO and VCA. Later it was extended for duophonic play, as DK2, in 1972.] Also in 1972, Synthi AKS was released, and its digital sequencer with a touch-sensitive flat keyboard, KS sequencer, and its mechanical keyboard version, DKS, were also released.
Related models
The VCS3's basic design was reused by EMS in many other of their own products,[citation needed] most notably in the EMS Synthi 100 (1971), and the Synthi A (1971) and AKS (1972) (essentially a VCS3 housed in a plastic briefcase). The AKS also has a sequencer built into the keyboard in the lid.
Also an earlier agent of EMS in the United States, Ionic Industries in the Morristown, New Jersey, have released portable-keyboard version of VCS3 clone. The Ionic Performer in 1973 was designed based on VCS3's circuit, replaced patch board matrix with over hundred of push-buttons, and added built-in keyboard and effects units.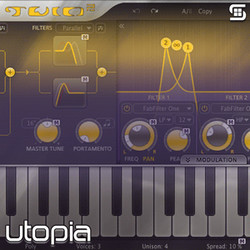 Sonic Elements has launched Utopia, a soundset by Shaun Wallace for the Twin 2 synthesizer instrument by FabFilter.
It features a focus of modern techniques to achieve new tones and textures with Twin2. If you have been looking for a sonic update to Twin2 look no further.

Utopia has basses of all varieties, rich legato leads, mind bending pads, and spectrum filling plucks. Special attention to the unique filter design and variations of Twin2. Each patch has specially selected filters for each patch to help the sound cut through a mix.
Utopia features
140 presets.
Developed for usability and quality.
Focus on modern synthesis methods.
Presets categorized in easy to sort folders.
The soundset is available to purchase for $21.50 USD.