Background video description:
I try to program my own music tool : Millenium Synthesizer
Here it's a exemple of Virtual instrument (Nord Lead 3 Clone), not finnished yet but still sound good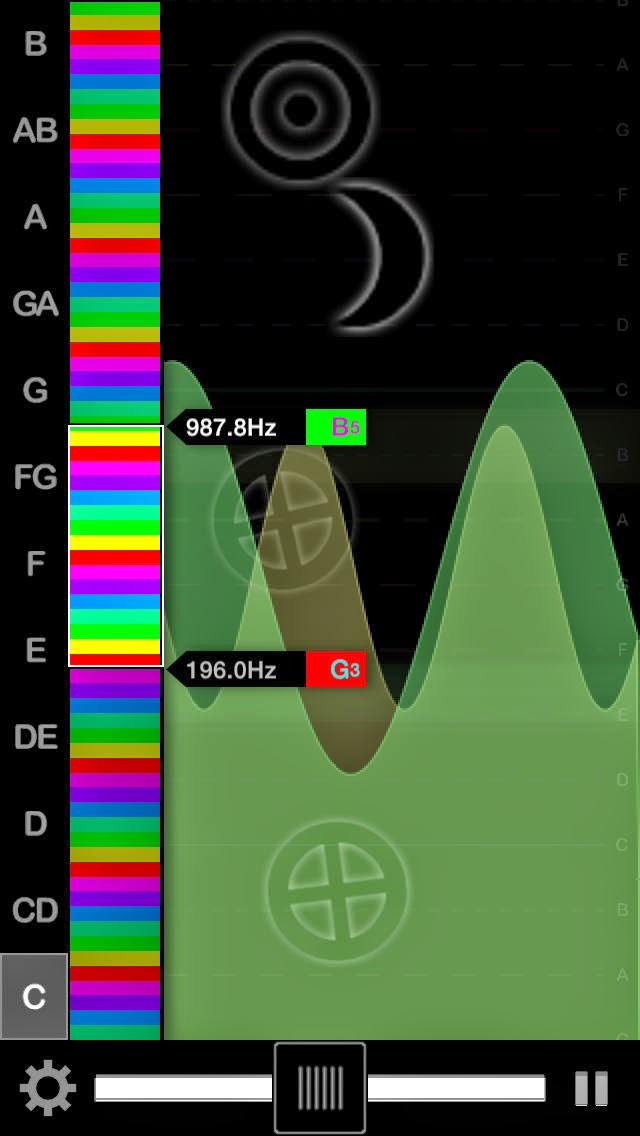 Fingers drip music and this app is the paper. Made for musicians looking for a responsive musical instrument with a huge range of sound, Sqeech delivers perfect audio that's both thick and nimble. It's an essential arrow in your music quiver.

This App is a multi-touch frequency synthesizer rendering eight cd-quality bendable audio waveform channels at any range on demand. The keyboard and output range are completely customizable with three powerful modes of sound: spectrum gives you a full oscillator; chromatic mode using half steps; or choose a major key.

Designed for flow, you can join in to any live acoustic set or electronic machination instantly. Sqeech can deliver deep bass or high-end electronic rain on one fret board. This tool was made for the hand to groove.

Responds to eight simultaneous touches by the user. A vibrato is achieved with a side to side pulsing of the fingers. Each touch has a separate volume channel so you get a rich live sound. Additionally two propellor filters (Sun & Moon) give additional firefly squeeching effects with full live control over pitch and speed from a finger.

Here's a few more features:

Key Range Bar: The range bar let's you instantly select a pitch threshold for the fretboard. You can change as you play. A smaller range makes more room for your fingers to add vibrato to your sound.

Pitch Slider: You can bend all sounds currently playing by using the slider bar. Releasing the slider from the high right side gives you a slow dramatic pitch fall you can add expressions to as it falls automatically.

Sun Propellor: This propeller always affects your solo finger only. Raising the sun on the screen causes the propellors pitch to go higher or lower. Left-to-right affects the propellors speed in real time giving you an powerful solo button you and squeech out a melody with.

Moon Propellor: The moon affects everything the sun does not. This gives you a more rhythmic effect since it broadcasts through the remaining fingers. It's speed and pitch are controlling similar to the sun. Double-click to turn on pitch snapping and the propellor will conform to the nearest half step. This allows you to form any triad sequence and play it with one finger setting the root note. Both propellors really open Sqeech up as an expressive electronic vocal. 


Virtual ANS is a software simulator of the unique Russian synthesizer ANS – photoelectronic microtonal/spectral musical instrument created by Russian engineer Evgeny Murzin from 1938 to 1958.
The app is cross-platform and available for iOS, Android, Windows, Linux and OSX.
More info: http://warmplace.ru/soft/ans
Key features:
• unique Virtual Analog sound engine;
• unlimited number of pure tone generators;
• powerful sonogram editor – you can draw the spectrum and play it at the same time;
• any sound (from a WAV file or a Microphone/Line-in) can be converted to image (sonogram) and vice versa;
• MIDI Input;
• supported file formats: WAV, PNG, JPEG, GIF, VNS (Virtual ANS 1.x);
• Jack and Audiobus support;
• iTunes File Sharing;
• Wi-Fi Export/Import;
• more functions in the next Virtual ANS updates…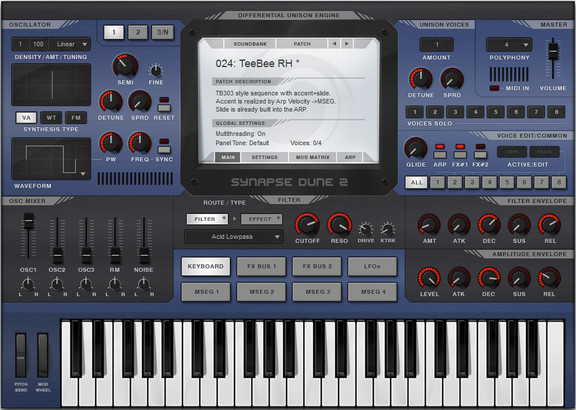 Synapse Audio has announced the release of DUNE 2, a new version of the synthesizer plug-in for Windows and Mac.
DUNE 2 was rewritten from scratch, in order to provide a yet higher sound quality and allow for an even wider range of sounds. New oscillators, new filters, new effects and graphical envelopes are just some of the new additions.

With a maximum reserve of 8320 oscillators at full polyphony, DUNE 2 is a true unison monster, unlikely to ever run out of oscillators.
DUNE 2 features
VA, Wavetable and FM Synthesis.
Two oscillator stacks with 32 oscillators each.
Third oscillator and noise generator.
8x Unison = up to 520 oscillators per note!.
16 voices of polyphony = up to 8320 oscillators total.
Zero-delay feedback filters.
Four graphical envelopes (MSEG).
Modulation matrix for synth and FX parameters.
Two Master FX busses with 9 high-quality effects each.
Innovative Arpeggiator with MIDI file import.
DUNE 2 for Windows and Mac (VST/AU) is available for purchase for $169 USD. The upgrade from DUNE is $79 USD, and a bundle of both DUNE 1 and 2 costs $198 USD. Prices excl. 19% VAT within EU.
Vintage Yamaha PS-20 analog keyboard connected to iPad using Apogee Jam interface, played through Crystalline. Also features iOS apps Animoog, Audiobus and Arturia iSEM. No other effects or processing done.
Crystalline: Shimmer Effects Processor for iPad
http://crystallineapp.com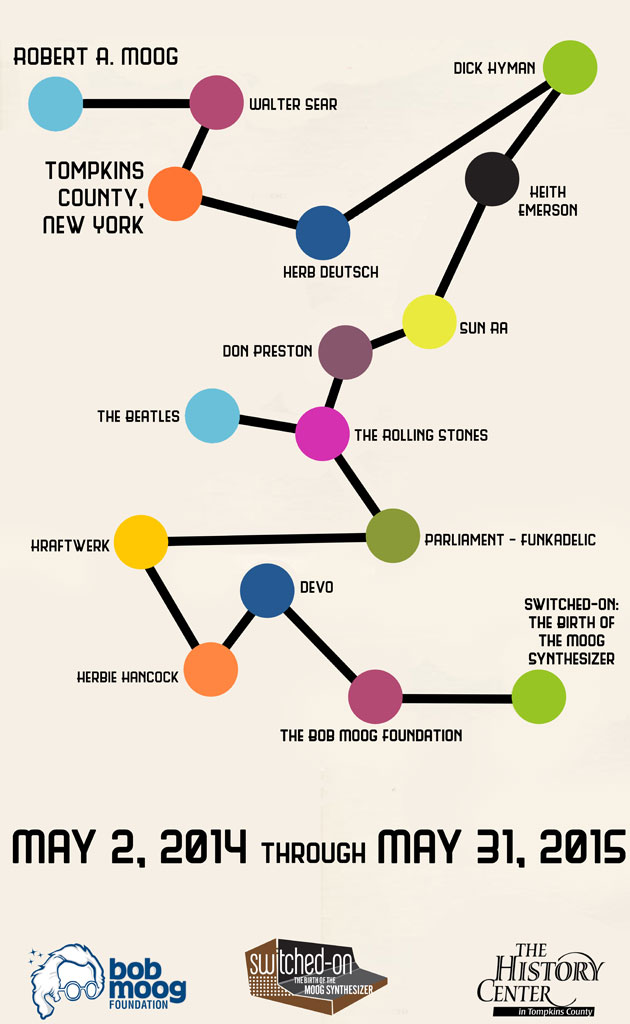 The History Center in Tompkins County will open the highly anticipated exhibition Switched-On: The Birth of the Moog Synthesizer on Friday, May 2nd. Telling the story of Bob Moog and the development of the groundbreaking electronic instruments bearing his name, Switched-On will provide museum-goers an interactive, engaging opportunity to learn about this important chapter of our region's history. Based on a series of wide-ranging oral history interviews done with family members, colleagues, and contemporaries, and done in partnership with the Asheville, N.C.-based Bob Moog Foundation, the exhibition provides unparalleled insight into the unique genius of Bob Moog and the ways in which he ushered in a revolution in music. Switched-On is the first major exhibition on Bob Moog and Moog Synthesizers to occur in the region, and will run through May 31st, 2015.
First Friday Gallery Night
Friday, May 2nd, 2014
5:00 – 8:00 p.m.
The History Center
More info on the museum here – http://www.thehistorycenter.net/thc_exhibits/2014/moog.php and more info on The Bob Moog Foundation here http://moogfoundation.org/.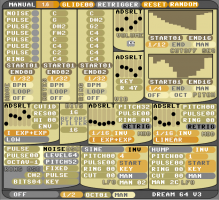 Odo Synths has announced the release of version 3.0 of Dream 64, the free Chip Synth VST instrument plug-in for Windows.
Dream 64 is not an SID emulator, but it's a plug-in that can recreate sounds that are used in chip-music. It's inspired by the SID chip from the old but good Commodore c64 but with some extra features for fun.
Main features:
All sequencers have a start and end loop but start always at step one.
Start-step never can be higher than the end.
Every sequencer has its own BPM rate or all have one manual rate.
8 step Wavetable sequencer with audio on/off (gate effect).
8 step Arp sequencer notes from c to c3 and one c4 note.
8 step Ring modulation sequencer notes from c to c3 and one c4 note.
A Bitcrusher only for the ringmod. This is nice if you use the Wavetable.
16 step easy to edit filter-sequencer. Can be used for nice bass sounds because it has an end step (will sustain).
Waveforms for the oscillator are saw, triangle, pulse, noise, ringmod mode. The noise is very special – it can be pitched by key or fixed.
Oscillator octaves from -3 to 2.
Ring modulation oscillator notes from c to c3 and one c4 note and a bitcrusher (this is nice for the wavetable sequencer).
2 LFOs with 21 waveforms BPM rates and manual with inverter.
The LFOs can start (key sync) (host sync) and (free run).
Destinations of the LFOs are pitch/pulse/ring osc and Filter.
2 modulation envelopes with inverter and BPM retrigger.
Destinations Pitch/pulse/ring modulation.
Filter Envelope can be switched to the filter sequencer.
filters lowpass/hipass/bandpass/low and hipass/band and hipass/band and lowpass.
Random for most of the controls.
Reset most of the controls.
Double click is reset for most of the controls.
Bitcrusher before and after filter.
Dream 64 is a free download at http://chips.site90.com
Video by LickMyKazoo (www.lickmykazoo.com)
Drum programming, mixing and all synth tracks performed by Kostis Tsioulakis
(https://soundcloud.com/kostistsioulakis)
Synthesizers used: murmux initiate, semi-modular and pedalsynth
(http://www.dreadbox-fx.com/synthesize…)
Delay used (on lead track only): Dreadbox Sonic Bits
(http://www.dreadbox-fx.com/sonic-bits…)
Recorded directly through an RME fireface 400, no aditional effects, eq, compressor or filters used (except for the drum track)
controller used: Keith McMillen QuNexus
(http://www.keithmcmillen.com/qunexus/…)
Original track covered: "Revenge of the Black Regent" by Add N to (X),
Avant Hard, Mute Records Ltd, 1999
This is a demo of the Soulsby Synthesizers ATMegatron 8-bit synth. Enjoy!
Torn Sub has released Byron, a VA-style organ synth for Windows that offers 3 oscillators with a 50 waveforms sound engine in each. Each sound engine has a secondary engine which gives the ability to morph the driving waveform to another one and to combine the whole 3 oscillators together, so that method can create a wide range of organ sound combinations.
Apart from the engine, each oscillator has its own sound engine designing section, envelope, powerful 5 states filter (low pass, high pass, band pass, band reject, peak) with its own envelope, 2 LFOs (one for the amp, one for the filter) and 3 built-in effects: equalizer, tube and bass tube, so in fact, every oscillator can perform as a complete instrument. Each oscillator also has its own ability to send itself to each of the global effects directly from the synthesis section, with only a single button press.
Byron reduces the use of the mouse to the necessary minimum as it has been built according to the "one click" approach and is suitable for touch screens. No matter if it comes to choosing a new preset or just leaping to another section, everything is bright and clear and done with only one click. This approach is particularly evident in the preset manager section: In addition to the traditional method, every preset gets its own knob on the panel with its name on it, and will help to find sounds easily and efficiently, with only on one single click.
Byron is equipped with 8 master effects (tube, bass tube, overdrive, phaser, chorus-flanger, reverb tremolo and delay) alongside a wide MIDI section.
The MIDI section contains some new features like "octaver" effect, MIDI limiter (limits the maximum velocity gain to a specific value), Fixed velocity (plays any note with a specific velocity), a separate "MONO MODE" with portamento effect for each oscillator, "MIDI learn" possibility for every Significant knob and "MIDI split" that splits the user's keyboard into 2 ranges, low and high, allows the user sending each of the 3 oscillators to a selected keyboard range with only one button press.
Byron gives the possibility to combine the beloved drawbars method and obtain an organ playing experience with 9 drawbars that divide the frequency spectrum into 9 frequency ranges. The user may choose to turn on\off sending each oscillator's signal via drawbars separately from the oscillator's synthesis section with only one button press.
Pricing: For 39$, customers will get licenses for three computers on the first purchase for both Windows VSTi and stand-alone versions. Each extra license for both versions will cost 13$.
Find out more at www.tornsub.com