Checking out Twisted Electrons' AY3 Chiptune Synth.
Features:
64 preset memory (8 banks x 8 presets)
5 pots and 1 endless encoder with push button
40 blue leds
16 step sequencer to sequence notes on/off, pitch and noise on/off
4 Pitch modulation modes (aka lfo)
4 arpeggiator modes
ultra fat 6 voice unison mode with detune knob
6 chords to split the voices
6 voice polyphonic mode
Glide mode
Stereo sound (3 voice per channel/chip)
intuitive 5×6 mode matrix to access and control:

volume, pitch, noise volume, envelope assignments, arp modes, sequencer assignments etc

control of all knobs and other features via midi CC
backlit front panel
The AY3 Chiptune Synth is available via Twisted Electronics for €197.00.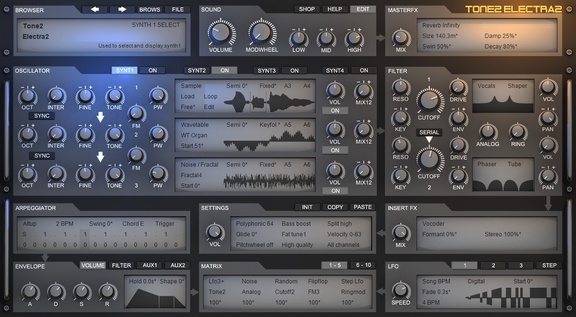 Tone2 Audiosoftware has officially announced the forthcoming release of Electra2, the successor of the ElectraX synthesizer instrument for Windows and Mac.
Coming early July, a major upgrade to our successful ElectraX synthesizer workstation will be released. Equipped with a high quality sound engine, multilayer support and a large range of music production features, yet designed in a way that puts you in control.

Electra2 will have a large number of new features, like a comfortable patch browser to give you an instant overview of all available categories and sounds. 16 new effects, a sample editor, physical modeling synthesis, 5 new filter types, enhanced sound quality, improved user interface and a huge number of further enhancements.
Electra2 features
Over 700 additional patches.
All factory sounds were completely reworked.
Comfortable patch browser.
Sample editor.
Physical modeling synthesis.
16 new effects.
5 new filter types.
236 additional waveforms.
Enhanced sound quality.
New graphics.
Better user interface.
Enhanced performance.
Electra2 is fully downward compatible with the previous version.
A large number of further features and enhancements.
Electra2 will be available in early July, 2014. Until the release, a purchase of ElectraX will come with a free update to Electra2 upon its release
RSF Polykobol 2 demo. 
All tracks are made with the Polykobol, except drums.
Cubase Vst used for the record, and synchronised with Polykobol arpeggiator
About RSF and the Kobol line:
The RSF Kobol was the French synth company's first compact keyboard synthesizer, certainly inspired by the Minimoog. It is a much more compact instrument than the Modular Model 11 series of synthesizers they had been making thus far. It is a monophonic analog synthesizer with traditional controls, knobs, switches and two oscillators for a good solid analog synth sound. Initally released as a keyboard in 1978, a 3-unit rack-mount system was later released in 1979.
Although it is mostly a traditional analog synth with stable oscillators and lots of knobs that allow you to control the ADS envelope, the filter section and the nice LFO, it did offer some unique features for its time. Most notably, the oscillator waveforms can be continuously swept across for a very cool morph from square to saw to pulse, etc. This, as well as note on/off and other parameters can be controlled via CV/gate. External sounds can be processed through the Kobol filter and envelope sections too.
The rack version came in four different components. The Kobol Rack (Expander I) was essentially only the VCO/VCF/VCA/LFO sections of the Kobol in a rack module. The Expander 2 was an add-on to the Kobol that added some new processing modules such as ring modulation, sample-hold, and envelope followers as well as extra VCA and LFO modules. The Programmer rack module contained the memory circuits for storing patches and sequencing. And the KM8 was an 8-channel rack-mount mixer. The connections between modules were normalized but could be bypassed by external patches, similar to other semi-modulars like the ARP 2600 and Korg MS-20.
The Kobol looked and sounded great, and was quickly snapped up by the big names in synthesizers of the time. But being a small French company, RSF were never able to truly mass produce these on the same sort of scale that Moog, Arp, Roland or Korg could. Less than 200 Kobol keyboards were made, around 800 Kobol Racks, 200 Expander 2's, 200 Programmer's and only a handful of the KM8's. This makes them quite rare and quite pricey too!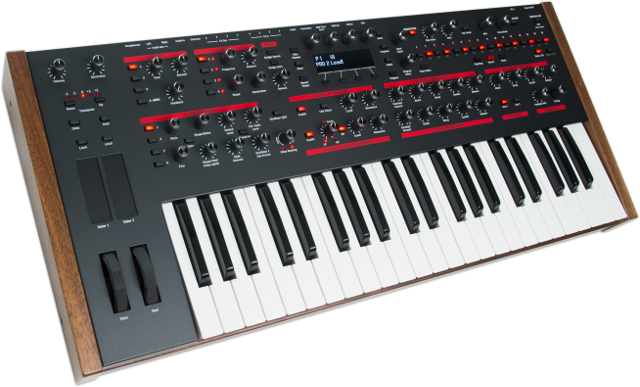 Dave Smith Instruments has introduced the Pro 2, an all-new, feature-rich monophonic synthesizer. "We really raised the bar with this one," said Smith. "As synth geeks, we asked ourselves what our ultimate mono synth would be. Then we built it."
A hybrid instrument, the Pro 2 features four digital oscillators (plus sub-oscillator) with superwaves and newly-designed, dual analog filters inspired by classic designs. The filters (one low-pass and one state-variable) can be run in series or parallel, with the state-variable filter providing low-pass, notch, high-pass, and band-pass modes. Oscillators can be routed in pairs to either filter for a variety of tonal possibilities. "Our new analog filter design gives the Pro 2 a depth and presence that's immediately recognizable," said Smith. "It has a sound all its own—distinctly different from our other instruments such as the Prophet 12."
The full-featured multitrack step sequencer operates in 32 x 8, or 16 x 16 mode and allows real-time input. It can sync to external MIDI clock and can also be driven by an external audio input. Sequences can control not only oscillator pitch, but any parameter in the Pro 2's extensive modulation matrix. It supports both rests and variable-length sequences.
Another notable feature of the Pro 2 is its 4 rear-panel control voltage inputs and outputs, which make it compatible with modular synths. The control voltages can be assigned and routed from within the modulation matrix and can run at audio rates for extreme modulation effects. "A primary goal was to make the Pro 2 as open-ended and flexible as possible," said Smith. "The four control voltage ins and outs really open up a world of interfacing possibilities with other gear. You could almost call the Pro 2 our own mini-modular."
Smith says that the surprises don't end there: "A very cool bonus features is that even though we designed it primarily as a very powerful mono synth, it's actually 4-voice paraphonic—you can play 4 notes simultaneously, if you want to. Add in the super saws, and you've got a very big sound." In paraphonic operation, the 4 individual voices share a common filter and envelopes. Paraphony has gained popularity in recent years and was found in such vintage instruments as the ARP 2600 and ARP Odyssey, which were duophonic.
The feature set of the Pro 2 is rounded out with a multimode arpeggiator; 4 stereo, multi-tap delays with analog modeling; 4 LFOs; tuned feedback; analog distortion; Character controls with sound sculpting options such as Drive, Hack, Decimation, Girth, and Air; and extensive modulation possibilities. The LFOs, delay, and arpeggiator can be synced to either the internal clock or an external MIDI clock. Two programmable position- and pressure-sensitive touch sliders and pitch and mod wheels provide nuanced control over live performance.
"Right now there's a trend of reissuing classic synths from the past. People have been asking for a reissue of the old Sequential Pro-One for quite a while. But as a synth designer, I'm happiest creating new instruments—synths that with every iteration put more power and better sounds into the hands of musicians. The Pro 2 is light years beyond the Pro-One in every way. It's the most powerful mono synth I've ever made. You've got to keep moving forward."
The Pro 2 will be available late July of 2014 with a US MAP of $1,999
Reveal Sound has released version 1.0.16 of Spire, a software synthesizer instrument for Windows and Mac.
Spire is a software polyphonic synthesizer that combines powerful sound engine modulation and flexible architecture, a graphical interface provides unparalleled usability. Spire is the embodiment of the best opportunities, both software and hardware synthesizers.
Changes in Spire v1.0.16
Improve stability.
Fixed: Factory banks install under MacOS.
Fixed: Reset controls on opening window.
Add: MacOS uninstall script.
Add: Allow multiple preset select on load.
New presets by Function Loops in Factory bank 5.
Spire for Windows and Mac (VST/AU) is available for purchase for 139 EUR / $189 USD.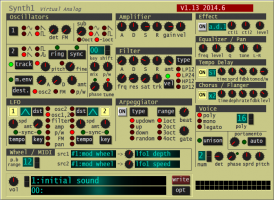 Ichiro Toda has released new beta versions of the freeware Synth1 plug-in for Windows and Mac OS X.
The Windows v1.13 Beta 1 release adds a 64-bit VST version whilst the Mac v1.13 Beta 7 release adds an Audio Unit version (32-bit only for now).
Changes in Windows v1.13 beta1:
64-bit version is available.
VST version up to 2.4 (both 32-bit & 64-bit). There is no change to the previous version in functionality.
Bug Fix: Fixed a problem that occurred is petit noise on MusicMaker.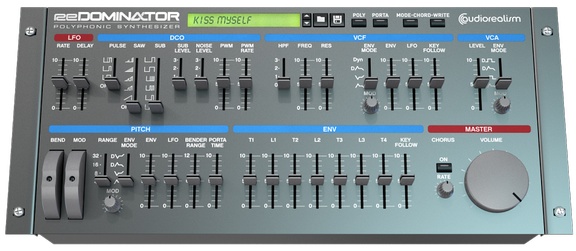 AudioRealism has announced the release of the VST/AU version of ReDominator, a synthesizer instrument for Windows and Mac.
ReDominator is an emulation of the classic Alpha Juno 1/2 (JU-1/2), a polyphonic DCO (digitally controlled oscillator) based synth from 1986.

The JU-1/2 became popular in the early 90′s techno and rave scene particularly by the classic Hoover sound (which ReDominator emulates accurately). But beyond those niche sounds there lays a versatile synthesizer that does bass, pads, leads, organs and a lot of other sounds waiting to be discovered!
ReDominator VST/AU features
Accurate emulation of the Alpha Juno 1/2 including the famous Hoover patch.
14 different low aliasing waveforms including a unique PWM-sawtooth.
High quality full range 24dB/octave low-pass filter.
Unique 8 parameter envelope generator which enables much more complicated and expressive sounds than a standard ADSR.
200+ bundled patches (of which many are sysex converted from our own JU-2).
Patch importer which allows importing sysex patches from your own Alpha Juno and play them in ReDominator.
Chord Memory function.
ReDominator for Windows and Mac is available for purchase for 55 EUR incl. VAT.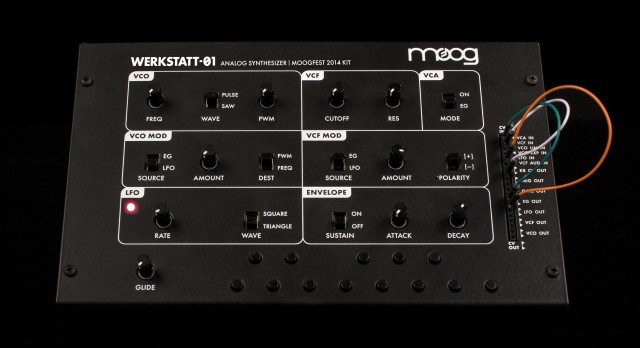 Moog Music today announced that it is releasing the Moog Werkstatt – originally designed for a hands-on workshop during Moogfest 2014 – as a limited edition hackable synthesizer.
During Moogfest, the comppany facilitated a two-day workshop, in which Moog engineers assisted 125 participants in building Werkstatt, an educational, patchable analog synthesizer designed specifically for the event. It was Moog's first workshop since 1997, when Bob Moog held a theremin workshop in Portland, Maine.
Moog has responded to interest by creating a no-soldering-required version of Werkstatt, the Werkstatt-Ø1 Moogfest 2014 Analog Synthesizer. They are releasing it in limited quantities to a small number of US dealers only
"We created Werkstatt specifically as an educational tool for teaching electronics assembly techniques and analog synthesizer circuit design in a workshop at Moogfest 2014." said Moog Product Development Specialist Steve Dunnington, creator of the Werkstatt."That workshop was very special for the Moog engineers. We learned so much from the experience and each of the participants."

"While we can't duplicate the experience of the Moogfest 2014 Engineering VIP Workshop," adds Dunnington, "Werkstatt-Ø1 will still offer a valuable and fun educational experience for customers."
The Werkstatt-Ø1 Moogfest 2014 Analog Synthesizer features a single voltage controlled oscillator with two selectable waveshapes, saw and pulse. This section also includes a control for adjusting pulse width modulation and oscillator frequency, which extends from 8Hz to 16KHz.
The voltage controlled filter section houses a classic 4-pole Moog Ladder Filter with 20Hz-20kHz frequency response, and a variable resonance control that is capable of driving the filter into self oscillation.
Werkstatt-Ø1 has two selectable modulation sources; a dual waveshape LFO with 0.2Hz-600Hz sweepable range, and a variable attack/decay envelope section with sustain on/off switch. Modulation sources are easily assigned via dedicated VCO and VCF modulation sections, each with a variable control for modulation amount.
Also included in each Werkstatt-Ø1 is a breadboard-style patchable header, which expands its sonic abilities. This patchable header features a dedicated external audio input, and control voltage inputs for VCO linear FM, VCO exponential FM, VCF, VCA, and LFO. CV outputs are in pairs, and include dual outputs for Keyboard CV, EG, LFO, VCF, VCO, Gate, and Trigger.
Showcase of version 2.0 of Mikrowave displaying the revamped user interface, all-new formant filter interpolation, arpeggiator, secondary tuneable oscillator, pitch shifting effects and fine tuned drum sounds.

Mikrowave is available for free (without ads or time constraints) and as a paid version that allows users to save and export their songs (either as WAV, publish directly to SoundCloud or as MIDI).

All sounds were generated by Mikrowave on an Asus Nexus 7 tablet.

You can get it on Google Play : https://play.google.com/store/apps/details?id=nl.igorski.mikrowave.free