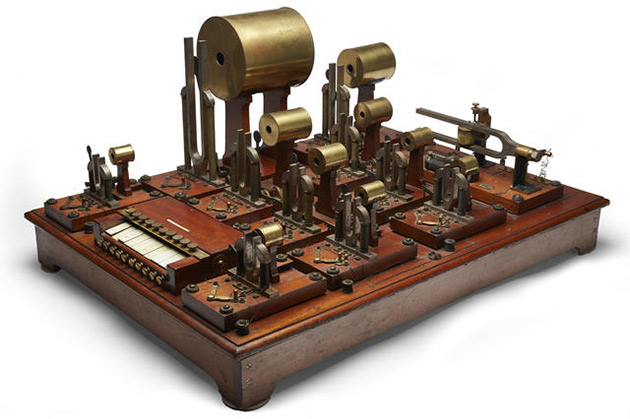 A "bargain" – if we may say so 😀
But it sure is a beauty !!
Abstract:
When Hermann von Helmholtz designed what was essentially the world's first electric keyboard, he didn't do out of a need to lay down crunchy riffs on the shores of the Rhine. What he needed was a way to generate tones and mix timbres in a bid to better understand the musicality and substance of vowel sounds. He ultimately came up with a series of electrically activated tuning forks hooked up to brass resonators, and now you can try to own one of your every own… assuming you've got between at least $20,000 burning a hole in your pocket. This particular unit — hewn of wood and keys whittled from African ivory — wasn't made by Helmholtz himself, but it is one of the few remaining examples of such 19th century tech still in existence. To hear auction brokerBonhams tell the tale, there's just one other floating around the United States (another seems to be in safe hands at the University of Toronto). Intrigued? The Helmholtz synthesizer will go up for auction in New York come late October along with a slew of other scientific curios from back in the day.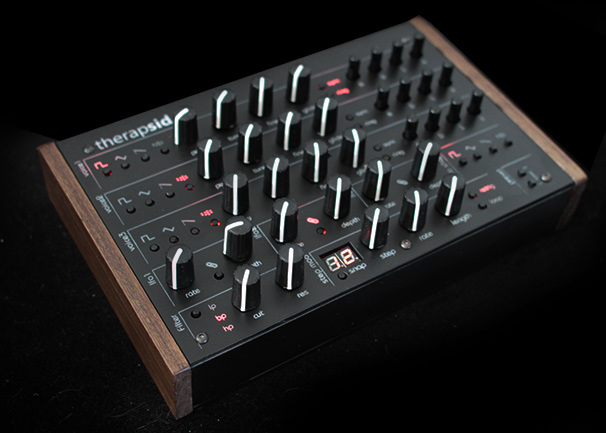 Twisted Electrons has released their newest synthesizer, the TherapSid.
Based on the SID (Sound Interface Design) chip and named for the fearsome long-toothed Therapsid dinosaur, the TherapSid is an "aggressive" synth intended "to create roaring noises that will cut through your mix like razor-sharp claws through a mammoth steak."


TherapSid Features:
Compatible with all SIDS
3 Oscillators, 4 waveforms per oscillator
Multimode Filter
35 Knobs, 31 Buttons
SID pcb isolated from main pcb (less noise)
Switched audio input for running signals through the filter
100 Presets
3 LFOs: 4 waveforms, 12 target knobs
16 Step Modulator: sequence up to 20 knob positions, per step in a snap! Also modulate Ring Mod, Sync and Waveform for all voices.
Pedal Glide: enable/disable glide with the sustain pedal
Compatible with free iPad app (pending app store approval)
Fully MIDI automated (see midi spec. chart in manual)
Future proof: Firmware updates via sysex
http://twisted-electrons.com/therapSid
Overview: presets – lfo – step mod – ipad app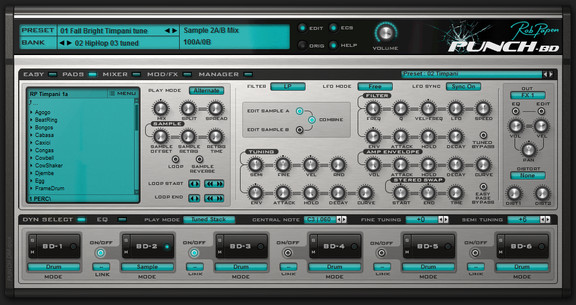 Rob Papen has introduced Punch-DB, a bass drum synthesizer and sample player plug-in based around the BD module of the multi award winning Punch virtual drum synthesizer.
Stacking bass drums is a popular technique used by today's music producers and Punch-BD gives you the ability to stack up to 6 in total. Divide the 6 BD pads over the keyboard or use them 'stacked' in tuned mode to produce creative new BD sounds for all styles of contemporary music.

Punch-BD delivers synthesized drums in the finest audio quality or you can choose to load in your own samples for complete flexibility. Each pad has its own distortion module with several distortion types as well as its own 3 band graphic EQ. What's more, each individual pad also has its own preset section next to the overall 'BD kit'.

Like its big brother, Punch-BD features four FX units each with many 31 types of top quality FX plus further filters, envelopes, modulation routings and more for crafting your own unique sound.

From Electronic Dance and Hip Hop to Soundtrack projects, Punch-BD provides a solid speaker-busting sound for your productions.
Punch-DB will be available soon for Windows and Mac (VST/AU/AAX), priced at 49 EUR / $59 USD.
Demonstrating the new Cosmosƒ vSaturn synthesiser. This version presents a unique "Sieves" engine, which makes it possible to calculate the known musical scales and custom designed ones, for mapping on multiple synthesis engine parameters at once.
vSaturn also offers a clever MIDI response to perform with the "sieves" on Cosmosƒ micro events. Single notes or chords can be performed with MIDI input to control the micro event pitch relationship inside the relevant meso events.
lso there is a audio precision arpeggiator "a la Cosmosƒ" with stochastic features implemented in this new version.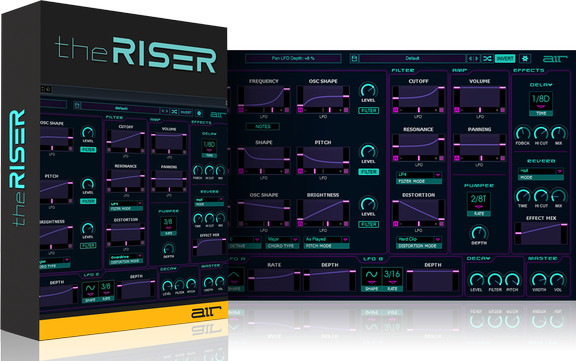 AIR Music Technology has introduced The Riser, a synthesizer instrument designed for creating powerful transitions with electronic dance music producers and DJs in mind.
A powerful, synth-based instrument, The Riser features all of the tools you need to compose heart-stopping transitions in one intuitive user-interface. In seconds, you can construct rises, falls, swells, fades, and more, based on our coveted sound synthesis technology. For instant inspiration, The Riser includes 300 pro-grade presets that you can edit, deconstruct, copy, mangle, and implement into your tracks.

Transitions add suspense, hype, drama, and movement to your music. Cymbal swells and reversed instruments were go-to transitions for years, until the DAW pioneered fast and flexible audio editing, paving the way for complex sound effects. When combined with synths and other audio shaping tools, transitions completed their metamorphosis from science to art. Until now, this process has convoluted and time-intensive, taking attention away from the overall project itself. The composer spent more time trying to get plugins, virtual sample players, hardware effects, sound modules, and other gear to play nice with each other – and that was before hitting "record".
The Riser features
Transition designer optimized for electronic music production, scoring, and remix work.
3 editable oscillators; sweep, noise, and chord.
3 LFOs; free-running, tempo-synced, and Pumper.
23 filter types including multi-pole and phase shift.
300 professionally designed, editable presets.
Randomizer generates patches at the click of a button.
Invert mode creates complementary patches by instantly changing transition direction.
Easy MIDI-Learn Mode; just click and twist to assign parameters to your favorite MIDI controller hardware.
Pumper effect creates pulsating movement.
Configurable delay and reverb with wet/dry processing; 4 reverb types.
Adjustable panning movements and master stereo width control.
64-bit AU; 32- and 64-bit VST/AAX; Mac or Windows.
The Riser will cost $79.99 USD. A full version 15-day demo is available for 48 hours only.
We hope this video gets a rise out of you.
This is the fourth selection from takes during a five day recording session and performance series at the Singing Ringing Tree (SRT) in Burnley, UK, a wind activated musical panopticon in Northern England. The sculpture was designed by architects Tonkin Liu and completed in December 2006. I performed accompaniment for the SRT binaural recordings simultaneously using a Novation Bass Station II connected to a USB battery. I also ran the Bass Station II through a Moog Minifooger Delay.
NOTE: This is a binaural recording combined with a monophonic synthesizer track. Although it sounds great through speakers, circumaural headphones must be used to experience the binaural effect.
This is a demonstration of the Oberheim Two Voice vintage analog synthesizer!
Oberheim's first synthesizer was a single-voice mini-module called a SEM (Synthesizer Expander Module). However, in 1975, Oberheim created their first compact, programmable and polyphonic synthesizer by coupling two SEM modules to a 37-note keyboard and a simple analog sequencer. This was what became the Two Voice. Oberheim achieved a polyphonic sound not yet seen in ARP and Moog gear at the time by hard-wiring the two monophonic SEMs into the compact keyboard design.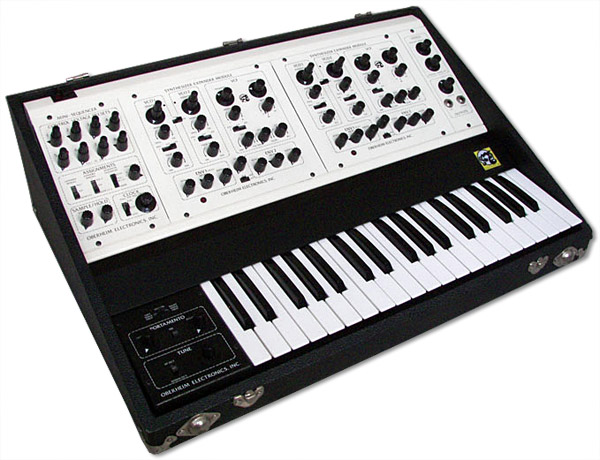 In 1976 Oberheim came out with another module, the Polyphonic Synthesizer Programmer. This could memorize the control voltages of many parameters for up to eight SEM modules. When these were added to the Two Voice, Oberheim finally had one of the earliest programmable and polyphonic instruments! Released alongside the Two Voice also came the Four Voice which had four SEMs installed, and a larger 49-note keyboard. And later, in 1977, a second tier was added above the four SEMs on the Four Voice to add yet another four SEMS, making the Eight Voice.
Two voices was great in 1975, and eight voices was pretty monstrous in the later seventies. But, a major drawback to these first Oberheim synths was that polyphony was achieved by having multiple modules. This meant that each voice had to be independently programmed. This also means that each voice has its own filter, making real-time filter sweeps of all your voices more than a handful! Fortunately the sequencer comes in handy for controlling each voice/module independently.
Despite its innovative features, the Two Voice was soon blown out of the water by the popular monophonic and truly polyphonic synths like the OSCar, ARP Odyssey and SH-101.
Multivox MX-65 Polyphonic Synthesizer. It is an analog poly keyboard that was made in Japan from 1977 to 1980. Very very rare.
It has six voices. Piano, strings, clavichord, honky-tonk, piano and organ. The voices them selves are just different combinations of the filter and envelope positions that you can switch between. The filter is interfaced with the envelope with 3 modes. A fast attack/fast decay mode, an 'expand' mode with resonance emphasis, and a fast attack/slow decay mode..
Excuse the poor playing! I am trying to focus on the controls and just show a quick demo of the sound. Reverb in Ableton.

Acrobatics has released Mate, a free synthesizer instrument for Windows.
Mate is a hands-on, simple desktop musicians friend, inspired by synthesizers of the seventies and eighties.

It produces original synth tones and reproduces strings, pianos, basses, organs and bells patches with ease, but it can also explore wild and spacey atmos using its flexible modulation options and smart programming.
Mate features
32-bit ultra-optimized code, zero latency, samplerate independent engine.
All sample rates supported.
Each control is fully recordable and automatable in host.
Most knobs & switches receive external MIDI control changes.
Mate for Windows (VST) is available to download from KVR Audio as part of the Developer Challenge 2014.
Another demo of the NESizer. Added some new functionalty; now patterns for the square 1 and triangle channels can be added as well, and playing along on the square 2 channel.
Information about the project can be found here:https://github.com/Jaffe-/NESizer2