It looks like a teaser video – but so far we've seen nothing official from Behringer on it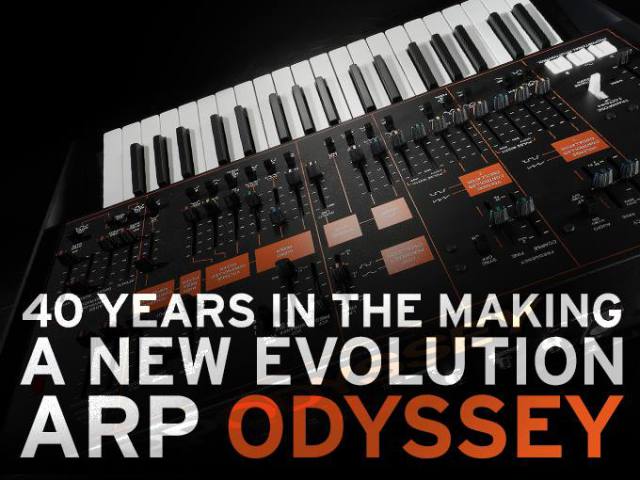 Korg has shared this teaser image for the new ARP Odyssey, saying only "Be prepared for a new evolution 1-22-15″. Jan 22 is the opening of the 2015 NAMM Show, so we can assume that the new Korg ARP Odyssey will make its official debut at the event.
Korg announced plans in February that it plans to reissue the ARP Odyssey. At the time, Korg also announced that ARP co-founder David Friend was joining Korg as their chief advisor on the Odyssey.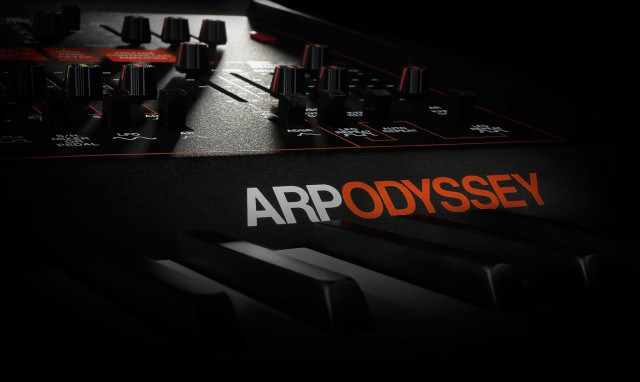 With Behringer also getting into the game, as announced some days ago, we may have an interesting NAMM show ahead of us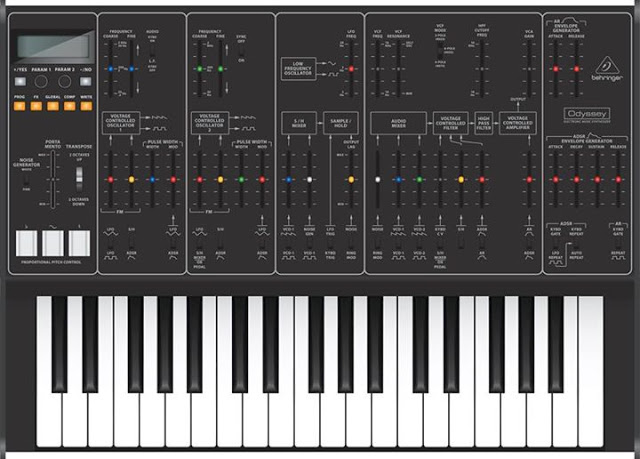 It is not just Korg who is in to this vintage classic, the below text can be found on the net now:
"How would you feel if we build an authentic ARP Odyssey synthesizer, but with a unique 3-mode VCF circuitry (that replicates all MK I to III versions) plus full Midi/USB implementation? Price around US$ 500. Shoot…"
Behringer iSudio 202 and FCB1010 MIDI foot controller
Used Audiobus , Loopy HD as output and Jam up XT for guitar ,Rhythm Pad free for drums
Background video description:
Messing around with the new Mopho. Sorry about the motion, I'm not used to the head mount camera (GoPro Hero 3). Hope nobody gets seasick. This is a Korg ER1 thru a Korg KP3. Dave Smith Mopho keyboard thru a Rogue analog chorus, Behringer vintage analog delay and Digidelay and then the Infinity Looper pedal. You can also see my home made breakout pedal that gives the reverse capability. Send on the mixer is a Hardwire RV7 reverb pedal. No other FX or EQ were added. As you can tell, I love the reverse on the looper and the aftertouch on the Mopho. Everything is midi synced.
Download WAV : https://www.box.com/s/r7s4w491slkg81g…
Roland Juno 106 played through a Behringer Echo Machine EM 600 Delay Pedal.
"Just some Juno noodling, and rather extreme settings on the EM 600, but that's the way I like my delays

"
A demo and tutorial of using the Behringer UCA222 with an iPad 2 to record external audio into Cubasis and Audiobus..In this manic video I record VST's, a guitar, bass, and a synth live into Cubasis from start to finish including some problems we all encounter..but the Behringer UCA222 performs perfectly and so does Cubasis and Audiobus
Jordan Passmore demo of the Roland TR-808, Akai MPC-60 and Roland SC-880. SC-880 is playing the rave patches, MPC-60 is loaded full of TR-909 samples and is also sequencing 909/synth, TR-808 is doing 808. All held together by a Garfield Nano Doc Sync/Clock adapter. All sounds are mixed live on an old Studiomaster mixing board; from there they pass through an Electra EQ, then finally into my Native Instruments Kore Audio Interface. The SCC-80 has an analog delay attached to it, which when I'm out of the shot, I'm usually messing with. I also have a Behringer Virtualizer Pro Reverb on an effects send (a bit of the 909 and SC-880 are send to this).
The MPC-60 loaded with 909 samples is pretty hard to beat for completely cutting through a mix. I personally love the 808 so of course I threw that on top as well. The SC-880 is very interesting and totally useful (multitimbral and full of many very usable effects). I found these patches on it and decided to do a short demo from there.
Kebu on stage performing a classic Jarre song, here's what he has to say about it:
This tune by Jarre is one of the most joyful tunes in the world and always makes me smile. Therefore, I picked this one as of the very few covers I performed at my mini-tour in May 2012. This video was recorded live at my show in Doo-Bop Club, Vaasa, 12th of May 2012.
The song was performed using only analog synthesizers, either played live or sequenced. The performance was recorded line in to one of the cameras. The ambience in the club was recorded using the built-in microphones on two of the remaining cameras and mixed together with the line signal.
Equipment used in this song: Arp Odyssey Mk II; Korg Polysix, Poly 61, Mono/Poly, Micro-preset M500; Roland TR-808, Juno 60, Alpha Juno 1&2; Moog Source, Touched-by-sound DRM1, Oberheim Matrix 6R, Yamaha RM1x (only for MIDI sequencing), Behringer DDX3216, Lexicon MPX500, as well as a midi patchbay and additional preamps for my mixer. Cameras: Canon HF100 (x2), HF200 and HF406.
Here's a new video featuring the Behringer modular DJ controllers together with Traktor:
For more information on the Behringer CMD series, please visit: http://www.djtechtools.com/2012/01/20/behringers-cmd-line-modular-dj-controll…
Wide variety of modular units that apply to different uses
Super precise jog wheel and 60mm faders
Come with new Behringer 3-year warranty
CDM-MM1 mixer unit includes a built-in powered USB 2.0 hub