Behringer iSudio 202 and FCB1010 MIDI foot controller
Used Audiobus , Loopy HD as output and Jam up XT for guitar ,Rhythm Pad free for drums
Background video description:
Messing around with the new Mopho. Sorry about the motion, I'm not used to the head mount camera (GoPro Hero 3). Hope nobody gets seasick. This is a Korg ER1 thru a Korg KP3. Dave Smith Mopho keyboard thru a Rogue analog chorus, Behringer vintage analog delay and Digidelay and then the Infinity Looper pedal. You can also see my home made breakout pedal that gives the reverse capability. Send on the mixer is a Hardwire RV7 reverb pedal. No other FX or EQ were added. As you can tell, I love the reverse on the looper and the aftertouch on the Mopho. Everything is midi synced.
Download WAV : https://www.box.com/s/r7s4w491slkg81g…
Roland Juno 106 played through a Behringer Echo Machine EM 600 Delay Pedal.
"Just some Juno noodling, and rather extreme settings on the EM 600, but that's the way I like my delays

"
A demo and tutorial of using the Behringer UCA222 with an iPad 2 to record external audio into Cubasis and Audiobus..In this manic video I record VST's, a guitar, bass, and a synth live into Cubasis from start to finish including some problems we all encounter..but the Behringer UCA222 performs perfectly and so does Cubasis and Audiobus
Jordan Passmore demo of the Roland TR-808, Akai MPC-60 and Roland SC-880. SC-880 is playing the rave patches, MPC-60 is loaded full of TR-909 samples and is also sequencing 909/synth, TR-808 is doing 808. All held together by a Garfield Nano Doc Sync/Clock adapter. All sounds are mixed live on an old Studiomaster mixing board; from there they pass through an Electra EQ, then finally into my Native Instruments Kore Audio Interface. The SCC-80 has an analog delay attached to it, which when I'm out of the shot, I'm usually messing with. I also have a Behringer Virtualizer Pro Reverb on an effects send (a bit of the 909 and SC-880 are send to this).
The MPC-60 loaded with 909 samples is pretty hard to beat for completely cutting through a mix. I personally love the 808 so of course I threw that on top as well. The SC-880 is very interesting and totally useful (multitimbral and full of many very usable effects). I found these patches on it and decided to do a short demo from there.
Kebu on stage performing a classic Jarre song, here's what he has to say about it:
This tune by Jarre is one of the most joyful tunes in the world and always makes me smile. Therefore, I picked this one as of the very few covers I performed at my mini-tour in May 2012. This video was recorded live at my show in Doo-Bop Club, Vaasa, 12th of May 2012.
The song was performed using only analog synthesizers, either played live or sequenced. The performance was recorded line in to one of the cameras. The ambience in the club was recorded using the built-in microphones on two of the remaining cameras and mixed together with the line signal.
Equipment used in this song: Arp Odyssey Mk II; Korg Polysix, Poly 61, Mono/Poly, Micro-preset M500; Roland TR-808, Juno 60, Alpha Juno 1&2; Moog Source, Touched-by-sound DRM1, Oberheim Matrix 6R, Yamaha RM1x (only for MIDI sequencing), Behringer DDX3216, Lexicon MPX500, as well as a midi patchbay and additional preamps for my mixer. Cameras: Canon HF100 (x2), HF200 and HF406.
Here's a new video featuring the Behringer modular DJ controllers together with Traktor:
For more information on the Behringer CMD series, please visit: http://www.djtechtools.com/2012/01/20/behringers-cmd-line-modular-dj-controll…
Wide variety of modular units that apply to different uses
Super precise jog wheel and 60mm faders
Come with new Behringer 3-year warranty
CDM-MM1 mixer unit includes a built-in powered USB 2.0 hub
A stack of new DJ products and a set of new headphones
BEHRINGER introduces three small format premium mixers that directly interface with the ever-popular iPad.
Drawing on the power of the most ubiquitous mobile digital device, the XENYX iX Series mixers are designed to handle live performance and provide state-of-the-art tools to create professional recordings. Users can also sync performances to video by utilizing the iPad's video out capability.
The new XENYX iX Series, which include the XENYX iX3242USB, iX2442USB and iX1642USB, feature a built-in iPad docking station designed to send signal to and from the iPad with a wide range of routing options.
The innovative feature set included in the new XENYX iX Series USB mixers makes it possible to record and mix on a professional level thanks to the built-in, stereo USB audio interface. Connect these mixers directly to a PC or Mac computer via a single USB cable to record any signal source connected to the mixer.
All iX mixers include the new dual-engine KLARK-TEKNIK FX processor with 32 editable, studio-grade presets such as reverb, chorus, flange, delay, pitch shifter and multi-effects. In addition to literally thousands of apps, the iX mixers use the iPad to control the new KLARK-TEKNIK FX Processor App, enhancing the mix by allowing the user deep control of EQ's, compressors and reverbs and a full spectrum analyzer.
The iX series mixers also feature high performance XENYX mic pre amps, which represent a major step in the evolution of audio technology. Comparable to far more expensive, stand-alone mic preamps, XENYX preamps offer a staggering 130 dB of dynamic range, with a bandwidth that extends from below 10 Hz to 200 kHz for transparent, crystal-clear performance.
XENYX mixers' 3-band channel EQ is based on the same circuitry used in British consoles that allows users to create signals with incredible warmth and detailed musical character. Additionally, 'one-knob' compression is available on all mono channels. Dial in the perfect amount of compression for instruments and vocals, creating powerful mixes with punch and clarity.
"The new XENYX iX mixers demonstrate the innovation that stems from our massive investment in Research and Development, says Mark Wilder, VP of Marketing Communications. "These are the first of many more ground-breaking products to be announced at NAMM 2012."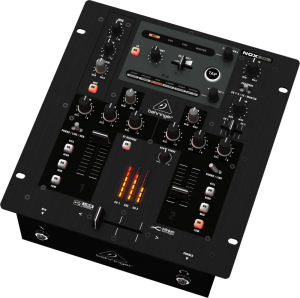 BEHRINGER brand announces that their new NOX Series DJ mixers are now shipping, and will soon be available with the company's authorized retail partners worldwide. The feature-rich new mixers, which drew a considerable amount of buzz with their 2011 NAMM show debut, are designed to connect directly to PC and Mac computers, allowing the user to record and play back virtually any digital music file—without the need for any special drivers. With models ranging from two to six channels, all feature Infinium "Contact-Free" VCA crossfaders with adjustable crossfader curves, BEHRINGER's premium-grade phono and legendary XENYX mic preamps, as well as beat-syncable FX for years of flawless performance.
RCA inputs are provided for turntables, tape decks and CD players, plus all NOX mixers feature built-in USB connectivity for unparalleled access to MP3 libraries and other digital file formats, directly via the user's computer. Thanks to BEHRINGER's "Planet Earth" power supply, NOX Series mixers can be used anywhere in the world.