At the 2015 NAMM Show, Korg introduced their new version of the ARP Odyssey.
As part of this presentation, ARP's David Friend shared his memories of creating the ARP Odyssey.
Background video info:
Synthbug Demo of the Korg Arp Odyssey recorded at NAMM 2015. Played by Carmen Silva from Synthbug, patch design by Draven (me). Audio recorded line out directly into my recorder at 48K 24bit.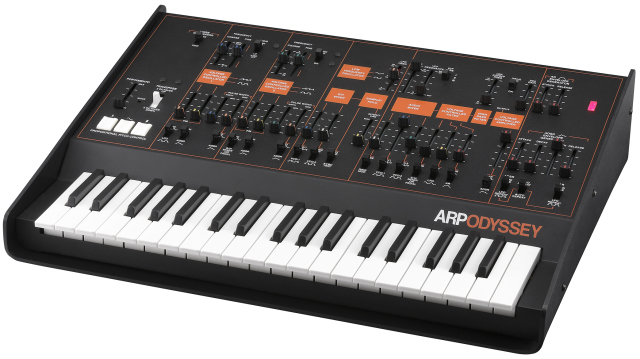 Originally produced in 1972, the ARP Odyssey was updated with several improvements throughout its history and was manufactured until 1981, due to economic hardships and the rise of cheap polyphonic digital keyboards.
The new Korg Odyssey has a compact body, highly operable sliders, and a 37 note slim keyboard. In addition, a new 'DRIVE' switch is provided and connectors include MIDI and headphone output as well as Patch cables have been added.
According to the company, "Korg has brought back the ARP Odyssey for today, while preserving the basic design of the original".
The New ARP Odyssey
"Together the engineers at Korg and Arp were able to nail the sound and feel of the original. Under the advisory assistance of David Friend, the co-founder of ARP Instruments, every detail was adjusted to replicate the original unit's distinctive synthesis," says James Sajeva, Brand Manager for Korg products. "Every aspect has been carefully considered to stay true to the quality of the original, down to the sophisticated semi-hard case."
Korg has completely reproduced the original circuitry for artists looking to recreate classic sounds and explore new ones. The ARP Odyssey has been downsized to 86% of the original. Carefully selected parts are used in the familiar slider section, providing an operating feel that's even smoother than the original.
Product Specifications:
Keyboard: 37-note (Slimkey, No velocity sensitivity, No aftertouch)
Maximum Polyphony: 2 voices for duophonic; normally monophonic
Controllers: Transpose Positions: 2 octaves down, normal, 2 octave up
Proportional Pitch Control: b (Pitch down) Pad: about -2 / 3 octave – (Modulation) Pad
# (Pitch-up) Pad: about +2 / 3 octave
Noise Generator: Noise Spectrum Types (white and pink)
Portamento: Maximum Speed: about 0.01 msec./oct
Minimum Speed: about 1.5 sec./oct
VCO (Voltage Controlled Oscillator): Waveforms: Sawtooth, Square, Pluse (Dynamic Pluse)
Frequency Range: VCO-1 in low freq. mode, 0.2 Hz – 20 Hz: VCO-1 and VCO-2 (audio range) about 20 Hz – 20 kHz
Warm Up Drift: 1/30 semitone from turn on max
Pulse Width: 50 % – 5 %
Pulse Width Modulation: ADSR, +45 %; LFO, +15 %
Voltage Controlled Response: 1 V/oct
Maximum Frequency Shifts: LFO sin wave, +1/2 oct.; LFO square wave, +1.5 oct.; ADSR, +9 oct.; S/H, +2 oct.
* VCO-1 is low note priority, VCO-2 is high note priority.
VCF (Voltage Controlled Filter): Types: Low pass (I: 12 dB/oct., II III: 24 dB/oct.)
Frequency Range: 16 Hz – 16 kHz
Maximum Usable Q: 30
Resonance: 1/2 – self oscillate
Voltage Controlled Response: C3 key (left edge): 0 V, C6 key (right edge) 3 V
VCA (Voltage Controlled Amplifier): Dynamic Range: 80 dB
Ring Modulator:
Type: Digital
Input Signal: VCO-1, VCO-2 (square wave)
Sample & Hold:
Command Sources: Keyboard or LFO trigger
Sampled Signals: VCO-1 sawtooth wave and square wave, VCO-2 square wave and pink noise
ADSR Envelope Generator:
Attack Time: 5 msec. – 5 sec.
Decay Time: 10 msec. – 8 sec.
Sustain Level: 0 – 100 % or Peak
Release Time: 15 msec. – 10 sec.
AR Envelope Generator:
Attack Time: 5 msec. – 5 sec.
Release Time: 10 msec. – 8 sec.
Control Input Jacks:
Pedal: ?6.3 mm monaural phone jack
Portamento Foot Switch: ?6.3 mm monaural phone jack
Audio Output Jacks:

LOW:
Connector: ?6.3 mm monaural phone jack
Maximum Output Level: -20 dBu@ 10 k? load
Output Impedance: 10 k?
HIGH:
Connector: XLR connector
Maximum Output Level: +4 dBu@ 1 k? load
Output Impedance: 330 ?

Headphones Jack:
Connector: ?6.3 mm stereo phone jack
Maximum Output Level: 50 mW + 50 mW@ 33 ? load
Output Impedance: 10 ?
* Controllable by volume knob.
External Audio Input (Ext Audio Input) Jack:
Connector: ?6.3 mm monaural phone jack
Maximum Input Level: -10 dBu
Input Impedance: 22 k?
MIDI Connector:
IN
USB Connector:
Type B
CV IN/OUT Jacks:
Keyboard CV (IN/OUT): 1 V/oct.
Connector: ?3.5 mm monaural phone jack
GATE IN/OUT Jacks:
GATE IN: +3 V (minimum)
GATE OUT: +10 V, key down; 0 V all keys up
Connector: ?3.5 mm monaural phone jack
TRIG IN/OUT Jacks:
TRIG IN: +3 V pulse min., 10 ?sec. Duration minimum
TRIG OUT: +10 V pulse on key depression, 10 ?sec. Duration
Connector: ?3.5 mm monaural phone jack
Power Supply: AC adapter jack (DC 9 V)
Power Consumption: 6.5 W
Dimensions (W x D x H):  502 x 380 x 120 mm / 19.76″ x 14.96″ x 4.72″
Weight: 5 kg / 11.02 lbs
Accessories:
AC adapter, phone cable, mini-phone cable, owner's manual, dedicated semi-hard case
Options:
VP-10 Volume Pedal, PS-1/PS-3 Pedal Switch
Pricing and Availability.
The new Korg ARP Odyssey has an MSRP $1400. Availability is TBA.
A short demo of the three different Odyssey filters. All three installed in an ARP Avatar.
Joachim Verghese designed a nifty 40235 filter combining the ARP 4023 and 4035 filters, and this video shows some of the characteristics between these two, and the original 4075-filter.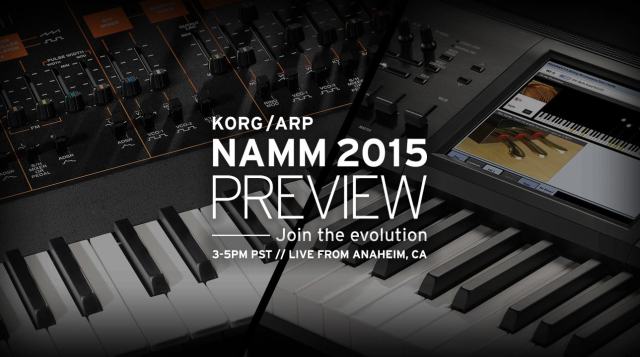 Korg today shared this teaser on Facebook for a Korg/ARP NAMM Preview:
Korg invites you to be a part of our exclusive Pre-NAMM show experience.
We will be unveiling the industry's most highly anticipated products with artist performances and featured guest speakers.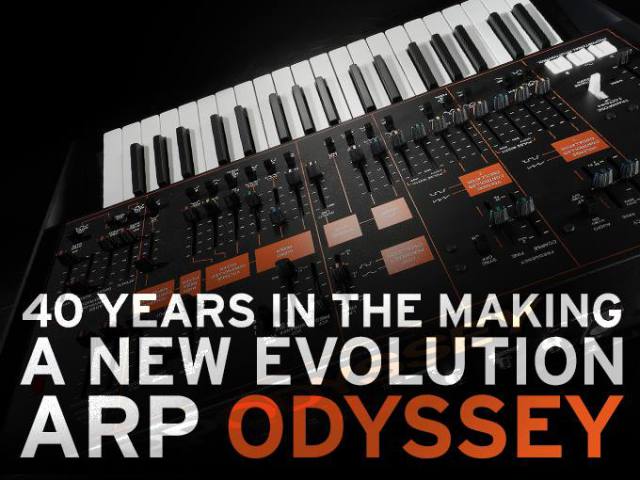 Korg has shared this teaser image for the new ARP Odyssey, saying only "Be prepared for a new evolution 1-22-15″. Jan 22 is the opening of the 2015 NAMM Show, so we can assume that the new Korg ARP Odyssey will make its official debut at the event.
Korg announced plans in February that it plans to reissue the ARP Odyssey. At the time, Korg also announced that ARP co-founder David Friend was joining Korg as their chief advisor on the Odyssey.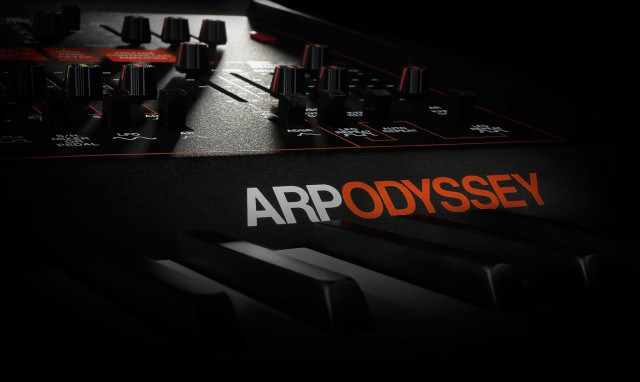 With Behringer also getting into the game, as announced some days ago, we may have an interesting NAMM show ahead of us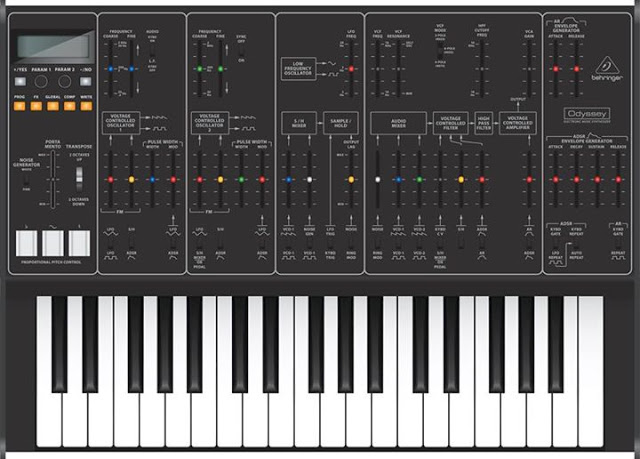 It is not just Korg who is in to this vintage classic, the below text can be found on the net now:
"How would you feel if we build an authentic ARP Odyssey synthesizer, but with a unique 3-mode VCF circuitry (that replicates all MK I to III versions) plus full Midi/USB implementation? Price around US$ 500. Shoot…"
A voyage into the heart of the ARP Odyssey from the year 1972.
Exploration by Marko Ettlich
2 Osc per Voice I Saw, Pulse; PWM, FM, Sync, Noise
Filter – 24dB lowpass
static highpass filter
sample/hold
It has been used by Ultravox, Gary Numan, John Foxx, Vangelis, Elton John, Jethro Tull, Tangerine Dream, ABBA, Herbie Hancock and many more.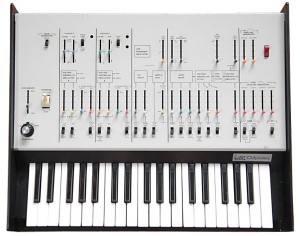 The Odyssey essentially gives you a simplified hard-wired ARP 2600 in a much smaller and affordable package. The Odyssey is a 2-oscillator analog synth (with duo-phonic capability) and it sounds really nice; the Minimoog has three oscillators and is capable of thicker sounds. The Odyssey comes well equipped with all the tweakable features and analog goodness you'd expect: a resonant low pass filter, ADSR envelopes, sine or square wave LFO, and a sample-and-hold function.
The Odyssey also added a few new features such as a high pass filter that could be used in series with the low pass, oscillator-sync capability, and pulse-width modulation. It is a very professional and expressive machine that can create nice analog basses, interesting leads, great effects and sweeping sounds straight out of a Tangerine Dream album!
There were many versions of the Odyssey over the years, each a little different. They can be broken down into 8 models spanning 3 Mark "Mk" versions