Time machine: ARP Odyssey
A voyage into the heart of the ARP Odyssey from the year 1972.
Exploration by Marko Ettlich
2 Osc per Voice I Saw, Pulse; PWM, FM, Sync, Noise
Filter – 24dB lowpass
static highpass filter
sample/hold
It has been used by Ultravox, Gary Numan, John Foxx, Vangelis, Elton John, Jethro Tull, Tangerine Dream, ABBA, Herbie Hancock and many more.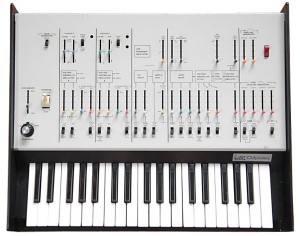 The Odyssey essentially gives you a simplified hard-wired ARP 2600 in a much smaller and affordable package. The Odyssey is a 2-oscillator analog synth (with duo-phonic capability) and it sounds really nice; the Minimoog has three oscillators and is capable of thicker sounds. The Odyssey comes well equipped with all the tweakable features and analog goodness you'd expect: a resonant low pass filter, ADSR envelopes, sine or square wave LFO, and a sample-and-hold function.
The Odyssey also added a few new features such as a high pass filter that could be used in series with the low pass, oscillator-sync capability, and pulse-width modulation. It is a very professional and expressive machine that can create nice analog basses, interesting leads, great effects and sweeping sounds straight out of a Tangerine Dream album!
There were many versions of the Odyssey over the years, each a little different. They can be broken down into 8 models spanning 3 Mark "Mk" versions
Comments