First recording with iOS sequencer Koushion. Drone from the Waldorf Blofeld, arps from MS2000BR, Virus C and Supernova II. Plus super-pads and subspace whistles from the Supernova. Recorded live with no overdubs.
Koushion is a flexible step sequencer for your iPad. Like a traditional step sequencer, Koushion lets you program note patterns that are triggered in time with a MIDI clock (either an external source, or a configurable built-in one). But Koushion doesn't stop at what's already been accomplished by its hardware predecessors. With 16 layers, each containing 8 scenes of 16 steps (that's 2048 steps!), Koushion provides plenty of room for you to express your creativity. Each layer has customizable settings such as looping mode, MIDI channel, and musical key.
Koushion doesn't just work with expensive MIDI hardware, but also integrates with any of the hundreds of CoreMIDI-enabled synthesizer apps. Whether you use it as part of your existing studio setup, on stage, or as a piece of your self-contained iPad studio, you'll never run out of sounds to explore, thanks to the iPad's powerful inter-app MIDI system.
Now available in the app store: appsto.re/i6L72ht
Rhythm necklaces are circular representations of repeating patterns. They've found application in fields as varied as Crystallography, Radio Astronomy, Nuclear Physics, and Ethnomusicology. When applied to musical rhythms, circular representations show the underlying geometric properties that make them enjoyable, such as the degrees of evenness and symmetry. Computer scientist Godfried Toussaint has found that analyzing rhythms geometrically reveals surprising relationships between rhythms the world over. In fact, Toussaint has shown how a core group of geometric algorithms can generate rhythms employed in African, Cuban, Balkan, and Spanish folk music, to name a few. The Rhythm Necklace iOS app is a musical sequencer for exploring the geometry of rhythm necklaces, and for experimenting with generating rhythms algorithmically.
Rhythm Necklace is made by Meara O'Reilly and Sam Tarakajian.
Waldorf make a preview of their upcoming IOS Drum Synthesizer Waldorf Attack.
In the audio demos in the middle of the video, there is a special sentence used "this is for Synth Anatomy", maybe you hear the vocoder sentence
Learn more and download Take for free: https://www.propellerheads.se/take
Take Creative Vocal Recorder is the fastest app for capturing your ideas on iOS so we figured we'd show you Take in action with the fastest video walk through. Record your voice, load backing beats, sing along with yourself, add effects, and even tune your voice from subtle pitch fixes to "that" hip hop sound. When you're ready, share your song ideas to Discover on Propellerhead to share your music with friends or to invite a world of other music makers to collaborate with your music.
Here's what's new in Take 2.0:
Tune your voice – stay in tune or go full-on robot voice with Take's Voice Tune effect.
Clean up, distort or color your recordings with effects on each channel
Give your tracks a "final mix" sound with mastering presets
Sing in a key that works for you with transposable backing tracks
Trim your songs to the desired length
Numerous performance and usability improvements
Take is a free download from the App Store.
Pepp is now available on the AppStore. Pepp can sound in an endless number of ways, this is just a quick live jam.
Pepp opens up the joy of electronic music making to everyone. Thanks to an intelligent rythm and harmony engine, no musical knowledge is needed. Pepp is immediate, intuitive and vastly musical by nature.
Make electronic music like there's nothing to it! Pepp is very easy to use yet it can produce a vast range of sounds. Forget about boring factory sounds. Come up with your own mindbending loops in no time, store them in memory slots, mix them live and jam with your friends. Tweak all parameters to the extreme without destroying your original loops.
This twisted groovebox/arpeggiator/synthesizer lets you quickly forge original electronic music using sixteen sliders and a sixteen step sequencer. Instantly save and recall your ideas without missing a beat. With 160 memory slots you're not likely to run out of storage.
Pepp can also be synced via MIDI, played live from a MIDI keyboard or sequenced from your favorite DAW. Naturally, all sliders can be mapped to midi controllers. Pepp is also integrated with Audiobus so you can use it with all of your audiobus compatible apps!
-=Features at a glance =-
Ten synth oscillators
Five drum oscillators
FM-synthesis
Audiobus
MIDI Clock in
MIDI in (Notes and CC)
MIDI Latch/Gate
Intelligent arpeggiator
Advanced rythm engine
Lo-/Hi-pass Filter w/ Resonance
Delay
Samle and hold
Instant resample/reloop
Detune
Portamento
Reverb
Gain
Glissando
Master octave +-2
Tempo multiplier
Oscillator types
-Sine
-Square
-Sawtooth
-Triangle
-Wavetable
-Noise
Some key features are disabled in this FREE version of Pepp. The full version of Pepp can be unlocked from within the app by using in-app purchase. UNLOCK NOW AT THE INTRODUCTORY PRICE!
Been working hard for a long time to create Pepp. I hope you enjoy it and appreciate your support!
Now, hook up your headphones… It's time to play!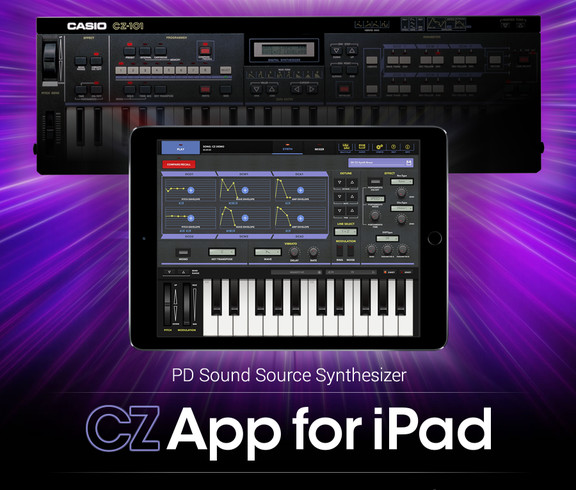 Casio has released CZ App for iPad, a virtual synthesizer app based on Casio's best-selling CZ series of synthesizers, including the CZ-101 model released in 1984.
Along with its electronic musical instruments, Casio has been developing musical apps with the goal of providing the joy of playing music to more and more people. To date, Casio has released several apps that have become widely popular: Chordana Viewer and Chordana Tap, which automatically detect the chord progressions of songs; as well as Musical Practice Tool, a useful app for practicing a musical instrument or singing.

Now Casio has released the CZ App for iPad, an iPad app that recreates its best-selling CZ series of classic synthesizers and includes several all-new functions. CZ App for iPad allows up to four separate parts to be played using the original Phase Distortion sound source by Casio, and features 36 types of waveforms for producing a wide range of sounds.
The app is available for purchase for $19.99 USD.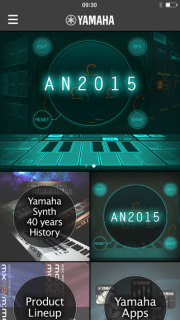 This app features a complete history of Yamaha Synthesizers, an integrated virtual analog soft synth, and serves as a portal to Yamaha's online synth communities.
The app is being released as part of Yamaha's celebration of its 40 year history of makin
The history features detailed, "behind the scenes" information about the 40-year design and development history of Yamaha synthesizers. It covers the technological breakthroughs behind key Yamaha synthesizers, from teh CS-80 to the DX-7, and some fantastic vintage synth rarities, too.
The app also includes a software synthesizer. .
AN2015 features virtual analog modeling like the AN1x. It also features a drum part that you can use for backing.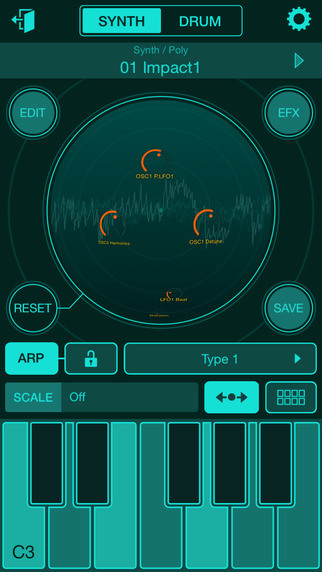 Yamaha highlights two ways to use the synth:
As standalone iOS app – There are 2 modes available, SYNTH mode and Drum mode that work at the same time, e.g. when drum phrase is playing, Analog sound can be selectable and playable with the drum phrase, and vice versa without stopping ongoing music
Use it with a MOXF as an external tone generator – When connected to the Yamaha MOXF Music Production Synthesizer (OS version 1.10) using the Lightning to USB Camera Adapter by Apple, the MOXF becomes the MIDI/Audio interface for the iOS app creating a very powerful music production system.
Specifications
'Analogue' Synth

Tone Generator: Virtual Analogue Modelling
Polyphony: 8
Preset voice: 64
Arpeggiator: 1-Scale: 1
Polyphonic Pad

Drum Part

Tone Generator: Audio (Drum loop and time stretch function included)
Part: 1
Polyphony: 1
Drum Pad: 16
Drum Pad Set: 5
Other features include a portal to Yamaha's social media forums and a catalog of the company's current synth lineup.
Yamaha Synth Book is a free download from the App Store.
Quick demo of the upcoming Figooroo app for iOS (running on iOS simulator)
http://twitter.com/figooroo
Music by Missing Figures #MadeWithFigure
http://twitter.com/misfig
http://soundcloud.com/missing-figures
This is a preview, more info soon at http://www.amazingnoises.com
The Amazing Noises Reverb is a Feedback Delay Network (FDN) Reverb Effect, which can create nice reverberated ambiences, from small rooms to huge buildings. It can also simulate alien and unreal spaces, for your experimental fun!
New preset collection of 26 presets for IOS Synth Laplace
Available for donation
2 USD = Preset collection
3 USD + = Preset Collection + FB-01 Sample Library with Kontakt 5 Mapped and other samplers also (46 instruments) (6.99 Pounds)
Payment here http://www.patreon.com/synthanatomy and than sending a confirmation to synthanatomynews@gmail.com