iMPC is now available for iPhone and iPod Touch [http://bit.ly/iMPC-iPhone]! The biggest name in beat making just got smaller! Turn your iPhone into an MPC. With more than 600 samples, 47 editable programs, 80 editable sequences, and iconic MPC workflow, iMPC is the first app to bring the look and feel of the classic Akai Pro MPC to your iPhone.
For more information visit: http://www.akaiprompc.com/impc-for-ip…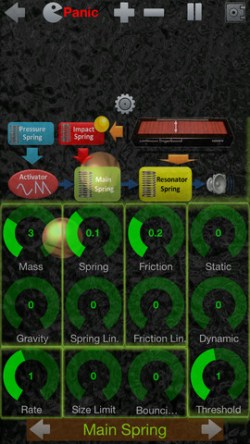 Christophe Duquesne has released Anckorage Spring  -  a new physical modeling synth for IOS (iPhone,iPad and iPod).
Anckorage Spring is based on "the simulation of a set of connected mass- spring, integrating non-linearities, fluid and static friction, mechanical limits, gravity and bouncing."
It is designed to be controlled by a continuous controller but can be used with a regular keyboard or directly from the device screen or from other core MIDI apps. According to Duquesne, a continuous controller will provide a much more accurate control of the model.
The mains ideas behind Anckorage Spring are:
Being able to tweak real world parameter like Mass, Force, Gravity, etc. instead of tweaking usual electronic parameters,
Not only try to mimic real world, but also allow very "unusual" things like modulating a Mass and changing the Gravity,
Emphasis control and expression using the physical parameters,
Open a new world of sound to experiment with….
Features:
Real physical modeling sound engine
Fully editable physical model
88 200 Hz internal sampling rate
Special Haken Continuum compliance
Playable by any midi device
Core midi base (therefore including virtual midi and network midi compliance)
On device touch control
Rich preset management
Preset exchange mechanism (through iTunes Share)
All parameters controllable by MIDI CC
Audiobus compliant
Audio MIDI Connect has transformed into MIDImorphosis – an audio-to-MIDI app for iOS.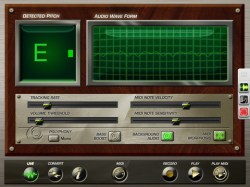 Here's what's new in MIDImorphosis:
In this version, the speed and accuracy of pitch detection has been greatly improved.
MIDI output now supports multiple destinations, both CoreMIDI and Virtual MIDI, as well as DSMIDI Wifi.
Audiobus support has been added, for both input and output slots.
Audio can be imported or exported using audio copy and paste. The app supports off-line conversion of audio to MIDI, with MIDI files being available using the "open in" method, or through iTunes file sharing.
Pitch detection now supports polyphonic playing. A toggle button selected between monophonic, small intervals, and chords.
https://itunes.apple.com/us/app/audio…
Introductory pricing — ends July 28th
MIDImorphosis captures the pitch of incoming audio, and converts it into MIDI notes that can be used to control iOS synthesizers or external equipment. With support for CoreMIDI, Virtual MIDI, DSMIDI Wifi, Audiobus, and background audio, connecting MIDImorphosis is a snap. Connections to laptop and desktop computers can be made using WiFi or with MIDI adapter cables.
The app performs both monophonic and polyphonic pitch conversion, and is designed to work best with a guitar or bass. We recommend dock-based instrument adapters; connections through the headphone jack frequently have crosstalk and poor frequency response. We also recommend running MIDImorphosis on an iPhone4s or better, or an iPad2 or better (this is especially true when using Audiobus).
Complex sounds can be created by combining a typical guitar effects app along with MIDImorphosis and a synthesizer app. The guitar effects app can provide tone control and immediate response, while the synthesizer can augment this with a deep, evolving sound.
With any conversion system, there is latency between a note played on an instrument, and when the note can be correctly identified; the slight delay motivates the combination of guitar effects and synthesizers. MIDImorphosis should be fast enough to work well for playing at moderate speeds. For guitarists in need of a system that can handle "shredding," we would recommend hardware converters by companies such as Roland or Fishman.
A number of videos are available on the app web page, to illustrate typical performance, and playing techniques to get the most out of the app. For guitarists, a light palm mute should be used to prevent unwanted notes from ringing. Pitch detection is typically best with the bridge pickup, and with a clean tone.
In addition to live conversion, MIDImorphosis can also convert recordings into MIDI (avoiding latency issues). The app can record audio; audio can also be imported using either Audio Copy or iTunes File sharing. Audio can be exported with Audio Paste. MIDI can be exported to other apps using the "open in" feature, or through iTunes. The app also allows scanning through audio files, to see the detected pitch at any given moment; this feature should be particularly useful to musicians interested in transcribing a recording. Recorded audio and converted MIDI can be played back through the app. The app is compatible with the Audiobus input and output slots.
For polyphonic pitch detection, the app supports both intervals and chords. Many guitarists play small intervals on adjacent strings; pitch detection has been optimized for this case. When set to chord detection, the app can find additional notes, but is less accurate.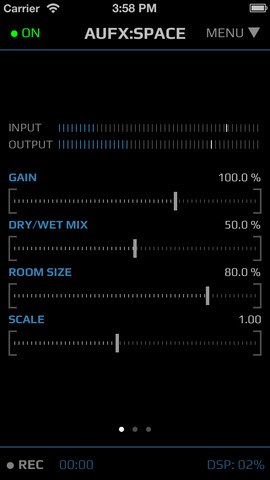 Kymatica has introduced AUFX:Space – a real-time reverb audio effect for AudioBus.
Features:
High quality 32-bit DSP engine.
A multitude of parameters to tweak to get a wide range of sounds.
Process hardware input/output
Process other apps through Audiobus (input/filter/output slots supported).
Ready for the future inter-app audio standard.
Save and load user presets.
Comes with several bundled presets.
Fully MIDI controllable, including Virtual MIDI.
Background Audio.
Record the result directly in app.
Email recordings or export to AudioShare audio document manager app.
Access user presets and recordings through iTunes File Sharing.
AUFX:Space is available for US $3.99.
Review and audio demo of Propellerhead's brilliant Thor synth for iOS. For a full review of the app see the Music App Blog website at www.musicappblog.com
Demo of Thyses working with Cubasis and Thor. Thyses is used to send MIDI data to a Cubasis MIDI track. Via MIDI Thru, this MIDI data is passed to the Thor synth. The MIDI data can also be recorded in Cubasis.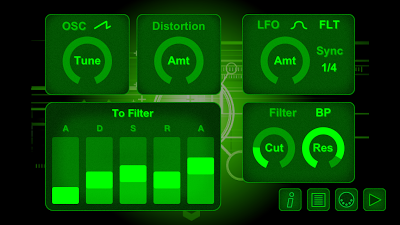 Destro is another monophonic virtual analog synthesizer and goes on where AnaMini ends. Once again a monophonic virtual analog synth, Destro features one VCO, two LFOs, a noise generator, a VCF and a VCA. On top of the synthesizer, Destro also provides a programmable step sequencer so you can create your own patterns and songs. Furthermore, Destro adds a noise generator and foldback distortion unit, as well as a 3-part drum synthesizer module!

Features (Synthesizer)
One main oscillator (VCO) with selectable wave type (saw, square, noise and sine) and scalable within the range of -1 and +1 octaves.
Two low frequency oscillators (LFO) with selectable wave type (saw, square, noise and sine) and selectable frequency/rate and depth. LFO1 modulates VCO1 frequency while LFO2 modulates VCF cutoff frequency. LFO's synchronise to MIDI/sequencer tempo at 1/32, 1/16, 1/8, 1/4, 1/2, 1, 2, 4, 8 or 16 notes.
One VCA with fully customizable ADSR(A) envelope.
One 24dB/octave VCF with three filter types (Low Pass, High Pass and Band Pass), selectable cutoff frequency and resonance and a fully customisable ADSR(A) envelope.
One noise generator with fully customisable ADSR(A) envelope.
Foldback distortion unit with adjustable threshold.
5 factory presets.
10 custom presets.
Features (Sequencer)
4 beats-per-pattern, 4 steps per beat step sequencer.
Adjustable tempo from 20-200BPM.
Adjustable swing.
Supports note on, note off and legato commands.
Supports MIDI Clock IN synchronisation
5 factory patterns.
10 custom patterns.
Features (drum synthesizer)
Bass drum, snare drum and hihat parts, using the same synthesizer technology as the main synthesizer.
Each part has its own track in the sequencer.
Note: first content update will follow soon and will contain the following features:
3-Octave keyboard/ribbon controller
AudioBus support
Audio record and export function
Anaphobia Destro is priced at $1.99.
In this video Ryan Hemeon demos and do a quick walkthrough of the iOS vocoder iVoxel.
"This is the best vocoder I have ever used, which may not be saying very much because I haven't used very many but I really like this app. In the video I show a lot of the options and what they do as well as showing how to make your own "voxel". There is A LOT more to the app then I could show you in 15mins but I hope this gives you some insight. "
For more info please visit www.iosmars.com
Armed with only a JamStik, an iPad, a handful of apps, and a microphone – you can create some amazing music.
Check out http://www.jamstik.com for more info, or goto http://igg.me/at/JamStik/x/2880027 before July 9 to preorder via Indiegogo.
In "Get Lucky" we use:
Audiobus – http://audiob.us
Loopy HD – http://loopyapp.com
Animoog – http://www.moogmusic.com/products/app…
Sunrizer – http://beepstreet.com/sunrizer
Peter Vogel CMI – http://petervogelinstruments.com.au/ios/
Sampletank – http://www.ikmultimedia.com/products/…
iVoxel – http://www.virsyn.net/mobileapp/index…
@JamStik
http://www.facebook.com/JamStik
"Get Lucky" by Daft Punk on iTunes – https://itunes.apple.com/us/album/get…
Here is a quick demo of what Ryan Hemeon thinks are the Top 3 musical utility apps are for iOS that no serious iOS musician should be without. He takes a little time to explain what each app can do.
1. Audiobus
2. Audioshare
3. MidiBridge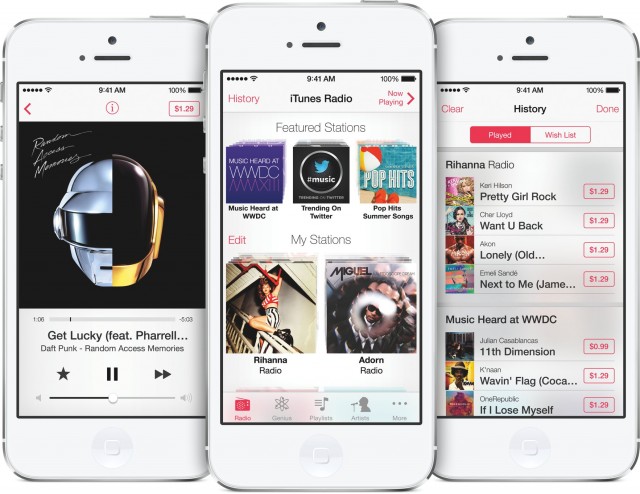 "Whether it's an exclusive single from an up-and-coming band or a pre-release stream of an entire album, iTunes Radio has it all. iTunes Radio will also be home to special events including live streams direct from the iTunes Festival in London and other exclusive iTunes Sessions."
So will this be the death sentence for the likes of Spotify, Pandora and Last.fm – perhaps / perhaps not. It will all boil down to the catalogues available, niche segmentation on music, ability to differentiate and size of user base, but it is clear that this will have an impact going forward. What may lie in favor of the existing players is that Apple will most likely not be an indie lover, as share holder profits come first and one may expect that there will be room for those who really differentiate on music – not just music for the masses. There's reason to assume this may be a long game going forward. While musicians may well wind up being as impoverished as always, the companies serving up the streams might eventually want to profit – Spotify for one is still chasing growth rather than profit, something that might have to change now.
"It's the music you love most and the music you're going to love, and you can easily buy it from the iTunes Store with just one click."
Apart from iRadio we were also treated with the all time fattest Mac Pro to date: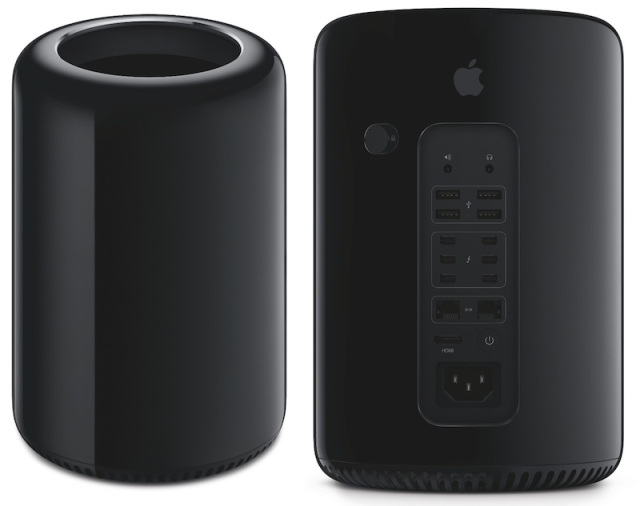 The next generation Mac Pro is architected around an ingenious unified thermal core that allows the desktop to efficiently share its entire thermal capacity across all the processors. The result is a pro desktop with breakthrough performance packed into a design that is one-eighth the volume of the current Mac Pro.
face-meltingNext generation Intel Xeon E5 processors with up to 12 core configurations deliver double the floating point performance. With two AMD FirePro workstation-class GPUs, the all-new Mac Pro is up to 2.5 times faster than the current Mac Pro and delivers up to an amazing 7 teraflops of compute power.
The new Mac Pro also features PCIe-based flash storage that is up to 10 times faster than conventional desktop hard drives and includes the latest four-channel ECC DDR3 memory running at 1866 MHz to deliver up to 60GBps of memory bandwidth. With all that power, the new Mac Pro lets you seamlessly edit full-resolution 4K video while simultaneously rendering effects in the background.
The next generation Mac Pro is the most expandable Mac® ever built. With six Thunderbolt 2 ports that can deliver up to 20Gbps of bandwidth to each external device, Mac Pro is perfect for connecting to external storage, multiple PCI expansion chassis, audio and video breakout boxes, and the latest external displays, including 4K desktop displays. Each of the six Thunderbolt 2 ports supports up to six daisy-chained devices, giving you the ability to connect up to 36 high-performance peripherals. Thunderbolt 2 is completely backwards compatible with existing Thunderbolt peripherals, and allows you to transfer data between Macs faster and easier than ever.
iOS 7: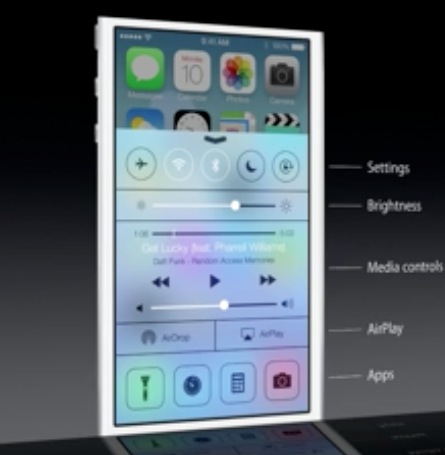 Well of course iOS has gotten a well deserved and long awaited face lift, but looking specifically at it from a music creation perspective the news are meager, but three things stand out though -
Multiple pages in folders
Multitasking for all apps
Automatic app updates will be a good thing