Melodic drone development with generative percussion from the hidden hand of Noatikl for iOS.
Modular, Minibrute, BC-9, Nord Drum2 and Eventide stomp boxes. Direct recording.
ThumbJam is a powerful musical performance experience. You get over 40 high-quality real instruments multi-sampled exclusively for this app. Hundreds of included scales allow you to effortlessly play in any style from rock to classical, whether you are a musical novice or a seasoned professional.

—====—
Jordan Rudess, the world-renowned keyboardist for Dream Theater says:

"ThumbJam stands at the very top of the overcrowded music app world. The sounds included absolutely rival those found in pro instruments and making music on the app is a total joy. The only problem I have with this app is that I did not make it myself! Luckily, I'm able to work with the developer and offer a few good feature ideas as well as some choice sounds from my personal collection!"
—======—-

Even if you've only played air guitar, ThumbJam lets you sound like a pro. Pick an instrument and jam — with all the scales to choose from you'll never hit a wrong note. The high quality instrument samples will make you sound like you just skipped years of music lessons.

For the performing musician, this app is awesome for soloing on an instrument you didn't bring along. Play in any key, any style — go from a string ensemble to a wailing guitar. ThumbJam was developed and tested by musicians to feel and sound like a real instrument. You'll be surprised at how expressive it can be, make sure to check out the videos and audio at thumbjam.com.

ThumbJam makes use of tilt and shake to add vibrato, tremolo, note bends, and volume swells for more realistic and expressive results. It supports up to five (eleven on iPad) simultaneous touches and up to 24 voice polyphony, for each of up to 8 loaded instruments! Delay and stereo reverb add depth to the sound, and a resonant lowpass filter gives you more tone shaping power. Put on your headphones or plug in to your home stereo to experience some of the highest quality instruments in the App Store.

Build your own loops from the ground up or import your favorites and jam from there. Layer as many loops as you want, with different instruments for each. Export your loops as audio files or Ardour DAW sessions via WiFi. Copy and paste audio from other apps using Sonoma Wire Works AudioCopy/Paste as well the general pasteboard, via email, AudioShare, iTunes Document Sharing, or open directly in another application. Supports Audiobus and Inter-App-Audio for streaming sound to/from other apps in real-time, including state save/restore with Audiobus2.

Want to jam with your friends? ThumbJam lets you broadcast tempo, key, and scale to other nearby devices via Bluetooth so you can be in sync live. Even better, you can use it as a MIDI or OSC controller over WiFi, with any CoreMidi compatible device, or other apps on the same iOS device with virtual MIDI, or play ThumbJam with other hardware or software MIDI controllers or apps!

The app includes a huge variety of scales, from western to eastern. Save your favorites for quick access, or create your own in-app. You can even import new scales in the Scala format for complete flexibility.

You can also record your own instruments using a built-in or attached microphone, or from file import. 

Included instruments:

+ Cello, Violin, Viola
+ Upright Bass (plucked and bowed)
+ Several drumkits
+ Darabukka
+ Djembe
+ Electric Guitar
+ Electric Bass
+ Trumpet
+ Trombone
+ Tenor Sax
+ Flute
+ Low Whistle
+ Acoustic Guitar
+ Hammered Dulcimer
+ Mandolin
+ Cittern
+ Grand Piano
+ Drawbar Organ (2 types)
+ Rhodes
+ Pipe Organ
+ Synth Strings
+ Synth Choir
+ Theremin
+ Sawtooth Waveform
+ Sine Waveform
+ Triangle Waveform
And from Jordan Rudess:
+ JR Zendrix
+ JR Smooth Steel 

Many more for immediate FREE download in the app including several drumkits, Mellotron, basses, banjo, tabla, ukelele, guitars and more! New instruments posted regularly.
Enjoy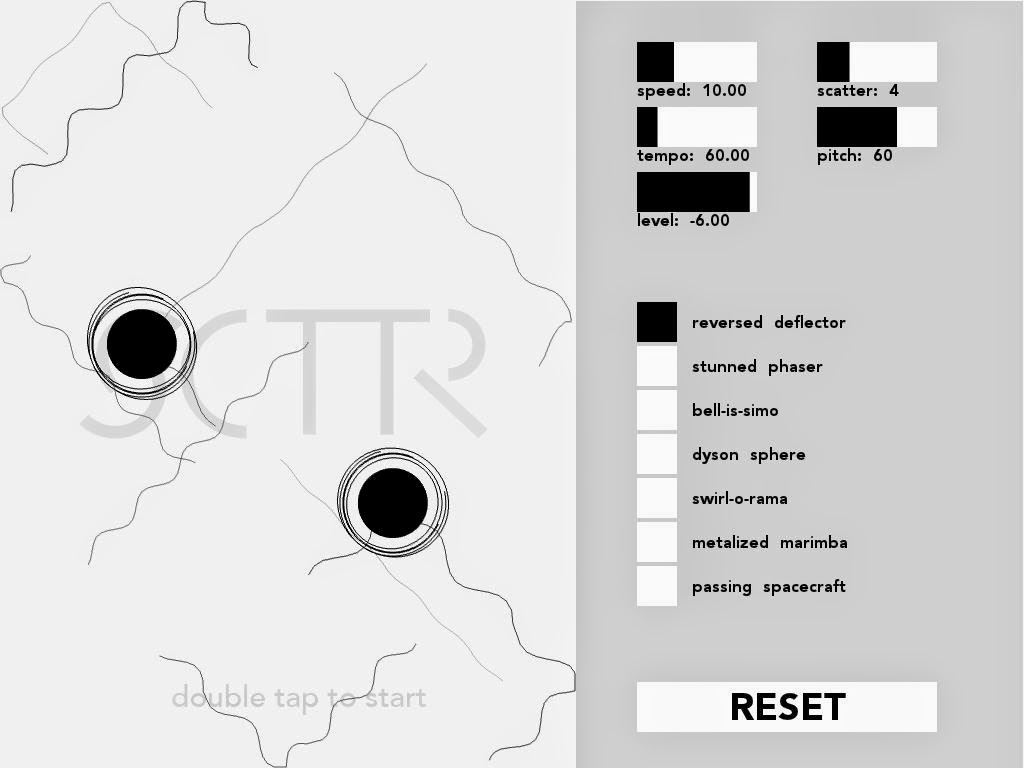 scttr is a collision-based arpeggiator. Placing pulse emitters in a 2D plane enables you to intuitively create and manipulate rhythmic structures, ranging from simple patterns to polyrhythmic mayhem. Subtle parameter changes can result in startling, sometimes unpredictable results, while always maintaining sonic coherence.

It was designed as a creative software instrument/sound generator for live performances and improvisational modular setups.

The PRO version will feature MIDI support, control over sound parameters and advanced particle control parameters.
Christopher L Anderson has introduced AnaddrSynth, a sound synthesis tool comprised of three configurable oscillators, hi/lo/moving filters, a wah-wah effect, an echo/delay effect, and configurable attack-decay-sustain-release and modulation modules.
The video shows a brief demonstration of the sawtooth and square oscillators in oscillator banks 1 and 2. Some harmonization and filter control is shown, as well.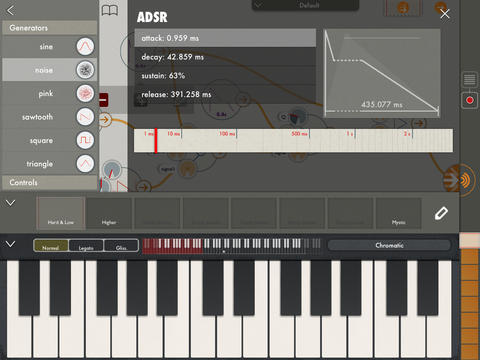 Modal Pro is a powerful app that allows you to build your own synthesizers and effects by connecting various modules together. Inspired by classical modular synthesizers, Modal Pro is nevertheless designed specifically for the iPad with touch controls that allow you to tweak the sound just the way you want it.

More than a tool for building and playing, Modal Pro is also a great learning companion. Each module is documented in detail and an extensive tutorial is included to help even absolute beginners discover the world of synthesizers. Modal Pro allows you to explore the world of sound in your living room, on the train, at school or on stage.

Features:

* Flexible and Intuitive Patching
Modal Pro allows you to connect modules whichever way you want. You can use any module to control any other module. You can even connect a module to itself. You're not guaranteed to get an interesting sound, or even any sound at all but you're guaranteed not to break anything. The touch interface allows you to rapidly connect and disconnect modules so that you can easily explore all sonic possibilities.

* Easy-to-Use Touch Controls
Modal Pro features interface elements such as its custom "double sliders" that allow you adjust each detail of the sound intuitively and accurately. Controls are adjusted specifically for each type of parameter.

* Analog Modeled Oscillators
Modal Pro's oscillator modules are built to emulate the sound of classic analog synthesizer. The traditional waveforms sound rich and warm but because they are modeled rather than sample-based you can modulate them freely, in real-time and at audio rate. Go ahead, build an FM synth with bite, with sawtooths!

* Two Workspaces
Modal Pro features two workspaces where you can build instruments or effects. The "Polyphonic Workspace" is typically where you build instruments, and offers up to 8 voices of polyphony. (Actual polyphony will vary depending on your iPad's speed and complexity of the instrument.)

The Polyphonic Workspace is connected to the "Monophonic Workspace." As the name implies, instruments that you build here can only play one sound at a time. This is the perfect place, however, for building effects that process the output of the Polyphonic Workspace.

The two workspaces are entirely separate. You save and load work on these workspaces independently so that you can easily change the effects that are applied to your polyphonic instrument.

*The Preset Slider
The state of an instrument or effect can be saved as a preset. These presets are stored in the "Preset Slider," which not only allows you to recall these states but also interpolate between them, making fluid and sometimes surprising transitions between presets possible.

*The Keyboard
Modal Pro features a keyboard optimized for the iPad's screen. The standard chromatic piano keyboard is complemented with many fixed-scale keyboards. Adjustable portamento allows you to slide notes individually.

*Comprehensive Help
Feeling lost? Touch any module and the "Live Help" window will display a detailed description featuring not only an explanation of the module's features but also advice about how to use it to get great sounds.

Modal Pro also comes with a lengthy tutorial to guide you through every feature, building your own simple synthesizer and effect along the way. In following releases, more tutorials will be added to help you learn the basics of sound design. 

[Specifications]
* Modules
– Oscillators
Sine/Square/Triangle/Sawtooth/White Noise/Pink Noise
– Controls
ADSR(Envelope)/Simple Curve
– Modulators
Amplifier/Mixer/Crossfade/Ring Modulator/Sample & Hold
– Effects
Triple Filters/Delay/Lo-Fi
* MIDI Controls
Note/Volume/Preset Control
* Keyboard
Width : 9 octaves(scrollable)
Portamento : 3 presets(None/Legato/Glissando, intermediate value selectable) 
Scales : 24
* Outside-App Communication
CoreMIDI, Inter-App Audio, AudioCopy
(Audiobus to be supported in next release)
A pumping bit of EDM/Electronica made with touchscreen technology! A real banger to get the blood pumping.
An iOS production, both music and video.
Music apps:
Sounds – Thor, Crud, Alchemy and Eden from Nanostudio, Audiobus interfacing between the apps.
Mixing sequencing and composing – Nanostudio.
Mastering – Final Touch.
Video – Pinnacle Studio using loops from Moviedrops.
Carbonish, Temptation, EDM, Electronica, Electro, iOS, Nanostudio, Pinnacle Studio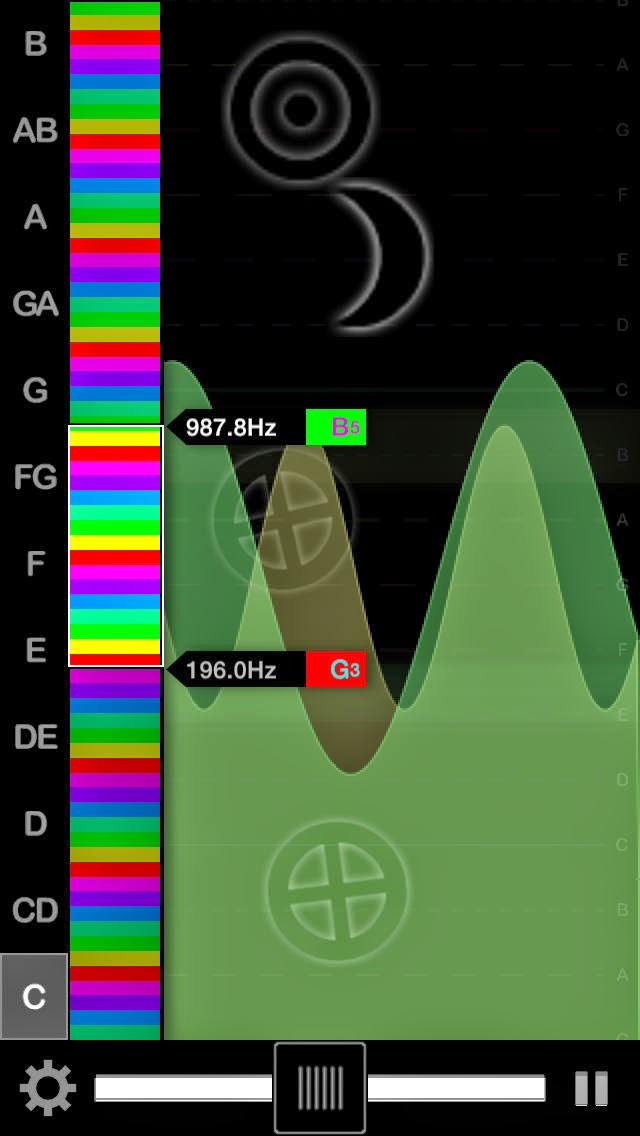 Fingers drip music and this app is the paper. Made for musicians looking for a responsive musical instrument with a huge range of sound, Sqeech delivers perfect audio that's both thick and nimble. It's an essential arrow in your music quiver.

This App is a multi-touch frequency synthesizer rendering eight cd-quality bendable audio waveform channels at any range on demand. The keyboard and output range are completely customizable with three powerful modes of sound: spectrum gives you a full oscillator; chromatic mode using half steps; or choose a major key.

Designed for flow, you can join in to any live acoustic set or electronic machination instantly. Sqeech can deliver deep bass or high-end electronic rain on one fret board. This tool was made for the hand to groove.

Responds to eight simultaneous touches by the user. A vibrato is achieved with a side to side pulsing of the fingers. Each touch has a separate volume channel so you get a rich live sound. Additionally two propellor filters (Sun & Moon) give additional firefly squeeching effects with full live control over pitch and speed from a finger.

Here's a few more features:

Key Range Bar: The range bar let's you instantly select a pitch threshold for the fretboard. You can change as you play. A smaller range makes more room for your fingers to add vibrato to your sound.

Pitch Slider: You can bend all sounds currently playing by using the slider bar. Releasing the slider from the high right side gives you a slow dramatic pitch fall you can add expressions to as it falls automatically.

Sun Propellor: This propeller always affects your solo finger only. Raising the sun on the screen causes the propellors pitch to go higher or lower. Left-to-right affects the propellors speed in real time giving you an powerful solo button you and squeech out a melody with.

Moon Propellor: The moon affects everything the sun does not. This gives you a more rhythmic effect since it broadcasts through the remaining fingers. It's speed and pitch are controlling similar to the sun. Double-click to turn on pitch snapping and the propellor will conform to the nearest half step. This allows you to form any triad sequence and play it with one finger setting the root note. Both propellors really open Sqeech up as an expressive electronic vocal. 


Vintage Yamaha PS-20 analog keyboard connected to iPad using Apogee Jam interface, played through Crystalline. Also features iOS apps Animoog, Audiobus and Arturia iSEM. No other effects or processing done.
Crystalline: Shimmer Effects Processor for iPad
http://crystallineapp.com
Background video description below:
Robotic Drums is my favorite drum synth on iOS right now. It has a lot of features, and is fun… So Let's Play with it! If you enjoy these Let's Play videos please consider sponsoring them on Patreon:http://www.patreon.com/user?u=107612
Be sure to visit http://discchord.com for this and other music app news!