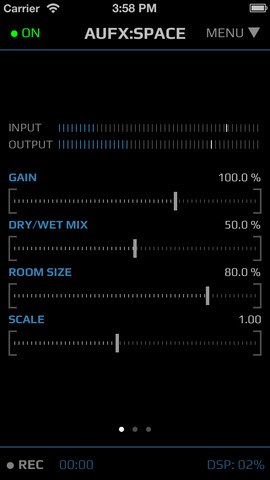 Kymatica has introduced AUFX:Space – a real-time reverb audio effect for AudioBus.
Features:
High quality 32-bit DSP engine.
A multitude of parameters to tweak to get a wide range of sounds.
Process hardware input/output
Process other apps through Audiobus (input/filter/output slots supported).
Ready for the future inter-app audio standard.
Save and load user presets.
Comes with several bundled presets.
Fully MIDI controllable, including Virtual MIDI.
Background Audio.
Record the result directly in app.
Email recordings or export to AudioShare audio document manager app.
Access user presets and recordings through iTunes File Sharing.
AUFX:Space is available for US $3.99.
Review and audio demo of Propellerhead's brilliant Thor synth for iOS. For a full review of the app see the Music App Blog website at www.musicappblog.com
Demo of Thyses working with Cubasis and Thor. Thyses is used to send MIDI data to a Cubasis MIDI track. Via MIDI Thru, this MIDI data is passed to the Thor synth. The MIDI data can also be recorded in Cubasis.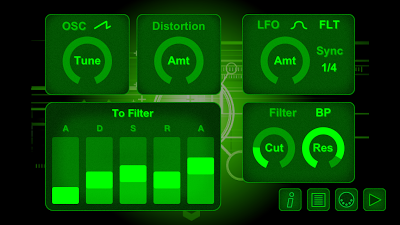 Destro is another monophonic virtual analog synthesizer and goes on where AnaMini ends. Once again a monophonic virtual analog synth, Destro features one VCO, two LFOs, a noise generator, a VCF and a VCA. On top of the synthesizer, Destro also provides a programmable step sequencer so you can create your own patterns and songs. Furthermore, Destro adds a noise generator and foldback distortion unit, as well as a 3-part drum synthesizer module!

Features (Synthesizer)
One main oscillator (VCO) with selectable wave type (saw, square, noise and sine) and scalable within the range of -1 and +1 octaves.
Two low frequency oscillators (LFO) with selectable wave type (saw, square, noise and sine) and selectable frequency/rate and depth. LFO1 modulates VCO1 frequency while LFO2 modulates VCF cutoff frequency. LFO's synchronise to MIDI/sequencer tempo at 1/32, 1/16, 1/8, 1/4, 1/2, 1, 2, 4, 8 or 16 notes.
One VCA with fully customizable ADSR(A) envelope.
One 24dB/octave VCF with three filter types (Low Pass, High Pass and Band Pass), selectable cutoff frequency and resonance and a fully customisable ADSR(A) envelope.
One noise generator with fully customisable ADSR(A) envelope.
Foldback distortion unit with adjustable threshold.
5 factory presets.
10 custom presets.
Features (Sequencer)
4 beats-per-pattern, 4 steps per beat step sequencer.
Adjustable tempo from 20-200BPM.
Adjustable swing.
Supports note on, note off and legato commands.
Supports MIDI Clock IN synchronisation
5 factory patterns.
10 custom patterns.
Features (drum synthesizer)
Bass drum, snare drum and hihat parts, using the same synthesizer technology as the main synthesizer.
Each part has its own track in the sequencer.
Note: first content update will follow soon and will contain the following features:
3-Octave keyboard/ribbon controller
AudioBus support
Audio record and export function
Anaphobia Destro is priced at $1.99.
In this video Ryan Hemeon demos and do a quick walkthrough of the iOS vocoder iVoxel.
"This is the best vocoder I have ever used, which may not be saying very much because I haven't used very many but I really like this app. In the video I show a lot of the options and what they do as well as showing how to make your own "voxel". There is A LOT more to the app then I could show you in 15mins but I hope this gives you some insight. "
For more info please visit www.iosmars.com
Armed with only a JamStik, an iPad, a handful of apps, and a microphone – you can create some amazing music.
Check out http://www.jamstik.com for more info, or goto http://igg.me/at/JamStik/x/2880027 before July 9 to preorder via Indiegogo.
In "Get Lucky" we use:
Audiobus – http://audiob.us
Loopy HD – http://loopyapp.com
Animoog – http://www.moogmusic.com/products/app…
Sunrizer – http://beepstreet.com/sunrizer
Peter Vogel CMI – http://petervogelinstruments.com.au/ios/
Sampletank – http://www.ikmultimedia.com/products/…
iVoxel – http://www.virsyn.net/mobileapp/index…
@JamStik
http://www.facebook.com/JamStik
"Get Lucky" by Daft Punk on iTunes – https://itunes.apple.com/us/album/get…
Here is a quick demo of what Ryan Hemeon thinks are the Top 3 musical utility apps are for iOS that no serious iOS musician should be without. He takes a little time to explain what each app can do.
1. Audiobus
2. Audioshare
3. MidiBridge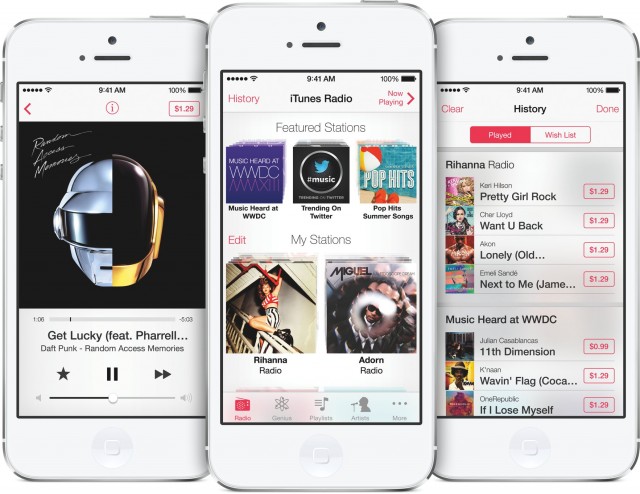 "Whether it's an exclusive single from an up-and-coming band or a pre-release stream of an entire album, iTunes Radio has it all. iTunes Radio will also be home to special events including live streams direct from the iTunes Festival in London and other exclusive iTunes Sessions."
So will this be the death sentence for the likes of Spotify, Pandora and Last.fm – perhaps / perhaps not. It will all boil down to the catalogues available, niche segmentation on music, ability to differentiate and size of user base, but it is clear that this will have an impact going forward. What may lie in favor of the existing players is that Apple will most likely not be an indie lover, as share holder profits come first and one may expect that there will be room for those who really differentiate on music – not just music for the masses. There's reason to assume this may be a long game going forward. While musicians may well wind up being as impoverished as always, the companies serving up the streams might eventually want to profit – Spotify for one is still chasing growth rather than profit, something that might have to change now.
"It's the music you love most and the music you're going to love, and you can easily buy it from the iTunes Store with just one click."
Apart from iRadio we were also treated with the all time fattest Mac Pro to date: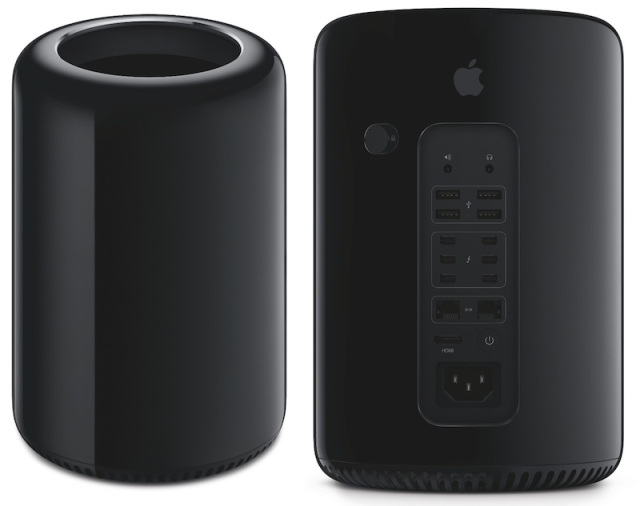 The next generation Mac Pro is architected around an ingenious unified thermal core that allows the desktop to efficiently share its entire thermal capacity across all the processors. The result is a pro desktop with breakthrough performance packed into a design that is one-eighth the volume of the current Mac Pro.
face-meltingNext generation Intel Xeon E5 processors with up to 12 core configurations deliver double the floating point performance. With two AMD FirePro workstation-class GPUs, the all-new Mac Pro is up to 2.5 times faster than the current Mac Pro and delivers up to an amazing 7 teraflops of compute power.
The new Mac Pro also features PCIe-based flash storage that is up to 10 times faster than conventional desktop hard drives and includes the latest four-channel ECC DDR3 memory running at 1866 MHz to deliver up to 60GBps of memory bandwidth. With all that power, the new Mac Pro lets you seamlessly edit full-resolution 4K video while simultaneously rendering effects in the background.
The next generation Mac Pro is the most expandable Mac® ever built. With six Thunderbolt 2 ports that can deliver up to 20Gbps of bandwidth to each external device, Mac Pro is perfect for connecting to external storage, multiple PCI expansion chassis, audio and video breakout boxes, and the latest external displays, including 4K desktop displays. Each of the six Thunderbolt 2 ports supports up to six daisy-chained devices, giving you the ability to connect up to 36 high-performance peripherals. Thunderbolt 2 is completely backwards compatible with existing Thunderbolt peripherals, and allows you to transfer data between Macs faster and easier than ever.
iOS 7: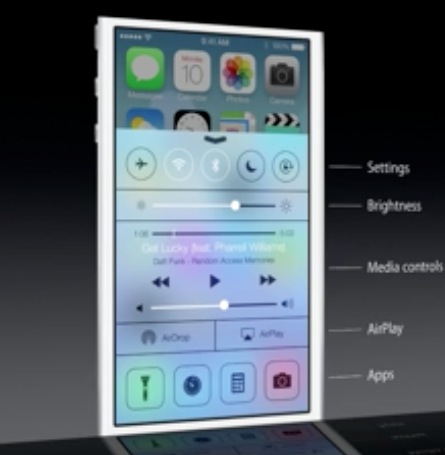 Well of course iOS has gotten a well deserved and long awaited face lift, but looking specifically at it from a music creation perspective the news are meager, but three things stand out though -
Multiple pages in folders
Multitasking for all apps
Automatic app updates will be a good thing
Fingerlab has announced Musyc, the a fun and innovative music application where touch turns into music, details below:
Discover the new music application by Fingerlab, winner of the Apple Design Award 2012 for DM1 – The Drum Machine.
Musyc on the AppStore :
https://itunes.apple.com/us/app/musyc…
Musyc is a fun and innovative music application where touch turns into music.
No use of piano keyboard or partitions, draw shapes and listen to your piece of music while viewing sounds bouncing on the screen.
Enjoy the 64 instruments (organized into 16 groups) exclusively created and produced at Fingerlab music studio as well as all the exciting and new physical and music tools provided in Musyc.
Musyc is free and its full version is available through in-app purchases.
WARNING: Musyc is not compatible with iPhone 4, iPhone 3GS, iPod touch 3 and iPod touch 4.
Features:
-Graphic design by Jonas Eriksson
-Retina Display
-Optimized for iPhone 5 and new iPad
-High quality sound engine
-Ultra-realistic physical engine
-Audio track mixer (level, pitch, length, pan, mute)
-2 effect channels with 5 effects (Delay, Overdrive, Reverb, Dalek, Compressor)
-Physical sequencer
-Motion recorder
-Advanced physical objects (planet, black hole, modulator, …)
-Real-time audio recording
-High-quality or compressed exports (DropBox, SoundCloud, Mail, AudioCopy and iTunes)
Watch Musyc video trailer:
http://vimeo.com/channels/musyc
Coming soon in next updates:
-iPhone4 & iPodTouch optimization
-Import & Export song project (DropBox, Mail, iTunes)
-User sound kit with samples import
-Audio background support
-Wist synchronization
-Midi synchronization
-AudioBus support
BitWiz Audio Synth / Gestrument / Audiobus / Anytune Pro+ – Music Practice Perfected. / Genome MIDI Sequencer / DrumsLive — touch and MIDI multisample drums / DrumJam / ThumbJam / LiveFX • DJ Effects Kit / Brian Molko – Placebo – Battle for the Sun
Background video description:
This is "Fair Light" – original composition by Andy Barrow on the Fairlight IOS App. First attempt at sampling, sequencing and creating my own instrument inside the Fairlight App from Peter Vogel Instruments – the creator of the legendary Fairlight CMI 1 – 3. And now up for grabs is the latest CMI 30AX – upgraded from the 30A. still an expensive tool, but no where near as much as its predecessors (approx $60,000 or more… ish maybe, give or take a few cents, pennies Gold Bullion…quite a few years ago…1980′s)
So, first time at really getting to grips with this IOS App, I sampled my Voice into the Fairlight, adjusted the trim, saved the sample and imported that into my New instrument in the App, Then set about playing with Page R – yep the Sequencer. Once you get used to the way it is laid out in the app, its fairly easy to use.
Recorded into Garageband and added the Orchestra Hit as a latter addition to the track. This is available as a download from my Soundcloud Channel should you desire.
Please note, all the images were taken from Screenshots on My iPad 3 and imported into the video editor. This is an original composition by me.
If you get a feeling that the Voice beat sounds familiar, I remembered a certain group of Gentlemen, who did a Soundtrack for Ferris Bueller's Day off…remember that.???..
Sadly I do, however, the app also contains a certain Racing Car engine sound from another Track that "Yello" Did.."The Race" yes the sound is in there…I am not going to try and recreate that…they used real Fairlight equipment, sadly I have about as much chance as owning a Fairlight as I have Angels flying out of my ass…
So, until such time that I see a winged creature of heavenly persuasion flying from the darkest regions of me, I will have to make good with the IOS App… Enjoy
Music and Video is sole property of ©2013 Andy Barrow