Audiobus grows in importance, here's a good example:
"in a previous video i did the main arpeggio from bliss on the IMS20 for iPad, now with Audiobus i added iPolysix, ReBirth and some effects with Nlog and Livefx, all in the same iPad, that was fun!!
…and expensive :S
if you like it subscribe and share

"
Background description: In this video Gercek Dorman used several iOS applications on iPad such as Audiobus, MultiTrack Daw, Magellan, AniMoog, Samplr and Alchemy Mobile also he uses programs on MacBook Ableton Live and Alchemy Massive Synthesizers…
WEJAAM – iOS MUSIC GENERATOR
Make your own music Electro, Techno, House … and share a Jam with friends.
Loop-based music sequencer specially designed for playing live, it is associated with an innovative and powerful randomization tool.
WEJAAM allows you to take great pleasure in making music without being a musician.
CREATE
It's very simple to make a beat, just select from the Djaam library or you also can pick up from the World Jaam community the only think you have to do it's to create you beat using the hit editor, add sound, delete sound that's so easy…
LIVE
Give you access to a 5 pads controllers instead than knob in this way you will control simple your feeling with your finger on the screen, we also record your live session.
MASTERING
WEJAAM's complete mastering system in a single integrated app includes Limiter, Reverb, Delay, Flanger, Equalizer, Chorus, Distortion.
​Based on feedback and requests gathered from mastering professionals, Wejaam advanced includes exclusive controls and features.
RANDOM
Random your imagination
With this exclusive features you can easily have access to one million of possibilities, during your live performance run and tap to the random bar to bring up a new pattern idea.
RECORD
Ready to go now ?
Make your own song within minutes and sound like a pro just record your live and create the best traxx ever. Then upload the song and share your mix all around the world.
FEATURES
• Sequencer 6 patterns of 32 notes.
• 6-channel instrument (synthesizer or sampler).
• 1 parametric Filter by channel.
• 2 effect sends per channel (Delay, Reverb, Flanger, Chorus, Overdrive).
• 3-band equalizer.
• Output limiter.
• Export recordings and programs with iTunes.
• Bluetooth Synchronization allows you to play with another person and have the same audio output on each device.
Following the trail of many famous electronic artists, like Thomas Dolby, Brian Eno and Jordan Rudess, Gary Numan now also ventures into the world of apps. The UK new music magazine Artrocker has created app for Gary Numan which represents a retrospective of the UK synth wizard. The app is only available for iPad and can be downloaded right here >>
The app is based on the interviews that Artrocker editor in chief Tom Fawcett has conducted with Gary Numan spanning April to September 2012. The interviews handled the past, present and future. Next to that interviews were conducted with co-producer Ade Fenton, members of Gary's present band as well as former members and Gary's merch man of many years. The app also includes the story behind the recording of and subsequent decision to release "Are Friends Electric" as a single. Embedded in the app are also exclusive interview videos on subjects as diverse as Cars and moving to the USA.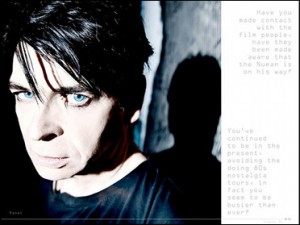 You'll also find new picture shot by music & fashion photographer Keith Martin.
What will the Gary Numan fans the most is that you'll be given access to an exclusive download remix album, "Dead Moon Falling" which is a full reworking of Gary Numan's "Dead Son Rising" album, featuring remixes by such artists as Sonoio, Atari Teenage Riot's Alex Empire etc. (Via SL)
Musix Pro is the most innovative app for performing music. Music theory is baked right in through the use of a technique called isomorphic note layouts. Novices learn to play in minutes, and professionals benefit from built-in harmonic relationships between notes. Unlike other music apps, Musix Pro provides a wide range of octaves, scales, keys, chords and modes, without limiting your creativity. With multiple built-in instruments and support for OSC and Core/Virtual Midi, most existing synthesizers work beautifully with Musix Pro as a controller.
Traditional musical instruments are difficult to learn because notes are arranged based on physical constraints. Musix Pro arranges notes based on their harmonic and musical relationships instead, allowing shapes and patterns to emerge that unlock the mathematical beauty of music.
Musix Pro is a new isomorphic iPad /iPhone Instrument available on the app store.
Check it out here: http://get.musixapp.com/r/bXzD
Website: http://shiverware.com/musixpro/
Features Video: http://youtu.be/V5JQ61TSshQ
Braten Video: http://youtu.be/GYITcNsunGw
Escape Video: http://youtu.be/KSKv5H1qPBg
Why Musix Pro?
- Learn how to play every major and minor chord in minutes
- Learn one pattern and instantly play in any key
- Explore the harmonic relationships between notes
- Play along with your friends without being an expert
- Realize your own personal musicality
Big update Tabletop introduces Midi controller support, timeline editor, session sharing, and Tabletop Ready Apps with iMPC from Akai Pro! The update is free! Tabletop is free! http://bit.ly/TXTbd0
Ready. Set. Remix!
The exclusive Soundtrack in this video was created in Tabletop by Richard Devine. You can find the song Glitch Breaker Demo inside the Tabletop in-app community, or on SoundCloud. To celebrate the new update for Tabletop we're making a call for remixes! Download the Glitchbreaker Session right in Tabletop. You get access to all of the custom samples, sequencing, and arrangement. Remix to your heart's content. We can't wait to see what you come up with!
Richard Devine: http://www.facebook.com/pages/Richard-Devine/105387759760
Glitch Breaker https://soundcloud.com/richarddevine/glitch-breaker-made-with-1
App Store:
https://itunes.apple.com/app/tansu-synth/id564763430?mt=8
Official site:
http://www.music-airport.co.jp/tansusynth/
Patch Tips version of iOS apps analog synthesizer "TANSU Synth" tutorial.
TANSU Synth is the miniature analog modular synthesizer.
The app in the video is under development version.
Next version up: be a universal app (iPhone / iPad)
Additional tutorials can be found here >>
The iOS application – which is named "TANSU (dresser)", is a miniature
version of a Modular Analog Synthesizer. This synthesizer is the same as the
one used and mastered by Hideki Matsutake of LOGIC SYSTEM.
The sounds that were sampled and used for the VCO (Voltage Controlled
Oscillator) come directly from the actual "TANSU" owned by Hideki Matsutake
himself.
In addition, it also contains many original LOGIC SYSTEM recordings. The
application condenses the fun, experience and sound of an actual modular
synthesizer onto the small screen of an iPhone!!
What will the sound be like when using the application? This application is
focused on providing the user with the feeling and excitement of using the
actual synthesizer for which it is based.
Not only for a techno fan, but for any music lover!! Feel what it is like to
create your own music!!
Try this application to experience the "the birth of sound and music."
The main functions
■LOGIC BOX
Sound effects such as Shepard Tone and rhythms from music by LOGIC SYSTEM
have been made directly into the sound source.
■MUSIC
You can use your iPhones own music library as a sound source. (However,
certain tracks which are covered under DRM may not be used).
■Microphone function
You can use sounds which have been recorded with microphone.
■Preset function
You can explore the potential of the TANSU Synth from various demo patterns.
Moreover, it can be utilized as a tutorial for beginners.
■VCO (Voltage Controlled Oscillator), VCF (Voltage Controlled Filter), VCA
(Voltage Controlled Amplifier), LFO (Low Frequency Oscillator), EG (Envelope
Generator)
Enhance the basic functionality of an analog synthesizer. (Various sound
processing is possible.)
■It has an 2 channel 8 step analog sequencer and convertible 1 channel 16 step sequencer!
■You can enjoy connecting and reconnecting the patch cord to creat sounds
just as with a real synthesizer.
■Three sound sources can be mixed by a three-channel mixer!
A teaser video of the upcoming 1.3 release of this popular iOS synth:
Sunrizer XS synth is a virtual analog synthesizer that takes the definition of iOs synthesizer to the next level.
Thanks to carefully designed architecture and heavy usage of coprocessor it blurs the boundaries between iOs and hardware synthesizers.
Sunrizer XS was built to perform and works perfectly with any MIDI keyboard or sequencer. A lot of research has been done in order to achieve unheard warmth and clarity.
Background description of the app:
http://apps4idevices.com/read/i.pocketsynth
i.pocketsynth is more than a synthesizer, it is a little keyboard… The main interest of the mini keyboard is not its sound quality which is a little bit cheap or not really interesting… There are two features which make it a unique App on the whole the App Store. Firstly you'll be able to play over a Song which is playing on a Radio Station! I don't really know the real interest of this feature, but I've never see it on another App… The second one is that you can Sync 2 i.pocketsynth App over Bluetooth. This feature allows you to play notes on one of your devices and they will be played on the second device too. Unfortunately you can't set a different sound on each device. With i.pocketsynth you can also choose a Backing Track from 30 available styles and you can record (by using the built in microphone on your iDevice) and what's more, share your performances via email. You can also send your creation to the ipocketsynth team for a review. How shall I rate this App?… For its unique features, even if I don't really know what to do with them… i.pocketsynth is a Super App despite its poor sound quality and interest…