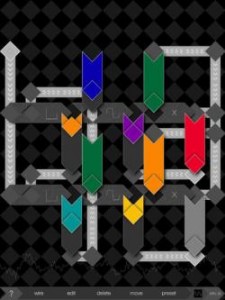 Alexey Nadzharov has introduced rrarrow – described as an 'experimental modular audio effect and noise machine' for the iPad.
Features:
Simplicity – The interface is simplified for faster assembly and more flexible connectivity – you can assemble your effect very fast and control all the processing parameters with the audio signal!
Feedback capabilities – You can add feedbacks to the audio chain to get some chaotic noise sounds .
Twelve blocks for audio processing:

Sine generator. Basic oscillator with sine waveform
Signal multiplier
Delay
Frequency shifter
Envelope follower
Lorenz attractor
Quantizer
Sample-and-hold
Reverb
Special Lowpass filter
Clipper
Nonlinear shaper (for self-oscillating circuit)

Audiobus support. Now you can stream live audio directly to other Audiobus-compatible apps! See http://audiob.us for more information. Works as input and filter.
Background audio support: enabled when connected to Audiobus and user switchable otherwise.
DETAILED REVIEW / DEMO of this amazing new App from KORG, which features 15 Virtual Synthesizer "Gadgets" that make composing new EDM, Hip Hop, etc. tracks fun! At the same time, this could be considered the most powerful app yet from KORG, because there is so much variety in possible sound design. "It's as simple or as complicated as you want to make it." Watch as I show the construction of multiple styles of music. Subscribe to VJ Franz K for more reviews of Apps and Hardware, on YT, FB, Twitter and other social media sites!
All music featured in this video are my original compositions, played with the synthesizer app I am reviewing.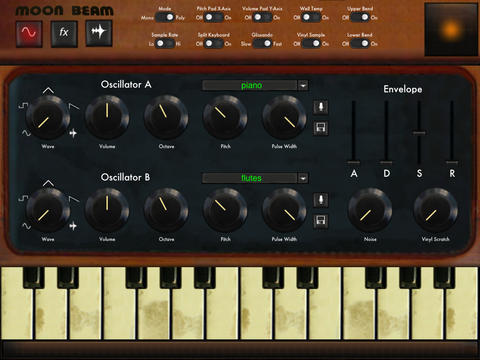 Inspired in part by the Casio Sk-1's lo-fi sonics/sampling and Sequential Circuit's Pro-One synth, the Moon Beam also adds features only possible in the touch screen world: bend keys independantly!!! You can of coarse also bend all voices in sync using the touch pad. Also, for those of you Baroque sticklers… you can switch to Well-Tempored mode!
The Moon Beam Synth/Sampler gives you:
-Unique key independant pitch bending
-2 sample/oscillator layers for each voice… or split them to top and bottom keyboards.
-Effects (Delay/Reverb, Filter, Tremelo, Vibrato, Vinyl Noise, Distortion)
-Easy sampling for each audio source
-Easy editing of audio sample start/loop points
-4 octave keyboard + 2 pitch ribbons
-1 assignable effects touch pad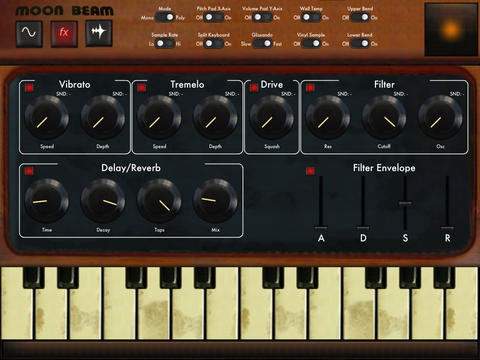 Ryan McGee has released a new sound design app for iOS, VOSIS, that synthesizes sound based on the greyscale image pixel data from photos or live video input.
Description:
OSIS is an interactive image sonification interface that creates complex wavetables by raster scanning greyscale image pixel data.
Using a multi-touch screen to play image regions of unique frequency content rather than a linear scale of frequencies, it becomes a unique performance tool for experimental and visual music. A number of image filters controlled by multi-touch gestures add variation to the sound palette. On a mobile device, parameters controlled by the accelerometer add another layer expressivity to the resulting audio-visual montages.
Brute LFO is an iOS App for iPhone, iPad & iPod Touch, which outputs control voltages (CV) from the device's headphone output. Connect it to your Arturia Microbrute or other analog gear, like a Modular Synthesizer, to modulate your sounds. The headphone output voltages aren't very high on iOS devices, so it's more of a subtle modulation, but Brute LFO also sounds awesome when pushed into audio range. There are two simultaneous oscillators and a third one to modulate the other two's frequency. Switch on "Brute" mode to dirty the waveforms up some more. Not shown in the video: The performance pad mode, in which you can use two touch pads to adjust four parameters simply by swiping your fingers on the screen.
Visit the Brute LFO website here:
http://www.justuskandzi.com/brute-lfo…
"The Brute LFO is a powerful low frequency oscillator that modulates your analog gear. If you have a hardware synth that allows you to use external gear to modulate the pitch, the filter, or any other parameter, just plug the Brute LFO into the CV in and start playing. It consists of three separate LFOs. LFO 1 and 2 can be controlled using the control elements in the top half of the screen. The big knob in he middle sets the rate of both the LFOs. Additionally you can change the waveforms of the LFOs, detune LFO 2 and change its phase. The amount knob in the top half also sets the overall amount of the modulation. The elements on the bottom half (LFO 3) can be used to modulate the frequency of LFO 1 and 2. And the brute switch destroys everything!"
Caustic 3 is a music creation tool inspired by rack-mount synthesizers / samplers rigs.
Everything is real-time and optimized for mobile devices.
Create your rack by adding up to 14 machines from a choice of:
* Subsynth – Virtual analog subtractive synthesizer
* PCMSynth – Multi-sample wave synthesizer
* BassLine – 303-like monosynth
* BeatBox – 8-channel sampling drum machine
* PadSynth – Harmonic table pad synthesizer
* 8BitSynth – 8bit equation solver synthesizer
* Modular – Fully configurable and routable synthesizer
* Organ – Hammond-like tonewheel organ with rotary speaker
* Vocoder – 8-band harmonic vocoder
* FMSynth – DX-style 3-operator fm synthesizer
The app also includes:
* Effects rack supporting 2 effects per machine. (16 effect types)
* Mixer desk with global Delay/Reverb effects
* Master section with parametric EQ and limiter
* Song sequencer
Supports automation on most controls and includes powerful editors for modifying recorded automation curves.
All files are stored on the user-accessible storage, and users can supply their own WAV files for use in the PCMSynth, BeatBox, and Vocoder.
Supports all uncompressed WAV files (8-16-24-32bit, any sampling rate).
The PCMSynth can also load SoundFont files (.sf2) and FL Studio mobile instruments (.instr, .ZIP)
Class-compliant USB MIDI controllers can be connected via USB OTG cable on devices running at least Android 3.2 and supporting USB host mode.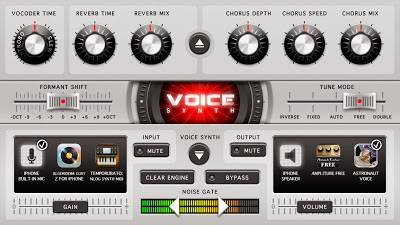 Voice Synth is a professional live instrument to create incredible new voices, choirs, sounds and soundscapes, based on your own unique voice. Includes a free trial and two in-app packages with inter-app audio, three 24-band live vocoders, AutoPitch, multiple voice harmony arranger, spectrum stroboscope, pitch and formant shifter, sampler, 24-band equalizer, distortion, delay, chorus and reverb. Paid version selected by Apple in USA Music App Collection "Vocals".
Take a journey into sound design and discover the endless possibilities: Speak, sing, hum and beatbox in the mic, to turn your voice live into a baby or tenor, a popstar on AutoPitch, a robot from Cylon to iDalek, a church or close harmony choir, animals from birds to dogs and lions, musical instruments from organs, guitars and a groovy bass to percussions and rich 70's vocoders, amazing effects and ambient, lush string/storm soundscapes. To get you started, we included over 100 factory presets!
This free version offers a try-out of all presets in live mode, so have your headset ready! The in-app instrument package offers the full Voice Synth sound engine at a reduced price, plus a free try-out of the in-app pro package that includes additional pro features such as sampler, inter-app and background audio, midi, noise gate and more.
For musicians, DJs, sound designers, voice artists: Voice Synth is a must-have in your audio toolbox. Voice Synth has a dedicated interface designed for iPad, and a compact interface for iPhone and iPod that includes all features so you can create anywhere you go.
VOICE SYNTH INSTRUMENT SPECS
Sound engine 2×32 bit at 44.1 kHz
All effects simultaneous, 12-voice polyphonic, live, real-time, low-latency
Auto engine sleep to save battery power
In-app help, tutorial video and email support
Audio dock compatible
Audio export in WAV/M4A format, iOS pasteboard, iTunes File Sharing and email
VoiceOver support
2 play modes: Live and Repeat
Performance recorder to record, play and export your creation
100 factory presets, unlimited user presets, 8 quick presets, import/export
Keyboard 2.5 octaves (iPad), 1 octave (iPhone/iPod)
3 vocoders with 24 bands, 5th order filters (Natural, Robot and Breath voice)
Low/high register (add voice brilliance)
• Equalizer, 24 bands +/- 12 dB, VU 0 to -80 dB, stereo VU meter, with 8 presets (loudness, low-pass, telecom voice, etc)
Pitch Shifter 8 octaves (e.g. for lion voice, tenor, gender change, child, baby, duck, squeak)
Formant Shifter adapts voice spectrum, range +/- 1 octave, (change headsize from child to giant)
Tune modes to alter pitch: fixed, free, inverse, double, auto
AutoPitch (always sing in tune)
Harmony synthesis of multiple voices in all 12 major/minor musical scales (choirs and rich 70's vocoder sounds)
Autogain, distortion, stereo panning, delay, chorus and reverb
Slew rate: special vocoder reverb (plucked strings, wind, thunder, storms)
Stroboscopic gate: special vocoder effect to sample and hold your voice spectrum
PRO PACKAGE
Background audio
Apple inter-app audio input/instrument with midi, host with recorder
CoreMidi support
Additional Sampler play mode: Record, import and play with your voice, with instant zoom, start/end, loop/hold, extensive trigger methods
Keyboard hold on/off, mono/poly
Noise gate, input & output mute/volume, engine bypass
Note: iPhone 4 does not support inter-app audio
Droner is a nice little drone generator but put this through Echo Pad and some fantastic effects can be achieved
This video illustrates the Star Trek™ Vulcan Harp features.
Fans of Star Trek™ can now play Mr. Spock's Vulcan harp on their iPad! Replicating the alien instrument from the classic Star Trek™ series, the app is fully functional and features multi‐level sounds, cool effects, and the iconic design of the original harp. Use the sleekly styled controls to compose spacey music or play fascinating songs.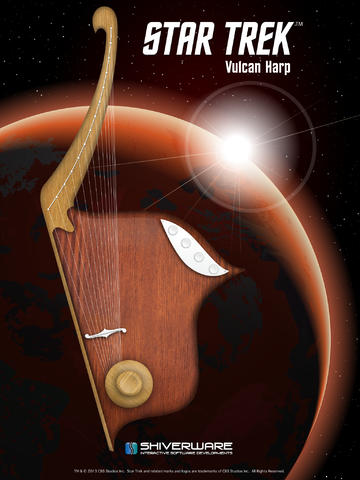 Whether you're a Trek fan, musician, or just interested in playing a unique instrument, the app's richly detailed appearance and wide‐ranging musical abilities make for an instrument unlike any other!
Features:
——-
• 15 vibrating strings – each identified, making it easy to play songs
• Distinct pluck dynamic where the sound occurs on release of a touch similar to a harp
• 5 instrument sounds from futuristic to the classic harp
• Large 6-and-a-half octave range in 5 octave banks
• Custom multi-level distortion and reverberation controls give you a wide range to experiment with
• Ability to select pentatonic scale (five notes per octave)
• One button background arpeggio (sequence chords)
• Rich, inlaid wood detail appearance on the harp and moving starfield background
• SoundCloud recording to share your creations
• Concise tutorial to locate controls
Looking for more information about the Vulcan harp app?
————————————————
Visit us online: startrekvulcanharp.com
Follow us on Twitter: @StarTrekHarp
YouTube video: youtube.startrekvulcanharp.com
Join us on Facebook: fb.startrekvulcanharp.com
Questions or suggestions? Email us at vulcanharp@shiverware.com
Vulcan Harp Background:
———————
The Vulcan harp is also called a Vulcan lyre, lute, lyrette, and lytherette.
The Vulcan harp is played in four episodes in Star Trek™: The Original Series: "Charlie X", "Amok Time", "The Way to Eden" and "The Conscience of the King".
Spock and Uhura both play the Vulcan harp. Tuvok owns one in Star Trek: Voyager™, Melian owns one in Star Trek: The Next Generation™, and (mirror universe) Kira Nerys owns one in Star Trek: Deep Space Nine™.
Spock plays "Row-Row-Row Your Boat" on the Vulcan harp in the film "Star Trek: The Final Frontier™".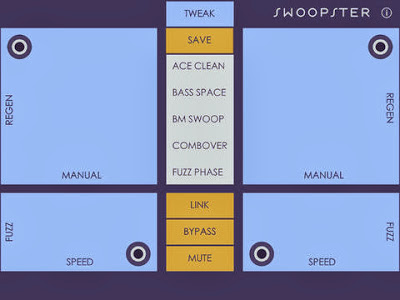 Swoopster is a wild, fuzzed out Flanger/Vibrato effect designed for Audiobus and Inter-app audio.
Process synths, drum machines and hundreds of other apps by connecting through Audiobus. Use Swoopster as an effect inside Garageband, Auria, Cubasis, and AudioShare using Audiobus or Inter-app audio.
Swoopster features two distinct modes:
PERFORM and TWEAK.
PERFORM mode is focused around four XY touch pads. Touch to control flanger speed, manual, feedback and fuzz amount independently for left and right channels.
TWEAK mode features large expressive sliders and additional effect parameters, allowing you to fine tune your sound.
The center panel of Swoopster's interface is part of the instrument and meant to be played in real-time, including the scrollable preset list. Tap a preset to instantly load it's settings, play different presets in rhythmic patterns, or re-trigger the current preset to restart the sweep of the Flanger. The MUTE and BYPASS buttons function as momentary switches for DJ mixer style control.

Echo Pad users loved the creative stereo imaging possible with its effects, and this approach continues with Swoopster. Both Perform and Tweak modes allow you to control the left and right channel's effect parameters independently for wide stereo sound design. You can easily toggle between linked and unlinked channel parameters by tapping the LINK button.
In addition to Audiobus and Inter-app Audio support, Swoopster can also process external instruments such as guitar, voice and synths by connecting a microphone or professional audio interface such as the Apogee Jam, ONE, or any iOS compatible USB audio interface.
For more info visit www.swoopsterapp.com