http://www.sampletank.com/ipad and http://www.sampletank.com/iphone for more information
SampleTank is the first professional-quality sound and groove module that puts hundreds of world-class instruments and patterns in your pocket. What's more, you can now expand your library with our new Downloadable Sound Collections via in-app purchase. Our latest collection is SampleMoog™ – Mobile Edition, featuring classic synth sounds from Moog Music®. We also recently released the Miroslav Philharmonik – Mobile Edition, a downloadable collection of orchestral and choir sounds.
You can play SampleTank instruments on stage with the iRig PRO or iRig MIDI interfaces and a keyboard or pad controller just like you would any other sound or synthesizer module. Or pair it with iRig KEYS, our 3-octave, bus-powered mini-keyboard to create the ultimate portable MIDI studio.
Introducing Robotic Drums, a new Universal iOS app by Big Robot Studios.
Robotic Drums is a drum synthesizer with a probability sequencer.
It features:
– 6 analog-modeled synth voices with realtime control
– A probability sequencer for each voice
– Dropbox support
– Midi-clock sync support
– AudioBus support
– Quantized patterns switching
– An optimized, simple UI
For more info see: http://bigrobotstudios.com or find it on the App Store.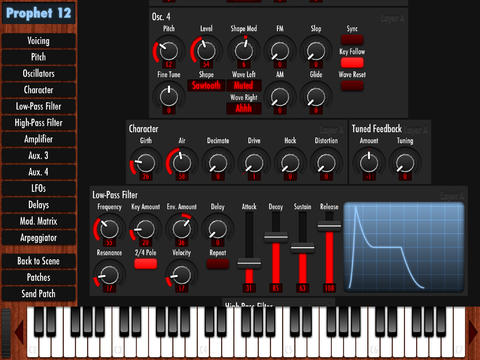 Patch Morpher  is a patch designing tool for these hardware synths by Richard Meyer:
– Moog Voyager
– Dave Smith Prophet 08
– Dave Smith Prophet 12
– Korg KingKorg
– Mutable Instruments Shruthi-1
It is designed to do multiple things – one of it is connecting parameters to one control and being able to move it and to get interpolating " morphing changes like on the Clavia Nord Synths. also it can convert Prophets from an important one to .. no from 12 to 08 and back. and you can also save your sounds to the iPad as is – it's NOT a librarian because it works "in between". but since it has memory it is able to keep the patch.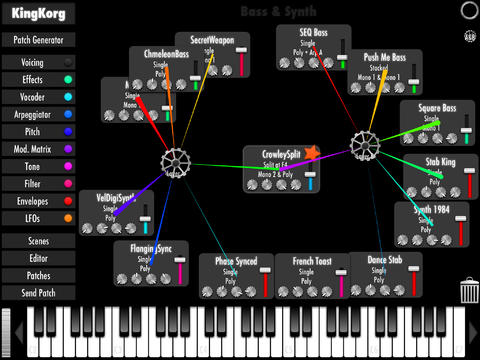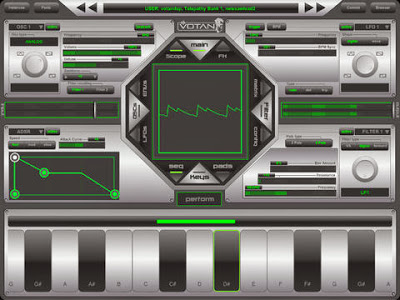 Similar to Audulus iCloud Patch Sync, Votan Telephathy allows you to share sounds between iOS and Audio Unit counterparts.  You can also share patches with friends.
"Votan Telepathy is a groundbreaking multi-purpose synthesis engine harnessing cutting edge technologies with traditional sound sculpting techniques. The power beneath Votan Telepathy is based in its cloud and communication platform where you can create sounds and instantly share with friends and colleagues.
The Votan Telepathy synthesis engine is also available as an 32/64 bit Audio Unit plugin with the iOS app acting as an ultra low latency touch controller for multiple instances of the synth in your favourite DAW. You can create new sounds on your iPad, that magically appear in the Audio Unit to be used in a professional DAW environment.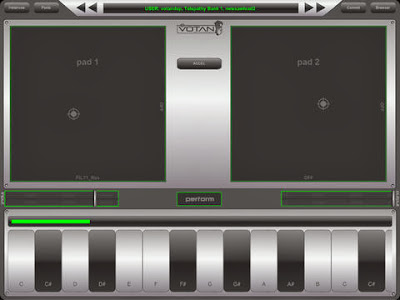 **Votan Telepathy Synthesis Engine**
*Oscillators:
4 x Free Range Oscillators with Band-limited alias free Virtual Analogue waveforms. Free-range means they can be unlocked from key frequencies, and then used intelligently as audio rate modulators for FM and Ring Modulation. You can also morph between the different wave-shapes (Sine, Triangle, Sawtooth, Square).
*Filters:
4 x Multi-filters with traditional Virtual Analog(Moog Ladder, MS20, TB303 emulations), Digital IIR and Formant Phase filters, 2/4 Pole with standard filter types Low Pass, High Pass, Band Reject, and Band Pass.
In depth internal filter routing between the filters, with Parallel, Series and Stereo Split.
*LFOs:
4 x LFO's with transitional and morphing wave shapes.
*Envelopes:
4 x Envelopes, standard ADSR, Filter and 2 x assignable envelopes.
*Modulation:
6 x Modulation Matrix Slots for extensive modulations
*FX:
4 x FX Slots with Delay, Distortion, Chorus, Flange, 4 Band EQ, Decimator, and Glitch algorithms.
*Performance Control:
4 x XY Pads, with direct assignment of ALL parameters for in-depth performance control. You can trigger notes directly from the Pads.
User assignable Keyboard with key selector(select the keys you need to play, not the rest)
*Binaural Beat Generator:
Votan Telepathy has been built with binaural synthesis in mind. You can assign each oscillator to play through Left or Right channels to create binaural beats with extended synthesis capabilities. The system can create all brain frequencies from 0.01hz up to megahertz. Get experimenting with the invisible frequencies of the mind.
*Votan Telepathy Audio Unit:
Votan Telepathy is also available an 32/64 bit AudioUnit and is a direct mirror of the iOS app and fully compatible with all presets. Your preset library is synced over all devices and apps.
Imagine the power of being able to create new soundscapes on your iDevice, then they magically appear in the DAW work session. Tweak sounds on the fly, then polish them into your productions.
*Votan Connect:
The iOS app of course can also act as a touch controller for the audio unit offering almost zero latency control of multiple instances of the audio unit plugin. Totally integrated synthesis and control like never seen before.
*Votan Cloud:
The Votan Cloud is a powerful integrated Preset Management System. Users can create soundscapes and store them in their own device or in the Votan Cloud. In the Votan Cloud patches can be instantly shared with other users. The VotanDSP team will be in constant creation of new sounds so they will be instantly available for all users of the system. You can chose to make your preset library public or private.
iPad 4+ recommended for iOS synthesis.
iPad 2+ for controlling the Audio Unit.
For more information visit www.VotanDSP.com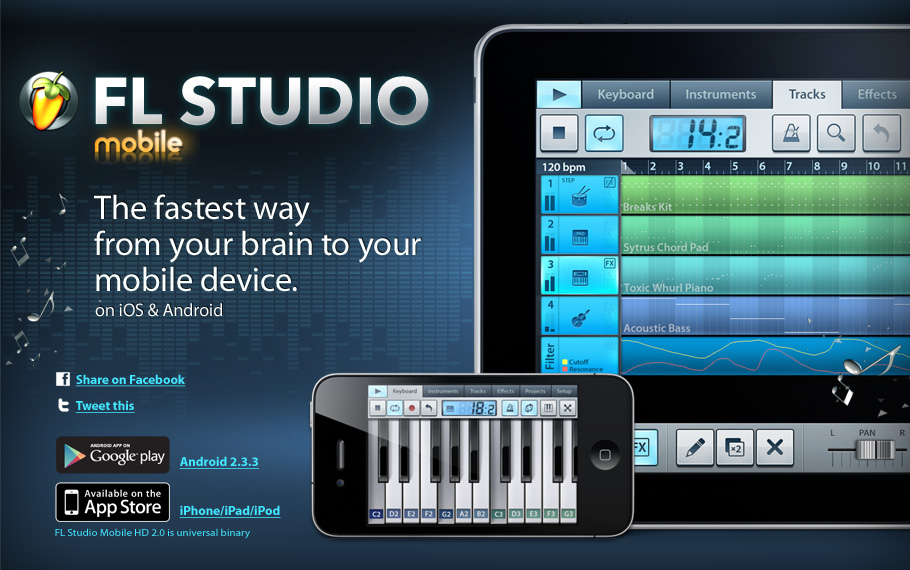 Image Line Software has released an update to FL Studio Mobile for Android and iOS. This is a free update for existing FL Studio Mobile customers.
Here's what's new in FL Studio Mobile Android 1.2:
HD graphics for 1080p and 720p devices (removes side bars)
Sequencer timing accuracy significantly improved
Fixes various expansion file download and mounting errors
Fixes wrong sample mapping after zip instrument import
Minor other bug fixes and performance improvements
Here's what's new in FL Studio Mobile 2.2 iOS:
New features:
MIDI start/stop slave and master
Input gain slider in the recording window (visible with external mic connected)
AudioCopy 2.0 support (iOS 7 compatible)
WAV export option to write 1 file per track
Performance & speed:
Major performance improvements (play more tracks without audio dropouts)
Audio file editing is up to 5x faster
Reverb quality and performance improved
Other improvements:
Audio recordings are placed more accurately
Setup latency options removed, it's now always at minimum
Filenames can now contain non-latin characters
Inbox folder is no longer present, files are moved to the top level folder
.flml (drum loop) files can be opened from other apps like Mail or Safari
Overall stability greatly improved
The Android version of FL Studio Mobile, at version 1.2, trails the iOS version significantly. Image Line says that the feature-set of the Android and iOS versions will be harmonized in future updates, including the addition of the following features to the Android version:
Audio tracks and wave editor
Background audio (playback while the app runs in the background)
SoundCloud upload
In-app shop
While projects, .flm format, are compatible between Android and iOS, if audio tracks are present they are ignored. If instruments are not avaiable the MIDI data is loaded and the a default instrument is used.
Pricing
Android: $19.55 USD
iOS: FL Mobile HD (universal app): $19.99 USD
Cubasis tutorial showing how to use 3rd party iOS effect apps with Audiobus as 'DIY send effects' within Cubasis.
How to make a pattern for Chill out (like Cafe del Mar)? This video shows you how to start with GarageBand 1.4 for iPad. Download the song data for free: www.app-sound.com/free
iMPC is now available for iPhone and iPod Touch [http://bit.ly/iMPC-iPhone]! The biggest name in beat making just got smaller! Turn your iPhone into an MPC. With more than 600 samples, 47 editable programs, 80 editable sequences, and iconic MPC workflow, iMPC is the first app to bring the look and feel of the classic Akai Pro MPC to your iPhone.
For more information visit: http://www.akaiprompc.com/impc-for-ip…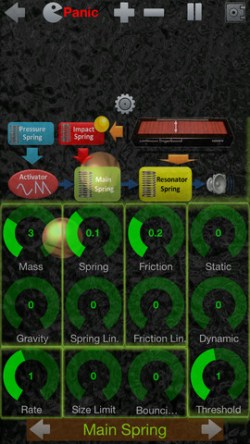 Christophe Duquesne has released Anckorage Spring  –  a new physical modeling synth for IOS (iPhone,iPad and iPod).
Anckorage Spring is based on "the simulation of a set of connected mass- spring, integrating non-linearities, fluid and static friction, mechanical limits, gravity and bouncing."
It is designed to be controlled by a continuous controller but can be used with a regular keyboard or directly from the device screen or from other core MIDI apps. According to Duquesne, a continuous controller will provide a much more accurate control of the model.
The mains ideas behind Anckorage Spring are:
Being able to tweak real world parameter like Mass, Force, Gravity, etc. instead of tweaking usual electronic parameters,
Not only try to mimic real world, but also allow very "unusual" things like modulating a Mass and changing the Gravity,
Emphasis control and expression using the physical parameters,
Open a new world of sound to experiment with….
Features:
Real physical modeling sound engine
Fully editable physical model
88 200 Hz internal sampling rate
Special Haken Continuum compliance
Playable by any midi device
Core midi base (therefore including virtual midi and network midi compliance)
On device touch control
Rich preset management
Preset exchange mechanism (through iTunes Share)
All parameters controllable by MIDI CC
Audiobus compliant
Audio MIDI Connect has transformed into MIDImorphosis – an audio-to-MIDI app for iOS.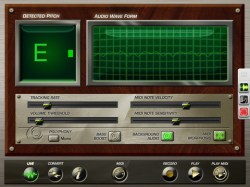 Here's what's new in MIDImorphosis:
In this version, the speed and accuracy of pitch detection has been greatly improved.
MIDI output now supports multiple destinations, both CoreMIDI and Virtual MIDI, as well as DSMIDI Wifi.
Audiobus support has been added, for both input and output slots.
Audio can be imported or exported using audio copy and paste. The app supports off-line conversion of audio to MIDI, with MIDI files being available using the "open in" method, or through iTunes file sharing.
Pitch detection now supports polyphonic playing. A toggle button selected between monophonic, small intervals, and chords.
https://itunes.apple.com/us/app/audio…
Introductory pricing — ends July 28th
MIDImorphosis captures the pitch of incoming audio, and converts it into MIDI notes that can be used to control iOS synthesizers or external equipment. With support for CoreMIDI, Virtual MIDI, DSMIDI Wifi, Audiobus, and background audio, connecting MIDImorphosis is a snap. Connections to laptop and desktop computers can be made using WiFi or with MIDI adapter cables.
The app performs both monophonic and polyphonic pitch conversion, and is designed to work best with a guitar or bass. We recommend dock-based instrument adapters; connections through the headphone jack frequently have crosstalk and poor frequency response. We also recommend running MIDImorphosis on an iPhone4s or better, or an iPad2 or better (this is especially true when using Audiobus).
Complex sounds can be created by combining a typical guitar effects app along with MIDImorphosis and a synthesizer app. The guitar effects app can provide tone control and immediate response, while the synthesizer can augment this with a deep, evolving sound.
With any conversion system, there is latency between a note played on an instrument, and when the note can be correctly identified; the slight delay motivates the combination of guitar effects and synthesizers. MIDImorphosis should be fast enough to work well for playing at moderate speeds. For guitarists in need of a system that can handle "shredding," we would recommend hardware converters by companies such as Roland or Fishman.
A number of videos are available on the app web page, to illustrate typical performance, and playing techniques to get the most out of the app. For guitarists, a light palm mute should be used to prevent unwanted notes from ringing. Pitch detection is typically best with the bridge pickup, and with a clean tone.
In addition to live conversion, MIDImorphosis can also convert recordings into MIDI (avoiding latency issues). The app can record audio; audio can also be imported using either Audio Copy or iTunes File sharing. Audio can be exported with Audio Paste. MIDI can be exported to other apps using the "open in" feature, or through iTunes. The app also allows scanning through audio files, to see the detected pitch at any given moment; this feature should be particularly useful to musicians interested in transcribing a recording. Recorded audio and converted MIDI can be played back through the app. The app is compatible with the Audiobus input and output slots.
For polyphonic pitch detection, the app supports both intervals and chords. Many guitarists play small intervals on adjacent strings; pitch detection has been optimized for this case. When set to chord detection, the app can find additional notes, but is less accurate.