A pumping bit of EDM/Electronica made with touchscreen technology! A real banger to get the blood pumping.
An iOS production, both music and video.
Music apps:
Sounds – Thor, Crud, Alchemy and Eden from Nanostudio, Audiobus interfacing between the apps.
Mixing sequencing and composing – Nanostudio.
Mastering – Final Touch.
Video – Pinnacle Studio using loops from Moviedrops.
Carbonish, Temptation, EDM, Electronica, Electro, iOS, Nanostudio, Pinnacle Studio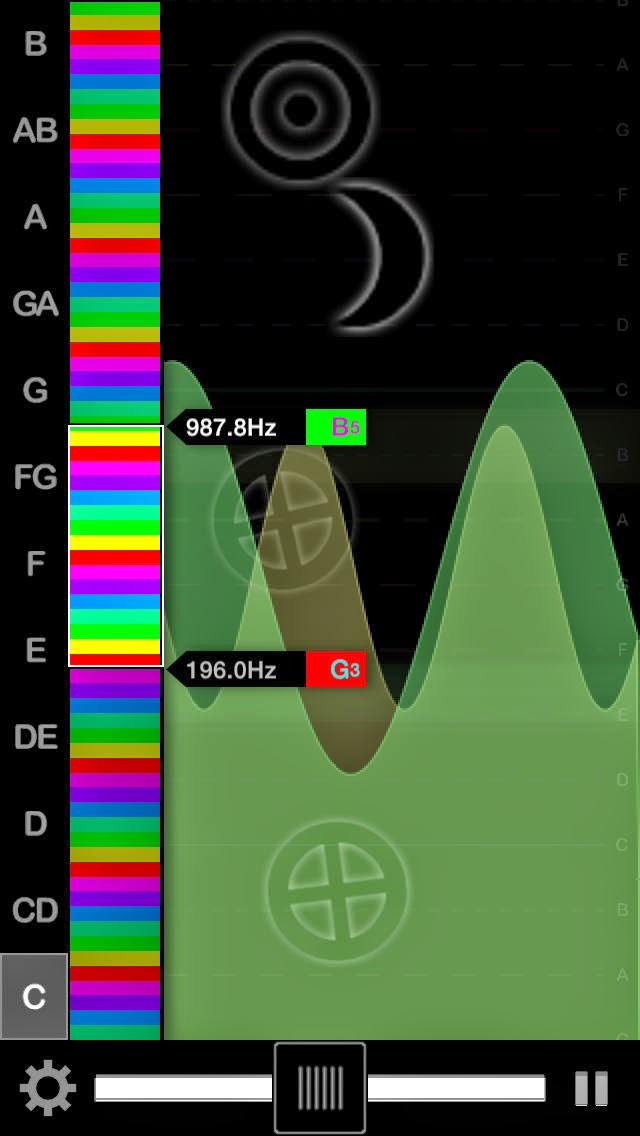 Fingers drip music and this app is the paper. Made for musicians looking for a responsive musical instrument with a huge range of sound, Sqeech delivers perfect audio that's both thick and nimble. It's an essential arrow in your music quiver.

This App is a multi-touch frequency synthesizer rendering eight cd-quality bendable audio waveform channels at any range on demand. The keyboard and output range are completely customizable with three powerful modes of sound: spectrum gives you a full oscillator; chromatic mode using half steps; or choose a major key.

Designed for flow, you can join in to any live acoustic set or electronic machination instantly. Sqeech can deliver deep bass or high-end electronic rain on one fret board. This tool was made for the hand to groove.

Responds to eight simultaneous touches by the user. A vibrato is achieved with a side to side pulsing of the fingers. Each touch has a separate volume channel so you get a rich live sound. Additionally two propellor filters (Sun & Moon) give additional firefly squeeching effects with full live control over pitch and speed from a finger.

Here's a few more features:

Key Range Bar: The range bar let's you instantly select a pitch threshold for the fretboard. You can change as you play. A smaller range makes more room for your fingers to add vibrato to your sound.

Pitch Slider: You can bend all sounds currently playing by using the slider bar. Releasing the slider from the high right side gives you a slow dramatic pitch fall you can add expressions to as it falls automatically.

Sun Propellor: This propeller always affects your solo finger only. Raising the sun on the screen causes the propellors pitch to go higher or lower. Left-to-right affects the propellors speed in real time giving you an powerful solo button you and squeech out a melody with.

Moon Propellor: The moon affects everything the sun does not. This gives you a more rhythmic effect since it broadcasts through the remaining fingers. It's speed and pitch are controlling similar to the sun. Double-click to turn on pitch snapping and the propellor will conform to the nearest half step. This allows you to form any triad sequence and play it with one finger setting the root note. Both propellors really open Sqeech up as an expressive electronic vocal. 


Vintage Yamaha PS-20 analog keyboard connected to iPad using Apogee Jam interface, played through Crystalline. Also features iOS apps Animoog, Audiobus and Arturia iSEM. No other effects or processing done.
Crystalline: Shimmer Effects Processor for iPad
http://crystallineapp.com
Background video description below:
Robotic Drums is my favorite drum synth on iOS right now. It has a lot of features, and is fun… So Let's Play with it! If you enjoy these Let's Play videos please consider sponsoring them on Patreon:http://www.patreon.com/user?u=107612
Be sure to visit http://discchord.com for this and other music app news!
Just a test with :
2 x Modules Littlebits Korg synth
1 x input module Littlebits
sync with iOS Brute LFO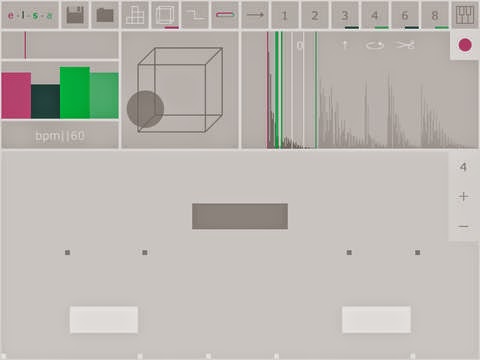 Elsa is a retro style sampling keyboard with tempo based looping. Record, save, load, reverse samples with a multi octave on screen keyboard or plug in your core midi device of choice, soft- or hardware. Elsa comes with three built in effects, a reverb, a resonant low pass filter and a frequency/bit crush. Samples are looped in three different modes, one off, forward and/or forward-reverse. The start and end of playback also comes in three modes, one set of start and stop for all, one set per note and/or one set per octave, allowing for many different types of samples. Additionally at playback time, sample length can also be controlled by a set of sample dividers, 1-8.
Specifications:
Sample keyboard
Tempo based looping
ADSR
Bit crush
Reverb
Resonant low pass filter
Record, trim, normalise, reverse, pre note shift, zoom
Multi octave keyboard
3 loop modes (one off, forward, forward-reverse)
3 start/stop modes (one for all, one per note, one per octave)
Playback length dividers (1,2,3,4,5,6,7,8)
Save/Load
Import/Export ACP 2.0
Inter app audio (audiobus)
Core Midi (note input)
e-l-s-a is priced at $1.99.
Mitch tries out two apps in this episode of Sweetwater's iOS Update. First, we check out the "BOOM! 808" drum machine app, based on the original Roland TR-808 drum machine. Next, Mitch tries out a metronome/setlist app called Tempo.
The "BOOM! 808″ drum machine app, based on the original Roland TR-808 drum machine: and
a metronome/setlist app called Tempo.
Sector info:
Slice and sequence your loops with a matrix of markov-chain connections. Introduce order with the probability-based coin-flipping pattern sequencer. Bend time with warp functions for glitches and modulations. Tweak and trigger in real time performance. Get anything between rigid control and random chaos.
• High quality 32-bit audio engine
• Unique probability-matrix sample slice sequencer
• Classic pattern step-sequencer for absolute control
• Time-warping transfer functions for various effects
• Stream audio to other apps in Audiobus or Inter-App Audio
• Import samples and loops from AudioShare or using "Open in" from other apps, or using iTunes FileSharing
Background video description:
You guys seemed to really like the last Let's Play iVCS3 video, so I'm doing another one with the recent SECTOR from Kymatica. This is a fun app, and I've having a lot of fun with it in this video! If you'd like to see more Let's Play videos, please help me fund them:http://www.patreon.com/user?u=107612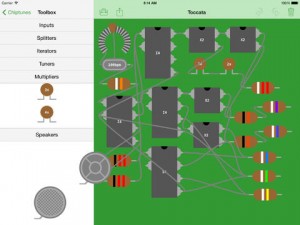 Chiptunes lets you make retro music the way it should be made – with chips! Build your circuit to lay down drum beats, basslines, and tunes.
Chiptunes Pro has all the features that can be unlocked in Chiptunes and will include all future updates.
Oscilab – a new mobile app that the developers say "gives you a hypnotizing musical experience."
http://2beat.io/oscilab
Oscilab gives you a hypnotizing musical experience, is both a music instrument to perform live and a sequencer to make unique loops and musical phrases.
No musical experience required, Available on iPad, iPad-mini and Android devices.