Sector info:
Slice and sequence your loops with a matrix of markov-chain connections. Introduce order with the probability-based coin-flipping pattern sequencer. Bend time with warp functions for glitches and modulations. Tweak and trigger in real time performance. Get anything between rigid control and random chaos.
• High quality 32-bit audio engine
• Unique probability-matrix sample slice sequencer
• Classic pattern step-sequencer for absolute control
• Time-warping transfer functions for various effects
• Stream audio to other apps in Audiobus or Inter-App Audio
• Import samples and loops from AudioShare or using "Open in" from other apps, or using iTunes FileSharing
Background video description:
You guys seemed to really like the last Let's Play iVCS3 video, so I'm doing another one with the recent SECTOR from Kymatica. This is a fun app, and I've having a lot of fun with it in this video! If you'd like to see more Let's Play videos, please help me fund them:http://www.patreon.com/user?u=107612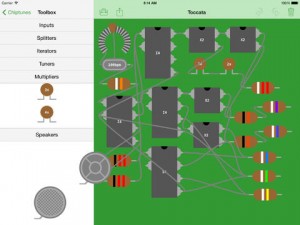 Chiptunes lets you make retro music the way it should be made – with chips! Build your circuit to lay down drum beats, basslines, and tunes.
Chiptunes Pro has all the features that can be unlocked in Chiptunes and will include all future updates.
Oscilab – a new mobile app that the developers say "gives you a hypnotizing musical experience."
http://2beat.io/oscilab
Oscilab gives you a hypnotizing musical experience, is both a music instrument to perform live and a sequencer to make unique loops and musical phrases.
No musical experience required, Available on iPad, iPad-mini and Android devices.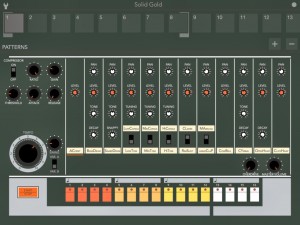 Boom 808 integrates one of the most popular drum machines of the 80's into the modern mobile producers workflow.
With Boom 808, getting the classic 808 drum sounds into your music has never been easier. Audiobus compatibility, background audio, and audio export options allow Boom 808 to fit into your music without slowing you down.
Personalize your beats with the sound of the 808!
Features:
Step sequencer
High fidelity audio
CoreMIDI
Audiobus and background audio modes
Record and export live performance to Soundcloud, Audio Copy, email and iTunes file sharing
Compressor
Swing
Overdrive
Boom 808 provides the superb audio quality found in our other Pulse Code apps. Along with the classic drum sounds, Boom 808 has a built in compressor that is tuned to add punch to your drum beats. Soft saturation overdrive rounds out the signal chain adding warm crunch to your beats.
Using Boom 808 with Audiobus allows you to add any number of Audiobus compatible effects as well as record your beats into the app of your choice. Writing beats is easy by using the internal step sequencer or trigger the drums with CoreMIDI. Control your groove with two swing variations.
QUALITY HEADPHONES / MONITORS RECOMMENDED
BOOM 808! is priced at $0.99.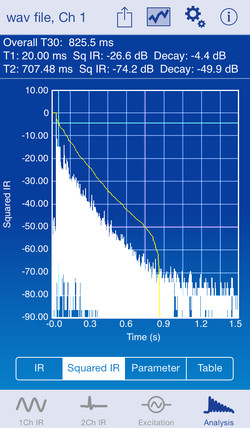 Faber Acoustical has released version 2.0 of its RoomScope room acoustics app for iOS, which now fully supports iOS 7 with a refreshed look and feel that is consistent with recent updates to SignalScope Pro and IOScope.
RoomScope turns your iPad, iPhone, or iPod touch into a room acoustics measurement and analysis tool. With RoomScope, you can measure a room impulse response and then calculate reverberation time, early decay time, clarity, and definition, as defined in the ISO 3382 standard.

RoomScope also allows you to adjust the Schroeder decay curve integration limits with the touch of your finger and plot the calculated room parameters versus whole or 1/3-octave band center frequency.
Changes in RoomScope v2.0
RoomScope's appearance has been completely revamped for iOS 7. RoomScope supports both iOS 6 and iOS 7, but looks largely the same on iOS 6 as the previous version.
Audio data handling is more efficient.
When entering a preferred sample rate, "48k" can be entered in the text box, as an alternative to typing out "48000.".
Default input sensitivities have been updated, based on measurements of the iPhone 5S and 5C microphones and headset inputs. Nominal input sensitivities have also been updated for iPad Air and iPad mini with Retina display.
Cursor info text now uses a larger font.
2Ch IR works properly when the internal excitation signal is selected for the X input and pan is set to 100%.
A bug in the HTTP file server has been fixed.
RoomScope for iOS is available to purchase for $99.99 USD.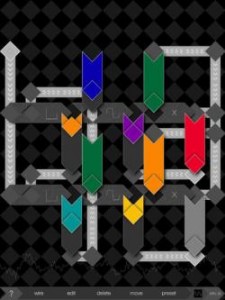 Alexey Nadzharov has introduced rrarrow – described as an 'experimental modular audio effect and noise machine' for the iPad.
Features:
Simplicity – The interface is simplified for faster assembly and more flexible connectivity – you can assemble your effect very fast and control all the processing parameters with the audio signal!
Feedback capabilities – You can add feedbacks to the audio chain to get some chaotic noise sounds .
Twelve blocks for audio processing:

Sine generator. Basic oscillator with sine waveform
Signal multiplier
Delay
Frequency shifter
Envelope follower
Lorenz attractor
Quantizer
Sample-and-hold
Reverb
Special Lowpass filter
Clipper
Nonlinear shaper (for self-oscillating circuit)

Audiobus support. Now you can stream live audio directly to other Audiobus-compatible apps! See http://audiob.us for more information. Works as input and filter.
Background audio support: enabled when connected to Audiobus and user switchable otherwise.
DETAILED REVIEW / DEMO of this amazing new App from KORG, which features 15 Virtual Synthesizer "Gadgets" that make composing new EDM, Hip Hop, etc. tracks fun! At the same time, this could be considered the most powerful app yet from KORG, because there is so much variety in possible sound design. "It's as simple or as complicated as you want to make it." Watch as I show the construction of multiple styles of music. Subscribe to VJ Franz K for more reviews of Apps and Hardware, on YT, FB, Twitter and other social media sites!
All music featured in this video are my original compositions, played with the synthesizer app I am reviewing.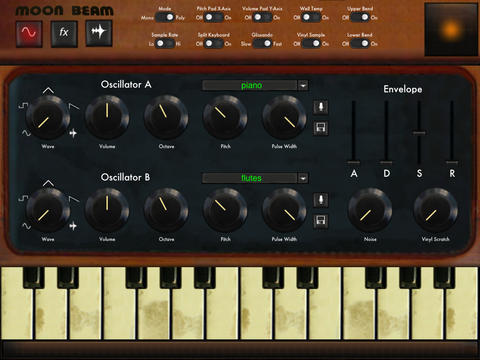 Inspired in part by the Casio Sk-1's lo-fi sonics/sampling and Sequential Circuit's Pro-One synth, the Moon Beam also adds features only possible in the touch screen world: bend keys independantly!!! You can of coarse also bend all voices in sync using the touch pad. Also, for those of you Baroque sticklers… you can switch to Well-Tempored mode!
The Moon Beam Synth/Sampler gives you:
-Unique key independant pitch bending
-2 sample/oscillator layers for each voice… or split them to top and bottom keyboards.
-Effects (Delay/Reverb, Filter, Tremelo, Vibrato, Vinyl Noise, Distortion)
-Easy sampling for each audio source
-Easy editing of audio sample start/loop points
-4 octave keyboard + 2 pitch ribbons
-1 assignable effects touch pad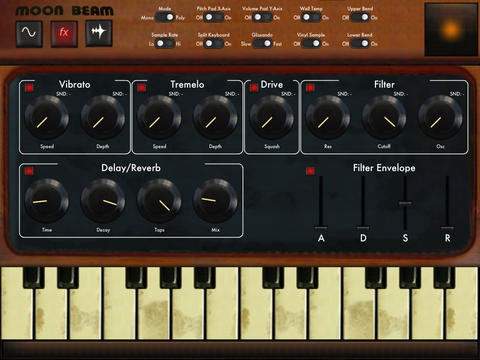 Ryan McGee has released a new sound design app for iOS, VOSIS, that synthesizes sound based on the greyscale image pixel data from photos or live video input.
Description:
OSIS is an interactive image sonification interface that creates complex wavetables by raster scanning greyscale image pixel data.
Using a multi-touch screen to play image regions of unique frequency content rather than a linear scale of frequencies, it becomes a unique performance tool for experimental and visual music. A number of image filters controlled by multi-touch gestures add variation to the sound palette. On a mobile device, parameters controlled by the accelerometer add another layer expressivity to the resulting audio-visual montages.
Brute LFO is an iOS App for iPhone, iPad & iPod Touch, which outputs control voltages (CV) from the device's headphone output. Connect it to your Arturia Microbrute or other analog gear, like a Modular Synthesizer, to modulate your sounds. The headphone output voltages aren't very high on iOS devices, so it's more of a subtle modulation, but Brute LFO also sounds awesome when pushed into audio range. There are two simultaneous oscillators and a third one to modulate the other two's frequency. Switch on "Brute" mode to dirty the waveforms up some more. Not shown in the video: The performance pad mode, in which you can use two touch pads to adjust four parameters simply by swiping your fingers on the screen.
Visit the Brute LFO website here:
http://www.justuskandzi.com/brute-lfo…
"The Brute LFO is a powerful low frequency oscillator that modulates your analog gear. If you have a hardware synth that allows you to use external gear to modulate the pitch, the filter, or any other parameter, just plug the Brute LFO into the CV in and start playing. It consists of three separate LFOs. LFO 1 and 2 can be controlled using the control elements in the top half of the screen. The big knob in he middle sets the rate of both the LFOs. Additionally you can change the waveforms of the LFOs, detune LFO 2 and change its phase. The amount knob in the top half also sets the overall amount of the modulation. The elements on the bottom half (LFO 3) can be used to modulate the frequency of LFO 1 and 2. And the brute switch destroys everything!"