In this tutorial Ryan Hemeon shows how to hook up an external midi controller and send the midi to two separate apps using MidiBridge. H uses Audiobus to keep the apps running in the background, iGrand and Magellan.
DevoBots is here. DEVOBOTS is a DEVO-authorized iOS app that is a combination robot maker and synthesizer. Users will be able to create their own DEVO-inspired robot characters from a library of 10,000 robot parts. The designs can be applied to apparel, posters, and other merchandise. The synthesizer app will allow users to create their own music from sounds taken from the DEVO archives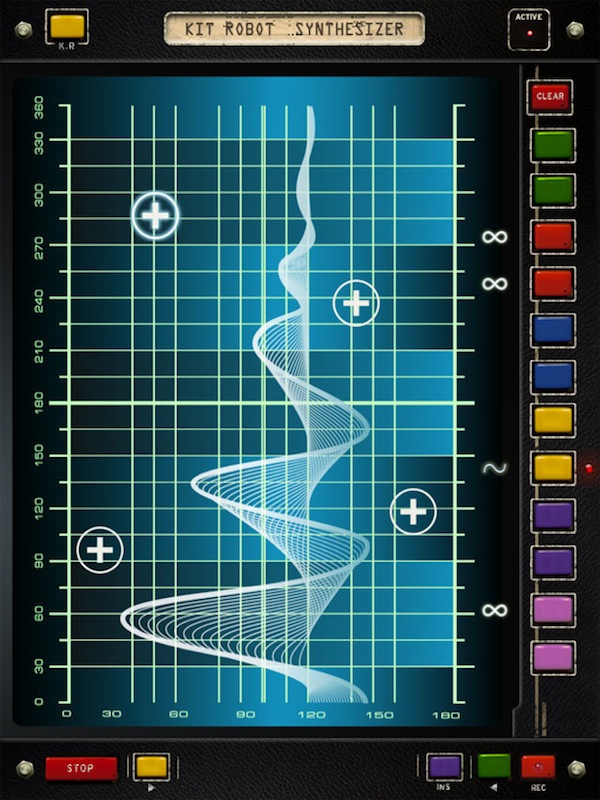 available on iTunes: https://itunes.apple.com/us/app/devob…
Music by Devo from the App DevoBots.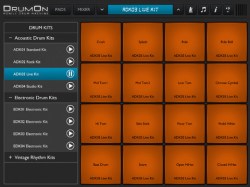 Tapgic Technology Limited has introduced DrumOn – described as 'a professional mobile Drum Machine'.
DrumOn is intended to turn your iPad into an advanced drum pad for live performance – like a hardware drum pad.
Main Features:
Over 16bit/44.1kHz to 24bit/48kHz PCM quality sound bank with maximum polyphony of 32-notes.
Each Drum Kit has a individual rhythm Demo playing in loop, you can change the drum kit when you play.
Realistic Choke Performance of Pedal Hi-Hat, Closed Hi-Hat and Open Hi-Hat.
15 grades of Touch-Velocity let you play like a real instrument, the harder you play, the more dynamics and volume you'll get.
Available to change the drum pad numbers from 8 to 12 or 16 to get bigger area or more sounds as you need.
Available to open or close the pad names.
Exclusive Function Side-Bars are available to open or close by the top-bar buttons or two-fingers touch gesture.
Full control of individual pad's Level and Pan, each drum kit has a built-in setting and you can change it.
Full-featured built-in metronome which is absolutely accurate with the industrial quartz precision.
High quality effect module for the global output including OVERDRIVE, REVERB, DELAY (iOS6+ ) is fully user-defined. You can also the change the effects order to get different sound effect.
Music Player lets you import your music tracks to Jam with, you can change the Volume, Loop and Speed of the music tracks.
Drum Kits in Version 1.0 :
ADK01 Standard Kit
ADK02 Rock Kit
ADK03 Live Kit
ADK04 Studio Kit
EDK01 Electronic Kit
EDK02 Electronic Kit
EDK03 Electronic Kit
EDK04 Electronic Kit
VRK01 Vintage Kit
VRK02 Vintage Kit
VRK03 Vintage Kit
VRK04 Vintage Kit
VRK05 TR606
VRK06 TR808
A teaser trailer for the new ios musicians website
Background video description:
I placed little pieces of masking tape on the iPad to serve me as note guides for a live performance.
All sounds came directly from KORG iKaossilator.
Turn your iPad/iPhone into an expressive synthesizer studio with stunning sound quality! Alchemy is perfect whether you're developing song ideas on the go or in the studio. Now includes 4-track sequencing, Audiobus support, and more.
Available now on the App Store:
https://itunes.apple.com/gb/app/alche…
Details:
Powerful, expressive synthesizer
• Synths, basses, piano, strings, guitar, drum kits and more
• Incredibly high quality sound – hear it to believe it!
• Huge variety of sounds thanks to sampler, VA, granular and additive synthesis
Intuitive song sketch pad
• 4-Track Sequencer with mixer and solo/mute
• Drum Pads – create your own beats
• 8 Songs included – have fun remixing tracks
Easily create living, breathing instruments with the Remix Pad
• Morph between synth variations to create your own sound
• Tilt and Inertia offer a fun physical way to control the synth
• 16 Performance Controls so you can easily tweak sounds to fit your music
Sound like a virtuoso with the easy keyboard
• Velocity sensitivity and per note filter sweeps
• Keyboard scales and one touch chords – sound great with your eyes closed
• External MIDI keyboard support
Integrate Alchemy with your other apps
• Audiobus – integrate Alchemy with your mobile studio
• Copy and Paste
Expandable with a wide range of instrument sound libraries
• 30 sounds included with 35 more free when you register
• 10 in-app purchase Sound Libraries available including Dubstep, Ambient and Dream Voices
• Each library contains 50 sounds (a massive 400 variations)
A video demo and tutorial of the much talked about app Different Drummer
Different Drummer is your secret weapon in the quest for innovative beats that make sense yet defy the status quo. Using patent pending Cyclophone Technology, Different Drummer taps into the primal source of all drumming—waves. Wave motion propels almost everything you can imagine and it's the perfect controller for drumming too. Different Drummer puts out multi-track drum beats and music sequences which are remarkably lifelike or primal at times and out of this world at others. Different Drummer is not a drum synthesizer but uses waves to play the drum samples (or other samples) in amazing ways that vary from electro and dubstep to tribal to classical.
"New features in Audulus 2.0. Many thanks to the Audulus beta testers for their thorough testing of this release!"
With Audulus, you can build synthesizers, design new sounds, or process audio. All with low latency real-time processing suitable for live performance. Audulus's user interface is clean, simple, and easy to learn, allowing you to focus on sound.
Key Features:
• Fluid Vector Interface – smooth animated interaction
• MIDI control – use your control surface or MIDI keyboard
• Polyphony – process multiple voices
• Diverse Nodes – from ADSR to ZeroCross
• Patch Browser – quickly flip through your patches
• 32-bit floating-point signal processing
• Fully Enhanced for Retina Display
• Unlimited Undo – full history stored in a patch
• Round-trip workflow with Audulus for Mac
• Virtual MIDI – control Audulus from your favorite MIDI app
• NEW: Audiobus support! – Runs as both an Input and Effect!
• NEW: Sub-Patches – group and reuse nodes!
Here's what's new:
Math Expression node (Math -> Expr). Enter textual math expressions, like "2*x + y +z". Available as an upgrade, this node has a variety of uses, including: unit conversion, control-signal mapping, wave-shaping or building custom oscillators. It can also be used when doing math with individual nodes is too cumbersome.
Timing mode (the little stopwatch button below the lock mode button). This shows timings for all the nodes so you can optimize your patch. This is available as an upgrade.
The Oscillator node now has an amplitude input. If the amplitude is zero, the oscillator takes up much less CPU. Synth patches will see a big performance improvement from driving the Osc amplitude with the ADSR.
Significant improvement in loading times. Indicate progress while loading.
No waiting to close a patch. Patches are saved in the background.
Audio engine optimizations. The audio engine now takes various shortcuts when values aren't changing.
Improved responsiveness of the on-screen keyboard.
Bug fixes.
Google Play Store – https://play.google.com/store/apps/de…
iTunes – https://itunes.apple.com/au/app/fl-st…
Info – http://www.image-line.com/documents/f…
FL Studio Mobile is now available for Android and iOS. Use it on any smart-phone or tablet running Android or iOS
A Google/Asus Nexus 7 was used in this video
FL Studio Mobile HD allows you to create and save complete multi-track music projects on your iPad, iPhone and iPod Touch. You can even load the FL Studio Mobile projects into the 'FL Studio Desktop PC' version* and take them to the next level.
If it's a beat on the step sequencer, a melody on the piano roll or a full song on the playlist, FL Studio Mobile has you covered. Never lose that idea again. Get it down and happening wherever you are.
FEATURES
• 133 high quality instruments, drum kits & sliced-loop beats
• In-app shop with 7 sample packs (250 instruments/kits), 2 of them are free
• All instruments have FL Studio desktop counterparts for FL Studio desktop import and extension
• Step sequencer for fast percussion programming and sliced-loop reworking
• Configurable virtual piano-keyboard
• Drum pads
• Audio tracks: audio recording (with monitoring), iPod library import, wav/mp3/aac import, AudioCopy & AudioPaste
• Wave editor: cut, trim, normalize, reverse, insert silence, fade in/out (3 curves)
• Record up to 24 channels simultaneously with CoreAudio (class compliant) hardware
• Background audio playback and recording
• Browser with preview button and logical sorting into Instruments, Synths, Drum kits & Loops
• Sampling: custom kits and instruments can be created from wav/mp3 files, AudioPaste, .zip and .instr files (created with FL Studio desktop)
• Pan, volume, release and attack time configurable per instrument
• Pitch bend via accelerometer
• Low-latency, iOS-optimized, high quality, battery-friendly audio engine
• Drum loops and sliced loops ready to start your project with a cool beat
• Effects include Limiter, Reverb, Delay, EQ, Amp simulator & Filter to enhance your mix.
• 99 track sequencer and intuitive editing options
• Per-track mute, solo, effect bus, pan and volume adjustment
• Edit at the level of tracks, bars or down to individual notes
• Piano roll editor for manual entry of note & chord sequence data or detailed editing of recorded performances
• Unlimited undo and redo for all editable screens
• Metronome with tempo & time-signature settings
• Intuitive positioning of screens with the slide gesture and resize with the pinch gesture
• Save and load your songs, export to WAV and AAC
• MIDI file import/export
• SoundCloud and Dropbox upload
• Email export, AudioCopy, iTunes file sharing and an integrated WiFi server
• Audiobus support (input & output)
• In-app user manual
• Retina Display graphics
• Compatible with: CoreMIDI (MIDI in and out), Virtual MIDI, Line 6 MIDI Mobilizer I & II, Akai SynthStation 25, iRig, iRig Mic, iRig MIDI, Yamaha i-MX1, Apogee Jam, Blue Mikey, Alesis IO Dock, iConnectMIDI, Line 6 Mobile Keys, Line 6 Mobile In, Tascam iU2 and many more.
Visit www.flstudiomobile.com for video tutorials, demos and access to the FL Studio Mobile community. For sales support email flstudiomobile@image-line.com.
http://apps4idevices.com/read/bebot-r…
Bebot is a feature packed polyphonic synthesiser that was the very first music app to fully utilise the full touch screen to control the sound. It has a single oscillator with 4 waveform choices and a sub oscillator with another 4 waveform options, including both one and two octave options below the main oscillator. It also offers distortion, chorus and echo effects, as well as y axis expression within the settable timbre/resonant range, and great sounding filters. There are 25 presets to get started with, but you can also save your own creations. It comes with scale presets and the option to create your own custom scales so you can simply slide your finger across the screen without playing the wrong notes. Another great feature is the ability to Autotune each note to varying degrees or choose not to use Autotune to get that great fretless sound. Bebot also is AudioBus compatible for use in the input slot, so you can directly record your performances into other compatible apps. The video below runs through most of the preset sounds and then continues on to explore all of the other options available, and the audio track shows a few examples of the expressiveness of the app using a few preset sounds. Bebot is a very impressive synth with great expressive control, and with AudioBus compatibility it is definitely a must-have synth, which makes it … A Killer App!Review by Nick Trass