Check out the brand new Patterning : Drum Machine
New iOS drum machine, all details below: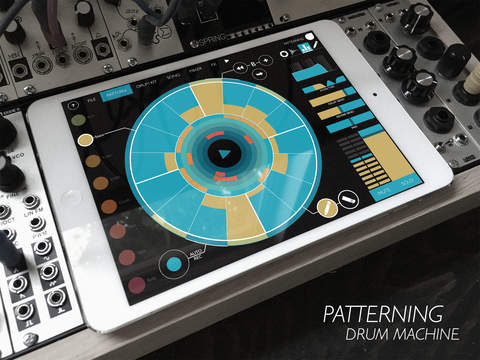 As beautiful as it is powerful, Patterning is a deep and flexible drum machine unlike any you've encountered before. With its elegant circular interface, Patterning transforms the iPad into a seriously inspiring tool for making beats.
Create dynamic drum patterns with the swipe of a finger. Make evolving, poly-metric rhythms, four-on-the-floor dance party jams, or laid back R&B grooves. Use Patterning's independent loop settings to explore untapped rhythmic possibilities. Automate parameters to create intricate & complex beats. Arrange patterns on the timeline to construct songs. Use the built-in effects–delay, reverb, distortion, and 3-band EQ–to add atmosphere, shimmer and noise. Connect to other apps with Audiobus, Inter-App Audio, and MIDI.
Patterning comes loaded with classic drum machine samples as well as exclusive drum kits created and curated by contemporary producers and musicians. For the independent producer, it's easy to create custom kits with your own samples.
With an extensive and uncommon feature set, Patterning redefines what an iOS drum machine can be.
Recommended for iPad 3 and newer.
For a complete list of specifications, please visit http://www.olympianoiseco.com/apps/patterning
https://itunes.apple.com/app/apple-st…
Available August 20, 2015
Sign up for our mailing list :
http://eepurl.com/LdQYr
Follow us:
@olympianoiseco
facebook.com/OlympiaNoiseCo
Comments