More info: http://bit.ly/TIfQZj
During Dubspot's recent trip to Seattle's Decibel Festival, our video team caught up with Roger Linn, the godfather of the modern drum machine, Carl Craig, one of Detroit's most talented producers, for a lecture/discussion about the history and evolution of the rhythm machines that have shaped our musical world.

One of the most inspiring elements of Seattle's annual Decibel Festival is the conversations that transpire between some of the world's most talented musical thinkers. Decibel acts as a catalyst for these moments, with lectures and demonstrations taking place throughout the festival. We were especially excited to catch a workshop where drum machine creator and pioneer Roger Linn joined Detroit techno innovator Carl Craig for a talk on the evolution of drum machines and the future of electronic rhythm.
In this video, Linn explains that our assumption of drum machines appearing in the early 80s is incorrect, and he takes us on a tour of early electronic rhythm devices such as Leon Thermin's Rhythmicon (1930), the Chamberlin Rhythmate (1957), Raymond Scott's Bandito the Bongo Artist (1963), Seeburg's Select-A-Rhythm (1964), the PAiA Programmable Drum Set (1975) and the CompuRhythm CR-78 (1978). Craig probes with questions regarding interface design for musicians vs. engineers, discusses the development of drum interfaces, and talks about how the Akai MPC changed his production and composition techniques.
"A fellow VSE'r was needing helping syncing his Pro One to his LinnDrum, so I thought I make a quick tutorial video. Remember to enter the LAST note of your sequence into the ProOne's sequencer FIRST (thanks Howard Jones for that tip)."
Here's a new video noodle session from SynthMania:
"A quick noodling session with Minimoog, Emulator, LinnDrum. Again, my audio interface is being exchanged and I'm using the computer's internal card, so apologies for the noise floor. The Emulator going out of tune in a couple of parts is because I inadvertently moved the pitch bend wheel with my elbow :-D"
Here is a demo with the Juno 60 and LinnDrum doing some 80's-ish, HI-NRG drums and basslines. The two were ran through a Roland MMP-2 Preamp/Compressor, then the SPDIF of that went straight into my Allen & Heath Xone DX.
The Linndrum hits extremely hard and is a complete joy to use. The Juno-60 is locking onto the trigger out of the Linn which allows for quick timing on basslines.
A review of the latest partnership between two of the most well respected synth designers around. This is a 6 voice analog drum machinesynthesizer.
An improvisation in a Valerie Dore / Italo Disco style circa 1984. Featuring the Orchestrator, Juno-60, LinnDrum and SH-101
Crumar Orchestrator: string machine
Roland SH-101: bass
Roland Juno-60: synth strings
Linn LinnDrum: drum machine
Reverb: built-in Roland M-10DX digital mixer
Delay on Linn claps: Boss DD-3 digital delay pedal
Hardware feature – Crumar Orchestrator: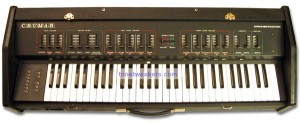 In 1977, Crumar introduced the Orchestrator (called the Multiman-S in Europe), a fully polyphonic orchestral string machine. It has five basic sounds: Brass, Piano, Clavichord, Cello and Violin. The keyboard is split in the middle allowing you to play one combination of instruments with the left hand, and another combination with the right.
All five sounds are available at all times, you simply adjust how much volume you want of each sound. Feature just a single instrument, or create your own orchestral ensemble—you are the Orchestrator! With the keyboard being split, there are five separate instrument volume sliders for the left hand (lower split) and another five for the right hand (upper split).
There is also a sixth sound: Bass. The Bass sound has its own volume slider as well, but it is assigned to only the bottom 27 notes of the keyboard. It is also not the greatest of Bass sounds either, and can sometimes muddy the sound.
There is a filter section but only for the Brass. It uses some pretty old-fashioned terminology: 'Emphasis' for resonance and 'Contour' for cutoff. There are also Attack and Decay controls for the filter. There is another filter for the Cello and Violin string sounds called 'Timbre' which can adjust between a 'Mellow' to 'Bright' sound—basically it's a highpass filter. There is a 'Vibrato' effect section, basically the LFO, with 'Speed' and 'Depth' controls. The only global envelope control is a 'Sustain' length slider.
The Orchestrator's best sounds are its Brass (probably because it is the sound with the VCF filter) and the Strings. In fact the Strings sound very similar to the famous ARP Solina. Unfortunately there are no built-in Ensemble effects to really sweeten them up…but that's what outboard gear is for!
Like most synthesizers of its time, the Orchestrator was built with the performing musician in mind. It is its own flight-case! Its casing is very tough and durable, it has a handle and a cover/lid to keep it protected during transport. And if it looks heavy, it is! Additional options for the Orchestrator included an organ-like 13-note (G-G) Foot Pedal Board, Sustain Pedal, and a Foot Expression Pedal controller for the filter cutoff. There are no CV/Gate options, just connectors for the external pedal controllers.
About section via VSE
Richard Devine explores the Tempest
"Just playing a rhythmic beat exercise on the new Tempest Drum machine by Dave Smith and Roger Linn. Interesting drum synthesis and parameter control allows for some really cool beat manipulation. The sounds featured are from 4 different analogue synthesis kits I created and programmed."
rogerlinndesign.com/​products/​tempest/​index.html
A live improvisation of a typical mid-'80s style arrangement – a bit in vein of King's "Love and Pride". The Memorymoog has the lion share in this video, with its typical, quintessential synth brass. The LinnDrum is the standard drum machine of that era, and the PPG offers an elegant choir sound.
Hardware feature – PPG Wave 2.3: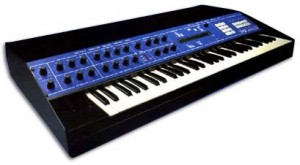 The German made PPG Wave 2 series of synthesizers are incredibly great sounding analog/digital hybrid vintage synths. They use digital samples of wavetables and feature analog VCA envelope and VCF filter sections for a classic and warm sound. The Wave 2.2 (pictured above) has oscillators that can generate over 2,000 different single-cycle 8-bit digital waveforms! Covered by knobs, the Wave still looks analog and this comprises the "Analog Control Panel". More complex and new-wave editing of the wavetables and samples is covered by the "Digital Control Panel" where there are several key-pad buttons and an LCD screen. Another familiar treat to analog junkies is the inclusion of an 8-track sequencer which features automation of pitch, loudness, filter cutoff, waveforms and more. A cool feature – its onboard sequencer will also record any filtering and wave changes, in real-time!!
The more commonly encountered Wave 2.3 followed the 2.2 and had enhanced sample-playback capabilities. The sampler was pretty full-featured for its time and included upgraded 12-bit digital waveforms, Fourier analysis and linear playback of samples. The 2.3 model also featured 8-parts multitimbrality and MIDI implementation. The PPG Waves are know to create excellent pads, brass and bass sounds.
"This is a demo of some of the things i've come up with the past week that i've been one of the lucky beta testers for the DSI Tempest. I'm loving it so far.. finding it very inspiring to play and use and create new drum beats and sounds. I'm going to try to tell some of the things about the Tempest that arent talked about too much already."
"The design of Tempest reflects a rethinking of what a drum machine needs to be in the current era. It's not so much a drum machine as a new musical performance instrument for the creation, manipulation, and arrangement of beat-oriented music, with an intuitive and efficient use of human gestures."
Tempest's 16 velocity- and pressure-sensitive pads are arranged in an 8 x 2 array to facilitate both real-time and step entry of beats. Two pressure- and position-sensitive Note FX slide controllers provide a unique new method of performance and control.
Tempest is a collaboration between Smith and longtime friend and fellow instrument designer Roger Linn. Though they've consulted with each other on past projects, Tempest marks the first time a product will carry both the Dave Smith Instruments and Roger Linn Design logos. "If you're going to make a drum machine, who better to have in your corner than Roger Linn?" said Smith, referring to Linn's legacy as inventor of the digital drum machine.
Though Smith is also responsible for some fine drum machines—most notably Sequential's DrumTraks and Studio 440—Tempest is his first to utilize analog synthesis to generate the sounds. "We've designed a very flexible new synth voice for Tempest," said Smith. Linn added, "The design of Tempest reflects a rethinking of what a drum machine needs to be in the current era. It's not so much a drum machine as a new musical performance instrument for the creation, manipulation, and arrangement of beat-oriented music, with an intuitive and efficient use of human gestures."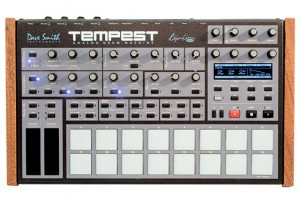 Tempest's 16 velocity- and pressure-sensitive pads are arranged in an 8 x 2 array to facilitate both real-time and step entry of beats. Two pressure- and position-sensitive Note FX slide controllers provide a unique new method of performance and control.
Each of the 6 analog voices has 2 analog oscillators plus 2 digital oscillators (with a large bank of included samples), Dave's classic analog low-pass filter with audio-rate modulation, an additional high-pass filter, analog VCA with feedback, 5 envelopes, 2 LFOs, an extraordinary variety of analog modulation routings, and stunning sonic quality, warmth and punch. Although optimized for drum sounds, it excels at tuned sounds as well, and even doubles as a 6-voice analog synth. In addition to the 6 direct voice outputs, there are stereo mix outputs and phones outputs, plus 2 inputs for foot switches or expression pedals, MIDI in/out and USB.
The performance-oriented operating system, 90 panel controls, and bright 256 x 64 OLED display work together to provide a tightly integrated, non-stop workflow: record a drumbeat in real-time, switch to another drumbeat and use the lit pads to record it using step programming, switch to another drumbeat and record tuned keyboard parts, use the 2 touch controllers to to record real-time note or beat-wide parameter animations, use the generous sound controls to edit any of the drum sounds, tweak the analog effects or drum mix, arrange beats in real time and record the live arrangement into a song, enter/exit Song mode and much more, all without ever stopping play.
16 pressure- and velocity-sensitive lit pads are arranged in a 2×8 configuration, providing intuitive access to all your fingers and providing the ideal compromise between the popular 4×4 pad arrangement (popular for real time programming ) and 1×16 arrangement (popular for step programming) because Tempest does both. The pads can be used to play 32 drum sounds (2 banks), mute/unmute the 32 sounds on playback, play and arrange 16 beats in real time, play one sound at 16 tunings (in a variety of scales) or 16 velocities, or as 16 time steps for step programming. The ROLL button permits creating drum rolls or repeated groove patterns by varying pad pressure as the beat records, and doubles as a momemtary "stutter" effect when the pads are assigned to play beats. Use the Sustain button on tuned parts like a keyboard's Sustain pedal, or to choke drum sounds or drumbeats when the pad is released.
Two pressure- and position-sensitive Note FX slide controllers permit real-time recording of note or beat-wide sound parameter changes into the drumbeat as you play. For example, record simultaneous filter frequency, tuning, envelope decay and pan changes for each note, or control similar parameters affecting the entire beat.