The title track from 1983′s Sweet Dreams (Are Made Of This) album has one of the most instantly recognisable synth riffs around. There have been many different theories about the synths used on it, but the consensus seems to be that either an Oberheim OB-X was used for both the left and right riffs, or perhaps a Juno-6 and Roland SH-09 for the left and right channel riffs, probably sequenced using a Roland CSQ-100.
I guess asking Eurythmics themselves wasn't an option

Background description by Hans Skoulaman:
Still a week to go for my concert with AKS. I found this beauty setting of the Waldorf Q. Its a nice sample of a full resonant opened filter'(notch). It is controlled by the Moog Little Phatty (by the arpeggiator and the modulation wheel) and the funny thing is that although the Moog isn't velocity sensitive the keys are and it works perfect for other velocity sensitive MIDI instruments. Its sends also polyfonic. I tweaked some Juno 106 noise together with the Moog sequence.
The solo pieces are from the Concertmate MG-1 and the DS8. The pads came from my favorit DS-8 and a low string sound from the Korg 05r/w. In opposite is the string and e-piano sound from the Lamda. All processed with Lexicon, Yamaha, Ibanez, Alesis and Electrix effects. It is best listened with good audio gear then you here the rich harmonics of the Waldorf, I filmed and recorded everything live without overdubs (I mostly don't use that).
BRUNO ENDER LEE – "Return to the Pleiades" – performed live, October 14. 2012
MacBeth M5N & Doepfer MAQ-sequencer, Synthesizers.com Studio-88, ARP Odyssey, MiniMoog Voyager OS, Moog Little Phatty, Analogue Solutions Vostok, Korg Polysix, Korg DS-8, Korg MS2000, Roland Juno-60
2012 Velvet Voyage Productions, all rights reserved
"The Juno 6/60 is a popular synth that is the subject of a lot of discussion, and much of it is negative. I am a huge fan of the Juno 6/60 and think it gets and unfair amount of criticism, primarily behind the veil of the internet. This demo showcases its amazing sound and some of it's capabilities."
Below is the link to the original uncompressed demo:
http://soundcloud.com/briancastro/roland-juno-6
The first in a series of amazingly affordable quality synthesizers from Roland's amazing Juno family! The Juno-6 is a six voice polyphonic analog synthesizer! It's a very stable synth thanks to its digitally controlled analog oscillators. The Juno-6 sounds great, however it lacks basic necessities like MIDI control and patch memory storage.
The next generation Juno-60 version added 56 patches of memory storage. Both of these synths sound virtually the same and are considered by many to sound better (punchier) than the popular follow up, the Juno-106. The Juno-6 and 60 are very rich sounding synthesizers and are great analog machines as long as you can overlook the absence of MIDI control. Of course nobody can deny that the wooden side panel look is a true sign of Vintage status!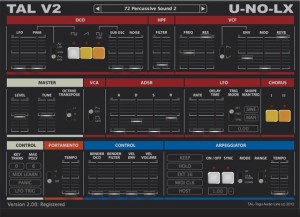 Togu Audio Line has announced the release of TAL-U-NO-LX V2, an updated version of the virtual synthesizer instrument modeled after the Roland Juno 60.
We released version 2.0 of TAL-U-NO-LX. This version includes an improved filter that is more accurate and warmer, especially at extreme values with a lot resonance. Old presets are compatible with this version. We released it as a new version that can run parallel to the old plugin.

The chorus was callibrated too. This version includes some more non-linear components and needs a bit more CPU, but we think the improved sound is worth it. This update is free for all TAL-U-NO-LX users!
Changes in U-NO-LUX v2.0
Improved filter sound.
Improved and new calibrated chorus.
Portability mode. Also reads presets that are saved in the plugin sub folder: "/TAL-U-NO-LX/presets/".
The U-NO-LX plug-in for Windows and Mac (VST/AU) is now available for the reduced price of $40 USD for an unlimited time.
Monday morning synth spotting, including Roland Juno 60, Roland SH101 & Moog Little Phatty,  in this french video:
Extrait de l'album Le trou noir – Ego Twister – 2012 (sortie le 10-10-12)
Version originale : http://soundcloud.com/amnesie1/jai-tu-le-chat
Enregistré et filmé live dans les studios du CNDC au Quai à Angers.
Avec : Yan Hart-Lemonnier, Maxime Dobosz et Wilfried Thierry
Technique son : Loïc Lebris
Réalisation : Wilfried Thierry
Here is a demo with the Juno 60 and LinnDrum doing some 80′s-ish, HI-NRG drums and basslines. The two were ran through a Roland MMP-2 Preamp/Compressor, then the SPDIF of that went straight into my Allen & Heath Xone DX.
The Linndrum hits extremely hard and is a complete joy to use. The Juno-60 is locking onto the trigger out of the Linn which allows for quick timing on basslines.
A quick tutorial on creating a simple Trance-type arpeggio sound with the Roland Juno-60.
Among the first in Roland's amazing Juno family! Six analog voices of polyphony and patch memory storage!! The Juno-60 sounds great, however, like the Juno-6 it lacks MIDI control. The Juno-60 includes 56 patches of memory storage. The Juno-60 is still popular due in part to opinions that it sounds better (punchier) than the Juno-106. The Juno-6 and 60 are very rich sounding synthesizers and are great analog machines as long as you can withstand the absence of MIDI control. The JSQ-60 sequencer is an external sequencer controller for the Juno-60 and is usually worth acquiring.
Listen to Chipbeat's take on the old Miami Vice song "Step back"
"only hardware used / ROLAND Alpha Juno 2 & ROLAND R8 — listen an Download here : http://soundcloud.com/crizdian/step-back-80s_mix_preview"
New video from Jordan featuring the TR808 and a JUNO 60, description below:
Here is a quick demo of my Roland TR-808 and Roland Juno-60. No effects were used. They were both mixed on my mixing board and sent straight to my soundcard (Native Instruments Kore). The 808 is doing it's thing and sending a pulse to the Juno's Arp In jack. This video was done mostly to demo the Juno-60′s sound while in this mode (Youtube has a suspicious lack of videos demonstrating this). I consider this to be one of the best features of the Juno. It's incredibly fast to build basslines and song structures this way. From start to about 3:40 I am kind of tweaking the 808 to get a drum pattern that feels right. From 3:40 on it is mostly improv lines on the Juno while the 808 rolls along.