Background video description:
Just picked up a pre-midi Juno 6 and wanted to clock the Arpeggiator. Had a thought about trying the Korg iElectribe on my iPad…didn't think it would work, but does. Audio from Juno 6 is direct in to Logic, but my Mic was from the crappy Camera.
Vintage synthesizer track by RetroSound
"Apperception"
lead and fx sounds: Oberheim OB-X Analog Synthesizer
bass sounds: Moog Taurus 1 bass pedal
pad sounds: Roland Juno-60 Analog Synthesizer
arp and sample sounds: Korg MicroX
recording: multi-tracking without midi
fx: reverb and delay
more info: http://www.retrosound.de and
http://www.facebook.com/pages/RetroSo…
And speaking of Roland, as in the previous post, here's a vintage version:
Vintage synthesizer demo track by RetroSound
"Monoton"
synthesizer sounds: Roland Juno-60 Analog Synthesizer from the year 1982
drums: Roland TR-707
recording: multi-track without midi
fx: a little bit delay and reverb
this track is including in the new vintage synth album:
http://www.youtube.com/watch?v=huM0t1…
The Juno-60 synthesizer is a six-voice polyphonic synthesizer. The single digitally controlled oscillator (or DCO for short) per voice gave the Juno-60 a high degree of stability in maintaining tune; most analogue voltage-controlled oscillators (VCOs) of the time would tend to drift in pitch and require re-tuning of the oscillator. The DCO provides sawtooth and square/pulse waveforms as a sound source, in addition to white noise and a square-wave suboscillator pitched one octave beneath the key played. Both of these additional sources can be mixed in with dedicated sliders.
The filters and envelope on the Juno-60 rely on control voltages sent by depressing the keys on the keyboard and were thus analogue. The Juno-60 features a rather distinctive-sounding 24 dB/octave lowpass filter with resonance. Unlike other VCF's of the day, the Juno-60's is capable of self-oscillation and thus could be used to some degree as a tone generator in and of itself. The filter section also features controls for envelope amount and polarity, LFO modulation, and keyboard tracking. In addition, a three-position non-resonant highpass filter is provided to thin out lower frequencies.
The signal is then sent through a voltage-controlled amplifier (or VCA) and a simple four-stage ADSR filter envelope.
The Juno-60 provides limited options for modulating the audio signal. A single triangle-wave variable-rate LFO is provided as a modulation source; this can be mixed into the DCO to create vibrato or into the lowpass filter to generate a tremolo effect. The LFO can either be triggered manually by the left hand using a large button above the pitch bend lever or set to engage automatically whenever a key was pressed.
The Roland Juno-60 is a popular analogue 61-key polyphonic synthesizer introduced by Roland Corporation in 1982 and a successor to the slightly earlier Juno-6. Like its predecessor, the Juno-60 has some digital enhancements, used only for clocking the oscillators and for saving and loading patches. This instrument was succeeded by the Roland Juno-106 in 1984.
Roland was losing market share with the Juno-6 in competition against the Korg Polysix. Related in features and price-class, the Polysix featured external control and patch memory, which the Juno-6 lacked. These features were quickly added to the Juno-6's design, which sonically and architecturally did not change notably between the two versions, and then released as the Juno-60.
The brand new desktop filter box from mode machines. the F-106 Juno filter. 12db & 24 dB Low Pass Filter. Selfosc switch. VCA FREQ RESO CV inputs.
in this demo the sound source was a real juno 106 synthesizer. as mod. source was a make noise maths used.
Synthesizer Demo of the polyphonic analog synthesizer Roland Alpha Juno-2. The Alpha Juno-2 is played dry without any additional effects.

This is an upgraded version of the Alpha Juno 1. It adds an extended 61 note keyboard with velocity and aftertouch and an external memory cartridge slot. Other than that it has the same great sound and features as the Juno 1. Sliders and buttons were replaced by membrane buttons and the Alpha Dial which is used to edit and browse through the extensive selection of parameters: DCO digitally controlled oscillators, LFO, bend, ENV, pulse, waveforms, noise, PW/PWM, high pass filter, VCF (filter) with freq/env/res/lfo/kybd, VCA envelope, chorus, and more.
Adequate in the studio or on the stage, the Juno 2 has 64 presets and 64 user memory patches, a nice LCD display, an LFO capable of a very slow rate for some cool sweeping effects, and a great bass sound (especially nice for acid basslines) and noise effects! It also has chord memory which is perfect for rave & techno, portamento and keyboard transposing. The PG-300 Synthesizer Programmer gives you traditional slider control of each parameter for much easier and faster editing.
"This is the Roland Juno-6 (or: who stole the programmer on my Juno-60?). The sound and the sound architecture is identical to the Juno-60. But the highpass filter of the Juno-6 is infinitely variable, whereas on the Juno-60 you can choose from 4 settings.
I played the Juno-6 dry without any additional effects."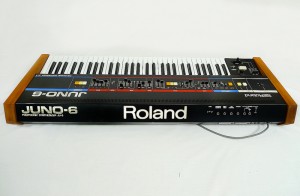 The first in a series of amazingly affordable quality synthesizers from Roland's amazing Juno family! The Juno-6 is a six voice polyphonic analog synthesizer! It's a very stable synth thanks to its digitally controlled analog oscillators. The Juno-6 sounds great, however it lacks basic necessities like MIDI control and patch memory storage.
The next generation Juno-60 version added 56 patches of memory storage. Both of these synths sound virtually the same and are considered by many to sound better (punchier) than the popular follow up, the Juno-106. The Juno-6 and 60 are very rich sounding synthesizers and are great analog machines as long as you can overlook the absence of MIDI control. Of course nobody can deny that the wooden side panel look is a true sign of Vintage status!
The title track from 1983's Sweet Dreams (Are Made Of This) album has one of the most instantly recognisable synth riffs around. There have been many different theories about the synths used on it, but the consensus seems to be that either an Oberheim OB-X was used for both the left and right riffs, or perhaps a Juno-6 and Roland SH-09 for the left and right channel riffs, probably sequenced using a Roland CSQ-100.
I guess asking Eurythmics themselves wasn't an option 😀
Background description by Hans Skoulaman:
Still a week to go for my concert with AKS. I found this beauty setting of the Waldorf Q. Its a nice sample of a full resonant opened filter'(notch). It is controlled by the Moog Little Phatty (by the arpeggiator and the modulation wheel) and the funny thing is that although the Moog isn't velocity sensitive the keys are and it works perfect for other velocity sensitive MIDI instruments. Its sends also polyfonic. I tweaked some Juno 106 noise together with the Moog sequence.
The solo pieces are from the Concertmate MG-1 and the DS8. The pads came from my favorit DS-8 and a low string sound from the Korg 05r/w. In opposite is the string and e-piano sound from the Lamda. All processed with Lexicon, Yamaha, Ibanez, Alesis and Electrix effects. It is best listened with good audio gear then you here the rich harmonics of the Waldorf, I filmed and recorded everything live without overdubs (I mostly don't use that).
BRUNO ENDER LEE – "Return to the Pleiades" – performed live, October 14. 2012
MacBeth M5N & Doepfer MAQ-sequencer, Synthesizers.com Studio-88, ARP Odyssey, MiniMoog Voyager OS, Moog Little Phatty, Analogue Solutions Vostok, Korg Polysix, Korg DS-8, Korg MS2000, Roland Juno-60
2012 Velvet Voyage Productions, all rights reserved