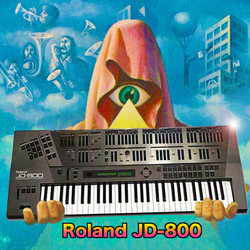 Legowelt has released a free sample pack featuring 350 samples from the 1992 JD-800 flagship synthesizer from Roland.
The JD-800 is Roland's answer to half a decade of hard-to-program synthesizers. Covered in sliders that act as dedicated editors just like a classic analog synth, the JD-800 is an extremely programmable and hands-on digital synthesizer. It is also an interesting and great sounding digital synth with incredible flexibility and control. Internal ROM based waveforms are combined to build your sounds. The sounds are based on Roland's D-50, but updated for the nineties with multimode filters – uncommon but welcome at the time.
Colossal Juicy Thick Basses, bizarre unearthly pads, uncanny strings, mystifying effects, entrancing chords and lots lots more all ready for u to use in your sampler, DAW, tracker, workstation, MPC, Octatrack or whatever u use Let the creative juices drip from your sampler Rub yourself in the sap of this giant beast and break through the event horizon of music production
The sample pack is a free (203MB) download at Legowelt.
AnalogAudio1 plays the Roland SH-2000 with reverb effects from a Lexicon MPX-500 and delay effects from a Roland DEP-5.
The Roland SH-2000 is a preset monophonic analog synth with aftertouch. You can tweak the presets a bit with LFO and filter controls.
The SH-2000, introduced in 1973, is Roland's second synthesizer and is essentially a limited version of the SH-1000. Like the 1000, it is a single-oscillator monophonic analog Preset synthesizer designed to sit atop a home organ. It's got a great old analog sound but its lack of edit-ability and connectivity compared to the SH-1000 is what ultimately holds it back from being really great.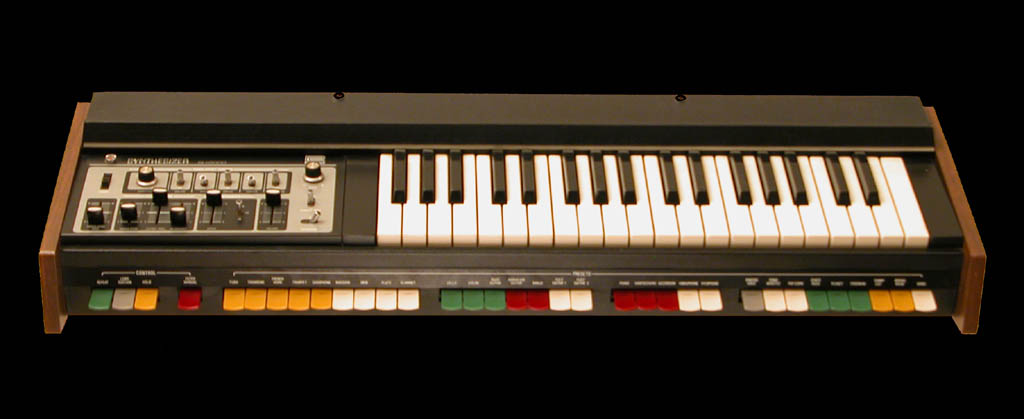 Its 37-note keyboard are several colorful tab switches which are used to select any one of its 30 Preset sounds. They range from the usual to the unusual: Tuba, Trombone, French Horn, Trumpet, Saxophone, Bassoon, Oboe, Flute, Clarinet, Cello, Violin, Bass Guitar, Hawaiian Guitar, Banjo, Fuzz Guitar I, Fuzz Guitar II; Piano, Harpsichord, Accordion, Vibraphone, Xylophone; Singing Voice, Song Whistle, Popcorn, Space Reed, Planet, Frog Man, Funny Cat, Growl Wow and Wind.
Left of the keyboard are the only editable controllers available on the SH-2000. They include the filter's cutoff, resonance and modulation sliders, LFO modulation rate, portamento, vibrato, pitch bend, volume and master tuning. The filter and LFO are severely limited and there are no ADSR envelope controls. However, the cool 'Growl' and 'Wow' effects and the Random Note Generator from the SH-1000 are here, which is nice. Amazingly, this 1973 synth has aftertouch, called the 'Touch Effect' which can be assigned to modulate the volume, Vibrato, pitch, 'Wow' and 'Growl' effects. A few other drawbacks to the SH-2000 is the total lack of CV/Gate for external communication and no user memory.
The SH-2000 is great for squeaky effects and growling bass notes. However the SH-1000 offers much more flexibility and a better sounding filter.
The 606 has been modded by Analogue Solutions.
Much punchier than my old one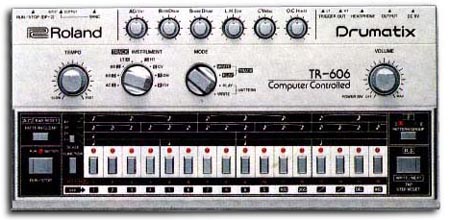 The 606 was the percussion side-kick to the TB-303. It even looks like the 303. It stores up to 32 patterns and 8 songs. The 606 allows switching between Pattern Play and Write mode while running – making the 606 the only drumcomputer in the X0X series that can be edited while performing and switching patterns. It is also possible to link up to 4 consecutive patterns in Pattern Play mode. There is only a mono audio output, however there are mods from Kenton Electronics and Analog Solutions that will add individual outputs for each drum tone.
The 606 has seven analog drum sounds which are simple, yet great! Kick, Snare, 2 toms, open hat, closed hat, cymbal, accent. The hi-hats are a very tinny electronic sound and its toms are great for soft tribal patterns.
Awesome

【電音道-DEN ON DO-】 is
A Japanese woman's bride practice
MainPhrase 「SAKURA 」 A traditional children's song of Japan
- Roland MC-202 (Sequence & "SAKURA") DIN-SNYC MASTER
- Roland TR-606 (DrumBeats) DYN-SYNC SLAVE
- Roland TB-303 (AcidBass)  DYN-SYNC SLAVE
- BOSS BX-800 (8ch Mixer)  I Love Noisy Mixer !
by PuneumaRecord
http://www.pneuma.sakura.ne.jp/
http://pneuma.sblo.jp/
https://twitter.com/KousokuNabla
The rack-mounted version of the U-20. Plenty of realistic sounds (especially for the time), and several drawn from classic Roland synths like Jupiter-8 and D-50.
The U-220 is a digital synthesizer that uses ROM samples of pianos, brass, strings, bass, drums, etc. However it is built for professional use and is truly a quality instrument, even though its sounds may seem like dated-eighties synth pop cheese. It's got nice piano sounds, but they're not the real thing. It features 6 part multitimbrality with a 7th drum part, plus 2 direct outputs and 2 stereo outputs. The 30 note polyphony helps if you take advantage of this synths multitimbrality for creating entire performances and ensembles. Digital reverb, chorus and delay effects liven up your sounds. Editing is simple, but there are no filters. With several performance features, the U-20 has a full 61 note keyboard with velocity and aftertouch. There's an on-board arpeggiator, a chord-memory feature and the U-20 accepts Roland SNU-110 sound library cards.
Background video information:
Hi everyone! SynthFreq here with a new composition titled "Industrial World" written by Crystal (msMotif-6), performed by Danielle and Crystal using the following synths:
Jupiter-8: filtered bell patch
Roland D-50: bright ice
Roland Alpha Juno-1: Z-lead
Roland A-90ex: split syn bass/(midi) to JV-1080 pulse lead
Yamaha Motif-6: percussion live set
The beauty of analog synthesizers.
This is a demo from the Roland System 100M. The entire track was made with this system. As usual a multitrack recording + some FX.
Roland had offered 3 modular systems. The Roland System 700, the half-modular System 100 and this one.
Beside the large expensive System 700, this was more affordable for the customers…
This is the System D with the modules 112,121,130,140 and 150.
The Jupiter-6 is an incredible analog synth. All of the Jupiters have a sound that was unlike any other synthesizer and the Jup 6 is no exception. This sound is due in part to classic analog Roland technology in its filters, modulation capabilities and a thick cluster of 12 analog oscillators at 2 per voice. Easy and intuitive programming via front panel sliders, knobs and buttons for all your tweaking needs.
The Jup 6 is a scaled down version of the Jup 8 in terms of programming and polyphony. However the Jup 6 has some major improvements of its own such as newly added MIDI control and better tuning stability! While the Jup 6 does have MIDI, the implementation is very rudimentary and hard to control. The Jup 6 was one of the very first (along with the Sequential Prophet 600) synths to use the then new MIDI protocol, and the implementation on the Jup 6 is far from complete.
Synthcom Systems, Inc. offers the Europa firmware upgrade for the Jupiter-6 which gives it an up-to-date and comprehensive MIDI implementation. All parameters are controllable via Continuous Controller or SysEx. Europa also features an extensive arpeggiator which will sync to MIDI clock with programmable clock divisors and rhythms, and has about 50 more playback variations than the JP-6′s original Up, Down, Up/Down, and Down/Up. A Europacized Jupiter-6 is a thoroughly modern synth with a classic sound.
The Jupiter-6 is an excellent for ambient drones, pads, blips, buzzes and leads.
Video details:
What kind of music gear do you have?
" musictrack gear " is now ready to open !!
http://gear.musictrack.jp/news
DEMO by Katsunori UJIIE.
Background video description:
One of my subscribers needed help interfacing his SH-101 with the Europa sequencer. In this video, I demonstrate clocking the SH-101′s arpeggiator and internal sequencer to the Europa using one of its 7 drum triggers. In this instance, I used trigger "B" since it did not have a drum assigned to the MIDI note number on the Roland R-8M. First, I program a steady stream of eighth notes and then sixteenth notes. I also experiment with dropping various steps to create a pattern. The simple bass line used in this video is from a Novation BassStation rack synth. I added some delay to the 101 with the Lexicon MX400.
Next, I hook up a Roland MPU-101 MIDI to CV converter box to control the SH-101 from the Europa sequencer.