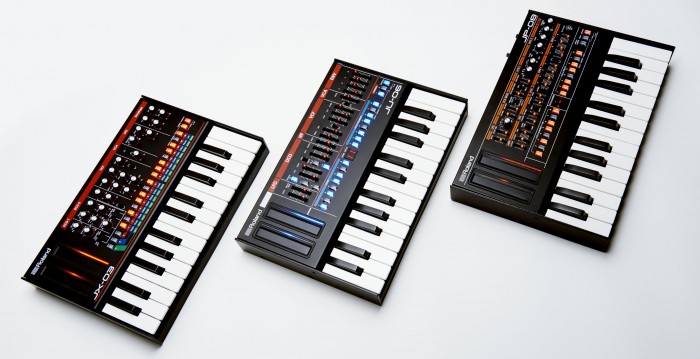 Roland has announced its Roland Boutique series, a new, limited-edition line of compact sound modules that recreate renowned analog synthesizers from the company's historic past.
Powered by Roland's Analog Circuit Behavior (ACB) technology, the series includes three modules based on the JUPITER-8, JUNO-106 and JX-3P instruments from the 1980s. Armed with a full complement of hands-on controls derived from the original synths, each sound module can be used as a tabletop MIDI device or mounted in the companion K-25m Keyboard Unit to create a standalone compact synth.
The Roland Boutique series faithfully captures the legendary sound and response of classic Roland analog synths for modern electronic musicians. Using the proprietary ACB modeling that was first developed for instruments in the AIRA line such as the TR-8 and SYSTEM-1, the essence of the original instruments is recreated in every detail, right down to the analog component level.
Each Roland Boutique module is no bigger than a book and can run on USB bus power or batteries, providing grab-and-go versatility for computer music production and live playing. The modules also include built-in speakers, a convenient feature for monitoring the sound in mobile environments.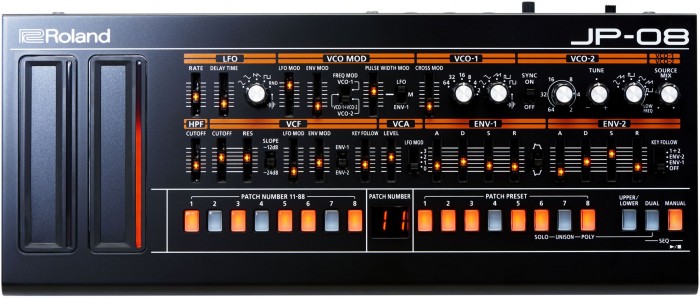 With the JP-08, the legendary JUPITER-8 synth is back in a compact and powerful package. Featuring 36 knobs and sliders from the original JUPITER-8 front panel, the four-voice JP-08 is highly programmable and encourages sonic experimentation. The JP-08 faithfully reproduces the original JUPITER-8 sounds and adds a few new twists in the form of extra LFOs and expanded VCO range.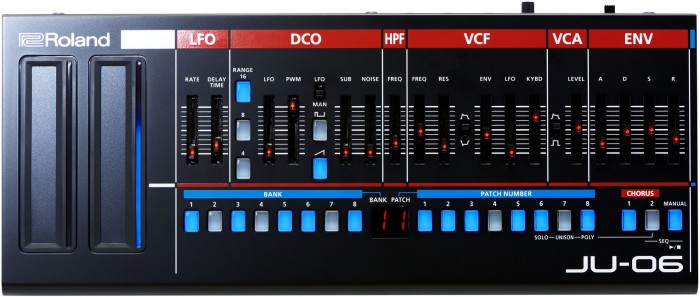 Often described as one of the last great synths of the analog era, the JUNO-106 became a favorite thanks to its warm sounds and instant sound-shaping ability. The four-voice JU-06module continues this approach, with 23 parameters controllable via the front panel and classic JUNO sound, complete with the original's signature chorus effect. New enhancements include a faster LFO and continuously variable high-pass filter.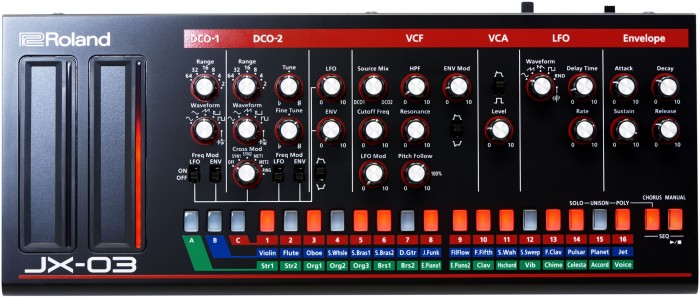 The JX-03 module continues the legacy of the dual-oscillator JX-3P synth. While the original featured a button-driven interface for immediate access to preset sounds, it was highly programmable when paired with the optional PG-200 controller. The four-voice JX-03 inherits all 24 knobs from the PG-200, plus the distinctive JX-3P tonal character. Added extras not present in the original synth include new waveforms, expanded DCO range, and cross-modulation options.
In addition to their unique ACB sound engines and model-specific controls, each Roland Boutique module is equipped with dual ribbon controllers and a built-in step sequencer. With their USB and MIDI I/O connectors, the modules can easily integrate with studio setups and other MIDI keyboards. Each module also features a chain mode that allows the user to connect two or more modules of the same type to increase the available polyphony as needed.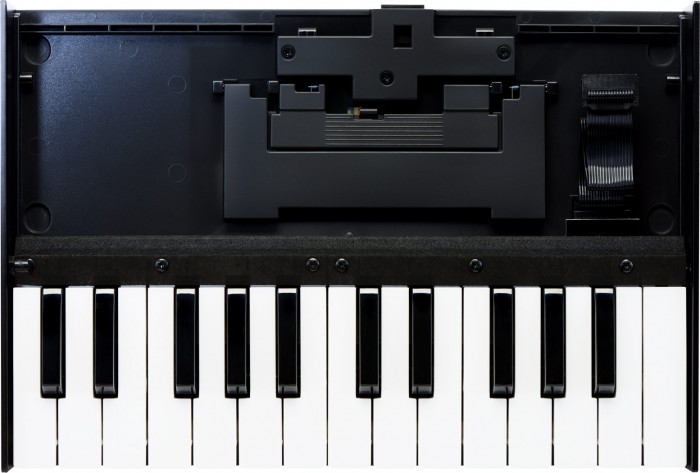 With the optional K-25m Keyboard Unit, users have the ability to turn a Roland Boutique module into a compact, all-in-one synth with 25 velocity-sensitive keys. Each module mounts in the K-25m quickly and easily, and can be interchanged with another in no time. Once in the K-25m, the module can be mounted flat or angled in two different positions for easier access to the panel controls.
Pricing and availability to be announced.
Live with
Elektron Octatrack
Elektron Analog Four
Elektron Analog RYTM
Roland Tr8
Roland Tb3
Roland MX1
Korg Electribe2
Virus TI Polar
Testing the presets of brandnew ROLAND JD-XA. BANK C: PADS.
Using arpeggios and preset sequences if there are any preprogrammed. Tweaking occasionally. JD-XA does not contain any drum kits as its smaller and cheaper sibling is providing. If there are any drums to be heard they're mostly programmed from scratch with the internal sound engines — both digital and analog.
More thoughts about the synth:
Many options. But it is a little bit the JD800 problem: the basic sound is quickly edited but the fine tuning takes hours because you have to step thru hundreds of parameters in a 2-line-display (without dial!!!).
No computer editor!
The sequencer is almost the same as in JD-Xi with the same flaws. It crashes frequently and it DOES NOT TRANSPOSE! I hope Roland will fix and implement this with the next update.
About the integration of digital and analog section: The routing is a bit confusing to me but once you managed to lea a digital sound through the analog section it sounds very nice. The digital waves are also well chosen and sounding. For understanding the concept: There are two synths — one digital, one analog — that only share the housing and the FX. As a consequence you cannot choose a digital waveform in your analog synth you can only lead a complete sound of the digital machine through the analog section for sound enhancement.
But all in all it is a versatile well sounding synth!
The four new Roland Aira Eurorack effects modules, Bitrazer, Demora, Scooper & Torcido. 
Bitrazer combines intense bit and sample rate crushing effects
Demora is a high-resolution delay module
Scooper combines a single-pass loop recorder and Scatter effect
Torcido is designed to deliver 'classic Roland distortion sound'
The modules are unique in that they can be used  as standalone tabletop effects or incorporated into Eurorack systems. They also can have their internal signal flow repatched, using the AIRA Module Customizer.
The modules have street prices of about $300 apiece.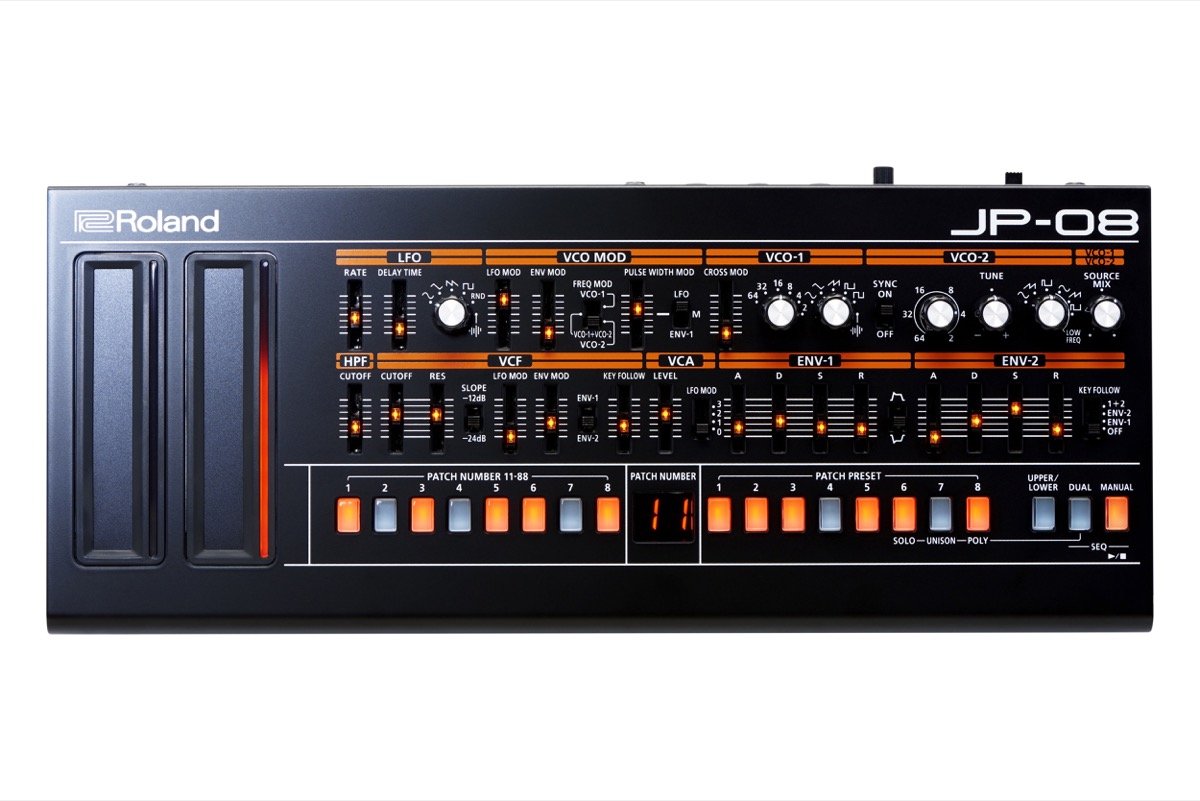 The legendary Jupiter-8 synth is back – as a limited-edition module no bigger than a book. Part of the Roland Boutique series, the JP-08 is all about hands-on control and that iconic Jupiter sound. With an array of 36 knobs and sliders from the original Jupiter-8 front panel, the 4-voice JP-08 is highly programmable and encourages sonic experimentation, especially with the built-in speaker and battery operation. Using Roland's acclaimed Analog Circuit Behavior (ACB) technology the JP-08 faithfully reproduces the original Jupiter-8 sounds and adds a few new twists in the form of extra LFOs and expanded VCO range. You can even slide the JP-08 into the K-25m keyboard unit (not included) for a self-contained, go-anywhere synth experience.
Huge Synth. Small Package.
The Jupiter-8 was a big synth in every way; physically imposing with loads of knobs and sliders, and most importantly, a huge sound. The JP-08 retains the big sound of the Jupiter-8 but shrinks everything else – including the price – into a module measuring under 12″ across.
Hands-on control
With such an expressive sound engine, you'll want to shape the sounds to match your mood. With 36 of the original parameters accessible from the front panel, the JP-08 is all about hands-on control, and even users of the Jupiter-8 will quickly feel at home as the user interface and programming 'feel' is highly reminiscent of the original.
New Sound-Shaping Options
Even though the JP-08 is an authentic recreation of the Jupiter-8, Roland also included a few extras. The JP-08 adds several new waveforms to the original architecture, including TRI and NOISE for the LFO and SIN for VCO-1, and both VCOs have an expanded range for even more sound shaping potential.
Develop Your Ideas with a 16-Step Sequencer
The onboard 16-step sequencer is a sonic scratchpad that lets you try out new ideas without bringing lots of gear – it can even be used without a keyboard. And if there's no keyboard connected, the ribbon controller lets you preview the sound, making it an ideal way to program patches quickly and easily.
Optional K-25m Keyboard Unit
The JP-08 works especially well with the K-25m, an optional 25-key velocity sensitive keyboard that takes your music making to the next level. Once docked in the keyboard, the module's front panel adjusts to three positions for convenient access to the knobs and sliders.
Chain Mode
One of the killer features of the original Jupiter-8 was its ability to create huge pads, splits and layers using its 8 voices of polyphony. The JP-08 features a chain mode that allows you to connect two JP-08 modules using the MIDI ports and create one, 8-voice synthesizer, just like the original. Adding additional modules adds another 4 voices of polyphony with each module. This is especially great when controlling the JP-08 from a larger external keyboard. You can even edit the sound from the master module and control both units. Great for real-time filter sweeps and LFO effects.
Battery or USB Bus Power
Some of the best music is made away from the studio, so the Roland Boutique series runs on 4 x AA batteries, ready for when inspiration strikes. Alternatively, you can power the JP-08 via USB bus power.
USB Audio Interface for Direct Recording Into Your DAW
The built-in USB port also functions as a high-quality 24bit, 44.1 kHz audio interface, for a fast, simple and reliable way of recording directly to your DAW application. You can keep your favorite patches and sequencer patterns safe too, via the USB data backup function.
Features:
– Ultra-compact recreation of the iconic Jupiter-8 synthesizer
– Retains the feel, sound, character and user interface of the original
– 36 of the original synth parameters controllable from the front panel
– Adds several additions not found on the original Jupiter-8, including extra waveforms, expanded VCO range
– Chain mode allows two JP-08 to function as one 8-voice module
– Highly portable for mobile music making
– High-quality construction with metal front panel
– Dual ribbon controllers for pitch bend, modulation, and sound preview
– Battery-operated (4xAA) or USB powered
– 24 bit/ 44.1 kHz stereo IN/OUT USB audio interface
– Built-in 0.5W mini-speaker for instant enjoyment
– Compatible with optional K-25m keyboard unit
NOTE: Showed with optional K-25m keyboard.
Here is iVardensphere's first three patches on the new Roland JD-XA, details below:
It's a phenomenal synthesizer. It sounds great and is really quite flexible. You're bound to see some of this material on my next iVardensphere release.

Best heard on a sound system with decent low end.
Patch 1: Primarily sticks to the 4 analog voices with the exception of some sitar and a little flavour sweetener.
Patch 2: Just some old school industrial, coldwave style. A mix of analog and digital voices for all percussive, rhythmic and melodic parts.
Patch 3: Strictly the digital voices, modulation and FX to create some really interesting rhythmic and bass driven sounds.
All the audio is recorded from the stereo outs and is without further processing or layering. What you hear is what you get.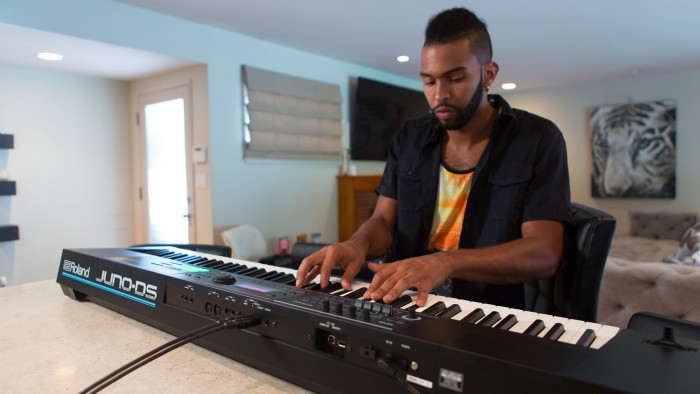 Roland has introduced the JUNO-DS Synthesizer, a powerful and versatile keyboard for performing and recording musicians.
This latest evolution of the popular JUNO series delivers many enhancements over previous generations, including improved pianos, additional organ sounds, waveform expansion capability, Phrase Pads, new vocal effects and more. Along with a 61-key model, the JUNO-DS is also available in a weighted-action version with 88 keys to complement the expressive new piano sounds.

Relied on by players around the world, Roland's JUNO synths are known for their high-quality sounds, intuitive operation, portability and exceptional value. The JUNO-DS takes the iconic series to a new level, offering many feature updates for performing keyboardists. Lightweight and mobile, the instrument is packed with great Roland sounds for any musical style. And with battery or AC operation, users have the flexibility to play anywhere their music takes them.
JUNO-DS features
Gig-ready instrument with pro sounds, enhanced performance features, and battery-powered operation.
88-note Ivory Feel-G Keyboard provides weighted-action feel in a lightweight design that's easy to transport.
Includes all the sounds from the popular JUNO-Di, plus newly updated acoustic and electric pianos, additional organs, and other stage essentials.
Wave expansion slot enables users to download new sound waveforms, available for free at Roland's Axial website.
Sample import function for playing user WAV files on the JUNO-DS88's keyboard.
Easy sound manipulation and editing with hands-on knobs and sliders.
Eight Phrase Pads for triggering samples and audio songs stored on USB memory.
Mic input and dedicated Reverb, Vocoder, and Auto Pitch effects for impressive vocal performances.
Intuitive eight-track pattern sequencer with non-stop recording for quickly developing song ideas.
USB audio/MIDI and DAW Control mode.
The JUNO-DS61 and JUNO-DS88 will be available by the end of October, 2015, priced at £549 GBP and £799 GBP respectively.
Whether you're working on a song idea in your room, recording a track in the studio, or playing a gig on stage, the lightweight JUNO-DS61/JUNO-DS88 synthesizers will inspire creativity and take your music wherever you go. Singer/songwriter Aquile and his band give you a glimpse of just that in this short clip.
For more details about
JUNO-DS88: http://www.roland.com/products/juno-d…
JUNO-DS61: http://www.roland.com/products/juno-d…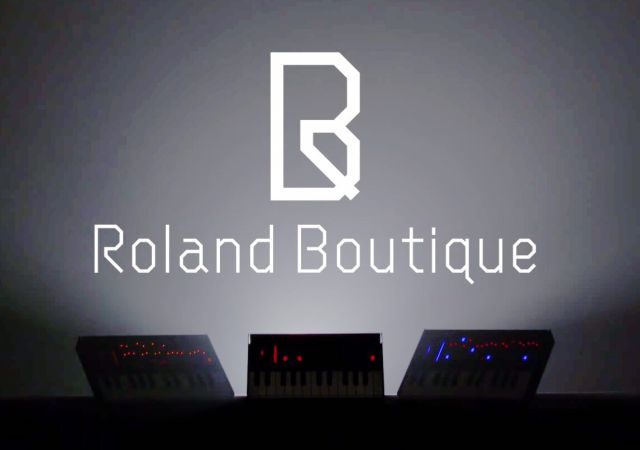 The classic Alpha Juno-2 is often used for its "hoovers" and other hard dance sounds. But there's also a gentler, ambient side. This video explores that side, using an old faithful – the MidiVerb II – for the reverberations.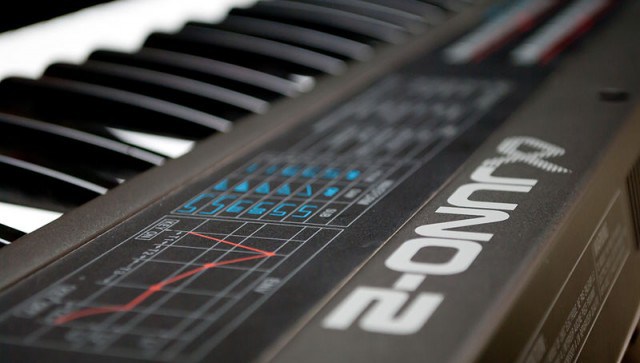 Alpha Editor – an editor and patch library app for the Roland Alpha Juno synthesizer family. Alpha Editor provides direct access to all of the Alpha Juno's patch parameters, through a clear and reactive touch based interface.
Alpha Editor is a MIDI based app; it uses MIDI to communicate with your Alpha Juno. In order to do so, it requires a coreMIDI compatible adaptor or a connection to a Mac or PC that provides MIDI capabilities.
Features:
Create, edit, manage and save Alpha Juno patches on your iPad
Organize your patches into banks
Load patches from the Alpha Editor to your Alpha Juno
Load the current patch from your Alpha Juno to the Alpha Editor
Create random patches
Ships with 5 banks (320 patches) of presets
Note: Alpha Editor is compatible with the Roland Alpha Juno 1 & 2, MKS-50 and HS-80. It is intended to only be used in conjunction with one of these synthesisers: it does not double as a generic MIDI controller and it does not produce any sound by itself.
Alpha Editor is available for US $6.99 in the App Store.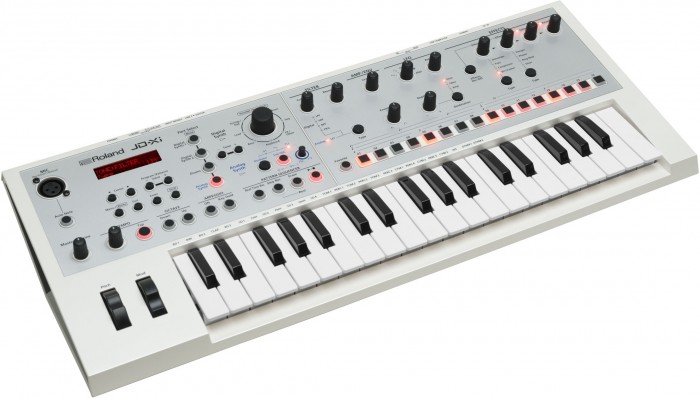 Roland has announced the release of a limited edition white color JD-Xi, the analog/digital crossover synthesizer.
Now available in an all-white body while supplies last, the compact JD-Xi keyboard is powerful, versatile and fun. Equipped with 37 mini keys, the JD-Xi features a true analog synth engine along with a wide selection of Roland's acclaimed SuperNATURAL digital sounds. This affordable instrument also comes packed with many extras for self-contained music creation, including built-in drum kits, a four-track pattern sequencer, and a gooseneck mic for using the synth's Vocoder and AutoPitch effects.
The JD-Xi has become one of the best selling synthesizers on the market in the U.S. by offering a unique crossover sound engine with the warm, smooth response of classic analog, and the clarity and versatility of modern digital. Players can enjoy fat, warm analog bass and lead tones with ample controls for hands-on tweaking, plus polyphonic PCM essentials like electric piano, brass, guitar, and many others – all in one keyboard.