Roland talk us through the new JD-Xi synthesizer, which has both analogue and digital oscillators, as well as an integrated sequencer.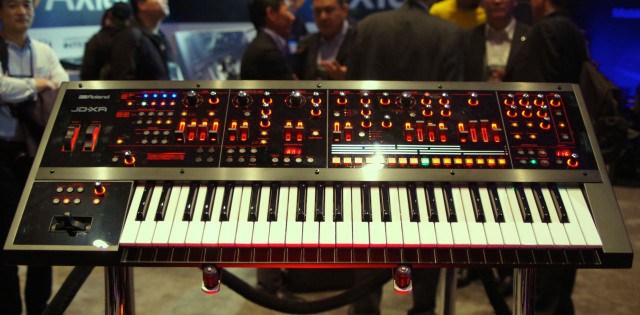 The Roland JD-Xa is not being officially introduced, because it is still under development. But they expect to give the new synth its official introduction at Musikmesse 2015.
The JD-Xa is described as a 'flagship' keyboard in the JD-X line – offering:
a knob-filled interface & full size keys
4 independent analog monophonic voices, each with fairly deep synthesis capabilities, that can also be used as a four-voice polysynth;
4 additional synth voices, based on Roland's SuperNatural technology;
8 channels of step sequencing
Official details are to be announced.
The JD-Xi puts a true analog synth engine, Roland's famous SuperNATURAL synth sounds, and other creative tools including onboard pattern sequencer and vocal FX. Small in size and Large in versatility, the JD-Xi is all about big sounds and big fun! This video is a solo performance of Dorian Concept featuring the JD-Xi. Dorian creates the track from scratch, while he performs in real time.
http://www.roland.com/products/jd-xi/
Dorian Concept tells his impression about the sounds, usability and applications, of the JD-Xi.
http://www.roland.com/products/jd-xi/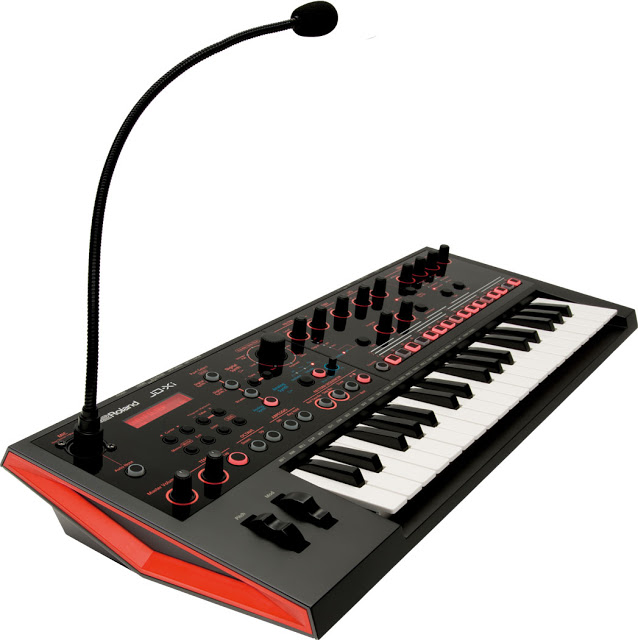 ROLAND DEBUTS JD-XI INTERACTIVE ANALOG/DIGITAL CROSSOVER SYNTHESIZER
Powerful Compact Synth with Pattern Sequencer and Vocal FX
Los Angeles, CA, January 22, 2015 — Roland is proud to announce the JD-Xi Interactive Analog/Digital Crossover Synthesizer, a new compact keyboard that's powerful, versatile and fun. Equipped with 37 mini keys, the JD-Xi features a true analog synth engine along with a wide selection of Roland's acclaimed SuperNATURAL digital sounds. This affordable instrument also comes packed with many great extras for self-contained music creation, including built-in drum kits, a four-track pattern sequencer, and a gooseneck mic for using the synth's Vocoder and AutoPitch effects.
Thanks to its unique crossover sound engine, the JD-Xi gives musicians the best of both worlds: the warm, smooth response of classic analog, and the clarity and versatility of modern digital. In one keyboard, players can enjoy fat, warm analog bass and lead tones with ample controls for hands-on tweaking, plus polyphonic PCM essentials like electric piano, brass, guitar, and many others.
The newly developed analog synth section in the JD-Xi features saw, triangle, and square waveforms with pulse-width modulation and an analog filter, plus an independent sub oscillator for low-end power. Two digital synth sections offer 128-voice polyphony and a wide range of SuperNATURAL-based PCM tones for playing any style of music. Sounds can be enhanced with the JD-Xi's effects section, which includes delay, reverb, and processing options such as Bit Crusher, Slicer, Ring Mod, and others.
The JD-Xi comes with a sturdy, high-quality gooseneck mic and onboard vocal effects. With the Vocoder, users can sing into the mic and control the tone and pitch via sounds played on the keyboard. AutoPitch makes it simple to achieve the robotic vocal sounds common in today's pop and electronic music styles, while the cool Auto Note function provides the ability to "sing" JD-Xi synth sounds without touching the keyboard.
Using the built-in pattern sequencer, it's possible to create and perform sophisticated music with only the JD-Xi. Four separate tracks—two digital synth parts, analog synth, and drums—make it easy to build rich-sounding loops. Real-time and step recording modes are provided, along with a special TR-REC mode for programming in the style of Roland's classic TR-series beatboxes. Patterns can be queued up and manipulated while playing the keyboard, and many preset patterns are included for jamming right out of the box.
The dynamic drum kits in the JD-Xi offer high-quality rhythm tones to support any groove. Included are many types of electronic and acoustic kits, and the drum instrument assignments are conveniently labeled above the keys for quick identification. Users can modify the sound of the kits with filter, envelope, pitch, and pan parameters.
Supporting both MIDI and audio over USB, musicians can use the JD-Xi with their favorite computer music applications. USB also provides the ability to access a growing collection of free JD-Xi patches programmed by top engineers and artists, which are available at Roland's Axial sound library site.
Featuring red and black styling to match the synth, the optional CB-JDXi gig bag provides a convenient way to carry the JD-Xi and its gooseneck mic along with cables and other accessories.
For more information, visitRolandUS.com.
What you see in this video was all recorded live, in one take, using AIRA gear, Even the laser robot was controlled from the TR-8 and TB-3 via SBX-1.
The MX-1 Mix Performer brings together your synths, drum machines, loops, DAW tracks, and more into a single performance-optimized mixing instrument. Combining elements of a mixer, control surface, audio interface, and step-based effector, the MX-1 is designed to be the nerve center of your electronic music rig. It's a mixer you can play – and so much more.
more information : http://www.roland.com/aira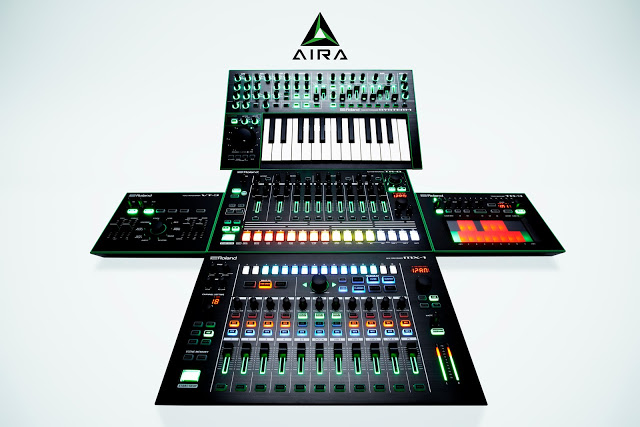 ROLAND UNVEILS MX-1 MIX PERFORMER
Performance-Ready Mixer for AIRA Instruments, DAWs, and Other Gear
Los Angeles, CA, January 22, 2015 — Roland is pleased to introduce the MX-1 Mix Performer, a performance-optimized mixing instrument for bringing together synths, drum machines, loops, DAW tracks, AIRA gear, and more. The MX-1 can mix up to 18 audio channels from a computer, and AIRA devices are able to communicate directly via USB alongside other analog and digital gear. With its versatile input selection, intuitive layout, and numerous tempo effects with step and real-time control, the MX-1 is a unique and powerful tool for delivering spontaneous, dynamic musical performances.
Designed to function as the nerve center for a modern electronic music rig, the MX-1 is perfect for working with AIRA devices such as the TR-8, TB-3, and SYSTEM-1, as well as other music equipment. Simple to use, the MX-1 provides high-quality sound at rates up to 96 kHz, plus a wealth of mixing features optimized for real-time creativity. Master tempo control (with fine and tap functions) synchronizes the MX-1's effects with all connected devices via USB and/or MIDI.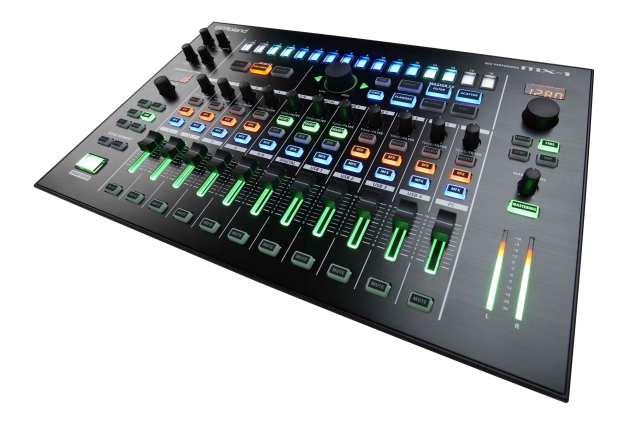 Up to four AIRA devices can be connected to the MX-1 via standard USB cables, making setup simple and quick. The AIRA Link USB connection provides both 96 kHz audio transfer and MIDI tempo sync information over just one cable. The MX-1 is also equipped with multiple analog inputs for connecting gear such as synths, drum machines, smartphones, tablets, and other various gadgets. A coaxial digital jack can be configured as either an input or output, and stereo send/return jacks are provided for connecting external effects units.
Each input channel on the MX-1 features a smooth level fader with six selectable volume curves, a Tone/Filter knob with ten different settings, and quick-access mutes that work with the LED-lit faders to clearly show their status, even in dark environments.
Scene memories allow users to instantly recall different mixer states that include all settings and effects configurations. The DJ-style cue function can be used to monitor input sources without affecting the main mix outputs.
With its integrated tempo-based effects, the MX-1 lets users enhance performances with dramatic, pulsing effects. Beat FX (Filter, Side Chain, and Slicer) can be applied to each channel independently, and the effect tempo is automatically synced to the clock master. The 16 TR-style step sequencer buttons allow the processing to be triggered at specific steps to create all sorts of interesting grooves. Master FX such as Scatter, Roll, Bit Crush, and others are included as well, and these can be quickly turned on or off per channel as desired.
The MX-1 integrates seamlessly with Mac and Windows computers, functioning as a high-performance, 18-channel 24-bit/96 kHz USB audio interface. MIDI over USB is also supported, allowing the MX-1 to send or receive tempo information and provide control surface functionality for music production software. Audio outputs from the computer can be mixed in the MX-1 alongside external devices to create a powerful and versatile software/hardware music system.
For more information about the MX-1 Mix Performer, visit RolandUS.com.
NAMM 2015: Roland\'s New JD-XA – Big Daddy Of JD-Xi Now this looks interesting too
Roland SH-09 Vintage Analog Synthesizer 70's
recorded with Roland RE-101 space echo and Arturia Beatstep sequencer, controlled by cv/gate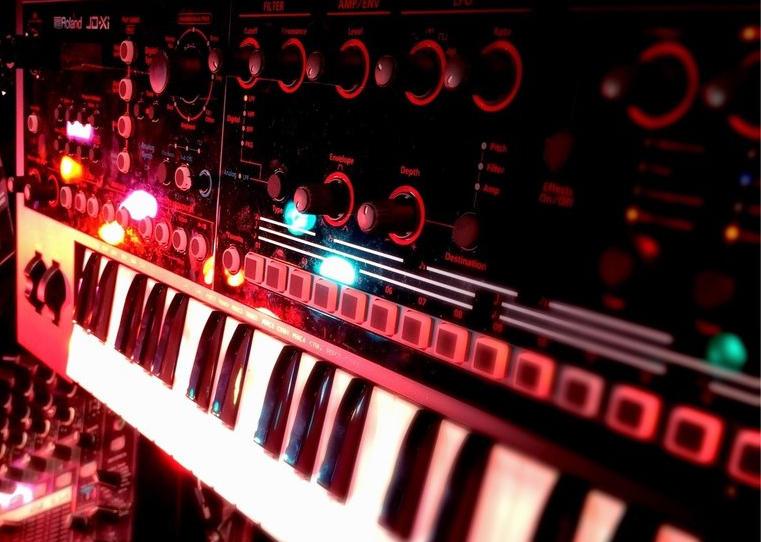 The Mini-Key Synth labelled JD Xi
Looks a bit like a Microkorg competitor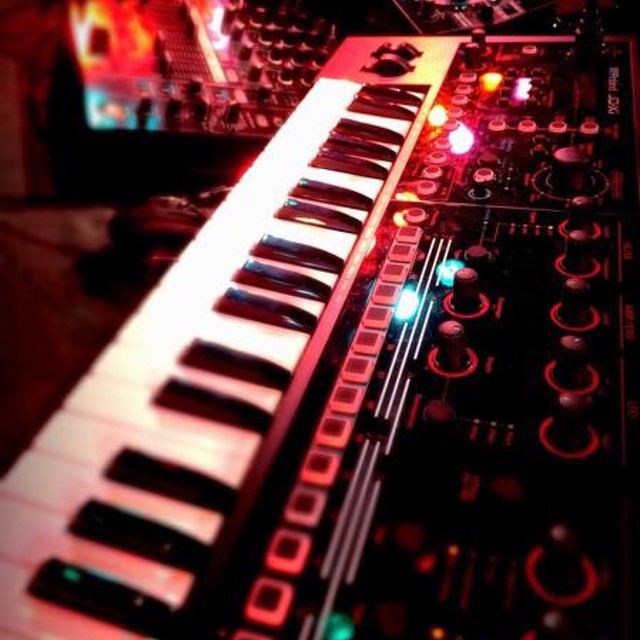 We'll know better on 22.th this month (at NAMM)..
Demo of the Roland JV-1080 in performance mode.
"I have the Techno (SR-JV80-11) and Dance (SR-JV80-06) cards installed."
The Roland JV-1080 was one of the hottest and most popular digital synthesizers ever to come from Roland. Incredible sound quality capable of emulating any instrument imaginable plus totally fat analog synth type sounds and loads of percussion! It has 64 voices of polyphony and 16 part multitimbral, it's no wonder this is part of almost every Film Score Composers set-up as well as many more artists and hobbyists!
It has 8MB of sounds and it also offers a lot of expandability with 4 expansion slots and 2 data card memory slots. You can get up to 42MB of sounds by adding any of the popular JV-80 expansion cards suited for Techno, World Instruments, Orchestral or Synthesizers. The 1080 has a large LCD screen, lots of effects and filters for creative flexibility, motion control and extensive MIDI implementation. Editing is intense but enhanced and simplified by external editors like MOTU's Unisyn.
7X7を追加したTR-8とTR-707を交互に鳴らしています。
Googlish:
Added the TR-8 and TR-707 a 7X7 It sounded alternately.
Background video description:
One of the easiest drum machines to use and my first one I got in about 1988 which was still selling new. Related to the TR-707 but slimmed down to the size of a crappy RX machine. Has better sounds and editing than the RX17 or similar. Love the claps, the kicks, everything about it. Funny enough these can go for crazy prizes, like over $200.