Sample library of the Korg Delta DL-50 analogue synth.
Available for Kontakt 4 and 5.
All the raw oscillators and strings have been sampled and a library of sounds made on a real Delta have been sampled.
Over 200 presets included.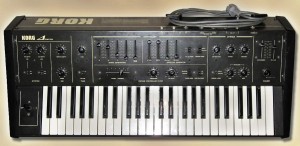 Korg's Delta is an analog semi-poly synth/string machine, basically a slimmed down version of the Korg Trident. Though limited in the range of sounds compared with other synths of the same genre, the sheer quality of the sound from this little beastie really does make it something of a marvel. It can be found used for cheap and is worth it for the retro synth strings and fat bass synth tones.
The synth is split into two sections, Strings and Synth, for which there are separate audio outputs along with a combined output for headphones or mixing. Each section has its own controls. The String section has two pitch sliders (16′ and 8′) along with two tone controls (Bass and Treble) and variable Attack and Release controls to modify the sound. The Synth section has four pitch sliders (16′, 8′, 4′ and 2′). There is also a white noise generator along with a very effective 24dB/oct low pass filter (high pass and band pass options are included too) and full ADSR controls. The synth has no memory storage or MIDI, however it does has voltage control and gate ins and outs.
The string sounds are very basic but with its separate outputs and when mixed together with the polysynth you do get that classic 'layered' sound which is useful enough on this synth; and it's fully polyphonic, so you wont be running out of notes! There is a handy joystick to the left of the 49-note keyboard for pitch bending and modulation capabilities. The construction is solid and heavy partly due to the implementation of a wooden base but also because it was designed for heavy usage on the road. Added bonuses: noise modulation, stereo out (strings/synth split), and the ability to combine synth and strings or turn off oscillators in the mixer section.
Luftrum 9 is a soundbank for DIVA set to release in start November. The soundbank contains cinematic pads, gentle arpeggios and synth emulations inspired by Tangerine Dream, Vangelis, Royksopp, Kraftwerk, Jean Michel Jarre, William Orbit etc. but also a few soundscapes, sound effects and strings found their way to the soundbank. 2/3 of the soundbank are pads and arpeggios – so it's pad arp haven. Since DIVA doesn't contain an arpeggiator yet, all arpeggios in the YouTube audio demo were made with the Kirnu Arpeggiator – which is free to download.
A small selection of presets from the 'vintage' bank, one of 10 banks supplied with Tronto for Kontakt 5.
This video shows a little of the versatility of Tronto, with interpretations of some classic and much loved electric pianos from the past, with a few twists here and there.
The only external effect used is Echo from Psp audioware. This delay is a favourite of mine, as it's tape delay characteristics complement Tronsonic's libraries very well.
http://www.tronsonic.com/#/tronto-for-kontakt-5/4568455166
http://www.pspaudioware.com/plugins/delays/psp_echo/
Korg announces the availability of seven additional expansion libraries and sample sound libraries for the Korg Kronos Music Workstation. These expansion libraries include: EXs64 KARO Ethno World and EXs67 KARO Upright Piano by KARO, as well as new titles from Korg's newest third party sound developers, Irish Acts and Kid Nepro. New titles from Irish Acts include: EXs90 Kronos Assault, and new Kid Nepro titles include EXs80 Vintage Synths, EXs 82 Hit Factory, KRS80 Soundtrack Mix, and KRS81 Sonix Bliss.

EXs90 Kronos Assault
EXs90 includes massive, luscious pads, movie sounds and effects, all topped off with a selection of classic synth sounds, plus an assortment of sampled human voices, from natural sounds to dreamy vocals. Exs90 is currently available for download for US $180
Exs80 Vintage Synths
EXs80 Vintage Synths includes over 250 MB of new sample data with a wide assortment of classic analog basses, leads, pads, strings & killer synth sounds that have that vintage analog sound that many musicians pay big bucks for – now at a fraction of the cost. An amazing assortment of Programs & Combis that utilize KARMA and are perfect for producers and keyboard players looking for classic synth sounds to add to their Kronos. Exs80 is currently available for download for US $69
Exs82 Hit Factory
EXs82 Hit Factory is a mix of Programs & Combis utilizing KARMA, that is perfect for producers and keyboard players. Hit factory includes six new drum kits with hundreds of samples. Also included are a wide mix of funk guitars, orchestra hits, noises, scratches, human beat boxes, analog vocoders and more. Exs82 is currently available for download for US $69
KRS80 Soundtrack Mix
KRS80 Soundtrack Mix features a mix of killer pads, synth sounds and unique rhythms – an assortment of different "atmospheres" that are ideally suited for TV, video games, film projects, or for composers scoring modern classical music. KRS80 is currently available for download for US $39
KRS81 Sonix Bliss
KRS81 Sonix Bliss focuses on the MOD-7 sound engine, including a wide assortment of classic FM-style synth sounds along with a mix of complex sounds. Everything from 80′s DX-style electric pianos to modern 21st-century synths is included, with a mix of basses, leads, pads, drums, percussion and much more. KRS81 is currently available for download for US $39
Exs64 Ethno World
The first World library for the KORG Kronos, EXs64 KARO Ethno World was produced in collaboration with Erkan Ucar (Ecomusik). These Ethno instruments-include strings, winds, keyboards, percussion, and more-were collected around the globe and arranged into this single and extremely versatile library. Exs64 is currently available for download for the special price of US $199 (Normally $249)
Exs67 Upright Piano
KARO's EXs67 Upright Piano library delivers the familiar sound of an upright piano, with all the modern advantages and possibilities that Kronos technology has to offer. A traditional German piano was sampled with 6 velocity layers, for a total of 1.6GB of high-quality samples, and 36 Programs specifically designed for them – including six by Michael Geisel of Korg & More in Germany. Exs67 is currently available for download for the special price of US $99 (Normally $169)
All libraries are available at: www.korg.com/kronos/SoundLibraries. Free demo versions of the EXs libraries can be downloaded; purchasing an authorization code from the secure Korg Web Shop unlocks full access to the libraries. Please see Korg.com for sound demos and download/ installation system requirements.
More info: http://bit.ly/LIs3KB
Dubspot instructor, composer, and producer Raz Mesinai kicks off a brand new Ableton Live video tutorial series, focusing on creating Effect and Instrument Racks in Live based on natural sonic phenomena. In the first installment, Raz explains and demonstrates how to create an advanced Instrument Rack inspired by the Singing Dunes.
I heard about the Singing Dune phenomenon years ago from several friends, all from the Middle East. After searching online I found a few recordings, but none really clear enough to capture the experience. Later, I contacted Chris Watson (formerly of Cabaret Voltaire), who is now one of the most exquisite field recording artists I've ever come across. (I highly recommend his recordings on the UK-based Touch label). He told me that he had been trying to record the dunes but had had no luck as of yet (this may have changed since then). After more digging I eventually discovered this site which has some very good recordings of the phenomenon (http://www.fonik.dk/works/oman.html). I suggest you check them out prior to watching this tutorial, but use headphones or speakers with plenty of sub — you won't hear a thing on your laptop speakers.

From there I set off to experiment in a little sound alchemy. Using Operator and Analog, I first focused on the main elements of the 'landscape' where this is taking place. There is a base drone, representing the dune, a layer of noise, representing the sand moving, and modulation as a way to make the sand 'blow' in the wind at different rates.

From there I looked for a story to latch onto. The story is based off of the description that Marco Polo wrote down in the 13th century during a stay in the Gobi Desert. He described this phenomenon as being the voices of evil spirits which "at times filled the air with the sounds of all kinds of instruments, and also the drums of clashing arms." This image of Marco Polo, perhaps sleeping in a tent in the desert, suddenly being woken up by these strange sounds, which to him were completely mysterious as his quote suggests, conjures two things for me. Firstly, it allows a lot of freedom for me to conceptualize this Instrument Rack, and secondly, it affirms my beliefs that bad things happen when white people go to the desert.

The intention of this tutorial is not to imitate the Singing Dune phenomenon, rather, it is to use these sounds from the earth as a source of inspiration, allowing me to conceptualize a soundscape that goes with an imaginary story that is seen through sound.
Bronto Scorpio Music has announced Future Retro, a collection of 64 presets for the Diva software synthesizer by u-he.
Diva is famous for the ability to authentically recreate the great synthesizers of the past. However, I tried to go a different direction with this set. Many sounds are inspired by the past, and use Diva's great sound design potential to go way beyond vintage sounds into the future!

You can listen to an audio demo of this soundbank below. I only used sounds from the new Future Retro bank, and no external processing for the demo.
The soundset is available to purchase for 10 EUR. A free demo bank (10 presets) is available to download right here >>
DOWNLOAD SOUNDBANK HERE: http://www.jaybmusic.net/
"Aaaand a new one. New trance and progressive sounds for Roland V-Synth / XT / GT, inspired by the Trance Around The World and A State Of Trance series. Different camera angle this time and I think this video is somewhat less awesome than usual… Anyway, enjoy this. =) For question, just ask."
"Around the late 40s the atom was split… We discovered that everything was forever changed, when we discovered the word could be cut up, that sound could be cut up. That everything having to do with culture could be cut up and reassembled in ways that didn't exist before. That will be seen as the most radical, important thing that happened this century" – Genesis P Orridge, Modulations
GlitchBreaks from Alex Matheu is a powerful iOS loop manipulation tool. Anyone who has seen, heard or played with it can vouch for its quality and flexibility. It puts buffer override, scrubbing, beat-juggling, and pitch and time stretching all within the palm of your hand, cheaply. We got so excited about this App we contacted GlitchBreaks about partnering, and the fruit of that can be seen in the 20 new free factory loops we provided for version 1.03.
We are pleased to premiere our first loop-pack intended for use with GlitchBreaks. Containing 49 high quality abstract 1 bar loops, this pack is designed for the glitchhead who can't get enough. Already glitchy in their nature these loops will send you spinning off into microcosms of uncontrolled electronic pleasure when paired with GlitchBreaks. Prepare to travel down the rabbit hole, and bring your headlamp because the journey will get dark, dirty and shocking!
All loops are provided in 16-bit as well as high quality 24-bit files, for use in any desktop DAW and numerous other iOS apps.
Format:
49 16-bit/44.1 khz Wav files
49 24-bit/48 khz Wav files
All files tagged with BPM (tempo) and initials.
Installation Instructions for GlitchBreaks included.
Price: $2.99
Available from – www.sunsineaudio.com

Design the Media has released a new Ableton Live Pack designed by Tristan Héau, with a collection of more than 300 samples from the Russian Polivoks synth. They say that the sounds were carefully recorded, using an accurate tuner and Apogee preamps in order to catch that raw, nasty, analog sound from this eastern beast.
Tristan also created specific drum kits, Simpler presets (made from simpler and sampler live instruments) and custom instruments Racks (with esoteric macro knobs to be mapped to your favorite midi controller).
A spokesperson told us, "In the project folder under you will find all the samples organized by category. For example, you will find any possible combination of perfectly tuned oscillators of the polivoks – sine alone, sine with square, sine with triangle etc. All recorded waveforms were made with a tuner so that this material can be used more easily for sampling. You'll be very surprised to hear how those analog waveforms sound. Then, they are some more classic waveforms – bass and lead sounds, all kind of noise sources, great feedback tones, and more exotic recording made while pushing this analog monster into his limit – hi rez, filter sweeps, unstable patches and more."
Pricing and Availability:
Free download.
More information:

Andrew Apanov from XSSRAcademy informs us about a new freebie for Ableton Live users:
We have JUST published something really cool. This is a free bundle of packages with over 100 dubstep bass samples, dozens of Massive presets (all samples and presents created and used by Mars), two full Ableton Life projects of Mars' tunes, including a track that was in Beatport Top 10, and an Ableton Live instrument.
The free Live downloads include:
Ableton Live project of the track "Pleasure" by Alex Kote
Full Ableton Live project of "India Sleeping" by Mars (the track was in Top 10 dubstep tracks on Beatport)
Free dubstep instrument "Arena Bass" for Ableton Live
12 dubstep subbass samples, created and used in his tracks by Mars
17 presets for NI Massive
20 unique NI Massive effects
63 original dubstep bass samples
Email registration is required. See the site to preview the downloads.