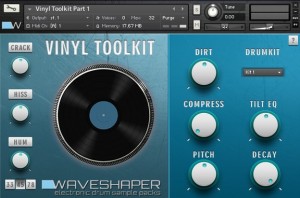 WaveShaper has announced the release of Vinyl Toolkit, a drum instrument library for Native Instruments Kontakt.
The Vinyl Toolkit is a collection of 200 one-shot drum samples taken from vinyl records from various eras, chopped and sliced with love to be production-ready. This is not just a sample collection but a versatile Kontakt instrument with a comprehensive featureset and fast sound-shaping tools.

This instrument was developped in tight collaboration between WaveShaper and Sampleism, and is available to buy for 12.99 on Sampleism.
May you be into dubstep, footwork, hip hop, soul, funk, trip hop, dub, trap, crunk, jungle, skweee, drum & bass, rock or any other genre you will be at home with Vinyl Toolkit !
Vinyl Toolkit features
Fast workflow:

The samples are already mapped into 6 different kits.
5 FX with single-knob action let you quickly fine-tune and shape the sound to taste.

Great sound quality:

hand-picked selection of sounds, with vintage character but also punch and versatility.
24bit, 48khz stereo WAV files built into a Kontakt instrument.
You can add even more grit and vintage flavour by dialing in some hiss, crackles and hum.
The sample library is available to purchase from Sampleism, priced at £12.99 GBP.
Four additional drum sample packs are now also available as Kontakt versions on Sampleism: Monokken, MR-10 (Grey Matter), Stix305 and Aluminium/White Metal, which is now mkII with improved samples.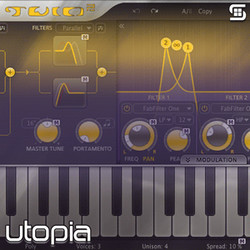 Sonic Elements has launched Utopia, a soundset by Shaun Wallace for the Twin 2 synthesizer instrument by FabFilter.
It features a focus of modern techniques to achieve new tones and textures with Twin2. If you have been looking for a sonic update to Twin2 look no further.

Utopia has basses of all varieties, rich legato leads, mind bending pads, and spectrum filling plucks. Special attention to the unique filter design and variations of Twin2. Each patch has specially selected filters for each patch to help the sound cut through a mix.
Utopia features
140 presets.
Developed for usability and quality.
Focus on modern synthesis methods.
Presets categorized in easy to sort folders.
The soundset is available to purchase for $21.50 USD.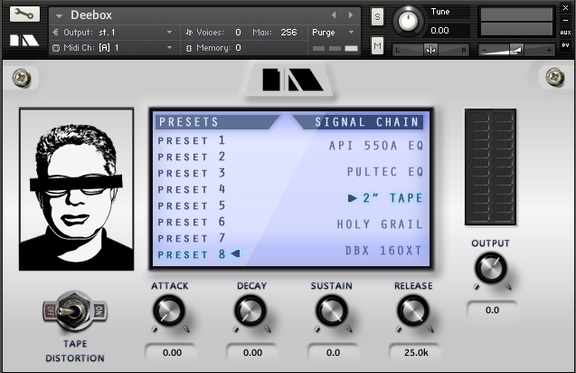 100 Akres has announced Deebox Chopra, a new sample library in Native Instruments Kontakt and Wav formats.
Deebox Chopra is a drum rompler which features drum sounds from an iconic 80s drum machine run through a series of high quality analog outboard gear to 2″ tape to add a bit of "hiss" and extra warmth.

The easy to use LCD interface allows you to choose between eight signal chains that were pre-tweaked by our engineer to bring out different tones of the recorded electronic drum kit. These presets range from clean with low hiss to gritty tape distortion with a flick of the tape distortion switch.
Deebox Chopra features
49 drum sounds, 8 different signal chains.
Recording chain used includes: 2″ tape machine, DBX 160xt , API 550 eq, Pultec eq, and a Holy Grail pedal.
Attack, Decay, Sustain, and Release knobs available for further drum tweaking (Kontakt version only).
Tape distortion switch for extra crunch added to the drum sounds (Kontakt version only).
The library is available to purchase for $19 USD (Kontakt) / $14 USD (Wav).
Preview of the presets from Soundsdivine's MM+ synthesizer for Kontakt .
Based on the Moog Memorymoog Plus .
MM+ features
3 Oscillators.
31 Waveforms.
2 Filters.
2 Aux Envelopes.
1 Programmable Arpeggiator.
3 Monophonic Pitch Sequencers.
2 Additional Sequencers.
25 Custom Impulse Responses.
5 FX inc. Transient Shaper / Phaser / Delays & Reverb.
6.97GB (compressed) samples from the Moog MemoryMoog.
200+ Presets.
The sample library is available to purchase for 79 EUR incl. VAT.
2 Complete new sound-banks for Korg PolySix.
The PolySix is a classic and Korg did a great job of porting it to the PolySix software version.
The PolySix stands as one of the most authentic hardware
emulations ever made which so many recent synths attempt to emulate.
The presets heard in this video are from the new collection called, "Cold Fusion".
These presets are designed to bring out the classic hardware sound from the original Korg PolySix.
Included in this collection are:
Classic style Apegs
Extremely Fat basses
Vintage and very warm pads.
Unique synth FX reminiscent of the electronic period that the PolySix was released in.
Leads
More
The Korg PolySix software version is one of those, "best kept secrets".
This is partly due to the fact that it was initially released with so few presets.
VintageSynthPads.com has released this collection with the original Korg PolySix hardware in mind.
The presets are very analog, warm and fat, not to mention affordable.
Be sure to check them out.
https://sellfy.com/p/HYhN/ 128 contempary and classic style drum and percussion sounds to load into your Elektron Analog Four, with the imminent +drive and 4000 available sound slots coming to the next A4 OS these will give you a great headstart when making drum sounds.
I designed all these sounds from scratch for the purpose of saving time, drum sounds need to be tuned very carefully to sound convincing, so as you can hear from this brief demo a large portion of this work has already been done for you.
The sounds themselves range from classic drum machine type sounds, to abstract and contempary, hand percussion, even a hang drum emulation and many more useable and useful sounds. Comes with full documentation.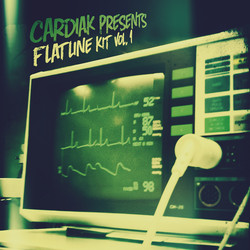 The Drum Broker has released Flatline Kit Vol. 1, a drum kit sample pack by Cardiak.
Fresh from the lab at HeartFelt Productions Platinum Producer Cardiak brings you the official "Flatline Kit Vol. 1″.

Well known in the production world for massive amounts of hits with the hardest drums and neck snapping snares, Cardi has given you gold. Cardiak's actually library of his own snares and claps are sure to have you pushing out bangers that slap hard in no time. This kit is a great selection of 808′s that will quake your neighbor's neighbor and trademark stabs from some of your favorite tracks.

Forget the rest, this is the official kit straight from Cardiak himself.
Flatline Kit Vol. 1 features
4 808′s.
11 Claps.
13 Fills.
38 Kicks.
7 Loops.
13 Percussive Elements.
6 SFX Transitions.
58 Snares.
5 Stabs.
The sample pack is available to purchase for $24.99 USD.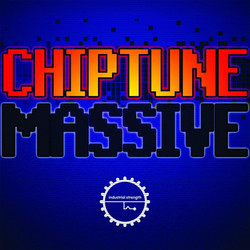 Industrial Strength has launched Chiptune Massive, a sound library featuring loops, samples, and patches for the Massive & FM8 synthesizer instruments by Native Instruments.
Our new collection was made from the ground up to provide you with a truly unique selection of quirky 24 Bit audio samples and game ready patches for Ni Massive and NI Fm-8. (Included in the Main Pack Only)

This pack is a one stop shop for sequences that you can play by just hitting one key on your midi keyboard Controller while using Ni Massive. Yes, all your favorite sounding old school video game style sequences all at just one finger tip.

We even thru in over 200 Chiptune Audio files and a dope set of Growls, Wobbles and Leads for you to rip apart. Each sample has loads of head room for you to rework and really use with your own Fx. Everything you here in the demo is in the pack and way more.
Chiptune Massive features
1.37GB content, 24 bit quality.
70 NI Massive Presets, 31 NI FM-8 Presets.
244 Apple Loops.
Includes 137 Chiptune Loops, 119 Drum Loops, 119 High Hat Loops, 25 Chiptune Bass Loops, 117 Chiptune Vocals, 24 Speak n Spell Vocals, 86 Bass Shots, 41 Mettel Synsonics Drums, 9 Virus TI Drums, 52 MT-52 Shots, 39 Casio Cz 101 Samples, 62 Moog Perc Shots, 11 Moog Fx, 60 Moog Lazors, 18 Long Moog Fx, 24 Moog White Noise Fx, 5 Edm Claps, 5 Edm Kicks, 10 Blips, 10 Closed Hats, 30 Kick Drums, 10 Open Hats, 20 Snare Drums, 26 ISR Fx.
7 Ni Battery 4 Kits, 1 Mattel NI Battery 4 Kit, 2 ISR Battery 4 Kits (96 Additional Samples), 1 Maschine Kit.
The sound pack is available to purchase for £24.95 GBP.
Moog Music today introduced the Minimoog Model D Expansion Pack for Animoog, their software synthesizer for iOS.
"Taking timbres from a Minimoog and placing them in Animoog creates very distinctive sounds that are advanced and invigorating," said Moog Chief Engineer Cyril Lance. "This isn't an emulation of a Minimoog. It is actually a new way to experience it."
The expansion pack includes 69 Timbres extracted from a vintage Minimoog Model D analog synthesizer, and 213 presets designed for Animoog's Anisotropic Synthesis Engine.
Features:
68 Timbres extracted exclusively from the Minimoog Model D
213 Presets
38 Presets designed by Dom Kane
41 Presets designed by Sascha Dikiciyan
50 Presets designed by Kevin Lamb
41 Presets designed by Drew Neumann
43 Presets designed by Adam Holzman
The Minimoog Model D Expansion Pack is available now as an In-App-Purchase within Animoog for iPhone & iPad for $6.99.
This is a free Ableton Live Pack consisting of 2 instrument racks created from samples of the Casio CT-101 vintage synthesizer.
Download Link: http://bit.ly/freesynth96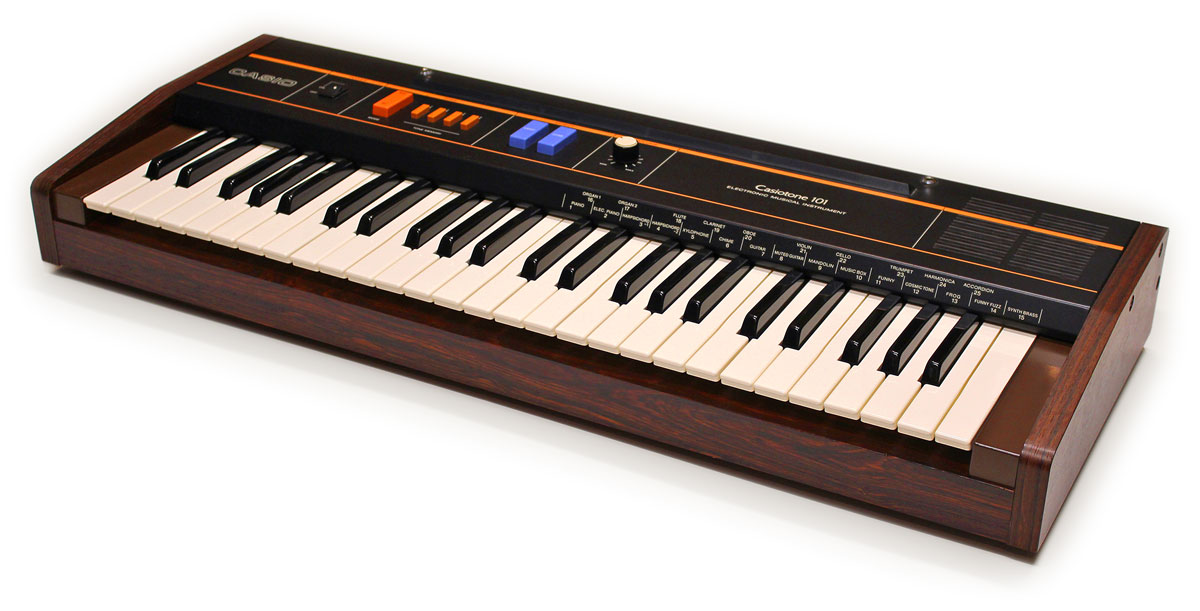 The CasioTone 101 (CT-101) is a VERY basic analog synth from Casio circa 1981. The keyboard has 49 full-size keys and is finished in satin black painted metal, has wooden end-cheeks and a wood grain finish underneath the front of the keys. It gives your studio a good analog/vintage feel. Most sounds are very basic and fairly unusable. However, its organ tones are pretty good as well as its 'Cosmic Tone' patch, which uses two oscillators tuned an octave apart, and as the keys are held down, the sound drops an octave as oscillator 1 fades up, and oscillator 2 fades down.