The Polybius video game expansion pack is a free set for Z3TA+ 2, inspired by all your favorite old-school video game titles. Includes video game themes, game over themes, boss themes, attack effects, blaster effects, and even some timeless sounds you are sure to recognize. The Polybius expansion pack proves the true power behind Z3TA+ 2's synth engine and best of all, it's totally FREE!
Buy Z3TA+2 on the Cakewalk Store: http://www.store.cakewalk.com/default…
Also available on STEAM: http://store.steampowered.com/app/241…
Free Ableton Live Pack featuring CMI Fairlight sampled instruments. 3 different sounds to bring back the early 80s.
Free Download: http://bit.ly/freesynth93
Sampled by: http://sonicbloom.net
Visit his site for more stuff like this, including Live Instrument downloads, tutorials and music! http://www.afrodjmac.com
Meyer Musicmedia has announced the release of a reworked Analog EDM Ableton Live expansion pack.
The previous Analog Trance & Electro preset pack are now included in the new Analog EDM Expansion.

You get more than 256 new fresh analog add-on sounds for Ableton Live 9. They're especially for modern electronic dance music. The presets are carefully selected, so you will get cutting edge sounds.
The Analog EDM expansion is available to purchase for $39 USD.
The Ableton Live Electro pack is also reworked and ready for Live 9. This pack is also priced at $39 USD.
METAMORPH – Electroacoustic and designed sound effects library
BUY NOW: http://twistedtools.com/shop/samplepa…
AUDIO DEMOS:
https://soundcloud.com/twistedtools/s…
METAMORPH is a vast collection of electroacoustic and designed sounds, developed by Italian sound artists BJM Mario Bajardi and Komplex (Iter-Research). METAMORPH takes heavily processed violins, pianos and acoustic instruments and morphs them into impacts, sci-fi atmospheres, user interface elements and beyond.
METAMORPH features over 2.1 gigabytes of 24bit/96khz audio, embedded with Soundminer ready metadata to easily facilitate the discovery of new sounds for your next music or game production. Also included in the package are sampler presets for most major formats. Native Instruments Reaktor owners may take advantage of the included MP16d sampler, which comes equipped with a custom Lemur Template by Antonio Blanca.
Whether you're a sound designer looking for alien textures or an electronic musician seeking out unusual timbres, METAMORPH features something for you.
METAMORPH is available at the Twisted Tools shop for just $69.
Main Features:
Over 2.1 Gigabytes of sound effects and designed sounds
24bit/96khz wavs
Soundminer enriched metadata
Maschine ready metadata
Sampler instrument presets for Maschine, Ableton Live 9, Battery, EXS24, Kontakt, Maschine and Reaktor
A brand new version of Twisted Tools' MP16 sampler, called the MP16d
Reaktor MP16d Features:
16 Voice Polyphonic Sampler
Pad style layout
Unique parameter and modulation settings for per voice
FM and Delay FX per Voice
Note repeat effect per voice
Two LFOs per voice
BPM Sync
Lemur OSC Template by Antonio Blanca
Pricing: $69
Availability: Now available exclusively at http://twistedtools.com/shop/samplepa…
About BJM Mario Bajardi and Komplex
BJM Mario Bajardi is an Italian electroacoustic composer and sound designer, who is currently a lecturer at the Academy Art, at the University of Palermo in Italy.
Komplex is Paolo Bigazzi Alderigi, multimedia artist and owner of Iter-Research music publishing. Paolo is a lecturer at SAE in Milan, Italy.
Video Audio Demo by Richard Devine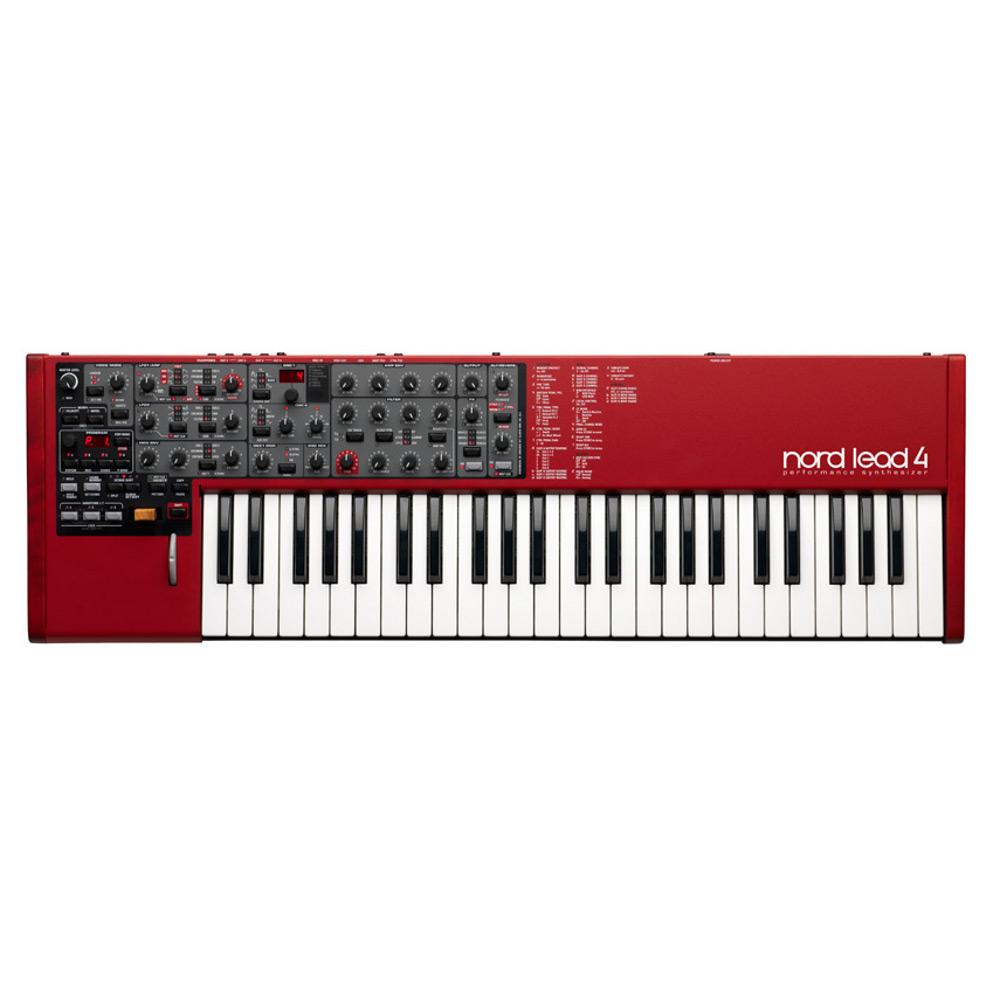 Nord has announced six new artist sound banks for the new Lead 4 and Lead 4R are now available for free download. They tell us that six very different sound designers have created a wide range of new sounds covering everything from classic analogue vintage leads and pads, FM pianos, evil distorted rave basses and complex performance patches with multilayered synchronized arpeggiating monsters and much more.
The sound creators are ASL SoundLab, Federico Solazzo, Åke Danielson, Palle Dahlstedt, Kristofer Ulfves and Ulf "Vinyl" Stenberg.
The sounds are compatible with the Nord Lead 4 and the Nord Lead 4R and are transferred using the Nord Sound Manager.
Free download from the Nord Lead 4 Program Library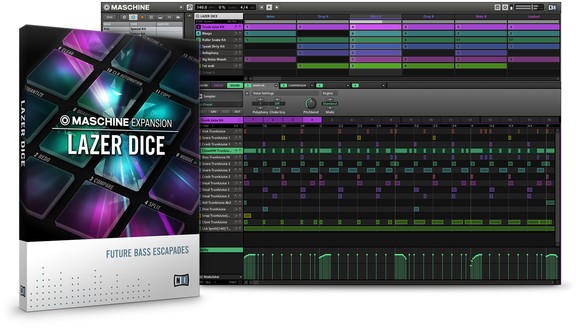 Native Instruments has announced the release of LAZER DICE, a new MASCHINE Expansion for producers of future bass and related genres.
Blending synth-heavy electronic and deep south hip-hop, the Expansion features custom drum sounds and patterns created to reflect the rugged beats and skittering rhythms of the genre. Native Instruments' synthesis expertise provides the screaming, future bass synth leads with new MASSIVE presets. Special Kits deliver new possibilities for live improvisation.

LAZER DICE's 47 drum kits include rough 808 sub-bass kicks, pitched snare rolls, time-stretched hats, and deep bass drops – sounds that deliver the impact future bass demands. Moreover, LAZER DICE provides 50
new MASSIVE presets created with Native Instruments' synth and sound design expertise, covering the full spectrum of aggressive leads, dark pads, and sweeping sub-basses that are an essential component of the
future bass aesthetic. The presets load on a pad as part of a drum kit, giving users fast access to the sounds when composing or performing. Key parameters also automatically map to MASCHINE's eight display knobs, making quick tweaks fast and intuitive. These elements are accompanied by psychedelic effects and pitched vocals that are staples of the trap sound. And LAZER DICE's Vocal Loop and Snare Roll Kits provide additional live performance possibilities with a set of elements perfect for on-the-fly composition.
LAZER DICE is available to purchase for $49 USD / 49 EUR. A compact version of LAZER DICE is also available for iMASCHINE in the in-app store for $0.99 USD / 0.89 EUR.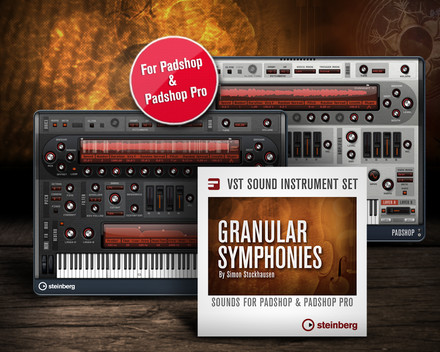 Steinberg has released Granular Symphonies, an expansion pack for Padshop/Padshop Pro, created by the acclaimed composer and sound designer Simon Stockhausen.
Here's what they have to say about it:
With beautifully intricate textures, pads and leads, Granular Symphonies spans 2 GB of exquisite content, featuring instrumental and vocal samples recorded and edited by the man himself plus 260 supplementary presets.
Simon Stockhausen said he hopes that "this library will inspire many composers around the world and expand their sonic palette to paint beautiful, haunting, wondrous and enchanting musical pictures."
Features:
260 new presets with sounds designed by sound designer, composer and multi-instrumentalist Simon Stockhausen
2 GB of exclusively recorded samples including strings, brass, mallets, vocals and experimental content
Available as download only
Windows and Mac installer included
Granular Symphonies is priced at $29.99 and is available as download through the Steinberg Online Shop.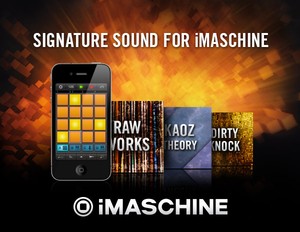 Native Instruments has recently released RAW WORKS, a signature iMASCHINE Expansion created by in-demand producer Nottz.
RAW WORKS is the third in a growing series of signature Artist Expansions exclusive to iMASCHINE – a complete, portable groove sketchpad for iPad and iPhone. Other Expansions in the series include sound packs from acclaimed DJ/producers Kerri Chandler and DJ Godfather.

RAW WORKS delivers five projects and five kits of Nottz's signature sound exclusively to iMASCHINE. Renowned for his work with Busta Rhymes, Snoop Dogg, Kanye West, and J Dilla, Nottz is known for his authentic, old school production style. For this Expansion, Nottz sampled live sessions with his own musicians, then handpicked sounds from the recordings to create a set of gritty drum sounds and melodic phrases. The Expansion's deep, raw basslines were processed with Nottz's sampling expertise, delivering a key component of the producer's signature sound.

KAOZ THEORY brings the unmistakable sound of Kerri Chandler to iMASCHINE – the deep, grooving house style that has made him one of the most respected artists on the underground scene for over 20 years. The Expansion contains a total of six kits, two instruments and two full projects. The three Drum Kits are made up of dirty, analog kicks, snares, hats, and claps. A Melodic Kit provides the trademark Chandler synth chords while two Special Kits deliver basses, vocal samples, synth stabs and keys. iMASCHINE users can also access two instruments and two full iMASCHINE projects created by Chandler himself – fully-conceived musical material available only in this iMASCHINE Expansion.

DIRTY KNOCK was created by DJ Godfather – the Detroit DJ, producer, label owner, and founding father of ghetto tech/Detroit bass. The genre combines elements of techno, house, Miami bass and turntablism, and has in turn influenced juke and trap music. Four projects and five kits deliver an array of rough basslines, analog sound effects, dirty drums, high synth stabs, rumbling 808s, and tight snares true to DJ Godfather's signature sound. The additional melodic kit comprises one shot beeps and sweeps for giving tracks an added nuanced flair.

All samples provided come in uncompressed .WAV format (16-bit 44.1kHz) and have been processed and tweaked for immediate use. Tracks created with iMASCHINE Artist Expansions can also be exported to MASCHINE and MASCHINE MIKRO for additional editing and finalization.
The full range of iMASCHINE Artist Expansions can be purchased in the iMASCHINE In-App store for $0.99 USD / 0.89 EUR each. iMASCHINE costs $4.99 USD / 4.49 EUR.

Hark back to the heyday of classic rock and one instrument stands above the rest, a 350lb behemoth that would forever change the way we think about making music. At the heart of this monster was an array of tape machines, one per note on the attached keyboard, each playing a uniquely recorded sound. With only 8 seconds of tape per key and a cumbersome frame this machine had its limitations but was nonetheless impressive for its time, boasting a multitimbral and truly polyphonic 'engine'. Instantly made famous by the Beatles hit 'Strawberry Fields Forever' and used by countless others including The Moody Blues, Rolling Stones, and prog rock legends Yes, this was the 'must-have' sound of the 60's. While its use fell out of fashion the implications it made have become fundamental to modern music production.
With Mello we've aimed to deliver a complete and authentic recreation of this prolific instrument. Dozens of original tapes were multi-sampled on 3 different machines in order to give you the best representation of each of the 28 available sounds. To capture the live experience the key noise and inner mechanical sounds were stereo recorded, including tape noise and key-off sounds, and are all mixable to taste.
To make Mello even more versatile we've added a few tricks of our own, including an analog-modeled tape delay, reverb, a custom unison mode to give you stereo sound without unwanted transposition or chorusing, a switchable multimode filter, a 3-band EQ and more.
With these classics Flute, Brass, Celesta, Choir, Strings, Organs, Guitars, Piano and many more, Mello delivers a warm and buttery tone indistinguishable from the original and is, in every way we could make it, a perfect tribute to the quintessential studio instrument of the 60's.
Features:
• Pristine and comprehensive sample library from 3 original machines
• Mixable key and mechanical noise for authentic experience
• Switchable keyboard range (original or extended)
• Stereo modes including custom unison
• Switchable multimode filter with cutoff and resonance
• ADSR envelopes for amplitude and filter with velocity sensitivity
• 3-band EQ with sweepable mid frequency
• Built-in Sparkverb
• Analog-modeled tape delay
The Noisy Bar Violin is AfroDJMac's 88th Free Ableton Live Pack. It is an instrument created with a sample of a violin, recorded in a noisy bar.
Free Download @ http://bit.ly/freesynth88