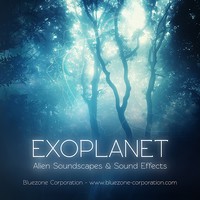 Bluezone Corporation has announced the release of Exoplanet – Alien Soundscapes & Sound Effects, a cinematic/ambient sound library.
This downloadable sample pack offers a huge choice of extraordinary Sci Fi nature sounds, forest ambiences, textured animal gurgle and growl sound effects and includes reworked hardware synthesizer pad sounds.

For original compositions as well as soundtracks, this pack of 124 professional atmospheric / FX sounds is the reference sound library you'll turn to again and again for all types of music compositions.
The sample library costs 16.95 EUR.
Download for free at: http://www.elektron.se/support-and-do…
128 experimental, haunting and outright bizarre Analog Four Sounds. Created by sound designer Richard Devine.
"I wanted to create a collection of abstract sounds that took advantage of the Analog Four's extensive modulation capabilities. I hope these sounds inspire new ideas and offer some interesting starting points for a song." — Richard Devine
Generation -
Sunsine Audio's new pack for PPG Wavegenerator features 32 presets including 5 basses, 7 leads, 5 keys, 2 arps, 9 pads, and more. In addition 20 unique wavetables have been included, and exchanging these between presets allows a large degree of tonal variation very easily. Each preset has parameters mapped to both the horizontal and vertical keyboard control for expressive performance opportunities.
*Requirements: Compatible with iPad. Requires iOS 5.1 or later and PPG Wavegenerator.*
Format:
• 32 Presets in 1 .bin file
• 20 WaveTables in .wts files
• Full horizontal and vertical key modulation support.
• Easy Installation Instructions
Price: $1.49
Available from – www.sunsineaudio.com
Free Preview Pack – http://www.sendspace.com/pro/dl/unlxtv
Roland is proud to introduce JUPITER Synth Legends, a series of free sound libraries for the JUPITER-80 and JUPITER-50 synthesizers. Featuring all-new Tones, Live Sets, and Arpeggio patterns, the collection uses the powerful and flexible SuperNATURAL sound engine to capture the essence of a number of historical synths. We've fully maximized the Live Set architecture and multi-effects capabilities of the modern JUPITERs, layering and processing the classic sound emulations to create a huge library of "dream patches" comprised of the most legendary synths ever produced.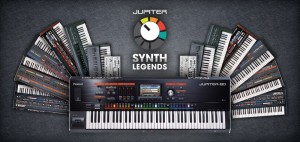 Download JUPITER Synth Legends Volume 1 for free:
http://www.JUPITER-80.com
Toby has produced & remixed over 100 songs and is known for his punchy synths, pulsing arpeggios and searing lead sounds. The Synth Essentials pack is perfect to give any project a modern edge.
Info – http://www.image-line.com/documents/toby_emerson_synth_essentials.html
Flux302 has announced Dystopia, a sound library for Native Instruments Maschine.
For the Past year This Expansion Pack has been cultivated by going to some extreme environments with choice gear and destructive mentality.

From 100 ton cranes to Large Iron and concrete destroyed while Sampled in HUGE environments with Real industrial equipment. Employing techniques of creative Analog, digital, and Hybrid synthesizers and out board kit. Multi Fx kits complete with Patterns constructed specifically to enhance your music in the Live moment as well as the studio environment.

This pack spans an eclectic usage of not only Raw percusive sound but True Sound designed specifically for the Dystopian future of music. Dirty, Raw, intense and dark this pack will evoke the Boom to your Bap and drive your beats to the next level.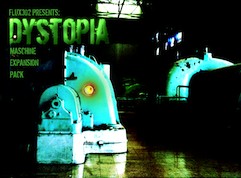 Dystopia features
25 Drum Kits.
11 Multi FX kits.
14 Maschine Instruments.
125+ Drum patterns.
400+ Browser Tagged Samples in WAV format.
Sample library of the Korg Delta DL-50 analogue synth.
Available for Kontakt 4 and 5.
All the raw oscillators and strings have been sampled and a library of sounds made on a real Delta have been sampled.
Over 200 presets included.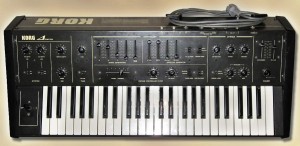 Korg's Delta is an analog semi-poly synth/string machine, basically a slimmed down version of the Korg Trident. Though limited in the range of sounds compared with other synths of the same genre, the sheer quality of the sound from this little beastie really does make it something of a marvel. It can be found used for cheap and is worth it for the retro synth strings and fat bass synth tones.
The synth is split into two sections, Strings and Synth, for which there are separate audio outputs along with a combined output for headphones or mixing. Each section has its own controls. The String section has two pitch sliders (16′ and 8′) along with two tone controls (Bass and Treble) and variable Attack and Release controls to modify the sound. The Synth section has four pitch sliders (16′, 8′, 4′ and 2′). There is also a white noise generator along with a very effective 24dB/oct low pass filter (high pass and band pass options are included too) and full ADSR controls. The synth has no memory storage or MIDI, however it does has voltage control and gate ins and outs.
The string sounds are very basic but with its separate outputs and when mixed together with the polysynth you do get that classic 'layered' sound which is useful enough on this synth; and it's fully polyphonic, so you wont be running out of notes! There is a handy joystick to the left of the 49-note keyboard for pitch bending and modulation capabilities. The construction is solid and heavy partly due to the implementation of a wooden base but also because it was designed for heavy usage on the road. Added bonuses: noise modulation, stereo out (strings/synth split), and the ability to combine synth and strings or turn off oscillators in the mixer section.
Luftrum 9 is a soundbank for DIVA set to release in start November. The soundbank contains cinematic pads, gentle arpeggios and synth emulations inspired by Tangerine Dream, Vangelis, Royksopp, Kraftwerk, Jean Michel Jarre, William Orbit etc. but also a few soundscapes, sound effects and strings found their way to the soundbank. 2/3 of the soundbank are pads and arpeggios – so it's pad arp haven. Since DIVA doesn't contain an arpeggiator yet, all arpeggios in the YouTube audio demo were made with the Kirnu Arpeggiator – which is free to download.
A small selection of presets from the 'vintage' bank, one of 10 banks supplied with Tronto for Kontakt 5.
This video shows a little of the versatility of Tronto, with interpretations of some classic and much loved electric pianos from the past, with a few twists here and there.
The only external effect used is Echo from Psp audioware. This delay is a favourite of mine, as it's tape delay characteristics complement Tronsonic's libraries very well.
http://www.tronsonic.com/#/tronto-for-kontakt-5/4568455166
http://www.pspaudioware.com/plugins/delays/psp_echo/
Korg announces the availability of seven additional expansion libraries and sample sound libraries for the Korg Kronos Music Workstation. These expansion libraries include: EXs64 KARO Ethno World and EXs67 KARO Upright Piano by KARO, as well as new titles from Korg's newest third party sound developers, Irish Acts and Kid Nepro. New titles from Irish Acts include: EXs90 Kronos Assault, and new Kid Nepro titles include EXs80 Vintage Synths, EXs 82 Hit Factory, KRS80 Soundtrack Mix, and KRS81 Sonix Bliss.

EXs90 Kronos Assault
EXs90 includes massive, luscious pads, movie sounds and effects, all topped off with a selection of classic synth sounds, plus an assortment of sampled human voices, from natural sounds to dreamy vocals. Exs90 is currently available for download for US $180
Exs80 Vintage Synths
EXs80 Vintage Synths includes over 250 MB of new sample data with a wide assortment of classic analog basses, leads, pads, strings & killer synth sounds that have that vintage analog sound that many musicians pay big bucks for – now at a fraction of the cost. An amazing assortment of Programs & Combis that utilize KARMA and are perfect for producers and keyboard players looking for classic synth sounds to add to their Kronos. Exs80 is currently available for download for US $69
Exs82 Hit Factory
EXs82 Hit Factory is a mix of Programs & Combis utilizing KARMA, that is perfect for producers and keyboard players. Hit factory includes six new drum kits with hundreds of samples. Also included are a wide mix of funk guitars, orchestra hits, noises, scratches, human beat boxes, analog vocoders and more. Exs82 is currently available for download for US $69
KRS80 Soundtrack Mix
KRS80 Soundtrack Mix features a mix of killer pads, synth sounds and unique rhythms – an assortment of different "atmospheres" that are ideally suited for TV, video games, film projects, or for composers scoring modern classical music. KRS80 is currently available for download for US $39
KRS81 Sonix Bliss
KRS81 Sonix Bliss focuses on the MOD-7 sound engine, including a wide assortment of classic FM-style synth sounds along with a mix of complex sounds. Everything from 80′s DX-style electric pianos to modern 21st-century synths is included, with a mix of basses, leads, pads, drums, percussion and much more. KRS81 is currently available for download for US $39
Exs64 Ethno World
The first World library for the KORG Kronos, EXs64 KARO Ethno World was produced in collaboration with Erkan Ucar (Ecomusik). These Ethno instruments-include strings, winds, keyboards, percussion, and more-were collected around the globe and arranged into this single and extremely versatile library. Exs64 is currently available for download for the special price of US $199 (Normally $249)
Exs67 Upright Piano
KARO's EXs67 Upright Piano library delivers the familiar sound of an upright piano, with all the modern advantages and possibilities that Kronos technology has to offer. A traditional German piano was sampled with 6 velocity layers, for a total of 1.6GB of high-quality samples, and 36 Programs specifically designed for them – including six by Michael Geisel of Korg & More in Germany. Exs67 is currently available for download for the special price of US $99 (Normally $169)
All libraries are available at: www.korg.com/kronos/SoundLibraries. Free demo versions of the EXs libraries can be downloaded; purchasing an authorization code from the secure Korg Web Shop unlocks full access to the libraries. Please see Korg.com for sound demos and download/ installation system requirements.