June 23, 2010 · Posted in
Uncategorized
·
Comments Off

on For synth and EBM fans only !!
On 26th June 2010 the most stunning electro festival of the year is going to conquer the German Capital Berlin. The E-tropolis Festival comprises a wide range of different electronic styles in a unique, electrifying event, featuring classic EBM, harsh Industrial- & Cyberelectro, Synth-Pop- and alternative dance acts in one pulsating stream of synthetic music.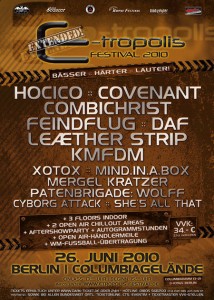 Tickets for the E-tropolis Festival 2010 are on pre-sale now! Original tickets, as well as the most popular 5+1 group tickets are exclusively available at the Amphi Ticketshop under: https://ssl.webpack.de/synotec-newmedia.de/amphishop/welcome.html . You can also buy festival tickets online on www.dark-ticket.de, by phone on +49 (0)1805- 568200 (0,14 /min. from German fixed network), and at all nationwide CTS/EVENTIM, Kartenhaus and Ticket-Online box offices.
May 10, 2010 · Posted in
Uncategorized
·
Comments Off

on Re-issuing the old electro classic
Dieter Moebius (Cluster, Harmonia) is one of the most important protagonists of avant-garde electronic music in Germany. Conny Plank is the most legendary sound engineer of the German Underground (NEU!, Kraftwerk, Harmonia, Cluster, DAF etc.)
They got to know each other through their work on Cluster's 1971 album and remained friends until Plank's death in 1987. They made a congenial pair as musicians, as amply demonstrated by their brace of albums "Rastakraut Pasta" (1980) and "Material" (1981) which are now being reissued by Bureau B. Both releases come as a CD digipak and 180 gram high quality vinyl.
Read the full story here >> PDF  BB48+49Moebius+PlankOneSheet
April 6, 2010 · Posted in
Uncategorized
·
Comments Off

on Out of Line Music releases new EBM compilation
German label Out of Line Music will release a new compilation of classic and modern EBM tracks April 30. Simply entitled EBM: The Compilation, the CD will feature 17 tracks and will include contributions from both influential early acts like DAF and Front 242 and modern artists like Spetsnaz and Jäger 90.
Jäger 90 – for those of you who have never heard of them before, like me

Hi all
Time to sum up the past ten years and list the 20 best / most important electronic, electro, EBM and synth albums that has been released. This is of course a tricky quest and will most likely create some debate. Numerous of good albums has been released and I have certainly not listened to all of them, but still someone needs to make a statement :-). The albums are listed in order of importance, but may not be absolute, in the sense that – if they are rated as number 6, they could easily be argued to have place number 7 instead etc, but still…
Number 1:
Kraftwerk – Tour de france soundtrack
Number 2:
The Knife – Silent Shout
Number 3:
Goldfrapp – Black Cherry
Number 4:
Covenant – Skyshaper
Number 5:
Colder – Again
Number 7:
Daft Punk – Discovery
Number 8:
Felix! – Kittenz and thee glitz
Number 9:
Welle: Erdball – Die wunderwelt der technik
Number 10:
Suicide – American supreme
Number 11:
DAF – Fünfzehn neue D.A.F-Lieder
Number 12:
VNV Nation – Futureperfect
Number 13:
Röyksopp – Melody A.M.
Number 14:
Rammstein – Mutter
Number 15:
Vive la fete – Republique populaire
Number 16:
And One – Agressor
Number 17:
Jeans Team – Musik von oben
Number 18:
Recloose – Cardiology
Number 19:
Melotron – Sternenstaub
Number 20/21:
Télépopmusik – Genetic world
System – Self organizing
June 17, 2008 · Posted in
Electronic Music
·
Comments Off

on DAF plays M'era Luna, announces European tour
Legendary German electro-pop outfit DAF will perform August 10 at the M'era Luna festival in Hildesheim, Germany as a prelude to a European tour set to begin in January 2009. Tour dates include January 7 in Berlin, Germany, January 11 in Zurich, Switzerland and January 24 in Amsterdam, The Netherlands. Visit DAF's MySpace page for the band's current tour itinerary.
[youtube=http://youtube.com/watch?v=0-L2AHAbUNw]
In the early 1980's, Deutsch-Amerikanische Freundschaft  was the highly controversial electro-punk bank heading up the roster of the "New German Wave" of politically-motivated rock bands.
The first two D.A.F. albums featured the original four-piece line-up and a range of styles. Some songs on Die Kleinen und die Bösen (The Small Ones and the Evil Ones), featured thrashed guitars, electronic screeching, and hammered drums while Gabi screamed and ululated. The record was widely lauded by the British Music press, and earned the group an early cult following in the UK.
As their sound crystallized into a more rhythmically intense and minimalistic style, Gabi and Robert ejected the other members, who had become superfluous both musically and in terms of the chemistry within the band. On the later albums recorded by the remaining duo, the arrangements were sparse and heavily electronic, the singing evolved from abstract screams and mumbles to a very direct, rhythmic vocal style, and their live performances were delivered with such intensity that a 1980 concert in Düsseldorf had to be stormed by the police to bring the crowd under control.