For synth and EBM fans only !!
On 26th June 2010 the most stunning electro festival of the year is going to conquer the German Capital Berlin. The E-tropolis Festival comprises a wide range of different electronic styles in a unique, electrifying event, featuring classic EBM, harsh Industrial- & Cyberelectro, Synth-Pop- and alternative dance acts in one pulsating stream of synthetic music.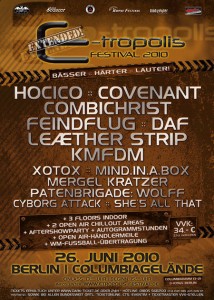 Tickets for the E-tropolis Festival 2010 are on pre-sale now! Original tickets, as well as the most popular 5+1 group tickets are exclusively available at the Amphi Ticketshop under: https://ssl.webpack.de/synotec-newmedia.de/amphishop/welcome.html . You can also buy festival tickets online on www.dark-ticket.de, by phone on +49 (0)1805- 568200 (0,14 /min. from German fixed network), and at all nationwide CTS/EVENTIM, Kartenhaus and Ticket-Online box offices.
Comments